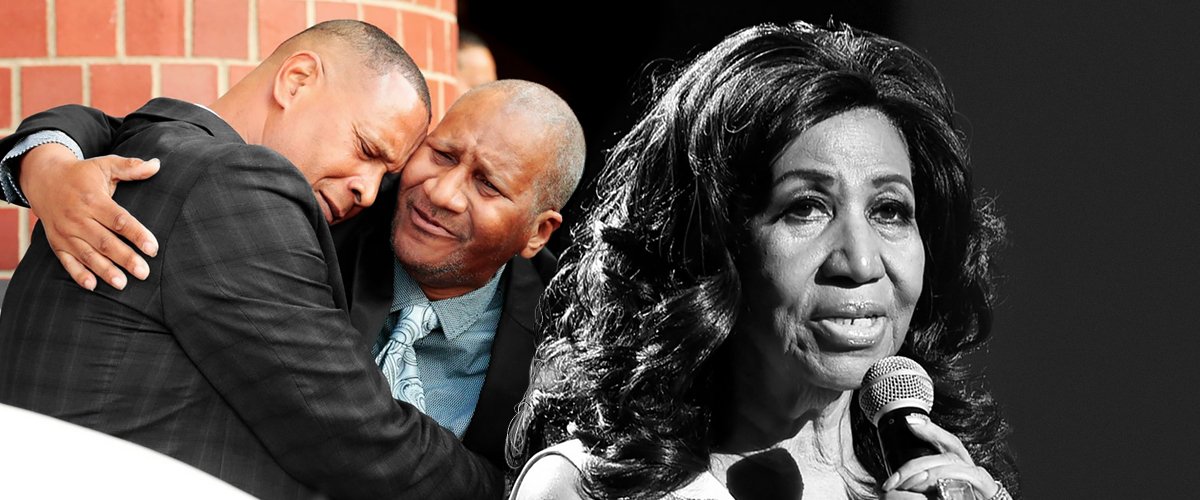 Getty Images
Aretha Franklin Gave Birth at 12 — Her Son with Special Needs Might Get Nothing after Her Death
Clarence Franklin is Aretha Franklin's eldest son with unspecified special needs who might not get anything from her after her passing. She gave birth to him at 12.
Raising a child is never easy. Doing so as a teenager is even harder. But having a kid at 12 is nothing short of demanding, and the Queen of Soul Aretha Franklin knew it firsthand.
It's been three years since she died from cancer, but her four children are still arguing over her estate. Her eldest son, Clarence Franklin, was diagnosed with mental illness and might get nothing.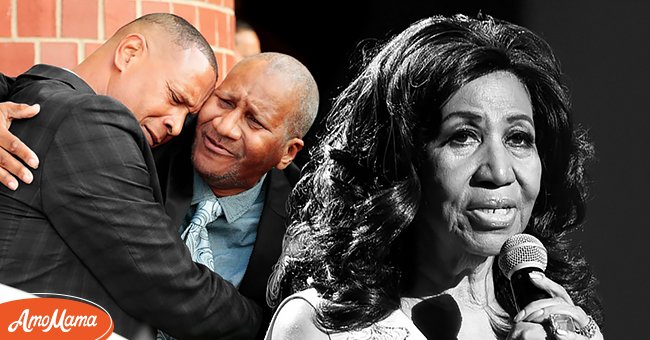 Clarence Franklin (right) hugging an attendee at Aretha Franklin's funeral on August 31, 2018 in Detroit, Michigan and Aretha performing onstage | Photo: Getty Images
ARETHA'S ELDEST SON
Born in March 1942, Aretha was one of the world's most respected and successful American musicians for over six decades, but her life got complicated at a very young age.
In 1955, just before turning 13, she gave birth to her first son, Clarence. Aretha named her son after her dad, a successful minister named Clarence LaVaughn Franklin who frequently went by C.L.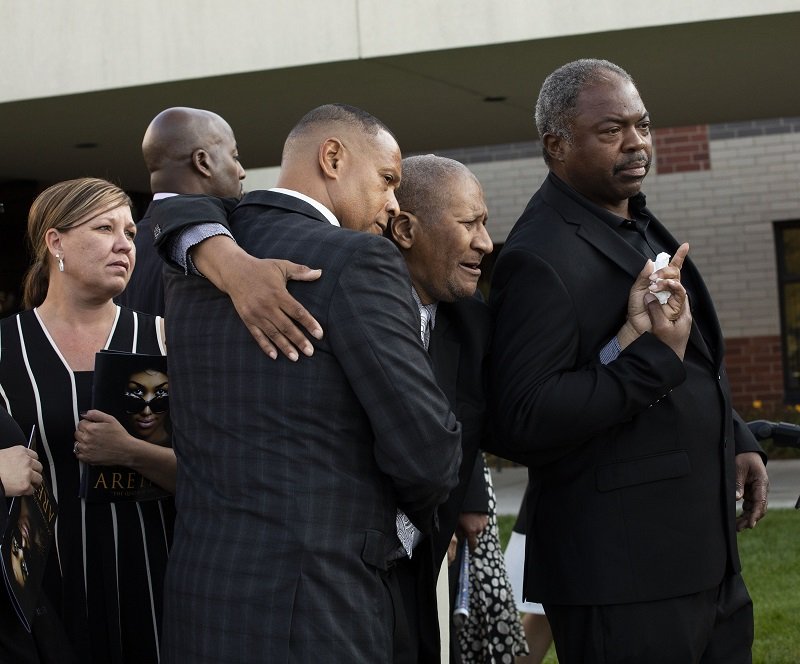 Clarence Franklin (center) surrounded by attendees at Aretha Franklin's funeral on August 31, 2018 in Detroit, Michigan | Photo: Getty Images
Aretha's unplanned pregnancy must have been challenging to process, but C.L. and the rest of Aretha's family didn't turn their backs on her. Instead, they supported her as much as possible.
The Queen of Soul's older sister, Erma — also a talented singer nominated for a Grammy — once admitted that Aretha returned to school right after Clarence was born.
She added that her parents didn't see her teen pregnancy as a reason to stop following her professional dreams. Instead, they proved that her son (and the rest of the kids of Aretha's siblings) would receive care and love. Erma explained:
"It was also understood that our future as women – our education and our career – would not be compromised because of these early births."
C.L. always recognized that his kids had inherited his psychological force and did everything he could to encourage their ambition. He never saw his daughters as housewives but as stars.
CLARENCE'S DAD
For years, everybody believed that Clarence's dad was Donald Burke, a young man Aretha knew from her school years. Aretha and Burke used to hang out at the Arcadia, a roller-skating rink she and her sisters frequently visited.
In 2019, though, Aretha's family discovered three handwritten wills that included the identity of Clarence's real dad: Edward Jordan Sr., the father of Aretha's second son, Edward Jr. More on her wills later.
[Her wills] have been quite controversial and were the reason for family conflict.
Aretha hinted in her wills that Edward Sr. was an absentee father as she requested he should never receive or handle Clarence's money or properties because he never contributed to his welfare in any way.
About Clarence, he followed in his famous mother's footsteps and wrote some of the songs Aretha sang. He was diagnosed with an undisclosed mental illness, lived in different assisted living facilities, and Aretha reportedly made "special provisions" for him.
As of August 2019, Clarence was living in a group home outside Detroit, but his current whereabouts and occupation are unknown.
Apart from Clarence, Aretha had three more sons: Edward Jr., born in 1957 when Aretha was 14; Ted Jr., born in 1964 during her marriage to Ted White; and Kecalf, born in 1970 during her relationship with tour manager Ken Cunningham.
For years, Clarence, Kecalf, and Edward Jr. were very close as they grew up together in the Detroit area. When Clarence moved into the assisted living facilities, their relationship started to fall apart. Ted Jr. is a different case as his dad's family raised him.
ARETHA'S WILLS
Coming back to Aretha's wills, they have been quite controversial and were the reason for family conflict. Apart from the fact that everyone believed she had left no will, one of the handwritten documents was found under the couch cushions.
If the Queen of Soul had not left behind a will, her estate would have been divided equally among her four sons. That was the initial agreement, and one of their cousins, Sabrina Owens, was appointed as the representative of Aretha's estate.
The fourth [will] – filed in a Michigan court in March 2021 – made everything more complicated.
However, her wills changed everything. The last of the three, written in 2014, didn't list Clarence as a beneficiary. Instead, Aretha instructed the rest of her sons to check on his welfare weekly and "oversee his needs."
According to Clarence's court-appointed guardian Jon B. Munger, the wills cannot be authenticated. Munger added that they contain contradictory instructions and some parts are illegible.
Edward Jr. and Kecalf have shown support for the 2014 will, while Ted Jr. asked the judge to make a decision considering all three documents. He also wanted to be named an estate representative alongside his cousin.
It is important to point out that Edward Jr. accused Owens of "self-dealing" by supposedly taking possession and driving around Aretha's 2016 Mercedes-Benz sedan.
A FOURTH WILL
If dealing with three wills was challenging for the family, attorneys, and judges, the fourth one — filed in a Michigan court in March 2021 — made everything more complicated.
The documents included an eight-page will and twenty-three-page trust supposedly written in 2018, but they are both stamped as "draft," and neither has Aretha's signature.
Still, Michigan lawyer David P. Lucas (who is not involved with the case) explained that the court could accept it as a valid will under Michigan law even without her signature. "Clear and convincing evidence" that Aretha wanted that to be her will needs to be presented in court, though.
The singer supposedly hired Detroit lawyer Henry M. Grix to help plan her estate. They were in discussions for more than two years, but she fell "very ill" before she could sign the papers.
In her latest will, Aretha requested a trust to be established for Clarence and most of her assets to be divided among the rest of her sons.
The trial to determine which document should be declared Aretha's formal will was set for August 2021, but no information has been reported about it. Only time will tell if the Queen of Soul's final wishes were granted.
Please fill in your e-mail so we can share with you our top stories!