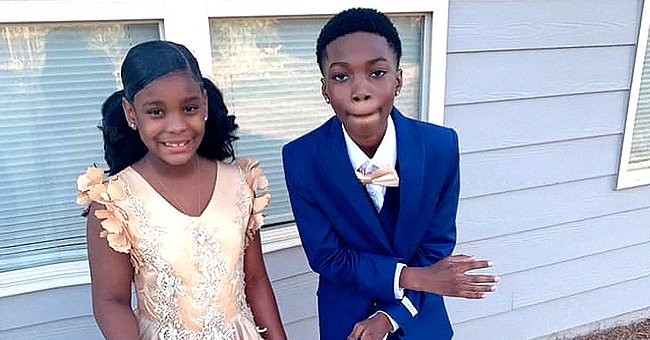 facebook.com/trelysia.s.hamerter
Girl Stood up by Dad Has No One to Go to Dance with but Brother Intervenes in a Show of Love

When seven-year-old Skylar's father bailed on her school dance, the little girl was devastated. Seeing this, her eleven-year-old brother decided to do something special.
When schools facilitate a father-daughter dance, they aim to build the relationship between dads and their daughters. Such an activity is a chance for fathers to show their kids what gentlemen are like and how they should be treated.
Seven-year-old Skylar was particularly looking forward to bonding with her dad on that day. She wanted to show her classmates that her father was still a part of her life.
Her mother, Trelysia Hamerter, shared that Skylar talked to her ahead of time and asked to have her father present. Skylar said:
"Mommy, I want my dad to come with me to the dance. I don't want grandpa. I want dad. I want everyone to know I have a dad."
But days before the scheduled dance, Skylar's dad stopped taking her phone calls. It was clear that he wouldn't show up for the second time around.
"I felt so bad because there was nothing I could do because I'm not a male (obviously)," Skylar's disappointed mom wrote in a Facebook post.
A brother showed similar kindness when Maverick Francisco Oyao prepared his sister's prom dress from scratch because their family had no money to purchase one.
Then suddenly, things turned around for Skylar. When her eleven-year-old brother, Christian, found out what had happened, he decided to step in and fill in for their dad.
In February 2020, Skylar and Christian went to the father-daughter dance. Skylar looked beautiful in a peach gown while her brother matched in a blue tuxedo and peach bow.
According to Trelysia, her son wanted Skylar to know what kind of man she deserved -- the kind that keeps his word and makes her feel special. The proud mom wrote:
"Just know that I'm raising someone a GREAT HUSBAND one day [sic]."
Although Skylar's dad never came, she was able to show everyone that she had a great brother and a great support system.
It seems many brothers become heroes to their siblings in a special way. Previously, Maverick Francisco Oyao made international news for preparing his sister's senior prom dress from scratch because their family had no money to purchase one. It turned out that the Filipino had quite a talent.
Oyao's finished product inspired by Michael Cinco's Spring and Summer Collections was a blue and white gown with sharp butterfly sleeves and swirl details in front.
His sister looked no less like a princess with her stunning gown, and to make it even more special, it was made with her brother's labor of love.
Such stories inspire siblings to be there for one another and show kindness to each other, especially in times of need. Hopefully, similar more similar stories will go viral.
Please fill in your e-mail so we can share with you our top stories!