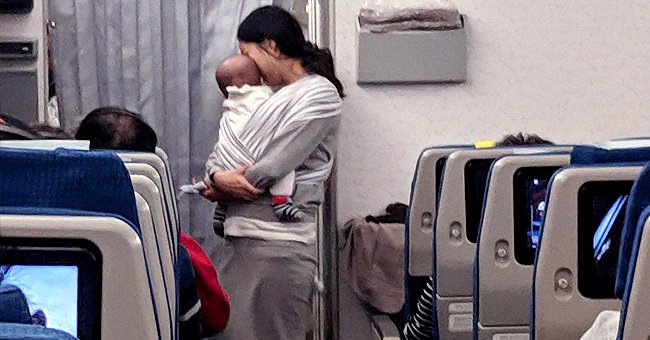 facebook.com/dave.corona1
Mom Hands Out Baggies to Flight Passengers, Confusing Them until They Find a Note Inside
A mother flying with her 4-month-old baby decided to hand out goodie bags to all passengers during a flight in 2019. Inside the bags was a pair of earplugs, candies, as well as a short and super sweet note.
Traveling with kids can be a nerve-wracking experience, not just for the parents but also for the other passengers. While embarking on road journeys leaves one the choice of making stops on the way, the same is not true for air travel.
Regardless, looking after babies on long journeys can be a daunting task. A young mom who brought her baby along on a 10-hour-long flight knew she had to take matters into her own hands in case her bundle of joy felt uneasy on the way.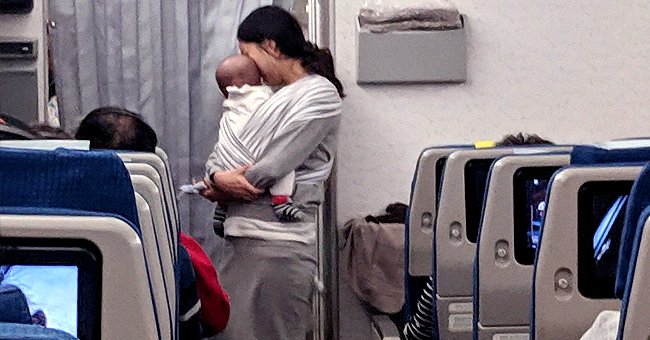 A young mother pictured with her 4-month-old baby on the flight. | Photo: facebook.com/dave.corona1
The woman was taking a long journey from one country to another, traveling all the way from Seoul, Korea, to San Francisco, USA, on February 12, 2019. Her little baby accompanied her on the plane, but the two had come bearing a surprise.
As it turned out, a fellow passenger named Dave Corona, who happened to be on the same flight, was quick to notice the considerate mother's kind gesture and related the incident on the popular social media platform Facebook.
Corona recalled that while he was boarding, he had seen a young mother holding her little baby and wondered how many sobs and screams awaited him and other passengers on the flight.
To his complete astonishment, when he stepped on the plane and finally found his seat, it wasn't empty. He found a goodie bag placed on his plane seat, which piqued his curiosity. Inside the bag were candies, earplugs, and a note, which read:
"I'm a little bit nervous and scary because it's my first flight in my life, which means that I may cry or make too much noise. I will try to go quietly, though I can't make any promises (sic)."
The explanatory note was from the 4-month-old baby named Junwoo, who was traveling to the US with his mother and grandmother to see his aunt.
Moreover, the heart-melting note also included a sweet apology from the little angel, as well as an assortment of Korean candies and earplugs in case the noise was too much to endure.
Corona was deeply moved by the young mom's sweet gesture. He couldn't wrap his head around the idea that someone could go to such an extreme length and prepare nearly 200 gift bags for people as an advance apology for her kid's behavior.
Fortunately, the young lady's bundle of joy created no noise on the plane, rendering the earplugs' use unnecessary. However, her random act of kindness ended up conquering the hearts of all the flight passengers.

Netizens left touching comments on the Facebook post relating the young mom's kind gesture on the flight. | Photo: facebook.com/dave.corona1
Corona's Facebook post was received well by the online community, garnering nearly 1.9K likes. Netizens couldn't stop gushing, and many were touched to the core by everything the mother did for the fellow passengers. One person commented:
"That's extremely touching and sweet. Very kind gesture. For someone who travels almost weekly I would certainly appreciate that act of kindness (sic)."
Another one chimed: "I don't believe it. How did she get through 200 bags? Hahaha no way (sic)." Undoubtedly, having a considerate nature and thinking about others are simple acts of kindness that never go unnoticed.
Please fill in your e-mail so we can share with you our top stories!