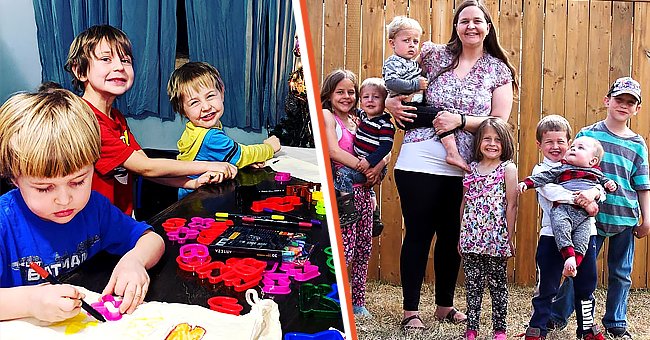 instagram.com/calmingthechaotic
Mother-Of-Eight Slammed for Refusing to Buy Her Kids Christmas Gifts - She Insists They like It
If you celebrate Christmas, you most likely remember waking up early in the morning, ecstatic about what Santa Clause left you under the tree. Well, what if he left you nothing?
Thirty-five-year-old mom of 8, decluttering coach, and social media influencer Angie Wipf from Canada has, like many online personalities, been attacked by the internet over one of her personal choices.
Every year, the mom claimed, she would have to buy around 40 presents for her children come Christmas time and even so, they would become overwhelmed with the number of gifts.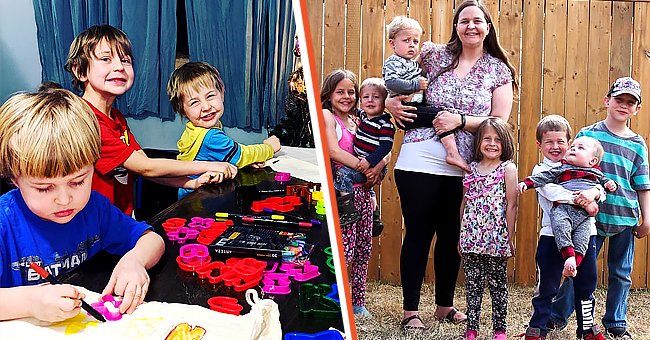 Some of Angie Wipf's children [left]; Angie Wipf standing with some of her children [right].┃Source: instagram.com/calmingthechaotic
NOTHING UNDER THE TREE
Therefore, true to her minimalist outlook, the mom revealed that she no longer buys her children Christmas presents. Instead, Wipf claims that she spends this money on experiences she and her entire family can enjoy together.
She explained that she gets them to choose one well-thought-out Christmas gift for another sibling that they pull out of a hat. Unfortunately, the online world burst into a fiery, electric storm, angry at this modern "Grinch" of a mother for ruining the festive season.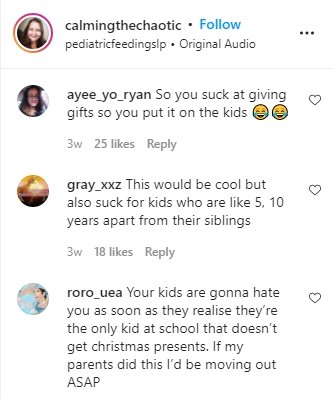 Individuals commenting on an Instagram video by Angie Wipf.┃Source: Instagram.com/calmingthechaotic
A JOYOUS FAMILY
However, this mom insists that her children are content and even happier with this method of approaching Christmas. In one of her Instagram videos where she goes over the decision to celebrate the festive season this way, the social media influencer expressed:
"I don't buy my kids Christmas gifts, but they still get super excited and can't wait for Christmas."
Wipf went as far as to claim that they speak about Christmas throughout the year because of this unique and fun gifting tradition.
A NETIZEN UPROAR
However, many continue to criticize her for her alleged Scrooge-like ways, with some saying she is an unfeeling parent. Others have insisted that she is not allowing her children to enjoy a real Christmas.
However, the mom insists that this approach to presents has made her children happier. In a more recent Instagram video, the mother stated that it had made Christmas much less stressful.
You May Also Like: Single Mom of 3 Working as Maid Is Gifted the House She Was Sent to Clean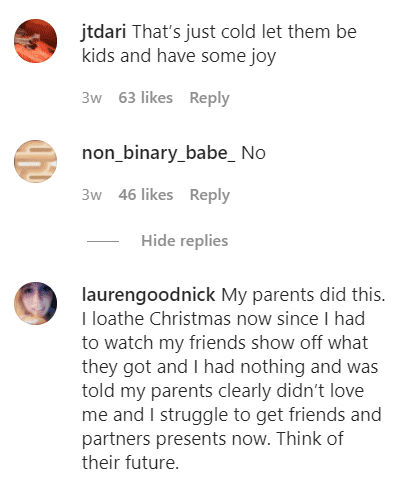 Individuals commenting on an Instagram post by Angie Wipf.┃Source: Instagram.com/calmingthechaotic
A COMPLIMENTARY AUDIENCE
With all that being said, the response to this minimalist's frugal Christmas tradition has generally been positive. Some stated that they do the same thing, with one commenting on one of her Instagram videos on the topic:
"Haha in the netherlands we often do this when its sinterklaas (december 5th)."
Many complimented Wipf on what they considered a fantastic idea, stating that they are now thinking of trying this approach. What do you think about this mother's eccentric parenting concept?
Please fill in your e-mail so we can share with you our top stories!