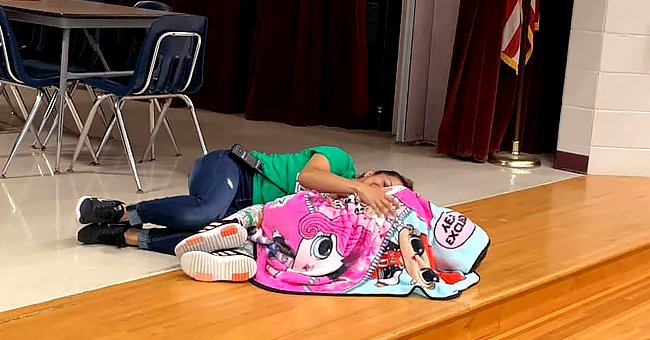 facebook.com/hollie.bellewshaw
Autistic Girl Has a Tough Morning at School and Custodian Steps in to Help Her

An elementary school custodian proved herself to be an angel after coming through for an autistic student at a crucial moment. Her amazing act was celebrated on social media.
Esther McCool, a custodian at the Melba Passmore Elementary School in Alvin, earned the title of an "angel" in 2019 following a good deed that gave hope to an autistic girl and the rest of the world.
The girl, Kenlee, had a particularly difficult morning on September 10, which drove her to hide away from the rest of the school under her handy blanket. Gladly, McCool came to the rescue, comforting her in a special way.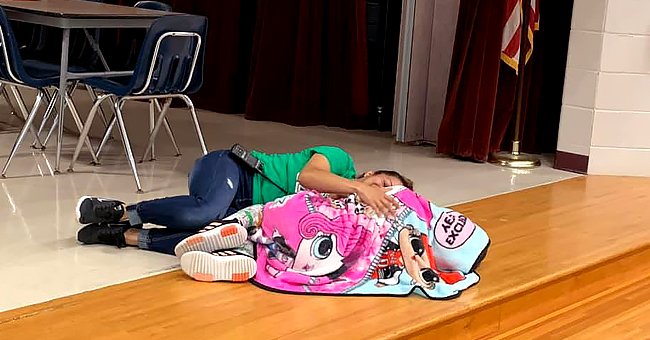 Elementary teacher Esther McCool and her student Kenlee lying on the floor | Photo: facebook.com/hollie.bellewshaw
A photo shared by Hollie Bellew-Shaw on Facebook showed the kindhearted custodian lying beside the 4th grader and placing a supportive arm around her back.
Via caption, the poster explained how it all went down, saying Kenlee was reluctant to stay in the noisy cafeteria after her tumultuous morning.
To avoid the chaos, she opted to deal with it her own way by going into solitude. She laid down on the stage, covering herself completely with her blanket.
McCool could not bring herself to walk past Kenlee after seeing her pitiful state. Hence, she walked up to her, laid down on the floor facing Kenlee, and gently patted her back, making the girl feel loved.
Bellew-Shaw described their school custodian as the best and sweetest individual in the world, adding that every school needed an angel like her. She wrote:
"All schools should be so lucky to have their own Angel on campus. Feel free to share so she can get all the appreciation & thanks she totally deserves."

A netizen's comment on the viral Facebook post | Photo: facebook.com/hollie.bellewshaw
The post attracted several heartfelt comments from netizens, all in praise of the angel in disguise. One person
commented
, "This person's attitude was very nice. How good to have good people doing good for those who need it. God bless this person as she continues being wonderful."
Most referred to McCool as an angel among people while urging everyone to celebrate such acts of kindness to encourage more people to emulate it.

A netizen's comment on the viral Facebook post | Photo: facebook.com/hollie.bellewshaw
Many worldwide have proven themselves angels in disguise on several occasions by coming through for those with special needs at the right time.
Earlier this year, an ICU nurse went viral after a video of her singing to her patients while playing the guitar was shared on social media.
In the post, the health facility, Ottawa Hospital, thanked the endoscopy nurse, Amy-Lynn Howson, for lifting people's spirits with her song.

A netizen's comment on the viral Facebook post | Photo: facebook.com/hollie.bellewshaw
Figuring out the best way to reach out to different people at their respective points of need is crucial in helping them feel loved and accepted in society.
In Kenlee's case, she finally got the love, attention, and understanding she yearned for, thanks to McCool's observing eyes and heart of gold.
Other tips to better reach out to an autistic child include connecting with the child's mother, noticing the child's strengths and building on them, and understanding the behavioral patterns of people in the autistic spectrum.
Please fill in your e-mail so we can share with you our top stories!