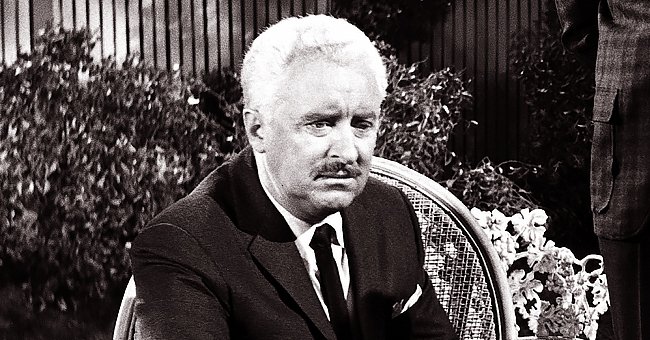 Getty Images
David White's Heart Stopped 2 Years after Son's Tragic Death at 33 Whom He Raised without a Mom

The "Bewitched" actor David White's tragic loss: the untimely death of his first wife Mary Welch at 35 and his beloved son Jonathan at 33 devastated him. White died two years later from a massive heart attack.
The timeless and legendary sitcom "Bewitched" made many stars, including Elizabeth Montgomery, who played the witch, Samantha Stephens, Dick York who played Darin, Samantha's husband, and Agnes Moorehead as Endora.
But other characters that were as important as the main ones are Uncle Arthur and Larry Tate. The latter, played by David White, was Darin's boss, an advertising executive known as Larry Tate. White became well known for his role in the series and even directed an episode in the sixth season.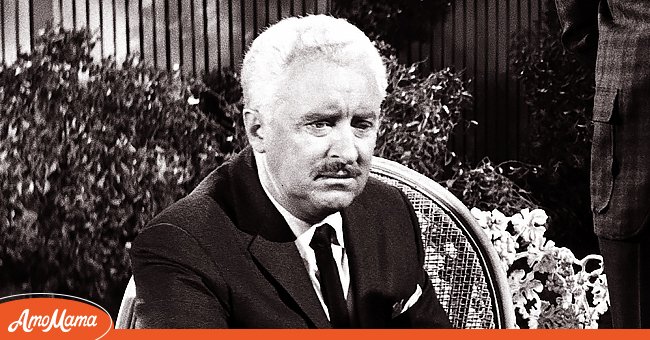 A photo of the American actor David White. | Source: Getty Images
Despite his major success, David White commented with the author of "The Essential Elizabeth Montgomery: A Guide to Her Magical Performances," and "Twitch Upon a Star: The Bewitched Life and Career of Elizabeth Montgomery," Herbie J Pilato:
"I had more integrity than Larry ever had. I was smarter and had a deeper sense of values. I had to diminish who I was to play Larry, whom I viewed as a very insecure person who only had a certain brilliance in certain areas."
The actor said that he landed the role because he was an honest man, the opposite of his character, which he called a "two-faced" individual and could not be trusted.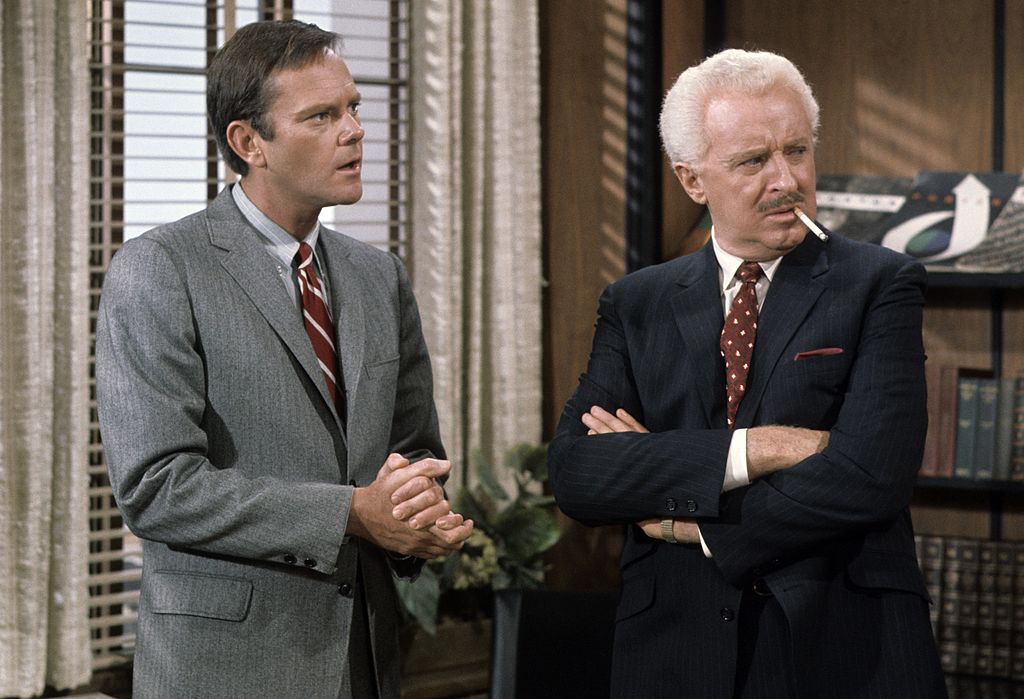 "Bewitched" episode "Darrin the Warlock", Airdate: November 27, 1969. In the picture: Dick Sargeant and David White. | Source: Getty Images
He said that Larry Tate hired more intelligent people to do his work for him. A number of the show's episodes focused on Tate's attempt to attract lucrative advertising accounts and clients.
The actor said he felt disconnected from the show's producer, Bill Asher. White spoke candidly with Herbie that Asher would often give him a hard time.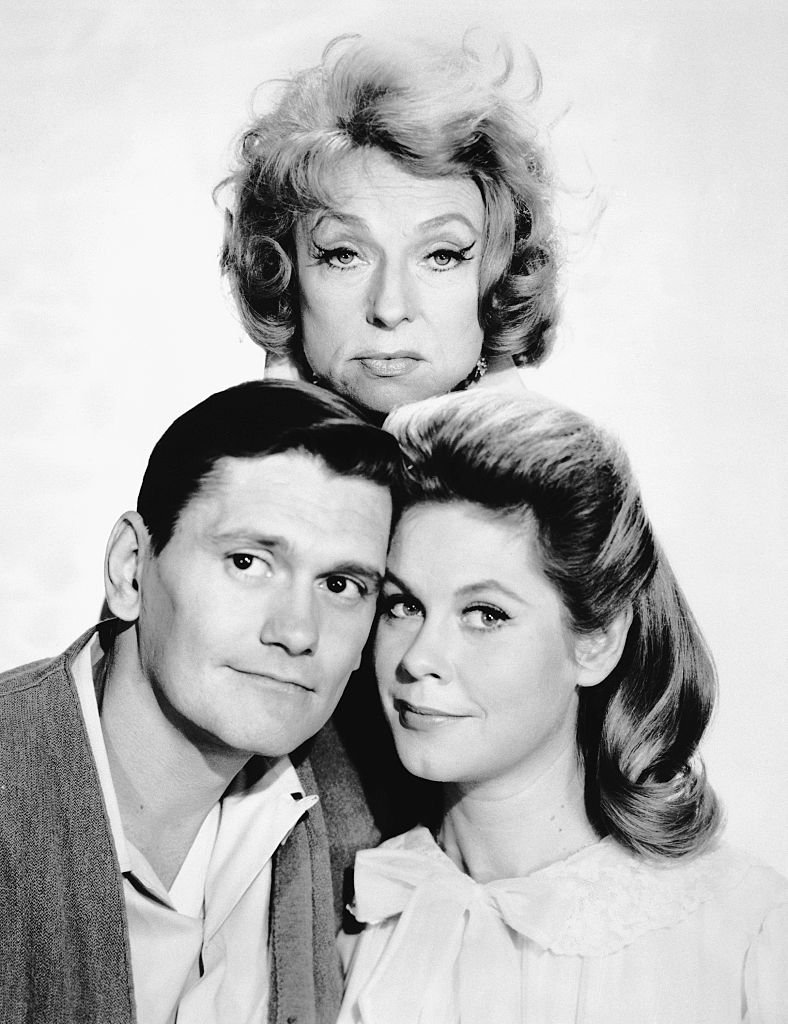 1965-Stars of the ABC-TV program Bewitched, starring Elizabeth Montgomery, Dick York and Agnes Moorhead. | Source: Getty Images
For example, the opening credits — White believed his name should have been in the opening credits, but that didn't happen until the last season of "Bewitched." The actor also said that he "wasn't born to play Larry" and he had to create him:
"He was a make-believe character of his own truth slated in a comedy series. When playing humor and farce, you take that truth and stretch it as far as it will go."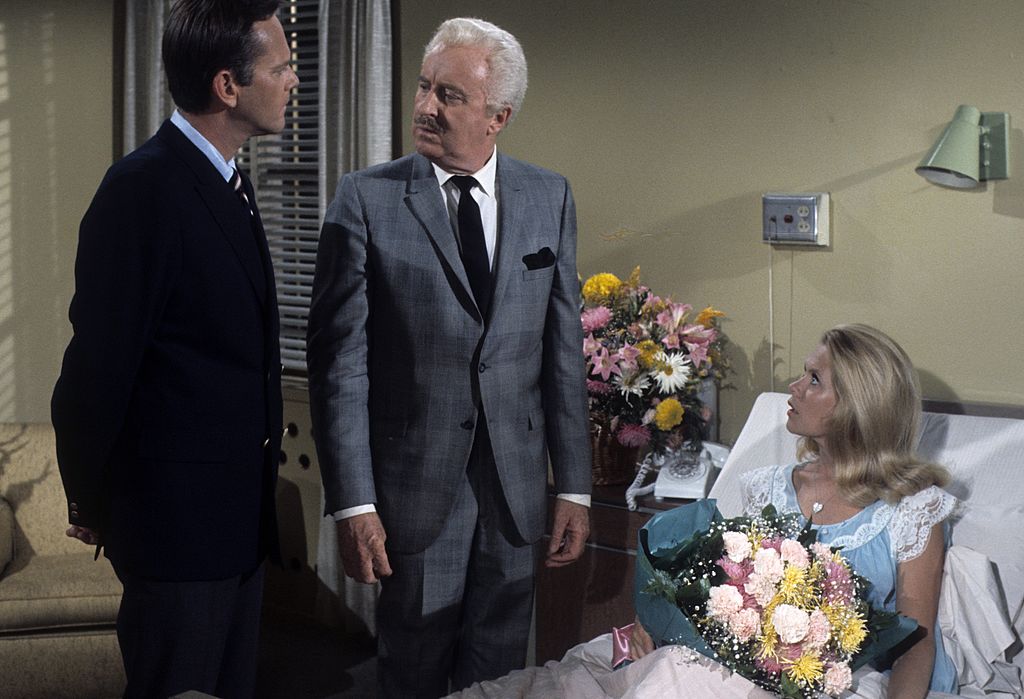 "Bewitched" episode, "And Something Makes Four" - Airdate: October 16, 1969. In the photo: Dick Sargeant, Elizabeth Montgomerry and David White. | Source: Getty Images
Bill Ash invited David White to play Larry Tale in the "Tabitha" series, years after "Bewitched" ended. But the actor refused by saying he did not "need the money nor had a desire to play Larry anymore."
He said he never tried to make Larry Tate funny, even though it was a comic role. White explained that when an actor is playing a character, the job is to fulfill the character's need, not the actor's. The actor noticed that Tale was selfish but not extreme.
When asked about his favorite episodes, he listed three. First, season 3, episode 22, "The Moment of Truth." The storyline is about Samantha mustering the courage to tell Darin that their daughter Tabitha has magic abilities. Samantha tries to prevent Darin's boss from seeing her magical skills.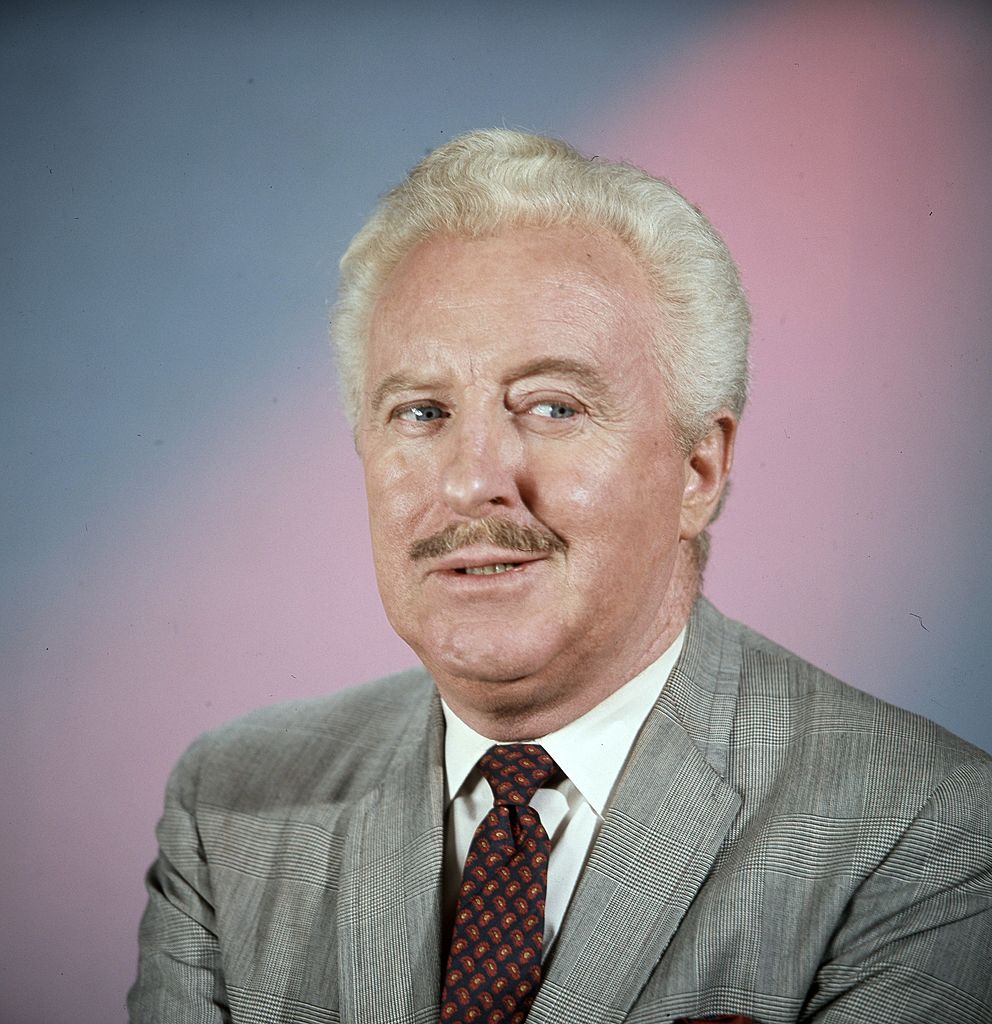 A portrait of the actor David White in 1969. | Source: Getty Images
His second favorite episode is also from season 3, episode 31, "Bewitched, Bothered and Infuriated." In this episode, Samantha and Darin interfere in Tate and his wife's vacation. Aunt Clara predicted that Tate would break his leg, so the couple tried their best to prevent that from happening.
Lastly, White listed the second episode from season 4, "Toys in Babeland," where one of Tabitha's toys is brought to real life, the Toy Soldier, into full size. Tate and the toy share a drink at a bar during the episode, his favorite scene.
When "Bewitched" was over, White continued to star other TV series and movies, including "Mission: Impossible," "American Style; Banacek," "The Odd Couple," "Love," "The Paul Lynde Show," and "Rhoda."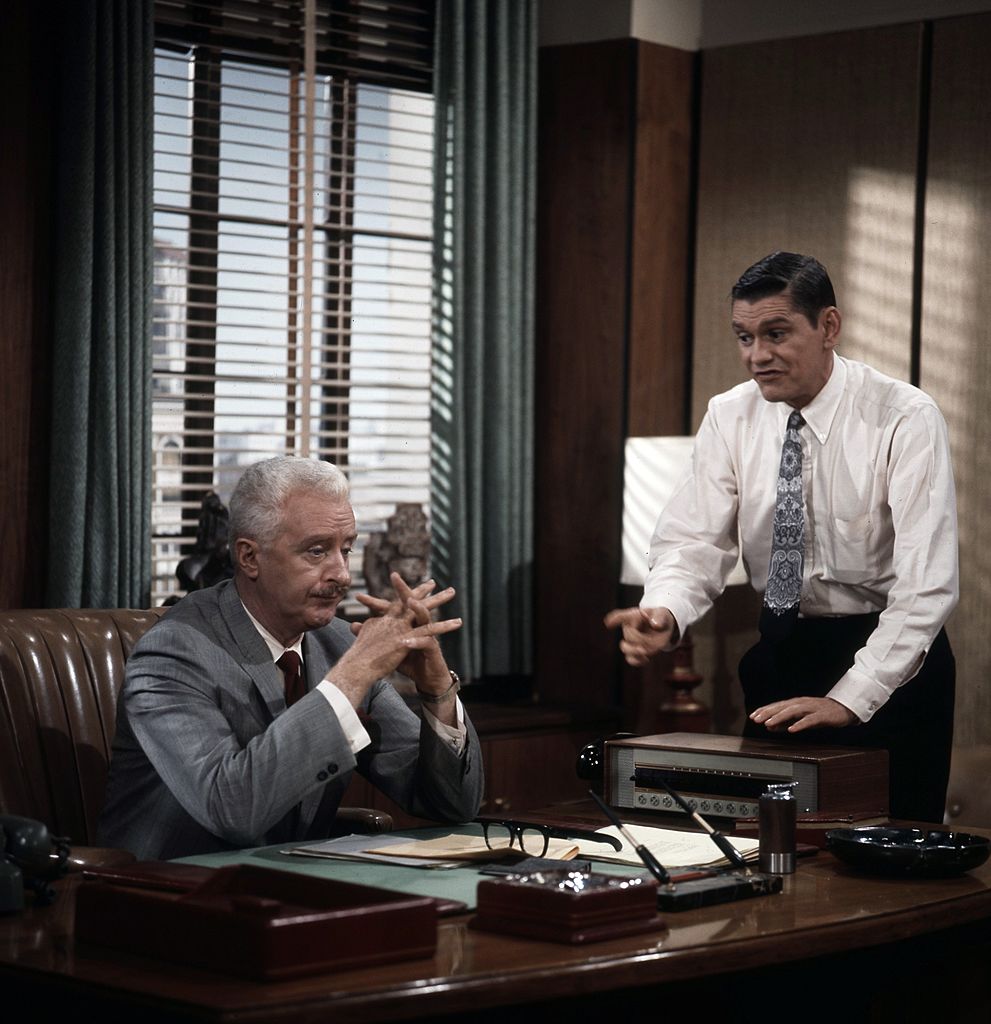 "Bewitched" episode "George, The Warlock" - Airdate: April 22, 1965. In the photo: David White and Dick York. | Source: Getty Images
In 1977, he was invited to cast the television version of "The Amazing Spider-Man," and in terms of movies, he appeared in "Snowball Express" (1972), "The Happy Hooker Goes to Washington" (1977), and "Fast Forward" (1985).
When it comes to David White's personal life, he's experienced a whirlwind of events, including the early demise of his beloved wife and, later, his son. Mary Welch was a 35-years-old Broadway actress who died of blood complications set during her pregnancy.
He and his first wife tied the knot in 1952, and three years later, Mary gave birth to the couple's first son, Jonathan.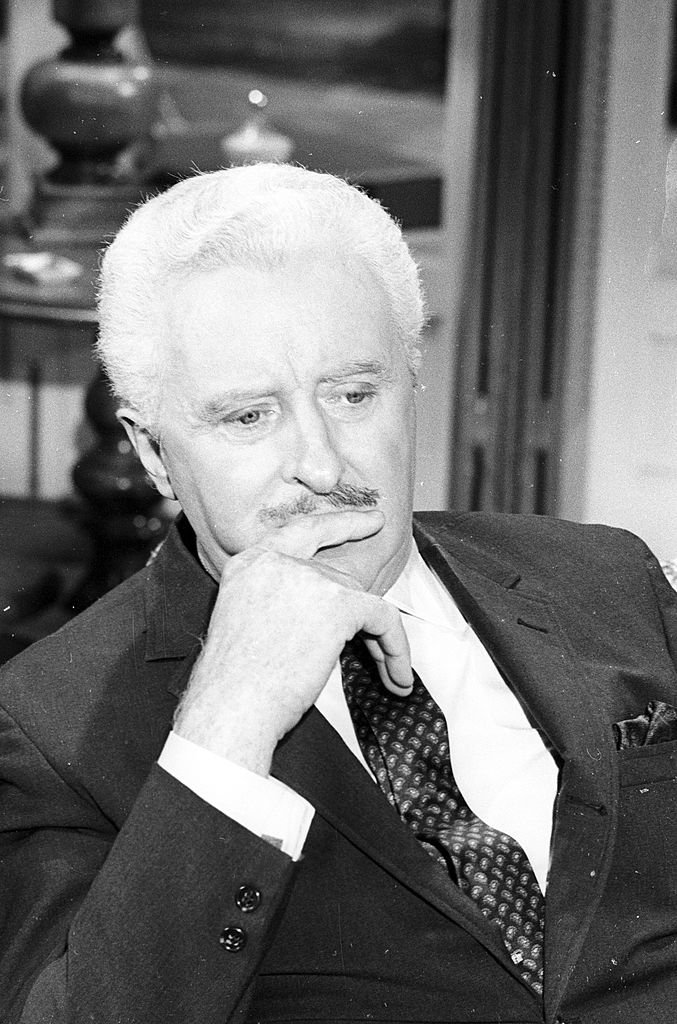 American Actor David White as Larry Tate in "Bewitched," in 1966. | Source: Getty Images
Mary was a prominent Broadway actor in the 1950s and made her 1944 debut on Broadway in "Little Women." Her official film debut came in 1952's "Park Row."
After his wife's demise, White and his son Jonathan moved to LA. The actor continued his work in the entertainment industry and made appearances in other movies such as "The Goddess" (1958), "The Apartment" (1960), "Sunrise at Campobello" (1960), "The Great Impostor" (1961) among others.
On December 21, 1988, White had another tragic loss. His son Jonathan died in the bombing of Pan Am Flight 103 over Lockerbie, Scotland. The flight departed from London's Heathrow Airport, and it was supposed to land in New York's JFK.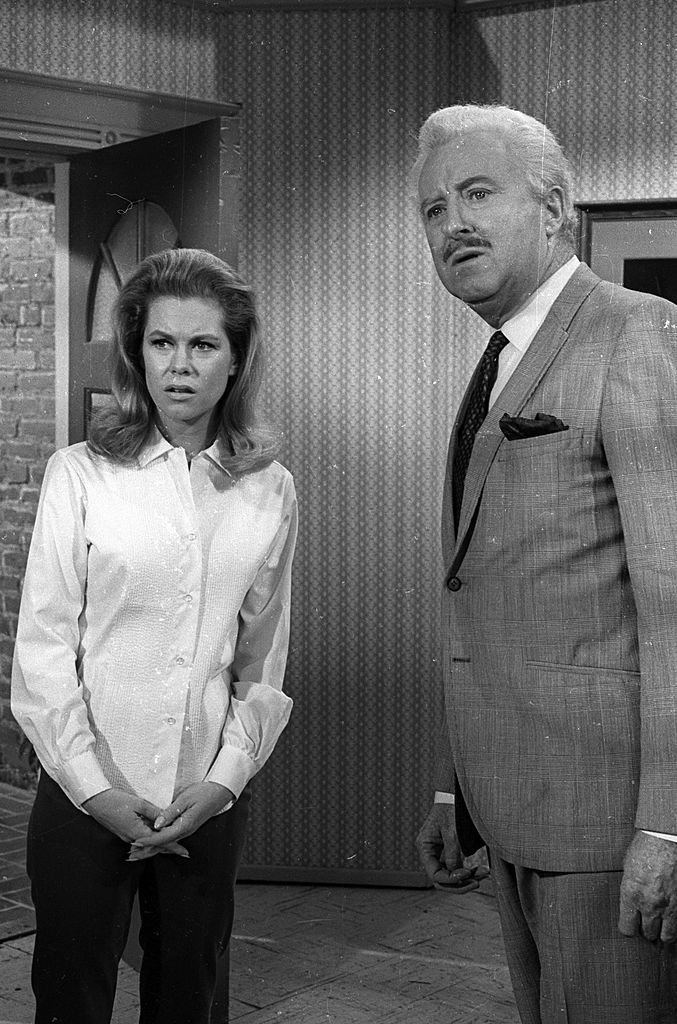 Elizabeth Montgomery and David White in "Bewitched." | Source: Getty Images
The loss of his son was tough for him to get over. Jonathan was only 33. Herbie commented that he loved his son so much:
"That was one thing he never got over. He was heartbroken. And Elizabeth was not aware of this until they reunited during my combined interview with them for my second meeting with Elizabeth at her home."
David White entered a long period of mourning and seclusion. He died two years after his son passed away from a massive heart attack in 1990.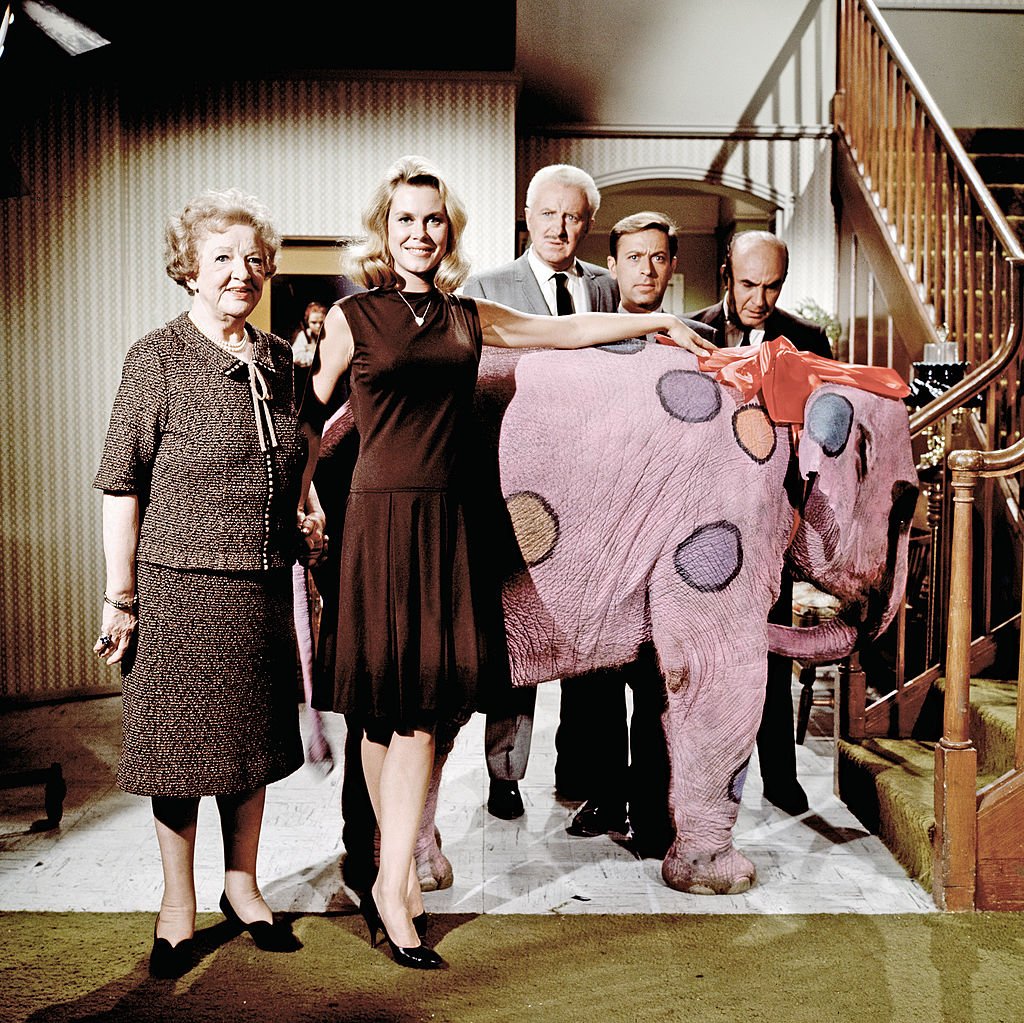 The "Bewitched" cast in December 1966. | Source: Getty Images
When "Bewitched" aired in the 1960s, countless events caused pain to many Americans, making television shows and movies an escape from all the negative news people were seeing on the news.
The classical TV sitcom "Bewitched" created a magical and unique frame for viewers to escape from reality, and it set the stage for many other films that were produced in the years after the show was over.
Please fill in your e-mail so we can share with you our top stories!
The information in this article is not intended or implied to be a substitute for professional medical advice, diagnosis or treatment. All content, including text, and images contained on news.AmoMama.com, or available through news.AmoMama.com is for general information purposes only. news.AmoMama.com does not take responsibility for any action taken as a result of reading this article. Before undertaking any course of treatment please consult with your healthcare provider.