twitter.com/IrishSunOnline
Pensioner in Her 70s Discovers Ring She Was about to Trash Is Actually a Diamond Worth Almost $3m

An elderly UK woman was about to discard a piece of jewelry when her neighbor convinced her to get it valued. To her surprise, it turned out to be an off-the-scale diamond and one of the largest ones the auctioneer had ever seen.
Once in a while, people embark on the much-hated home clearout parade, hoping to get rid of old things while making space for new ones. The majority of the time, people can find lost items from the past, some of which might hold sentimental value.
Mistaking a valuable item as being worthless may or may not happen to everyone, but it most certainly happened to an elderly woman in her 70s living in Northumberland, UK.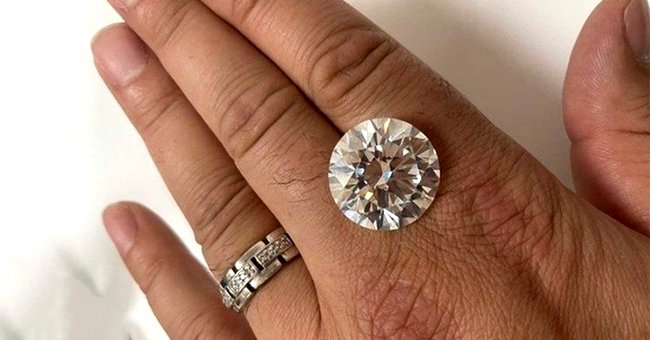 The 34-carat diamond pictured, which was reportedly found at a 70-year-old UK woman's house. | Photo: twitter.com/IrishSunOnline
The pensioner was clearing her house when she came across a stone bigger than a pound coin. Owing to old age, she was unable to fully recall when and where she had bought the gem, though she was fond of going to garage sales.
Apparently, she had found the stone lying in a box along with her wedding band and a couple of low-value costume jewelry. She easily mistook it for being a knockoff and dismissed it as worthless.
But just when she was about to toss the gem in the bin, her neighbor managed to convince her otherwise, after which she decided to get it valued.
The elderly lady then took it to Featonby's Auctioneers in North Shields, North Tyneside, where auctioneer Mark Lane examined it. He shared how the lady was sure it wasn't a real diamond but just wanted to get it tested. Lane also told BBC:
"She just thought she would bring it in as she was passing."
Initially, Lane thought that the huge stone comprised cubic zirconia, a synthetic stone that is quite often used in the place of real diamonds. During that time, the gem stayed on his desk for many days.
He then used a diamond tester machine, following which he sent the stone to Featonby's London-based partners. It was also certified by experts in Antwerp, Belgium, and it was then confirmed that the gem was actually 34 carats. Lane also revealed:
"The colour, the clarity, the size... to find a 34-carat diamond is off the scale."
Lane explained that throughout his five years running the business, he had never seen such a large diamond. The valuable gem has been valued at approximately $2,741,520.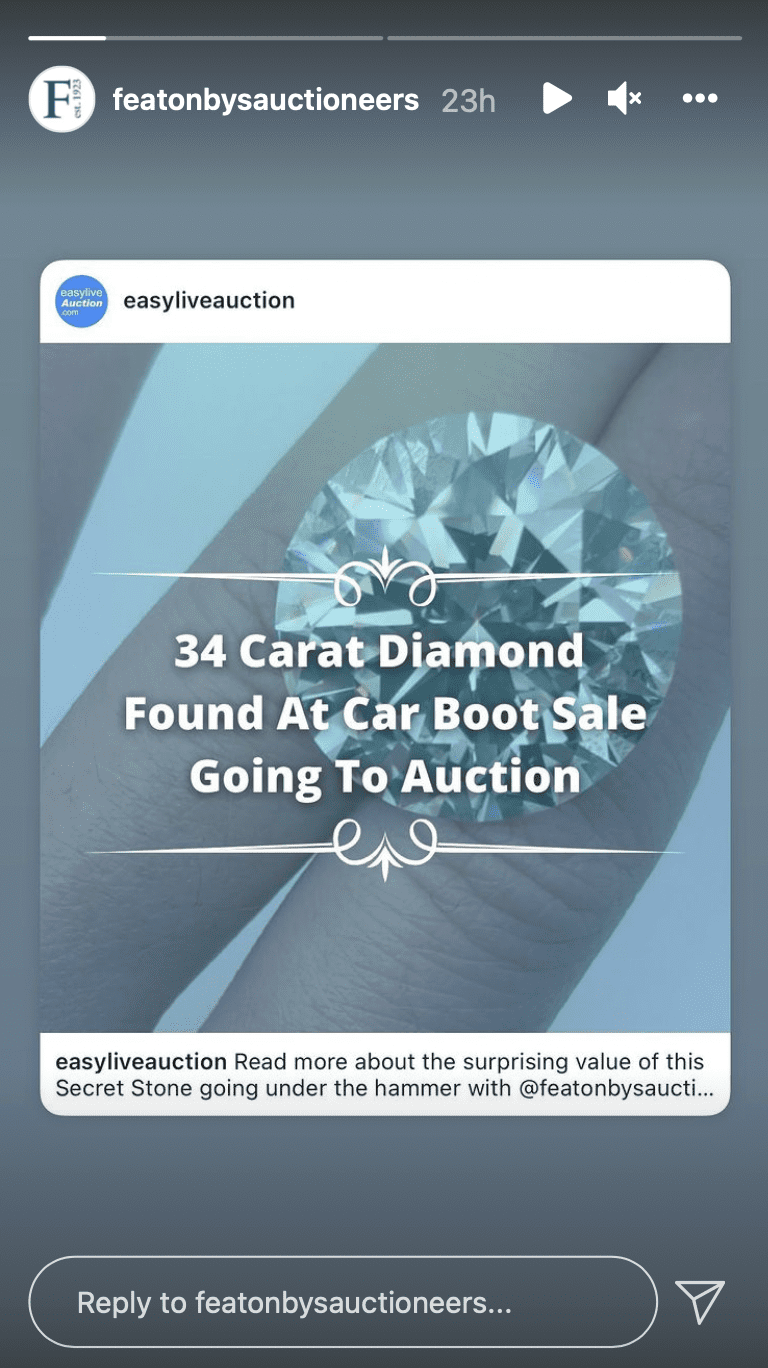 The 34-carat diamond will be auctioned on November 30. | Photo: instagram.com/featonbysauctioneers
The pensioner who brought the valuable stone to Lane has chosen to stay anonymous but admitted to buying the diamond alongside a few other trinkets at a car boots sales many years ago.
Currently, the diamond is being kept safe and secure at London's Hatton Garden jewelry quarter. It will likely be put up for auction on November 30.
Please fill in your e-mail so we can share with you our top stories!