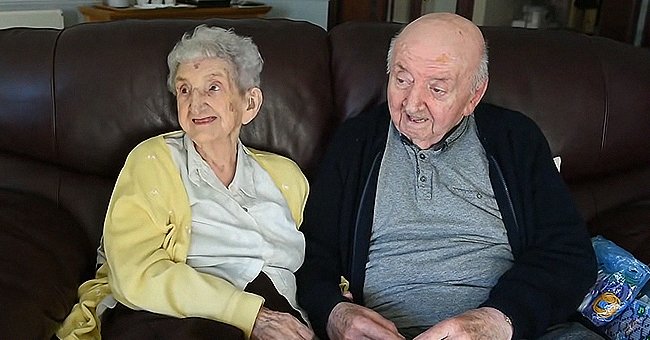 youtube.com/JewishLife
98-Year-Old Mother Moves into Nursing Home Because of Her 80-Year-Old Son
A mom's unwavering love for her son led her to move into a retirement home to care for him despite not needing any form of assisted living herself.
98-year-old Ada Keating welcomed her son, Tom Keating when she was only eighteen. For over eight decades, the mom of four remained a pillar of support in her kids' lives, reaching out to them at their points of need.
Even in her old age, the mom remained unrelenting in showering them with all the love she could offer. Tom, who was her oldest child, spent most of his life living with his mom, making the pair inseparable.
98-year-old Ada Keating and her 80-year-old son,Tom Keating together in a picture | Photo: youtube.com/JewishLife
Finally, her son became a senior citizen himself and was in need of assisted living. Hence, he moved into the Moss View care home, Liverpool, in 2016 to live out his old age.
One year after taking residency at the home, he was joined by his precious mom, who couldn't bear to be away from him for so long.
The elderly woman moved into the care home in 2017, pulling off a rare feat. Caregivers at Moss View explained the rarity of having mothers and their children live in the same care home.
But the duo didn't seem to mind, as they spent their time together playing board games, exchanging jokes, and watching their favorite TV shows. Phillip Daniels, Moss View manager, divulged:
"It's very touching to see the close relationship both Tom and Ada share and we are so pleased we were able to accommodate both of their needs."
Tom admitted he was happy to have his mom around, as it meant getting to see her more as she was ever ready to receive him into her warm embrace.

A netizen's comment on the viral Youtube video | Photo: Youtube.com/JewishLife
His younger sisters, Barbara and Magi, stop by at the care home often to check in on the pair and spend quality family time with them. But it was never the same as actually living together.
Among all the perks he enjoyed living with Ada, what Tom relished the most was the privilege to enjoy the care and attention of mom.
When asked if the former auxiliary nurse looked after him, Tom replied in the affirmative while gushing about how well she treated him.

A netizen's comment on the viral Youtube video | Photo: Youtube.com/JewishLife
The story of the mother-son duo attracted hundreds of heartwarming comments from netizens. For example, a comment on YouTube read:
"I don't know why but I feel so emotional right now. Man, to still have your mother at such a late part of your life is just… too much for me. I'm literally tearing up right now."
Several commenters admired the older woman's love and dedication, commending her for being such a caring mother. One wrote: "As a mom, I know she is looking at him at 80 years old like he is still her little baby."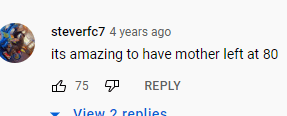 A netizen's comment on the viral Youtube video | Photo: Youtube.com/JewishLife
Others questioned the woman's decision to care for her son, noting that it should be the other way round, with the child caring for his mom in her old age. A comment read:
"Weird how there's like no visible age difference between them anymore. But if he's still a bit younger and probably healthier, shouldn't he be caring for her?"
Notwithstanding what everyone else thought, the love of a mom remains undisputed, which is the ultimate lesson Ada Keating bestowed on the world through her actions.
Please fill in your e-mail so we can share with you our top stories!