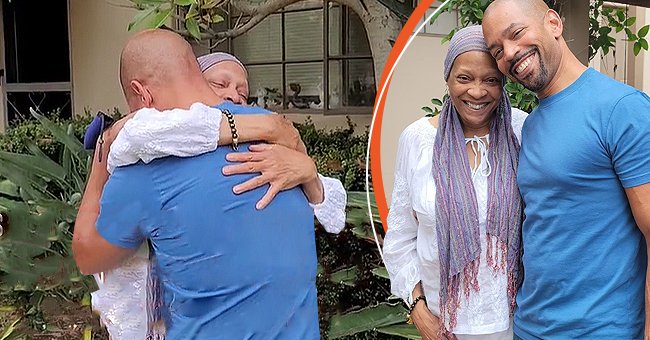 instagram.com/howton.t | tiktok.com/@th4evrr
Son Waits 40 Years for the Embrace of Mother Who Gave Him up for Adoption as a Baby
An adopted man from New York City flew more than 2,000 miles to meet his biological mother in San Diego. He shared the tear-jerking moment of embracing his birth mom for the first time and said it was like a dream come true.
No matter how lucky people are to have kind, loving, and caring adoptive parents, the yearning to know and meet their biological family is always there, and they can't seem to shake it off.
Tobayi Howton had grown up battling the same feelings. He was lucky to have a supportive adoptive family, and his adoptive dad always helped him in his search for his familial roots.
SEARCH FOR BIRTH MOTHER
Howton, who is now in his 50s, first began looking for his biological mother, Thomasette Cox, in 1982. Growing up, he was fully aware that she had given him up for adoption as a newborn because she couldn't support him financially.
At the age of 12, he even penned down a letter to his adoption agency, hoping they'd discuss details of his adoption. While he did hear back from them, there was hardly any useful information that could help in identifying his birth mom.
When he reached his 20s, he was able to get hold of his birth certificate, but it only gave him his mother's last name. Nearly ten years later, when Tobayi was in his 30s, he hired a private investigator, who proved to be unsuccessful.
Moreover, Tobayi had also registered at websites like 23andMe and Ancestry.com, but they failed to give any positive response. However, one day, something unexpected happened.
Thanks to his membership with DNA sampling websites for around two years, he received a match with a cousin named Alicia, who contacted him, asking if he had any idea about his biological parents.
Soon afterward, the two cousins were able to bring the missing pieces together. Alicia then connected Tobayi with his great aunt, who then made him get in touch with her sister, Tobayi's birth mother.
EMOTIONAL REUNION
It was then that Tobayi, who had never seen his mom, finally got to meet and hug her for the first time. He shared the emotional reunion on TikTok, flying from New York to San Diego to live the heartwarming moments. In the video, he said:
"Just landed. About to take the next step for the rest of my life. Kind of like a dream come true."
He then pointed to his mother's house and said that he had waited forty years for this moment. When Ms. Cox finally came out to meet him, the two shared a long and affectionate hug.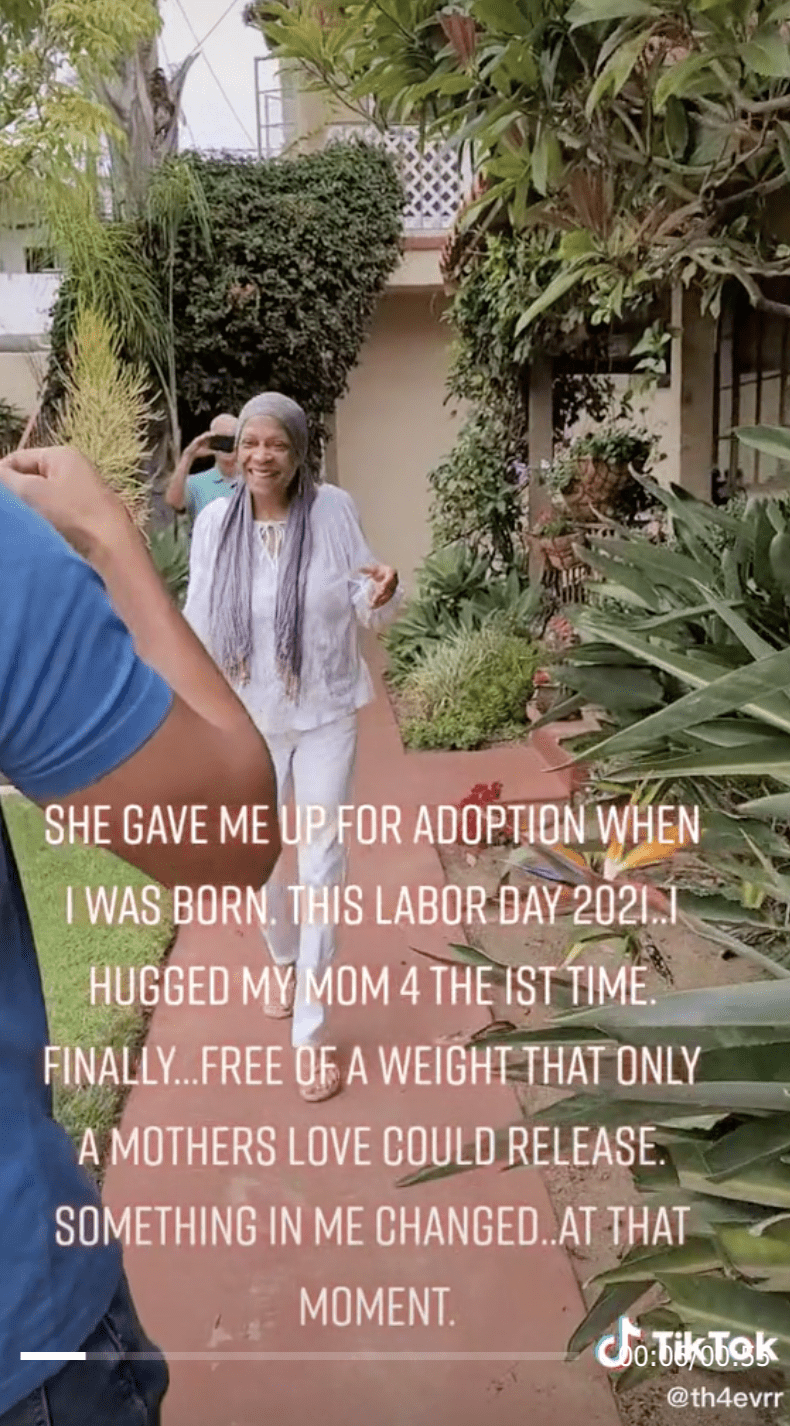 The moment Ms. Cox saw her son, Tobayi, and walked over to hug him. | Photo: tiktok.com/@th4evrr
NETIZENS REACT
In the video, Ms. Cox repeatedly told her son not to cry and invited him to come inside the house for a glass of wine. The long-lost mother-son duo even took a walk together in San Diego later on and cherished their time together.
Many netizens left comments on the tear-jerking video. One user wrote: "She gave you up bc she loved you beyond. It's no easy decision. I am so proud of you for understanding who you are, son (sic)."
Another one responded: "I know moms have their reasons for doing that. I'm just happy you got to meet your mom and hug it out (sic)!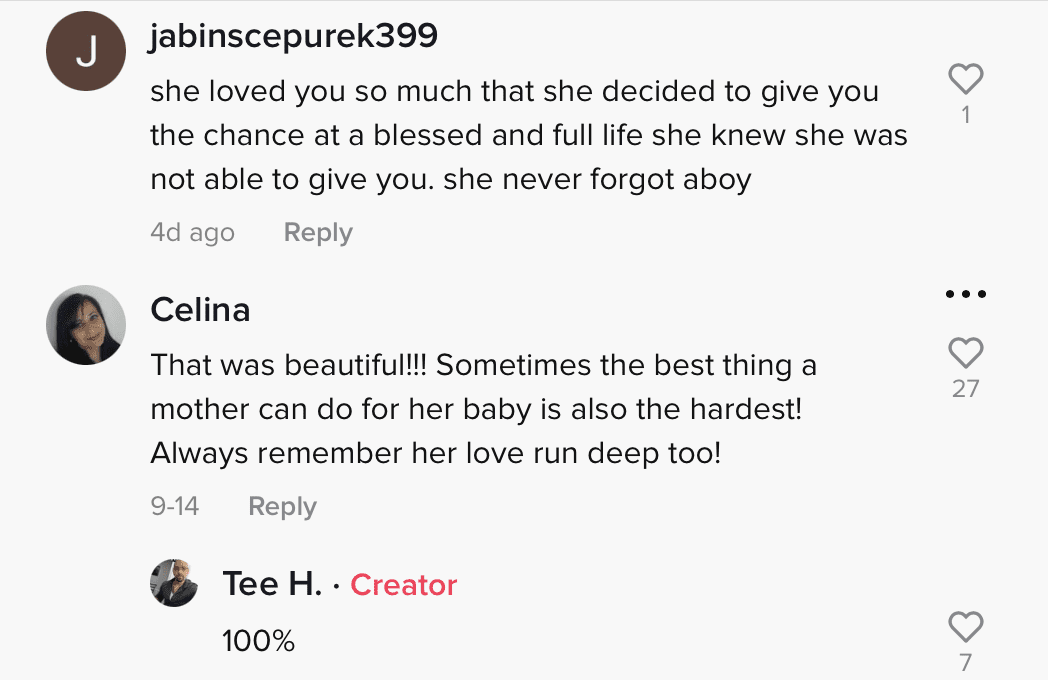 Netizens leave encouraging comments on Tobayi's viral video capturing his emotional reunion with his birth mom. | Photo: tiktok.com/@th4evrr
FINDING CLOSURE
Discussing the long-awaited reunion, Tobayi shared how he felt when he hugged his birth mom for the first time. He said that his entire childhood flashed through his mind, and he allowed himself to feel like a little boy as he melted in her embrace.
Appreciating his adoptive father, Theron Howton, he added how he was always there to answer whatever questions he had about his birth mom.
He added that he has no grudges with Ms. Cox because he knew she gave him up so he could have a better life, which he did thanks to his incredible adoptive family.
Please fill in your e-mail so we can share with you our top stories!