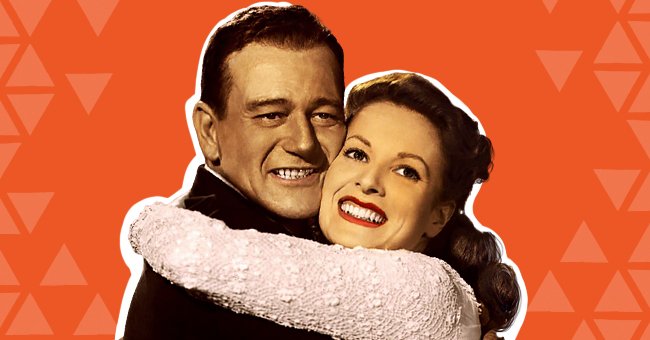 Getty Images
John Wayne and Maureen O'Hara Possibly Shared More Than Screen Time Recurring Rumors Claimed

According to close friends, the tough and strong Irish actress Maureen O'Hara had her long-time friend and costar John Wayne "in love with her." Their undeniable chemistry onscreen left people wondering if the two were an "item" in real-life.
Two iconic actors who worked together on several films had radiated chemistry both onscreen and as great friends. The undeniable chemistry between John Wayne and Maureen O'Hara made many people believe they were a couple in real-life. But were they?
There was much speculation whether they were an item offscreen or not. John Wayne's partner, Pat Stacy, received a letter from a woman claiming Wayne and O'Hara's child. Besides that, many people took Maureen O'Hara as his wife.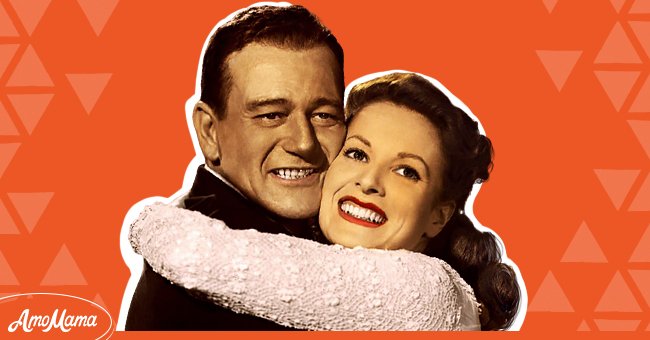 John Wayne and Maureen O'Hara in the film "The Quiet Man" in 1952. | Source: Getty Images
JUST A RUMOR?
In Wayne's memoir, "John Wayne: The Life and Legend," from 2014, Scott Eyman wrote that the actor had a three-year affair with Marlene Dietrich, but his romance with his friend and costar Maureen O'Hara lasted even longer.
O'Hara and Wayne have consistently denied any romance. Still, Wayne's close friend confirmed to the author that the duo had a "long affair" before and during the actor's marriage to his third wife, Pilar Palette.
His friend also said that the "The Quiet Man" stars often met at Wayne's ranch in Arizona. The actor was known for being unfaithful to his partners.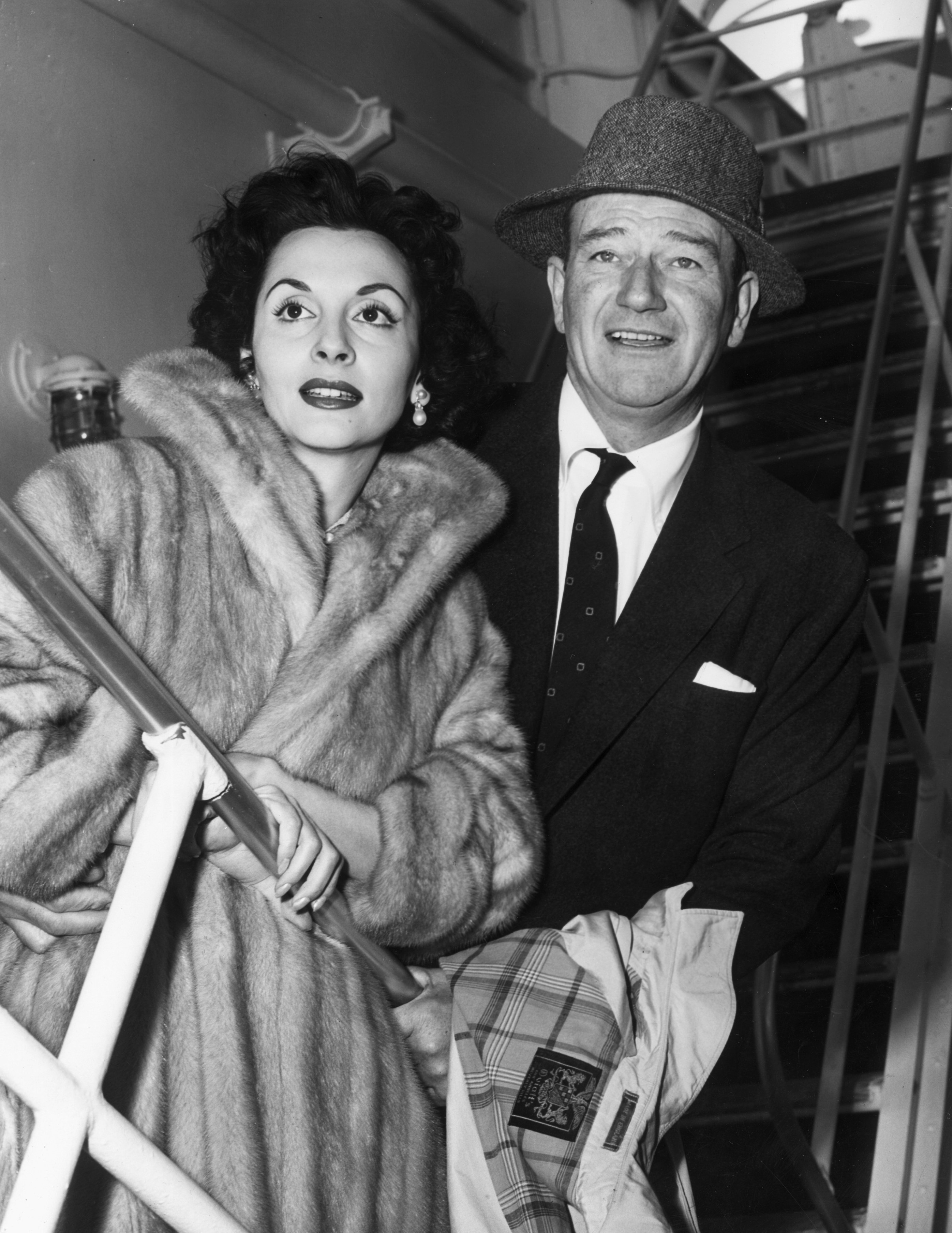 American actor John Wayne sets sail with his wife, Pilar Palette, for Tripoli, Lebanon, to star in director Henry Hathaway's film, 'Legend of the Lost', in 1956. | Source: Getty Images
Wayne's son, Michael, stated that O'Hara was the only woman who could match his father "kiss for kiss, punch for punch, stride for stride." He shared that she was the one who could go "toe to toe" with his father.
Michael Wayne is the actor's son with his first wife, Josephine. But Michael would often be mistaken as O'Hara's son. The Irish actress revealed that one day when she was waiting in line to see Wayne's film, "Cahill," a random woman came to her and said that "her son just went in."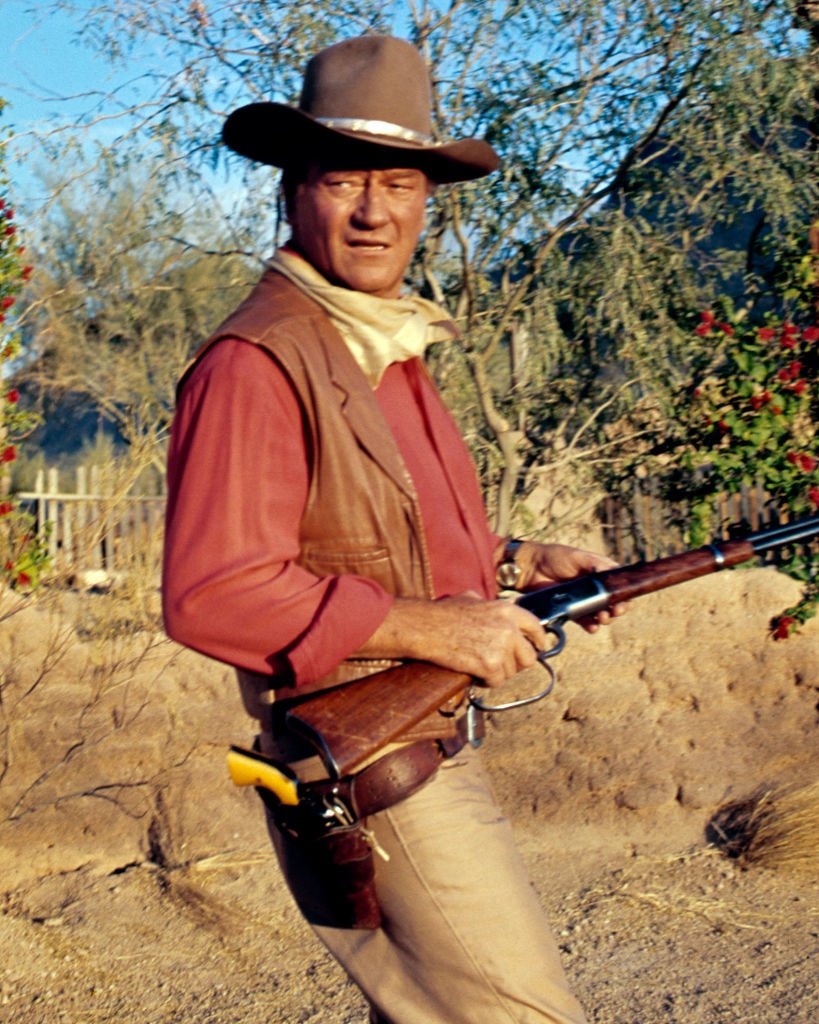 American actor John Wayne (1907 - 1979) (as Cole Thornton) in a scene from 'El Dorado' (directed by Howard Hawks), 1967. | Source: Getty Images
The woman was referring to Michael. But many people scoffed at the possibility that the two could've been involved romantically. Like Harry Carrey Jr., who said that Wayne took his marriage seriously:
"Maureen and Duke offscreen didn't have anything going on like the attraction between Duke and Gail Russel. They were good friends, that's all."
Likewise, Andrew McLaglen said that the duo respected and liked each other a great deal, and that was nothing personal between them. In his memoir, Christopher Mitchum, who worked with both of the stars in "Big Jake," said that "Duke was truly in love with that woman."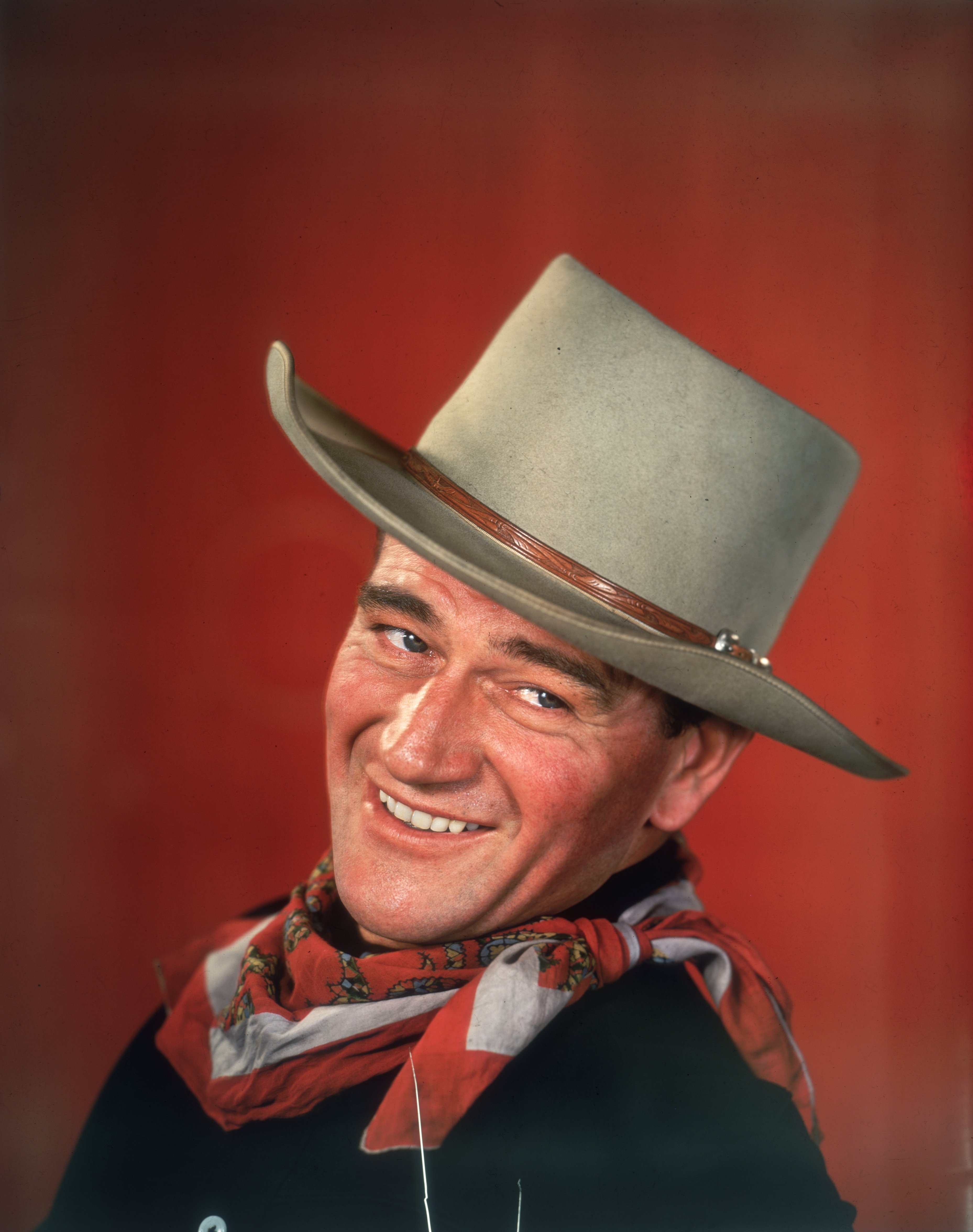 A studio headshot portrait of John Wayne dressed in Western garb, with his head turned to the side in circa 1955. | Source: Getty Images
JOHN WAYNE'S LOVE LIFE
John Wayne — or Marion' Duke' Morrison in real-life, had real-life issues too. He was known for his straight talk, heavy drinking, and infidelity. The cinema's greatest cowboy's first wife, Josephine Saenz, was an orthodox Catholic, convent-educated who refused to use contraception.
Despite being considered unloyal to his wives, his friends affirmed that John Wayne wasn't as compulsive a womanizer as most Hollywood actors. His old friend Paul Fix shared:
"Wayne would occasionally stray, but he always felt so guilty about cheating on Josephine he usually broke it off as quick as he could."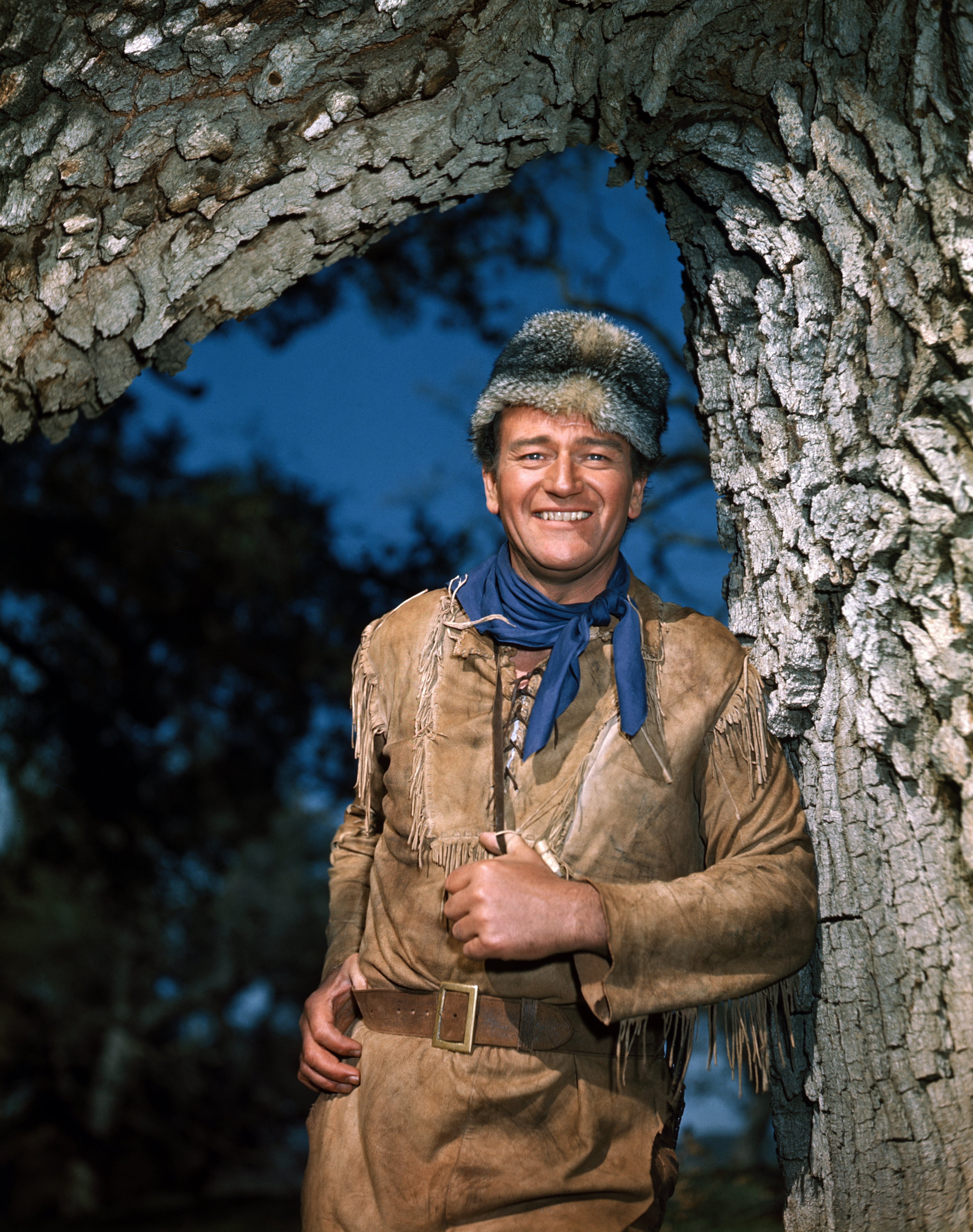 American actor John Wayne on the set of The Fighting Kentuckian. | Source: Getty Images
During his marriage to Josephine, Wayne had an affair with Chata, a "courtesan" daughter of a brothel-keeper he met in Mexico in 1941. He was also having an affair with the German actress Marlene Dietrich at the time.
As the story goes, two affairs were just too much to Josephine. So, she asked an Irish priest to come to their home and counsel her cheating husband. Although the cinema's greatest cowboy converted to Catholicism on his deathbed, he didn't appreciate the intervention at the time.
The couple divorced, and in 1946 Wayne tied the knot again, this time with his mistress Chata. Rumors say that their sex life was quite the opposite of Wayne's first marriage. But a good sex life wasn't enough.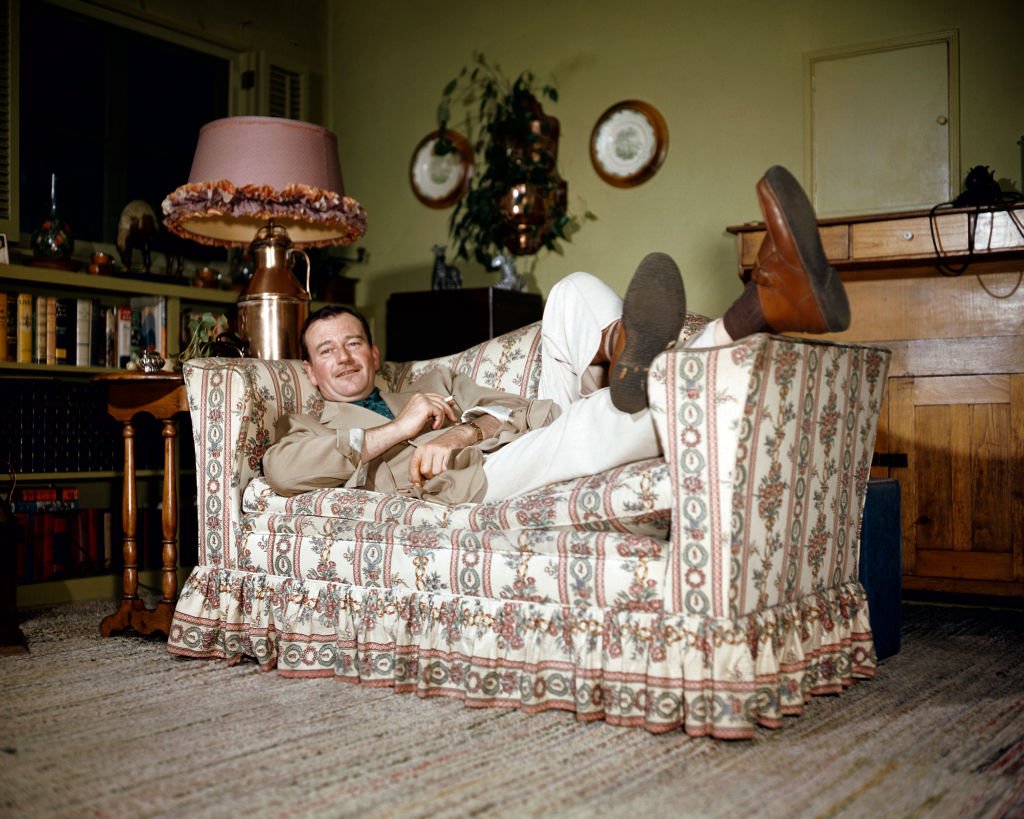 Portrait of American actor John Wayne (1907 - 1979), a cigarette in one hand, as he relaxes, feet up on the arm of a couch, 1950s. | Source: Getty Images
Chata had a vicious temper, and more often than not, she drank heavily. The couple was constantly arguing, and after Chata's alcoholic mother moved in with the couple, things got worse. In 1952 Wayne called it quits and divorced Chata.
Even after a heavy divorce among rumors of infidelity, Chata was having an affair with the Hilton Hotels' heir, Nicky Hilton, and Wayne an affair with actress Gail Russell — the actor didn't lose hope on finding love again.
John Wayne met his third wife in Peru, Pilar Palette, when scouting a film location for "The Alamo." Pilar divorced her then-husband and moved to Hollywood with Wayne. But it wasn't until the Peruvian wife felt the cultural difference between her home country and Hollywood.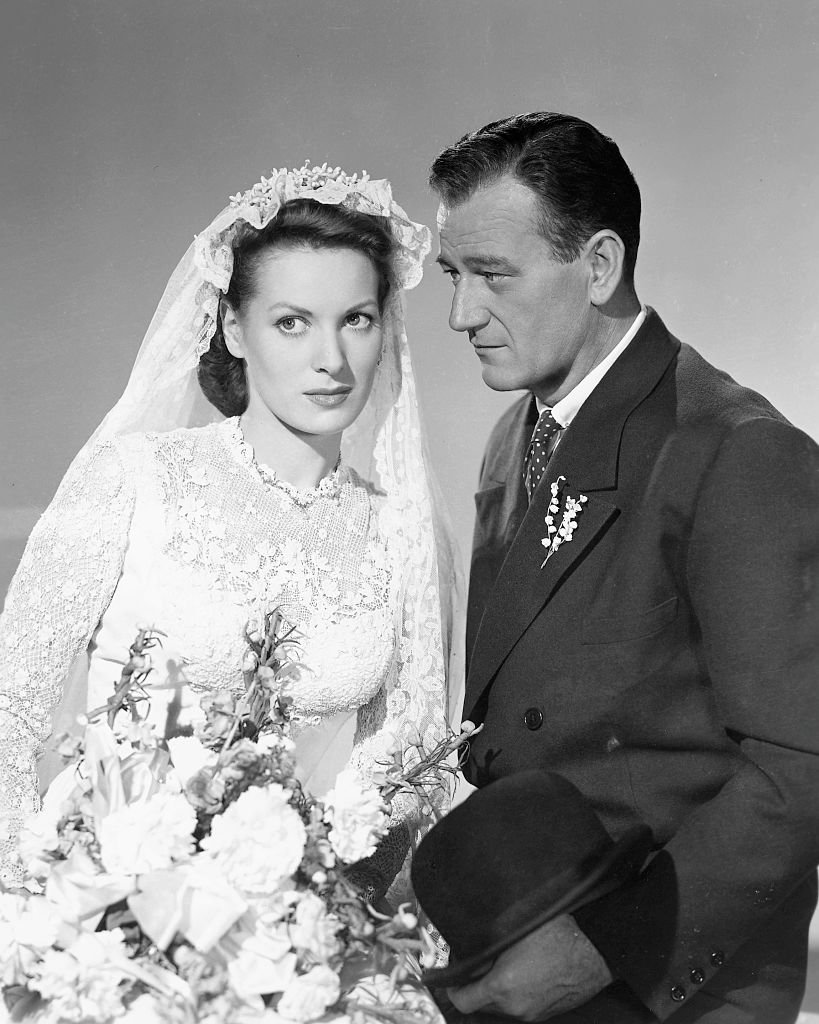 Actors John Wayne (1907 - 1979) as Sean Thornton and Maureen O'Hara (1920 - 2015) as Mary Kate Danaher in a publicity still for the film 'The Quiet Man', 1952. | Source: Getty Images
When they wed, Wayne was still getting a divorce from Chata, but Pilar got pregnant. He thought a pregnancy could ruin his career, so she had an abortion. Pilar admitted later that the abortion almost "destroyed her."
Pilar became massively stressed, and she found comfort in sleeping pills and got addicted to them. The couple stayed together for 19 years and, during this time, they had three children together. Throughout the time they were together, the actor became romantically involved with his secretary, Pat Stacy.
According to Scott Eyman, Wayne "tried to be a family man and mostly succeeded," despite his numerous affairs. To the author, one of his biggest failures on the fidelity front involved Maureen O'Hara.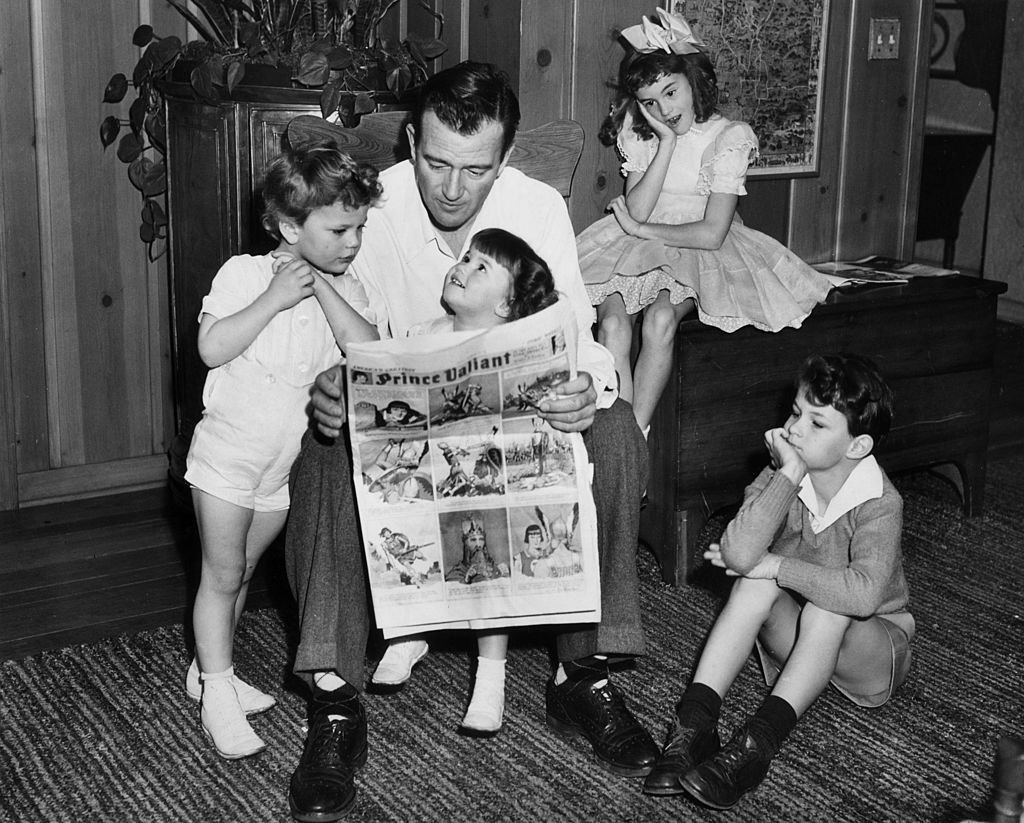 ohn Wayne reading a "Prince Valiant" comic with his four children Patrick, Melinda, Toni, and Michael in Hollywood, California in 1942. | Source: Getty Images
Many friends said the Irish actress was someone "he could not control." O'Hara was strong and resilient, and maybe that's why they never got together.
John Wayne, or "Duke" as he liked to be called, made 250 films and is often considered one of the cinema's greatest cowboys, and his allure still lives on even after 35 years of his death.
The actor often depicted a masculine, rude and chauvinist figure on screen that was certainly no act. More often than not, his characters rarely stayed with a woman long enough. His rugged masculinity hid his feminine ability to guess a woman's dress size on sight.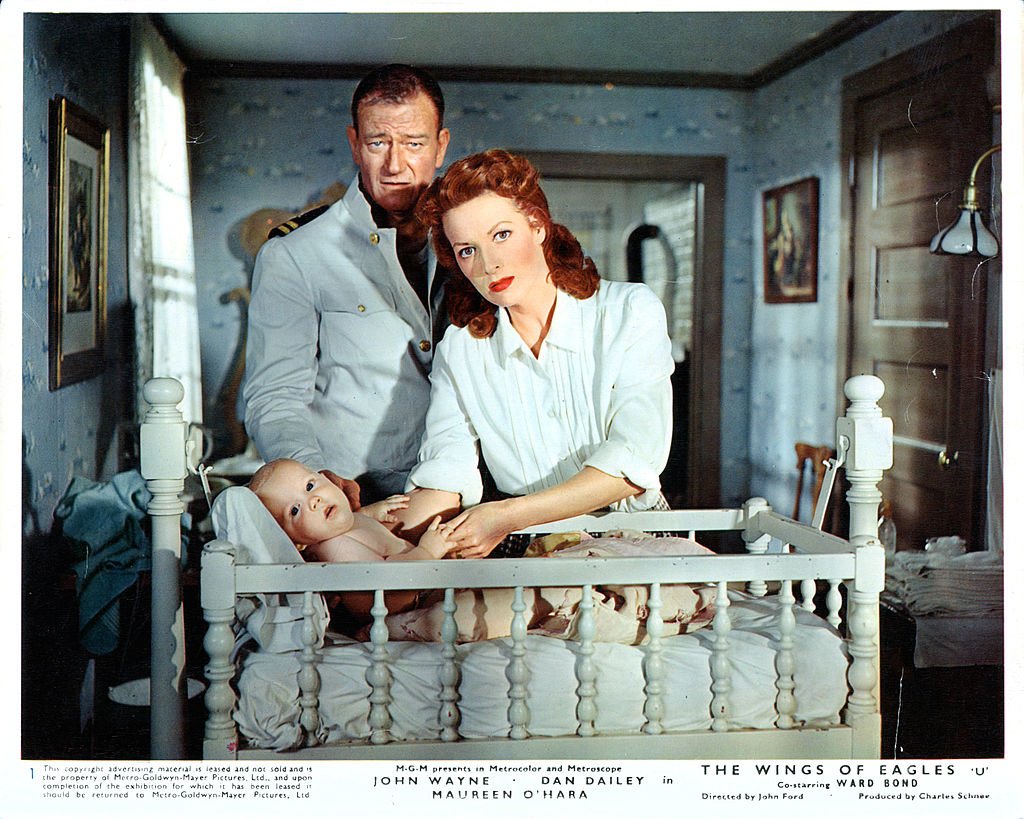 John Wayne and Maureen O'Hara stand over a baby in a crib in a scene from the film 'The Wings Of Eagles', 1957. | Source: Getty Images
The actor passed away in 1979 at the age of 72. He battled cancer after smoking six packs of cigarettes a day and endured years of pain.
Please fill in your e-mail so we can share with you our top stories!