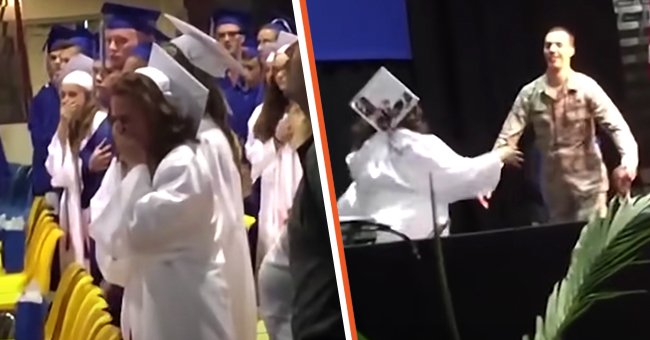 youtube.com/USA TODAY
Military Brother Secretly Appears at His Sister's Graduation, Her Reaction Is Recorded on Video
After serving in the military for an extended period, one brother decided to surprise his sister. He returned to see her graduate, and the young woman's reaction was priceless.
Saying goodbye to family members is never easy, and many have to bid farewell to their loved ones that serve in the military. In 2017, Airman First Class Derrek Maggart could not wait to be reunited with his sister.
He planned the perfect surprise, and the special moment was captured on camera. Many netizens were moved to tears upon seeing what he did for his sister. He flew over 7,000 miles to be with her for her high school graduation.
MOMENT SHE WOULD NEVER FORGET
The best part about his return was that sister Miranda was unaware that he was coming home. He told her that he would not be able to get back in time for her big day, but in truth, he was orchestrating a moment she would never forget.
The Miami East High School student was devastated when she heard that her brother would not be present for her graduation. However, she didn't know she would be getting much more than her diploma.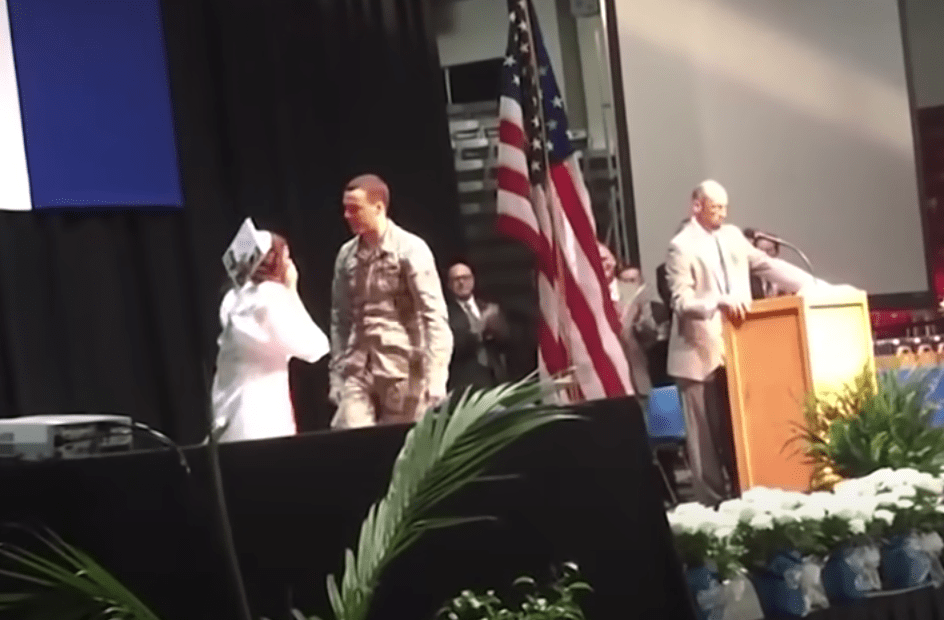 A sister is stunned after her brother's surprise return from the military | Photo: Youtube/USA TODAY
SHE WAS OVERCOME WITH EMOTION
Derrek, who was stationed in South Korea, went up onto the school stage and led the audience in the Pledge of Allegiance. The camera then panned to the crowd, where a young girl could be seen covering her face with her hands—it was Miranda.
As she recognized her brother, she was overcome with emotion. Her brother finished speaking and then told the audience members that they were free to sit down. However, his sister did the opposite.
STUNNED BY THE BIG SURPRISE
Miranda could be seen running toward the stage before giving her brother a big hug. The crowd erupted in applause as they witnessed the heartwarming reunion. The sister was in tears and repeatedly embraced her brother.
Miranda was stunned by the surprise, and so was much of the online community. One user wrote: "That was so awesome and beautiful he surprised his sister at her graduation." Someone else expressed: "That was so emotional even for me."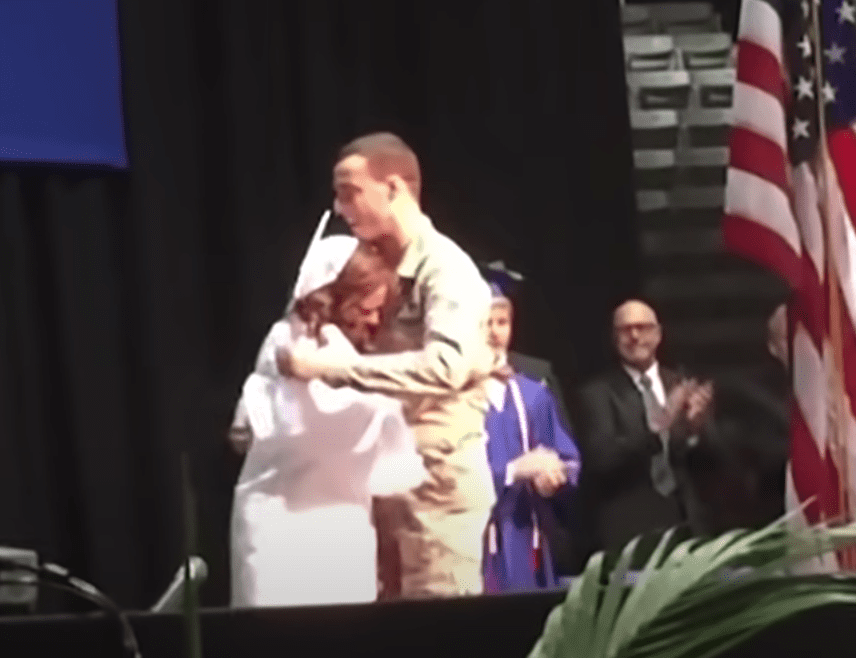 A brother and sister embrace after he returned from the military to surprise her at her graduation | Photo: Youtube/USA TODAY
THE ONLINE REACTION
Another user thanked the serviceman for his efforts. They said: "I just can't imagine what it must be like for a family that has a loved one serving in a combat unit. Knowing their loved one is in harm's way every day ... My heartfelt thanks."
The video that displayed the memorable encounter between a brother and sister garnered over 3 million views on YouTube. People were happy to see the bond of love, and many shared that they wished more clips of this nature were shared online.
Please fill in your e-mail so we can share with you our top stories!