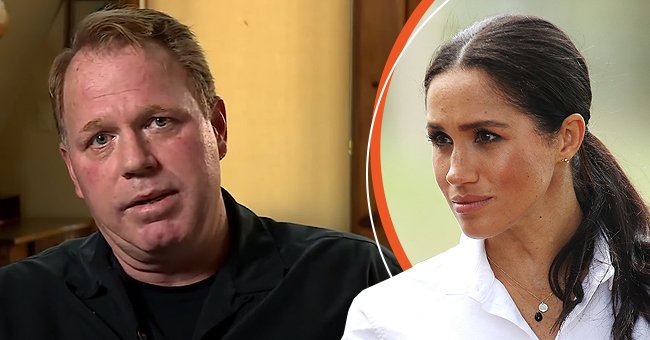 YouTube/Nicki Swift | Getty Images
Meghan's Brother Claims He Babysat Her, Loves Her & Hopes 'She Will Call' Him after His Letter
Meghan Markle has been in the news for the past few days, following her brother's surprising revelations and derogatory comments on the "Big Brother VIP" show.
Like Princess Diana, Meghan Markle, the Duchess of Sussex, is a popular figure globally. Much of her fame stems from acting and marriage to the Ducke of Sussex, Prince Harry.
While disputes and controversies have marred her time in the Royal Family, the mother of two remains a person of interest to her fans and has a large following. Despite her popularity, there are some facts fans do not know about her, especially before her marriage to Prince Harry.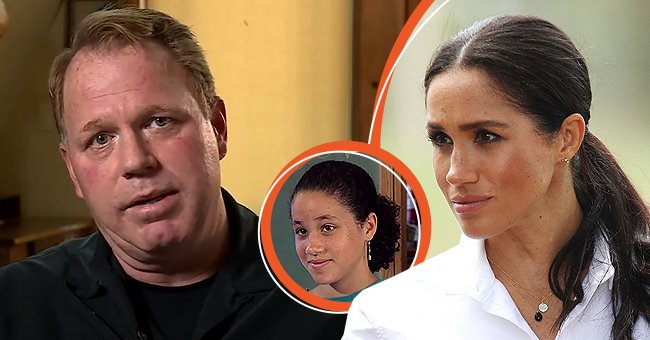 Meghan's brother Thomas making some revelations about her in an interview. [Left] | Meghan Markle on '90s Nickelodeon Show After Protesting Commercial. [Middle] | Meghan, Duchess of Sussex visits a local farming family, the Woodleys, on October 17, 2018 in Dubbo, Australia. [Right] | Photo: Youtube/Nicki Swift Getty Images Youtube/Inside Edition
MEGHAN'S LIFE BEFORE MARRIAGE
Born and raised in Los Angeles, California, Meghan did not have the privilege of spending most of her childhood with her parents by her side.
The actress's parents divorced when she was only six years old, and Meghan had to live with her mom, Doria Ragland. Ragland was a social worker and yoga instructor, and her profession appeared to have impacted young Meghan.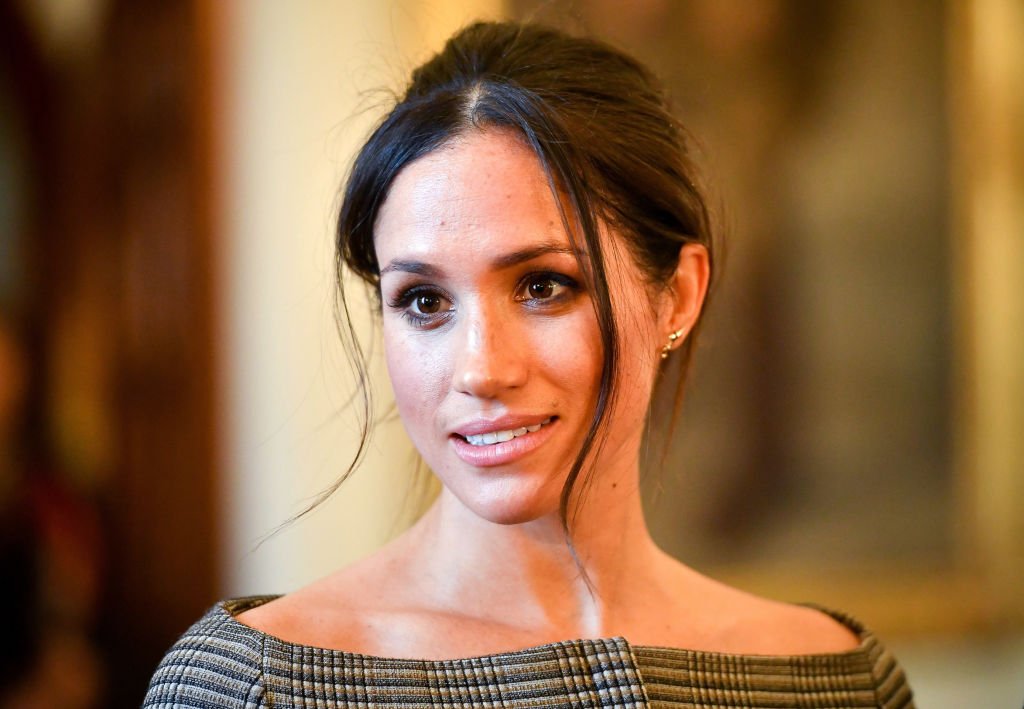 Meghan Markle during a visit to Cardiff Castle on January 18, 2018. | Photo: Getty Images
MEGHAN AND YOGA
At the early age of seven, the Duchess became interested in yoga and began doing mommy-and-me yoga with her beautiful mother. Eventually, yoga did not only afford the mother and daughter enough time to bond; it became a permanent part of Meghan's life.
During an interview with Best Health Magazine, the Duchess said she had become an "avid fan" of yoga and regularly did it to stay in shape.
MEGHAN ON TV
Yoga is only one of the many things the actress started at a young age. Her journey to stardom in Hollywood also started early. Born to Emmy Award-winning Lighting Director Thomas Markle Sr, Meghan's chances of being a child star were relatively high.
As a child, she would always go to movie sets with her dad, and Meghan finally made her first television appearance as a little girl. She landed a role in "Married...With Children," and every day after school, she would go to the set to film. It was a fantastic experience.
SHE IS A FEMINIST
As a pre-teen, Meghan summoned the courage to speak against sexism at age 11 and defended women's rights. The Duchess was outraged after seeing a commercial advertising Ivory dishwashing soap, just for women.
It had the slogan "women all over America are fighting greasy pots and pans." She believed that it was not suitable for children to believe that their mothers did everything domestic at home.
The Duchess wrote to the company in charge to correct the commercial's message, demanding a change, and fortunately, it was granted.
Several days later, the commercial showed on television with the changed slogan to "People are fighting greasy pots and pans with Ivory Care." Fighting for and helping people have always been two unique characteristics of the Duchess.
Before tying the knot with Prince Harry, Meghan volunteered in soup kitchens in Toronto and California. She also worked with a youth empowerment nonprofit organization and a humanitarian organization.
Shortly before their nuptials, Thomas Jr sent a letter to Prince Harry warning him to steer clear of Meghan.
MEGHAN'S LIFE AFTER MARRYING HARRY
Meghan finally tied the knot with Prince Harry in 2018. Although it was an honor to be a part of the Royal Family, being a Duchess came with its trials and ordeals.
She was now under the media's microscope and lost her freedom, forcing her to become isolated. Meghan's new life affected her mental health negatively and became a worry to her mother.
Royal Reporter Omid Scobie once revealed what Meghan's mother, Gloria Ragland thought about her daughter's lack of freedom, during a visit, shortly before Meghan's son was born.
Scobie said Ragland visited Meghan at Frogmore Cottage in 2019, and surprisingly, neither she nor her daughter was allowed to go out of Windsor Town to get coffee.
The reporter said that Ragland was not happy with the situation, and according to a source, she said to her daughter, "You're stuck in here."
Even though Ragland was bothered about Meghan's isolation, she made sure to keep her thoughts away from the media and news outlets. But when the Duchess and her husband first announced their decision to step back from their senior roles, Ragland was delighted.
Meghan and Prince Harry's decision came because the former struggled with her mental health and felt trapped by the "firm." She was relieved to see that Meghan made her mental health and well-being a top priority.
THOMAS JR'S REVELATION
Meghan may share a good relationship with her mother, but the same cannot be said about her father and half-brother Thomas Markle Jr.
Recently, Thomas Jr opened up about his relationship with Meghan on a new episode of "Big Brother VIP," on which he is one of the celebrity contestants.
Thomas Jr was 15 when the Duchess was born, and like every big brother, he did the usual family things like feeding and babysitting her. But these days, his relationship with his sister has grown sour.
On the show, he claimed that Meghan changed after she became famous. Their relationship got even worse after she got married to Prince Harry. While speaking, Thomas Jr revealed that neither he nor his dad approved of the Duke for Meghan.
Furthermore, he stated that Meghan had kept all of them in the dark, and it was heartbreaking because their father cherished and worshipped her.
All Thomas Sr ever wanted was Prince Harry to call him, visit him, and officially seek his permission to marry his daughter, but the Duke never did. Overall, Meghan's attitude and her marriage to Prince Harry broke the bond they once shared.
Before the new episode aired, a trailer was released, and it left several tongues wagging. In the teaser, Thomas Jr was seen coming down from a limo as he described Meghan as "Shallow."
THOMAS JR'S LETTER TO HARRY
Shortly before their nuptials, Thomas Jr sent a letter to Prince Harry warning him to steer clear of Meghan because she would ruin his life. He wrote that it was not too late to turn back, noting that Meghan was not the right woman for the Duke.
Rather than heed Thomas Jr's warning, the Duke went ahead to walk down the aisle with Meghan. More surprisingly, the actress's brother was not invited to the wedding, which also caused some uproar.
But despite the siblings' complicated relationship, Thomas Jr says he still loves his sister. He says being on the show is a way to reach out to his sister and show off another side of him. For Thomas Jr, he hopes his statements will spark an interest in Meghan and possibly make her call him.
Please fill in your e-mail so we can share with you our top stories!