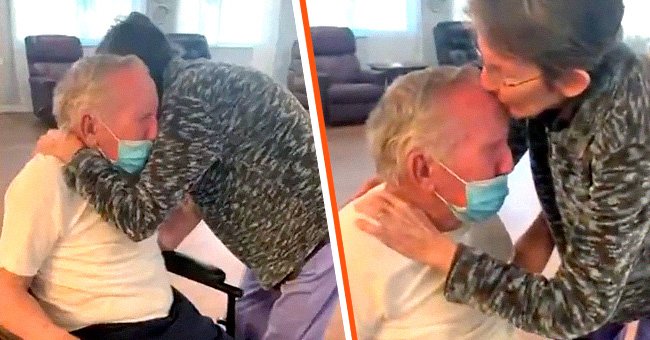 twitter.com/jennholtonFOX
Elderly Couple Married for 60 Years Tearfully Reunite after 215-Day Separation Due to Pandemic
Following his hospitalization due to an illness, Joseph Loreth was barred from seeing his wife as a result of the COVID-19 restrictions. They had a heart-melting reunion over two hundred days later.
A Florida couple waited 215 days to reunite after being separated by a hospital's strict COVID-19 laws. Their heartwarming reactions upon meeting each other once more made the grueling wait worthwhile.
The pair, Joseph and Eve Loreth, both eighty, enjoyed marital bliss for over sixty years until a dilapidating illness struck the former in March 2020.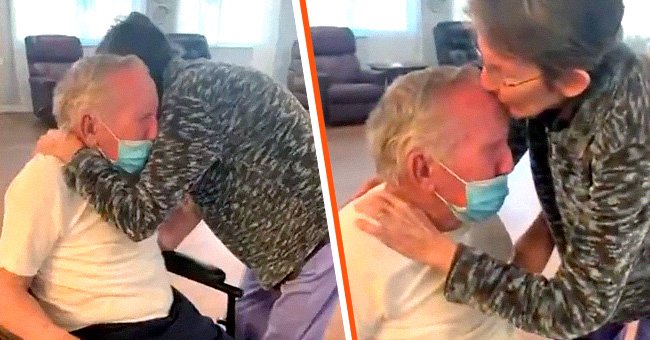 Couple who reunited after 215 days apart due to COVID-19 restrictions. | Photo: twitter.com/jennholtonFOX
He was hospitalized as a result and had to amputate one of his legs as part of his treatment. Following the amputation, which occurred at the peak of the coronavirus pandemic, Joseph was forced to begin the next phase of his recoveryꟷ rehabilitation.
He spent months undergoing rehabilitation and physiotherapy at the Rosecastle at Delaney Creek assisted living facility.
During that period, Eve was not allowed to make physical contact with her husband or get close to him to avoid exposing him to the coronavirus in his at-risk state.
By August that year, the elderly woman also moved into the assisted living facility to be closer to her husband. Even at that, she was still forbidden from seeing her husband up close.
For the next seven months, their only form of contact was via calls or brief window visits. But they persevered until Joseph regained his health and graduated from rehab. After enduring the most daunting 215 days of their lives, the two finally had their long-awaited reunion.

Users' comments on the reunion of a couple after 215 days apart due to COVID-19 restrictions. | Photo: Facebook/rosecastleatdelaneycreek
A video of the adorable moment showed Joseph being wheeled out of an enclosed room into the dining hall, where an unsuspecting Eve sat casually, busying herself with some paperwork.
As soon as she saw her husband, her face was filled with excitement as she exclaimed, "O my God!" One of the staff quickly helped her to her feet, leading her to Joseph's side.

Users' comments on the reunion of a couple after 215 days apart due to COVID-19 restrictions. | Photo: Facebook/rosecastleatdelaneycreek
The parents of five embraced lovingly amid teary eyes. They reaffirmed their promise of love to each other as the elderly woman planted a kiss on her husband's forehead, leaving everyone else emotional. The facility wrote on Facebook:
"We got to witness these two resident lovebirds see and hug each other for the first time since the pandemic. Get your tissues out."
Clary Abreu of Rosecastle admitted Eve had long anticipated the reunion, so much that she paced all night and remained positioned at the dining hall waiting for him.
Earlier this year, elderly couple Mary and Gordon of Mansfield, England, also went viral after a video of their emotional reunion was shared online.
The pair, forced to live in different care homes due to the pandemic, were separated for months as a result. However, Gordon gave his wife a memorable surprise when he decided to relocate to Baily House to be closer to her.
Their reunion left many in tears as the lovebirds embraced each other in disbelief, sharing several unspoken promises.
Please fill in your e-mail so we can share with you our top stories!