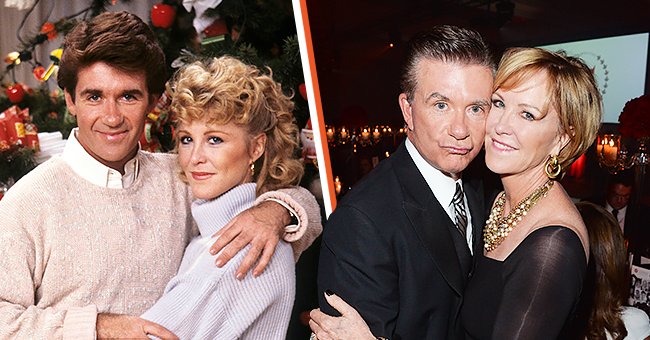 Getty Images
Alan Thicke Once Revealed His Real-Life Relationship with Joanna Kerns behind Their TV Marriage
For almost a decade, Alan Thicke and Joanna Kerns played one of the most loving on-screen couples on "Growing Pains." Thicke revealed they could have dated in real life, too.
In Hollywood, it's very common to see actors dating one another as they know the drill: packed schedules, long shooting days, promotional tours, myriad of fans, and so on.
It seemed like "Growing Pains" stars Alan Thicke and Joanna Kerns were perfect for each other when they started working together. However, they made the conscious decision, not to date.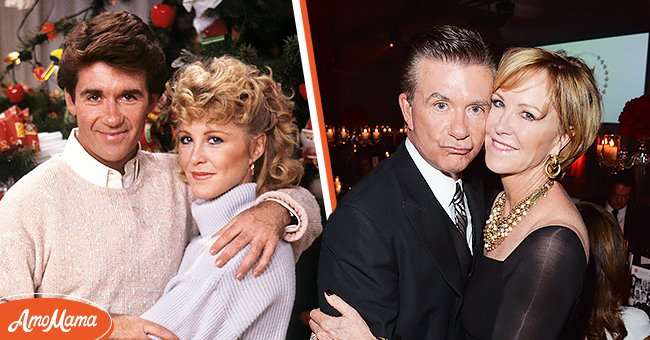 Alan Thicke and Joanna Kerns as Jason and Maggie Seaver in "Growing Pains" in December 1985 [left]. Alan Thicke and Joanna Kerns on September 21, 2013 in Toronto, Canada [right] | Photo: Getty Images
"GROWING PAINS"
In the very successful show (which ran between 1985 and 1992), Thicke portrayed Dr. Jason Seaver, a psychiatrist, and Kerns played his wife, Maggie, a newspaper reporter.
They raised three kids, Mike (Kirk Cameron), Carol (Tracey Gold), and Ben (Jeremy Miller), and worked through the many problems they faced on each episode.
Even though Thicke and Kerns were happily married in the show, they had just divorced their real-life spouses ("Days of Our Lives" actress Gloria Loring and TV-commercial producer Richard Kerns) when the first season aired.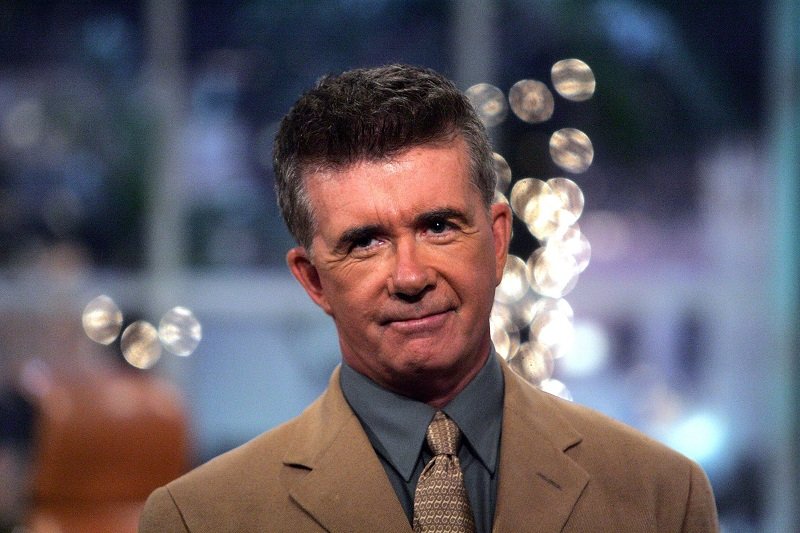 Alan Thicke on August 10, 2006 at CBS Studios in Los Angeles, California | Photo: Getty Images
LIVING TWO LIVES
A few months after the show aired, Kerns admitted she could notice the contrast between her on-screen persona's joyful and well-adjusted life and her own life.
She said that portraying a happily married woman throughout the day to arrive home to be alone was "weird." Her then-seven-year-old daughter Ashley made sure she didn't feel too lonely, fortunately.
The fact that her and Richard's divorce was messy didn't make things better. They spent ten years together, so getting used to the "new single parent life" took some time, Kerns admitted.
Ashley also had a challenging time as she was confused and "lost" about the whole situation, especially considering that her father was not home for reasons she probably didn't understand at the time.
Being a single working mom wasn't a walk in the park either. Ashley was a frequent guest on the "Growing Pains" set as she would be there three to four days a week after school.
Kerns and Thicke would remember their own marriages and wish they had worked out like Maggie and Jason.
Apart from doing her homework, Ashley could see her mom work and understand what she did for a living. Thicke's children, Brennan and Robin, frequently visited the set, too, so they became good friends with Ashley.
All in all, Kerns had a big family on the show as she would also spend Halloween and Thanksgiving with her on-screen children's families.
THICKE HELPED HER
As per what went wrong with Kerns and Richard's marriage, she said he was significantly older than her, and their relationship didn't work.
Since Thicke was seven or eight months ahead of her in the single-parent life, Kerns admitted that he always tried to help by providing "good, calming advice." Playing touching scenes wasn't always easy, though. Kerns explained:
"Sometimes in the relationship between Maggie and Jason, I think about their conflicts and how differently they are resolved from what I experienced in my own marriage."
She added that they bent, made adjustments, and worked to solve them whenever Maggie and Jason had issues. In her and Richard's case, they couldn't bend anymore.
Depending on the scene, Kerns and Thicke would remember their marriages and wish they had worked out like Maggie and Jason.
Not dating in real life made it possible for them to have and preserve that "little bit of chemistry."
THE ROMANCE THAT NEVER HAPPENED
Although Kerns once said she and Thicke were just good friends, the actor revealed they could have dated but decided not to for the sake of "Growing Pains."
Back in 2011, Kerns and Thicke got together again to talk about their time on the show, and he said they used to spend some time together off the set rehearsing lines. He added that he thought his on-screen wife was "terribly attractive." Thicke confessed:
"We were also smart enough to make the executive business decision that the series looked like it was pretty good, and it would probably last longer than our relationship."
Years later, Thicke labeled Kerns as one of his "great wives." When they met, they were both canceled from a show, were recently divorced, and liked each other almost immediately.
Still, not dating in real life made it possible for them to have and preserve that "little bit of chemistry" that would have probably been lost had they gotten romantically involved.
On the "Today" show, Thicke joked that Kerns couldn't keep her hands off him before adding that a romantic relationship between them wouldn't last long. "Actors historically get bored," he confessed.
THICKE'S PASSING
On December 13, 2016, Thicke sadly passed away while playing ice hockey with Carter, one of his sons, in Burbank, California. He was 69 years old.
Following his untimely death, Kerns released a statement where she described him as a true and loyal friend. After pretending to love him for years on the show, she saw all his faults and learned to accept them, which created a connection hard to explain between them. Kerns wrote:
"Maybe that's what marriage should be, the ability to love without judgment and the strength to remain separate."
The actress also revealed that she used to call him Al because he hated it as he thought it sounded like an older man's name. However, the rest of the cast liked the nickname, so it stuck.
Kerns noted that her late on-screen husband loved everything youthful, including women, music, sports, and his three sons. She added that nobody could make fun of him better than himself, which is a great gift as an actor.
After remarking that Thicke was an underrated entertainer, Kerns confessed she used to joke that he was her favorite daytime husband.
They would frequently laugh on set at the things he would come up with, but when things got serious, and she started getting upset about something silly, he would set things straight. Rest in peace, legend.
Please fill in your e-mail so we can share with you our top stories!