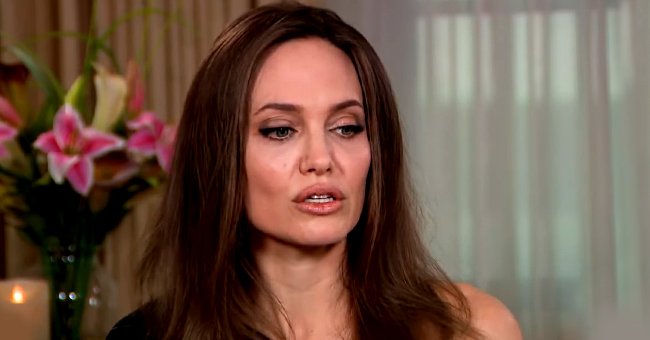 Youtube.com/Entertainment Tonight
Angelina Jolie Once Called Herself an Orphan Even Though One of Her Parents Was Still Alive
In January 2007, the actress Marcheline Bertrand, Angelina Jolie's mother, lost her fight against ovarian cancer. As a result of her death, Angelina Jolie was inconsolable.
She was never able to accept the death of her mother. For her, losing her mother felt like a protective blanket had been ripped off of her.
Even though their father, Jon Voight, is still alive, Angelina Jolie and her brother James Haven considered themselves orphans when their mother died.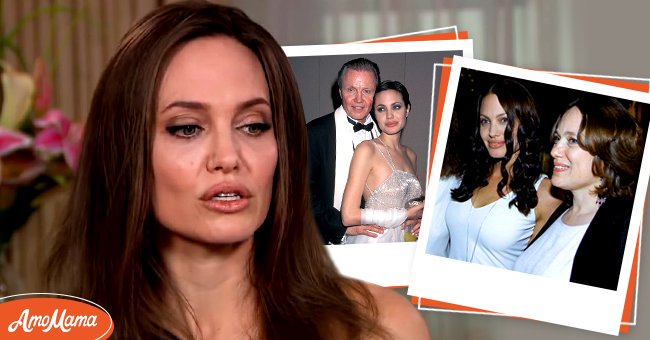 Angelina Jolie speaking on Entertainment Tonight (left), Jon Voight and Angelina Jolie at Miramax Films Golden Globe Awards on January 18, 1998 (center), Angelina Jolie with her Mother at the "Original Sin" premiere on July 31, 2001 | Photo: Youtube.com/Entertainment Tonight, Getty Images
ABOUT ANGELINA JOLIE
Jolie was born into a family of actors, and her love for the vocation manifested quickly. At 11, she enrolled at the Lee Strasberg Theatre Institute to become an actress.
She trained there for two years and appeared in several stage productions before she started going through a difficult period. She became a rebellious teenager, dropped out of her acting classes, and aspired to be a funeral director.
At 16, she dabbled in modeling and also appeared in numerous music videos. At the same time, she also took the stage before finally deciding to resume her acting studies and obtain her diploma.
In 1997, she joined the cast of "George Wallace," a feature film, which allowed her to win the Golden Globe for Best Supporting Actress.
She also played in the feature film "Girl, Interrupted" in 1999, which won her the Oscar and the Golden Globe for best actress in a supporting role.
Her notoriety increased in the following years when she played the main character in "Lara Croft: Tomb Raider" in 2001 and its sequel. Her role in the movie turned her into an international star.
In 2005, she became more popular with the movie "Mr. & Mrs. Smith." Subsequently, she embarked on a new challenge by being a writer, producer, and director.
However, she did not give up on acting and was cast in "Salt," "The Tourist," "Maleficent," and more. Besides being an actress, Jolie is very involved in humanitarian actions. In August 2001, she was appointed Goodwill Ambassador for UNHCR.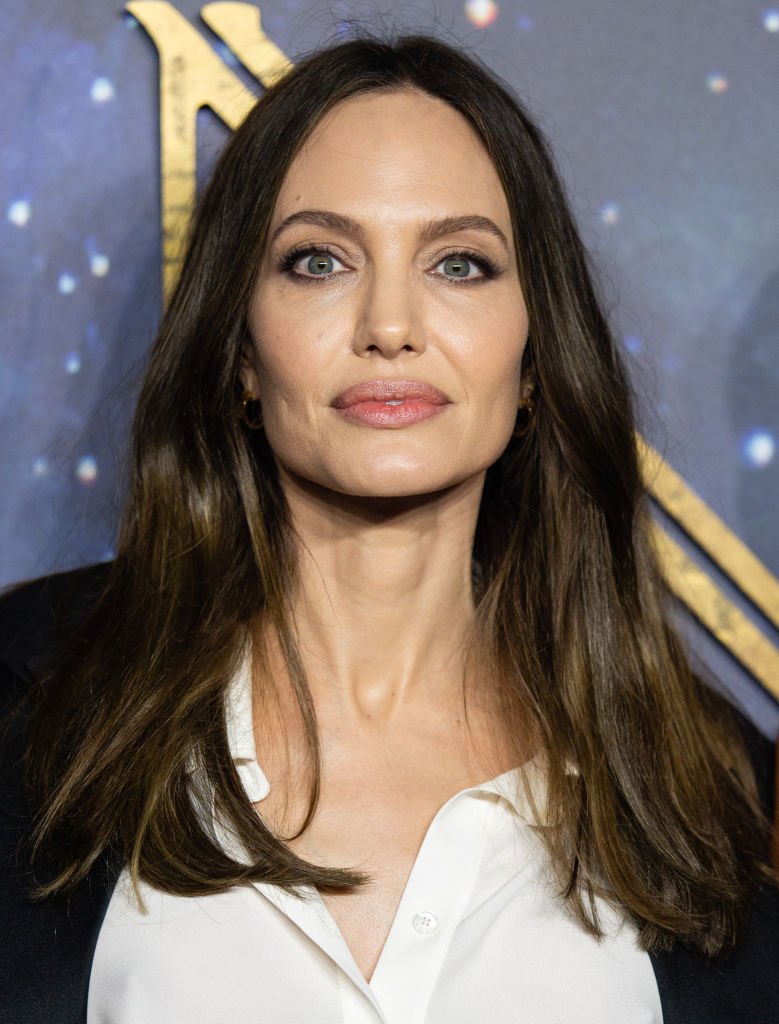 Angelina Jolie at the "The Eternals" UK Premiere on October 27, 2021, in London | Photo: Getty Images
JOLIE'S RELATIONSHIP WITH HER MOTHER
Jolie has never hidden the fact that Bertrand, her mother, had always been the role model of her life. She had once recalled how her mother loved to feel alive.
Her relationship with her father was much more complicated. When her parents separated, Jolie was barely two years old. Raised by her mother, the actress has attributed her education, values, ​​and principles to her mother.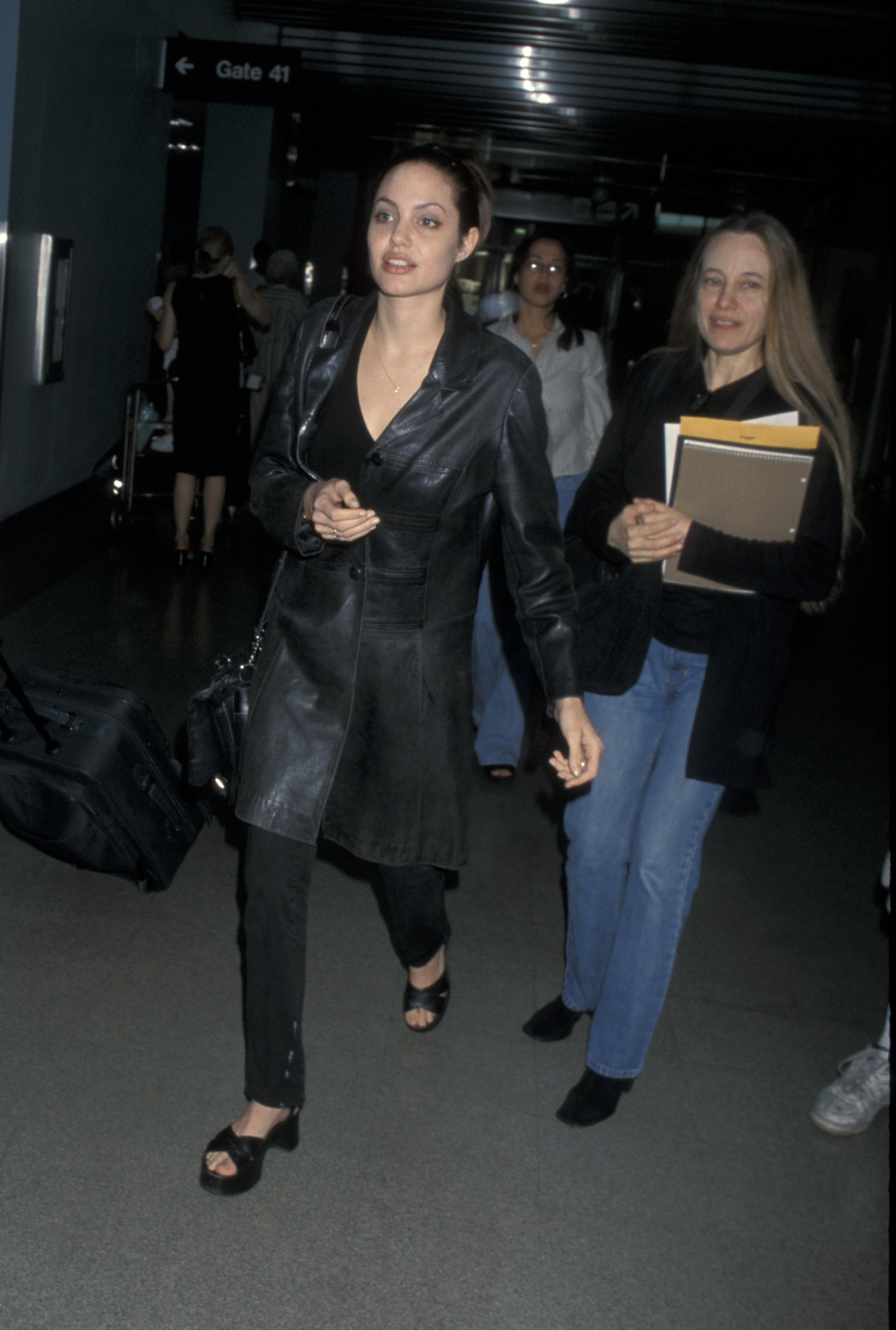 Angelina Jolie and her mother Marcheline Bertrand in Los Angeles on August 4, 1998 | Photo: Getty Images
Jolie and Haven were so close to their mother that they had felt like orphans after her death. Her brother had said their father was awesome, but he looked more to their faults than their strengths.
The same year her mother died, a handwritten will that she had written the previous year surfaced. In it, Jolie's mother accused her father of having owed one hundred and eighty thousand dollars in "spousal support" since filing for divorce in 1978.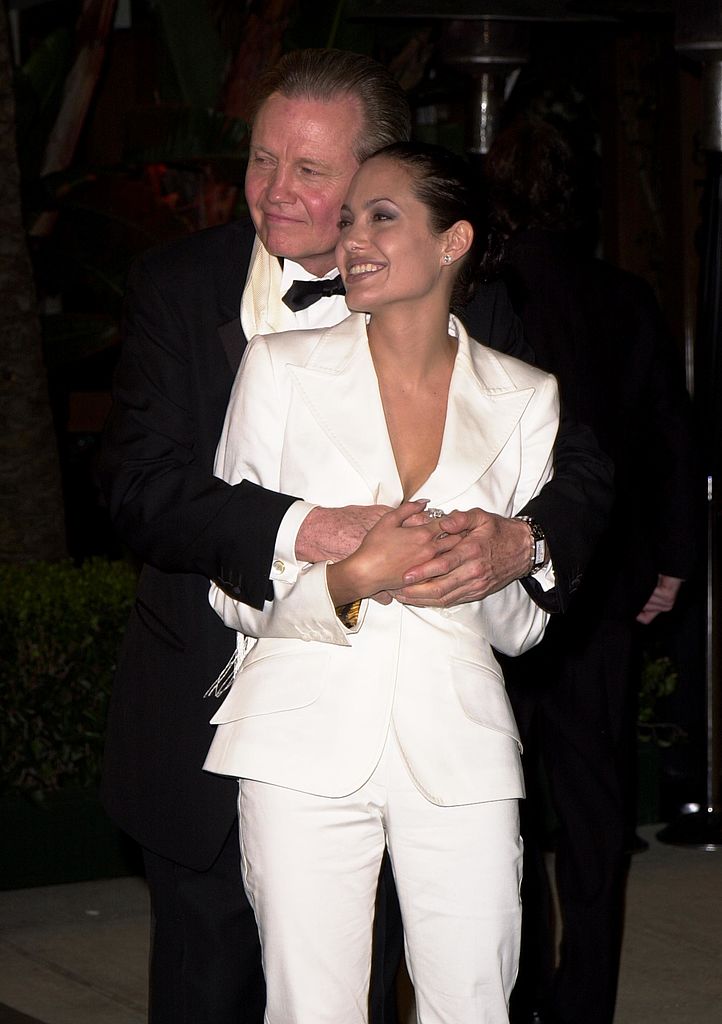 Angelina Jolie and her father, Jon Voight, at the 2001 Vanity Fair Oscar Party on March 25, 2001 | Photo: Getty Images
JOLIE AND HER FATHER'S ROCKY RELATIONSHIP
After her parents separated because her father had cheated, Jolie was never close to him. They never had the smoothest father-daughter relationship.
In 1999, when asked how she felt about following her father into stardom, she revealed that it was interesting, but having not grown up in the same house as him, she had learned to communicate with him as a person.
In her Oscar acceptance speech in 2000, she had praised her brother and her father by referring to him as a great actor but a better father.
Jon Voight and Angelina Jolie at the 2000 NATO/Showest Convention | Photo: Getty Images
In 2001, her father attended the L.A. premiere of "Tomb Raider" together with her and Billy Bob Thornton, her husband at the time.
However, things took a different turn on July 3, 2002, when Jolie, born Angelina Jolie Voight, filed a petition to drop her father's name as her last name legally.
In August 2002, her father, in an interview with Access Hollywood, reported that Jolie had serious mental problems. He also mentioned that he had tried to reach her to provide support but had failed.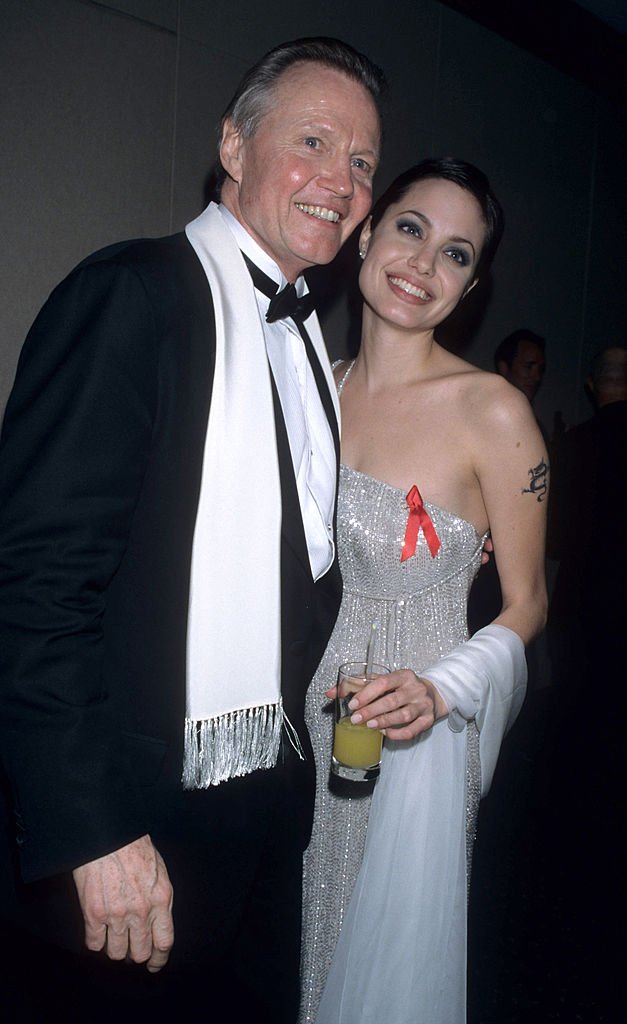 Jon Voight and Angelina Jolie at the 55th Annual Golden Globe Awards | Photo: Getty Images
To this statement, her mother rose to her defense as she stated that there was nothing wrong with Jolie. She said,
"Mentally and physically, she is magnificently healthy."
When Jolie responded to the allegations against her mental health, she had said that she didn't want to make her reasons for her bad relationship with her father public.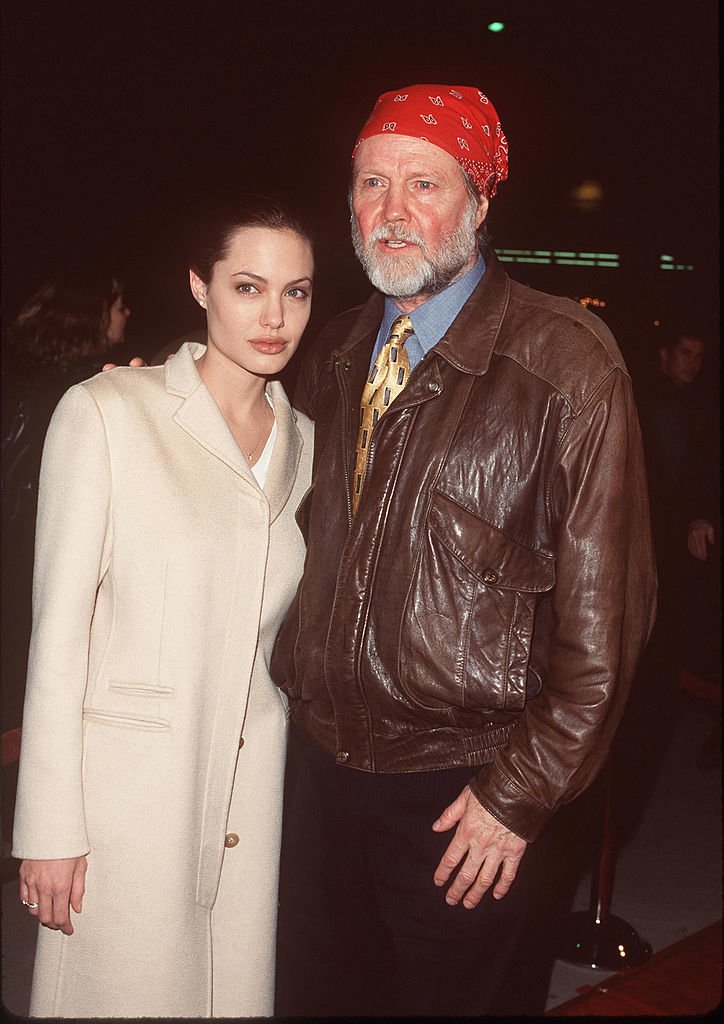 Jon Voight and Angelina Jolie at the "Playing by Heart" premiere on December 10, 1998 | Photo: Getty Images
She further revealed that being around her father wasn't healthy for her as she was now responsible for her child. In September 2002, she legally dropped his name.
In 2004, she said she was not on speaking terms with her father, and she held no anger toward him. She further went on to say that she believed that family isn't by blood but is earned.
In 2007, Jolie spoke to her father briefly to inform him about the death of her mother. When asked in 2008, after the birth of her twins, her father confirmed that they hadn't spoken, but he was excited for her like everyone else.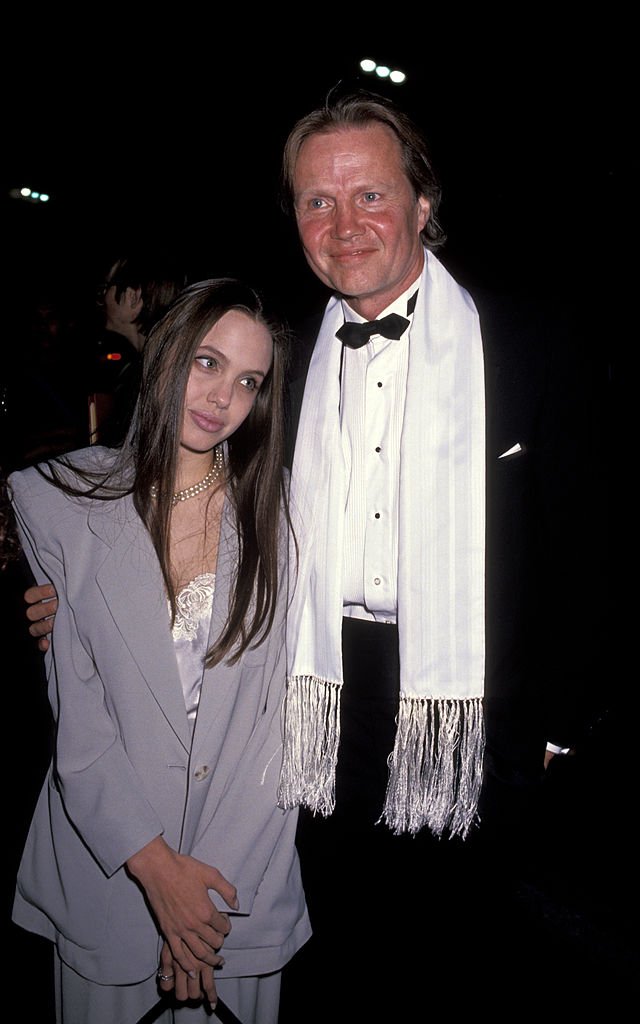 Jon Voight and Angelina Jolie at the Re-Opening of "Tru" in Hollywood on April 9, 1991 | Photo: Getty Images
Her father also mentioned that he wasn't sure when he would meet his grandchildren, but he hadn't been asked at that time.
In mid-2010, Jolie revealed that she and her father were making efforts to repair their relationship. In 2011, he showed up for the Hollywood premiere of her directorial debut, "In the Land of Blood and Honey."
In January 2012, Jolie confirmed that her father had met her kids, but they also had a rule not to discuss the past as they were in each other's lives.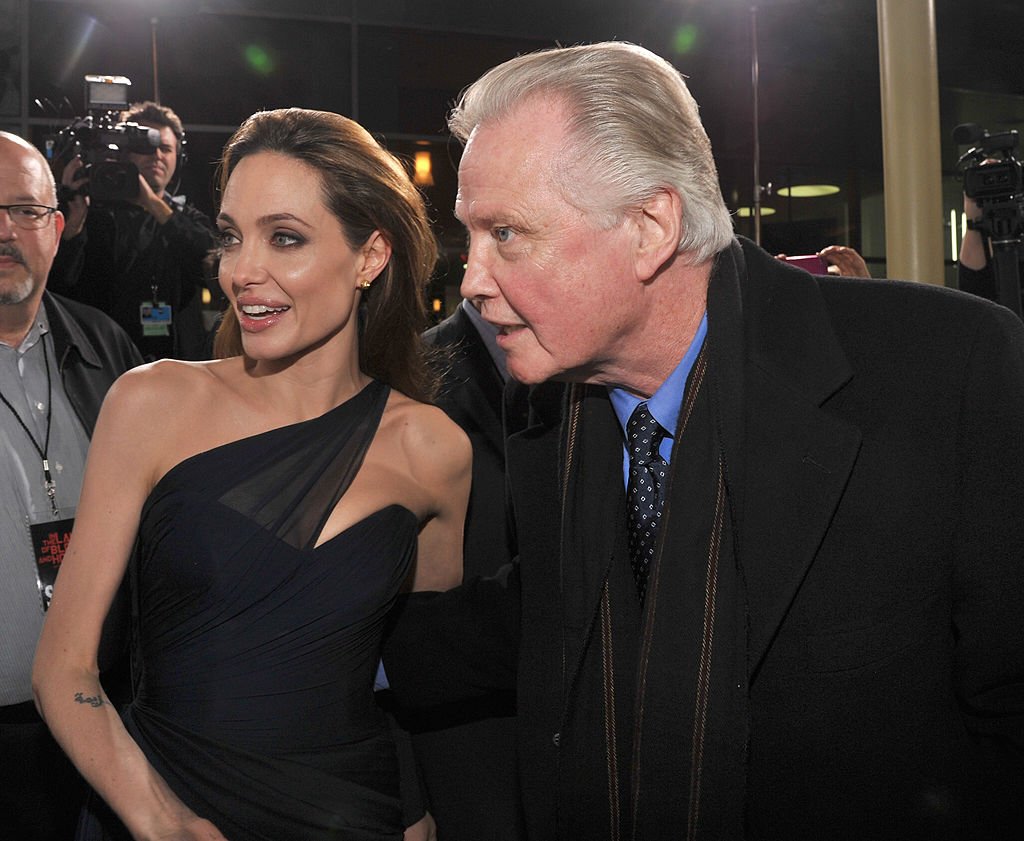 Angelina Jolie and Jon Voight at the premiere of "In the Land of Blood and Honey" on December 8, 2011, in Hollywood | Photo: Getty Images
In 2013, her father reportedly said that he was proud of her and was happy with his grandchildren while spoiling them as much as possible.
In May 2017, Jolie was spotted having dinner with her father and four of her kids. She had earlier revealed that he had been very good at understanding her children needed their grandfather.
In September 2017, Jolie and Voight were seen for the first time at the same event after many years when he attended the New York premiere of the movie she directed, "First They Killed My Father."
Please fill in your e-mail so we can share with you our top stories!