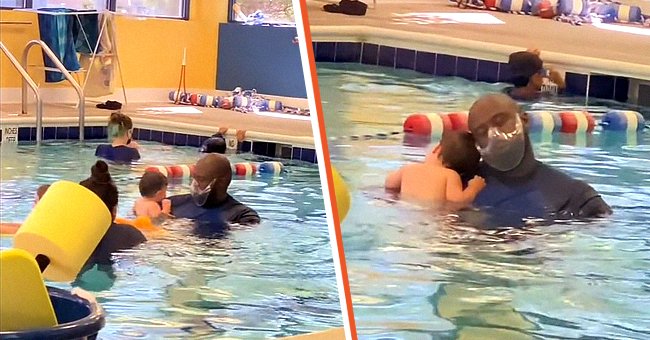 tiktok.com/dash.of.deliciousness
10-Month-Old Baby Forms Touching Bond with Swimming Instructor While Lonely during the Pandemic

The bond between an infant and his swimming instructor is melting hearts on TikTok. The toddler's mom recounted how the pair hit it off during the pandemic, easily passing off as family.
Like most pandemic babies, 10-month-old Lucas had only a handful of people within his circle. That circle included his parents, grandparents, and other members of his immediate family.
Hence, getting to meet Carlson Rogers after his parents enrolled him in group swimming lessons couldn't have come at a better time.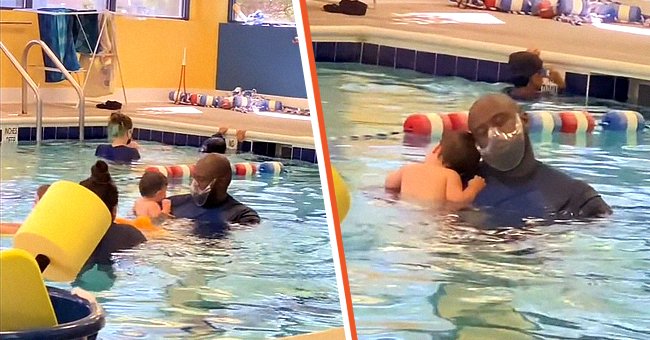 A heartwarming picture of Carlson Rogers cuddling his swimming student,10-month-old Lucas in the pool | Photo: Tiktok/dash.of.deliciousness
His parents signed him up at the Saf-T-Swim in Wantagh, New York, when he was only three months old. During his time there, the boy became close to Rogers, who was one of the instructors.
Lucas' mom, Tracey Martorana, described Rogers as the best swim instructor for her son. She mentioned how the instructor never pushed too hard but always went with the flow, patiently allowing the infant to live out his emotions every time.
Before long, the pair became inseparable, with Rogers becoming a part of Lucas' small circle. At that point, the parents knew they could trust the man to become their son's private instructor. She explained:
"I love watching the relationship. Carlson is a big strapping man and Lucas loves to hug him and hold on to him."
During one of their swimming lessons, Martorana recorded the two sharing a touching moment. She posted the video on TikTok, racking up to 654 thousand views and hundreds of comments. Reacting to the post, one TikToker wrote:
"This is the sweetest thing I've ever seen. I'd take all my babies to him for swimming lessons."
Most TikTok users explained that kids only leaned into people they trust, which showed just how fond Lucas was of his instructor.

A netizen's comment on the adorable TikTok video | Photo: tiktok/dash.of.deliciousness
Many reflected on the unspoken words exchanged between the cuddling pair during those few seconds of calmness and bliss. A comment read:
"Uhmmm swimming lessons are not needed. He's got his best swimming buddy to protect him in the water anytime/anywhere."
Other commenters implied that the instructor needed the snuggle more than the little boy, evident in his relaxed expression after the child leaned into him. Another commented, "I love seeing people who love to work with kids & babies. This is what the world is about."
A netizen's comment on the adorable TikTok video | Photo: tiktok/dash.of.deliciousness
In another video, the swimming buddies recreated an iconic scene from the animated series, "The Lion King," with Rogers raising the child towards the sky while paddling through the water.
Winning over the internet was just the highlight of Rogers and Lucas' friendship, which is sure to make more waves and prevail for years to come.
Please fill in your e-mail so we can share with you our top stories!