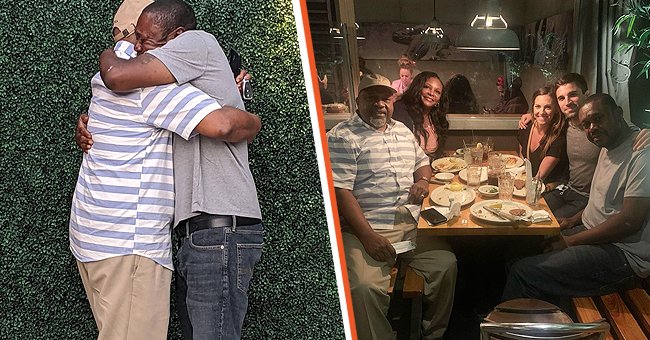 instagram.com/randiemmansbailyn
Couple Reunites Homeless Man with His Family Whom He Had Not Seen for 20 Years

Many of us are so used to walking past homeless individuals that we have become desensitized to the harsh struggles they face daily, laying on the concrete and begging for money. One 54-year-old knew this concrete well but was lifted by two compassionate souls.
Sleeping on the streets of Los Angelos, Pedro Reid always had to keep one eye open while he slept in case someone tried to steal the few belongings he had left. The homeless man felt invisible, as though no one viewed him as a human.
Reid moved to the Californian city from Charleston in the late '90s. Unfortunately, he fell into various addictions and found himself on the streets. He was unable to care for himself or find a way back to his family in South Carolina. By 2020, Reid hadn't been in contact with his relatives for two decades.
INVISIBLE NO MORE
It just so happened that Randi Emmans-Bailyn, who runs Project Backpacks with her boyfriend John Suazo, which provides necessities for homeless individuals via backpacks, came across Reid. She and her partner ended up speaking with him. Taking to Facebook, Emmans-Bailyn wrote:
"Wow I cried all night and I'm crying again writing this. I cannot imagine what this man has been through, or anyone on the streets for that matter."
She explained in the post that she provided him with one of the backpacks and a blanket. Emmans-Bailyn asked for donations via Venmo so that they could pay for a hotel for him for a night. She also explained that the homeless individual had been disconnected from his family.
THE PUBLIC'S GENEROSITY
In a beautiful turn of events, donations came flooding in. In the space of around 3 days, the money reached $6500, which paid for a hotel and other necessities.
More than that, Emmans-Bailyn and Suazo managed to find his uncle, who tearily said he would come to fetch his nephew. They also used a part of the donations to help fly some of his family members down to Los Angelos and provide them with accommodation and a rental car.
TWO DECADES LATER
Emmans-Bailyn shared Instagram clips and pictures of the beautiful and touching family reunion. In the description, and speaking about her new friend, she wrote:
"He touched our hearts forever and we're going to miss him. We cannot wait to see what this chapter holds for him."
The pictures were full of family members posing and hugging one another as they sobbed uncontrollably, refusing to let go of the embrace.
TIME TO EAT
One of the photos included the family, Reid, Emmans-Bailyn, and her partner-in-crime, Suazo, all going out for dinner together, which occurred after the initial reunion.
Emmans-Bailyn said the love between all the relatives was beautiful and palpable. The now ex-homeless man has expressed:
"John and Randi saw me as more than what everyone else saw me as — just a homeless person living on the streets. They believed in me."
Reid has said that he is infinitely grateful for what these two exceptional individuals have done and hopes to make them proud.
Looking forward to the future, this man plans to further his education, which ended after high school, and find a job—refusing to let his past define him.
You May Also Like: 4-Year-Old Boy Notices Elderly Woman Walking in the Rain, Rushes to Help
Please fill in your e-mail so we can share with you our top stories!