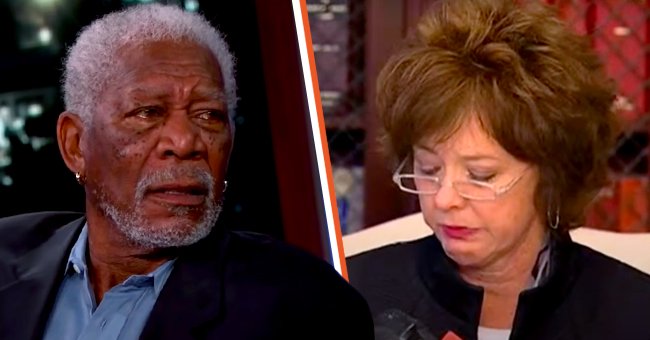 youtube.com/Jimmy Kimmel Live | youtube.com/AP Archive
Morgan Freeman's Car Crash Made News in 2008 but People Wondered about His Female Passenger
Morgan Freeman was involved in a serious car accident in 2008. Later, Freeman was faced with a lawsuit from the passenger of the crash and a divorce from his wife, Myrna Colley-Lee.
In 2008 after an evening out with friends, world-renowned actor Morgan Freeman was involved in a one-car accident while driving to his home in Mississippi.
Freeman and a mystery female passenger had just enjoyed a meal with Freeman's friend and business partner, William Luckett, and his wife at the Bayou Bend Golf & Country Club.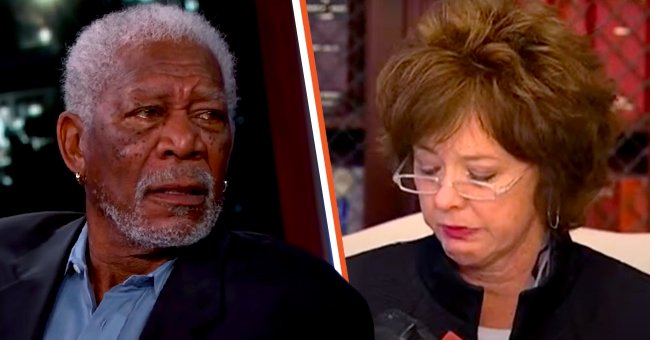 Morgan Freeman pictured on "Jimmy Kimmel Live" in 2016 [Left] Demaris Meyer during a press conference about the accident in 2009 [Right]. | Photo: YouTube/Jimmy Kimmel Live & YouTube/AP Archive
Freeman offered his female friend to stay the night in one of the guesthouses on his property. She accepted, and the two drove home in her 1998 Nissan Maxima.
Close to his home, Freeman lost control of the car he was driving, and it careened off the highway and flipped multiple times, leaving the actor and his passenger seriously injured.
Freeman and the passenger were both wearing seatbelts, but the airbags did not deploy. Emergency services had to use the jaws of life to extract Freeman from the vehicle.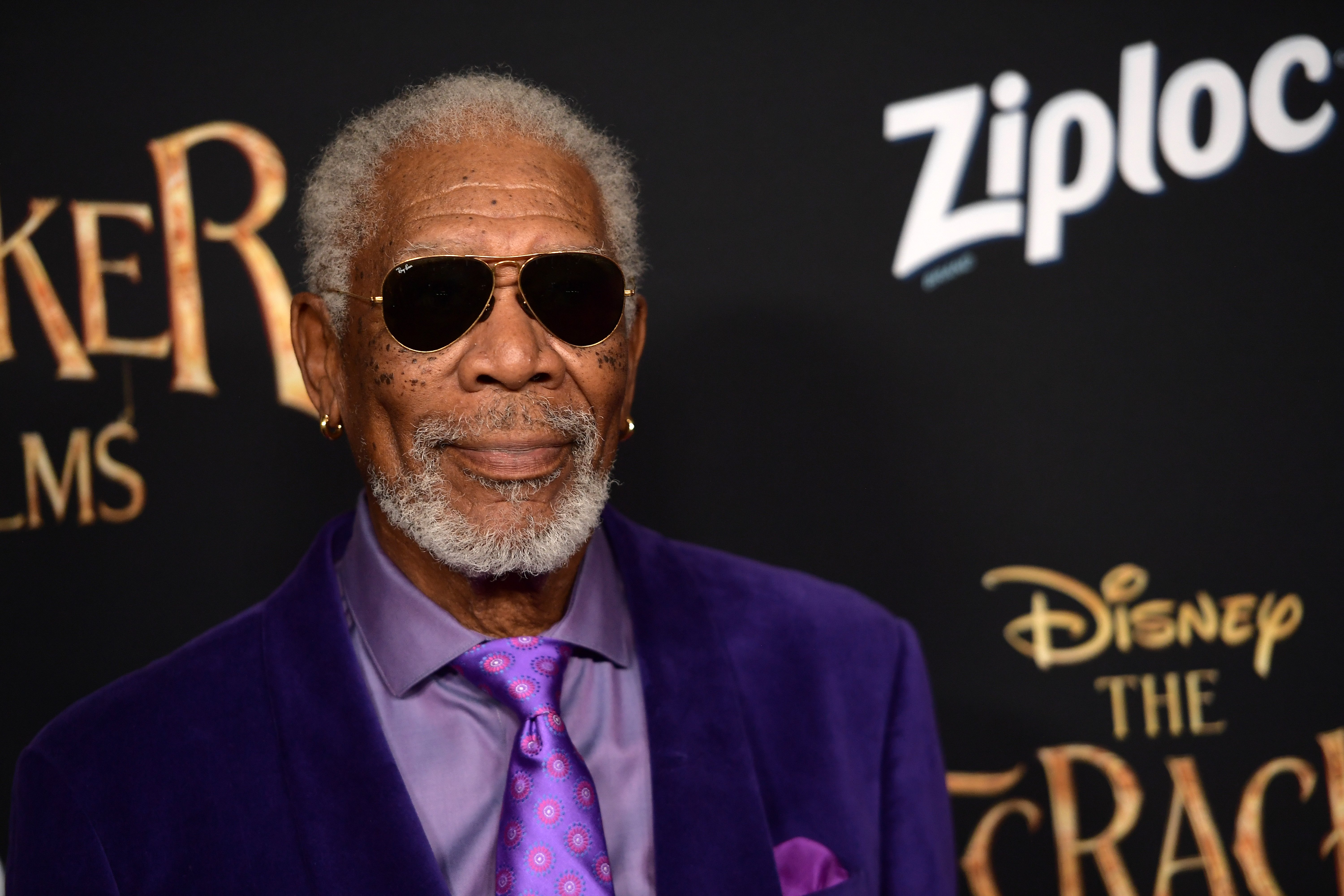 Morgan Freeman pictured at the premiere of Disney's "Nutcracker And The Four Realms," 2018, Hollywood, California. | Photo: Getty Images
Among the scratches and bruises, Freeman broke his arm, causing bad damage to his nerves. He was flown from the crash site in Charleston to a Memphis, Tennessee, hospital.
An eyewitness, Bill Rogers, spoke to the Associated Press about what he saw following the accident. Rogers explained that around 11:30 PM, he heard a car begin to slide. He explained what happened:
"What I did see was a vehicle sliding off the highway and… the headlights of the vehicle, as well as the tail lights, were spinning over and over. It was bumper to bumper."
Rogers explained he went to check on the vehicle after calling out for the passengers, as no one responded. He then went home and called 911. He then returned to the scene with his wife.
The "Dark Knight" actor told Rogers that the passenger, who Freeman stated was his friend, had offered him a ride to his home. She did not know the way, so Freeman drove her car.
While talking to the outlet, Rogers briefly detailed the injuries he noticed Freeman had, including a wound on his head and damage to his neck, arm, and shoulder.
Rogers, who stated the road was slick due to a rainstorm, noted that Freeman was more concerned about the people around him than himself.
There was a lot of speculation at the time as to who Freeman's mystery female passenger, Demaris Meyer, was and what type of relationship they had together.
THE AFTERMATH
Fortunately, both Meyer and Freeman survived the crash, but they were both badly affected by it. They did not just face physical injury but dealt with emotional stress as rumors and innuendo of their relationship circled.
Many speculated Meyer was Freeman's mistress. Therefore Meyer was named as a possible cause of Freeman's separation from his wife, Myrna Colley-Lee.
Shortly after the accident, Luckett, the gentleman Freeman and Meyer had dinner with, told reporters that the "Invictus" actor and his wife had separated and filed for divorce.
Later in September 2010, the Daily News reported that the former couple's divorce was finalized in Mississippi. The details of the divorce were kept private from the media.
According to the outlet, Freeman and Colley-Lee separated in December 2007 after 26 years together. Their divorce was filed in July 2008, around the time of his accident.
THE LAWSUIT
Freeman went through a divorce from his wife after the accident and faced a lawsuit from Meyer as she sought money to pay for her injuries and the aftereffects of the accident.
Meyers suffered a broken wrist and right scapular, cuts, and bruises, as well as memory loss. She said the injuries left it impossible for her to return to work as an executive assistant.
Therefore she sued for medical expenses, loss of wages, pain and suffering, permanent disability, and property damages. The total was more than $75,000.
According to People, Gloria Allred, Meyer's attorney, refused to state whether Meyer received any compensation from an insurance company or how much money she hoped to win during the trial.
During a press conference, the lawsuit was announced by her attorney, and Meyer took the opportunity to clarify her relationship with Freeman. She said:
"It is important for me to set the record straight about my relationship with Morgan Freeman. I... have been accused of the break-up of Mr. Freeman's marriage."
Meyer expressed that "nothing could be further from the truth" in regards to the rumors. She had hoped Freeman's team would state the truth, therefore clearing her name.
However, neither Freeman nor a representative released a statement, and so Meyers decided to come forward and personally address the situation.
Later the lawsuit was settled, but details of the settlement were not published in court records. U.S. District Judge Michael P. Mills closed the case in 2009.
FREEMAN'S INJURED HAND
Although Freeman could put the legal battles behind him, like Meyer, the "Seven" actor's injuries continued to affect him after the accident.
In 2010, a year and a half after the accident, Freeman revealed to People that he dealt with nerve damage that left his hand paralyzed because of injuries related to the crash:
"I suffered nerve damage and it hasn't gotten better. I can't move it."
He revealed his struggles to the outlet at the Los Angeles County Museum of Art premiere of "The Eastwood Factor," which detailed the story of Clint Eastwood's career.
He shared he was told that if he did not move his hand, it would swell up. He then joked whether the reporter was aware that a person moves their hand "a million times" a day.
Freeman is an award-winning and award-nominated actor whose face, calming voice, and groundbreaking performances are incredibly memorable to his fans and critics.
A few of his credits include "Million Dollar Baby," which he won an Oscar for as well as films such as "The Shawshank Redemptions," "Driving Miss Daisy," and "Bruce Almighty" alongside Jim Carrey.
Please fill in your e-mail so we can share with you our top stories!