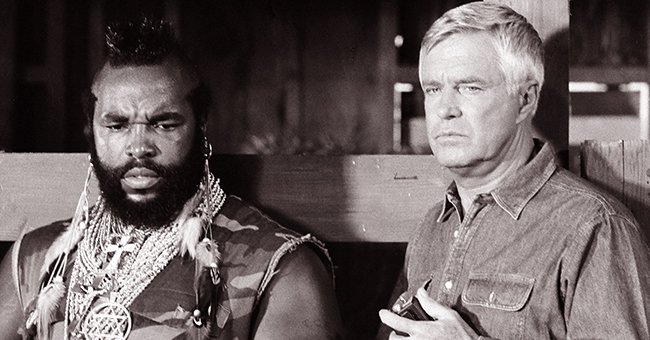 Getty Images
Mr T & George Peppard Never Got Along & 'Hated Each Other with a Passion' on 'The A-Team'
"The A-Team" was an iconic television series that showed camaraderie among its characters. But behind the scenes, actors Mr.T and George Peppard never spoke to each other.
"The A-Team" was a hit classic television show that ran from 1983 to 1987. The series featured renowned actors Mr. T, George Peppard, Dirk Benedict, and Dwight Schultz.
The actors' iconic characters in the TV show displayed great chemistry. But in contrast to their friendship on-screen, Peppard and Mr. T, whose real name is Laurence Tureaud, never spoke to each other.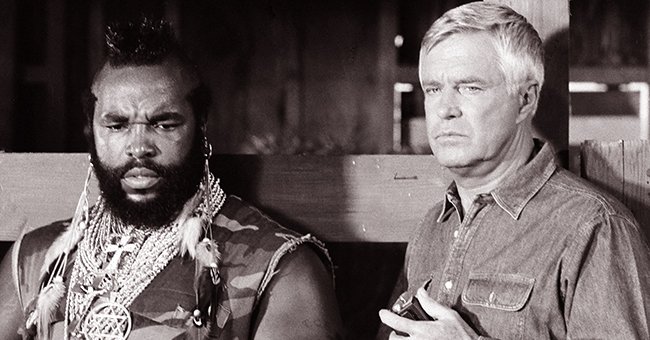 Mr. T and George Peppard on the set of the 1983 TV series "The A-Team." | Photo: Getty Images
CAREER BEGINNINGS
Mr. T, born in May 1952, grew up in housing projects located on the rough south side of Chicago with his seven brothers and four sisters. They were raised alone by their mother. Their father left them when they were young.
Peppard was born in October 1928, in Detroit, Michigan, to middle-class parents. Peppard's father worked as a building contractor while his mother was a well-known opera singer.
Peppard established himself as a leading man in several movies in the late 1960s. Meanwhile, Mr. T was famous for being Hulk Hogan's tag team partner in the world of wrestling in the late 1980s and 1990s.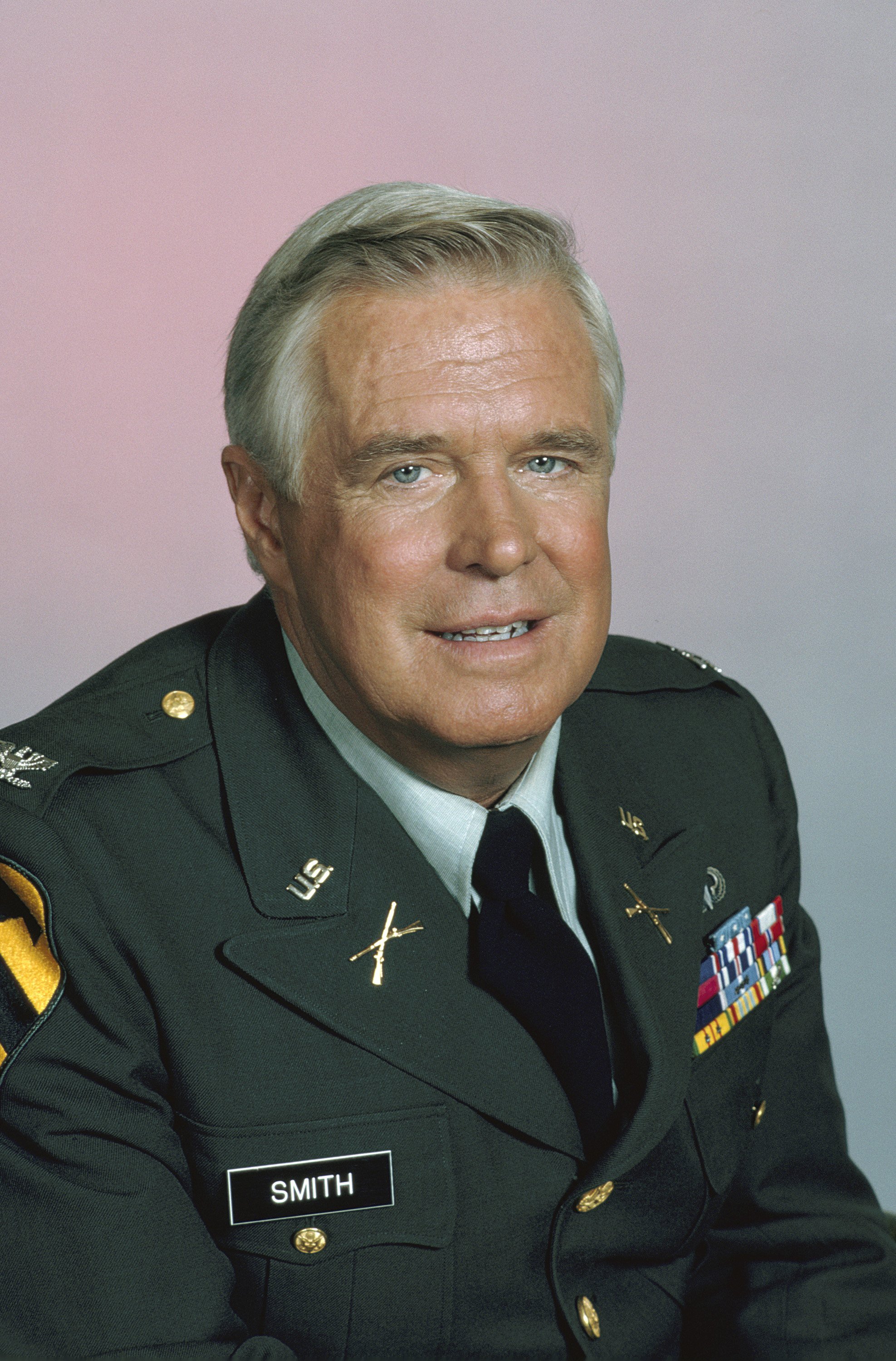 An undated portrait of George Peppard as Colonel John "Hannibal" Smith. | Photo: Getty Images
CLASHING ACTORS
The actors met in "The A-Team" TV series in 1983. Peppard played Colonel John "Hannibal" Smith while Mr. T portrayed Sergeant Bosco Albert Baracus. However, they clashed on set. Based on Hogan's memoir, "Hollywood Hulk Hogan," it read:
"You wouldn't know it from watching A-Team, but Peppard and Mr. T hated each other with passion."
The actors' animosity started with a confrontation wherein Mr.T, who carried a copy of a well-known magazine, stood outside Peppard's trailer.
With a loud voice, Mr. T furiously read the magazine's article that featured quotes from Peppard. The latter described Mr. T as not a real actor, and regardless of his high earnings, he noted he was the "worst actor" on set.
The production staff on the set witnessed the actors' misunderstandings. Hogan, who did a few episodes with "The A-Team" series, stated he became the referee between Mr. T and Peppard.
Hogan also noted that show producers liked to have him around because he could calm the situation. Unfortunately, the iconic wrestler did not last long in the show as he was committed to wrestling.
HOLLYWOOD FAME AND EGO
Amid the clash between Peppard and Mr. T, Schultz, who played Captain "Howling Mad" Murdock in the series, shared his thoughts about his clashing co-stars in a 2012 interview. He said Hollywood is a place of ego, adding:
"I think it created a lot of problems and tensions between [Mr.] T. I don't think that George accepted the fact that T was the star of the show."
Schultz noted that Mr.T was very famous in the late '80s and people wanted to know what he would do on TV. He added there was no question that his co-star was the big draw in the show.
While he described Mr. T as a sweet person, Schultz revealed Peppard was the opposite. Schultz recalled a cold encounter he had with Peppard on the early days of filming the TV series.
Peppard's popularity declined in 1970 because of his reputation as an ill-tempered man and troublemaker.
When he walked into the makeup trailer, he introduced himself to Peppard and checked on him. Schultz recalled what the cinema icon told him: "I am George Peppard, and I'm not a very nice man."
A PROMISING ACTOR
Schultz thought that Peppard's cold personality might be because of his status as a "movie star." Peppard was dubbed as a promising young star in the entertainment industry.
The movie icon was famous for being the leading man to Actress Aubrey Hepburn in the 1961 movie "Breakfast at Tiffany's." He starred in numerous films, including the 1962 "How the West Was Won."
Peppard's popularity declined in 1970 because of his reputation as an ill-tempered man and troublemaker. He was able to revive his career through the 1972 TV show "Banacek."
A decade later, Peppard joined "The A-Team," where he enjoyed widespread fame. Three years later, the movie icon received a star on the Hollywood Walk of Fame.
As time progressed, his fame slowed down. Peppard passed away from pneumonia two months before filming "Matlock" with Actors Tracy Nelson and Andy Griffith. He was 65.
Despite being a troublemaker, Peppard was a passionate Democrat who advocated health care reform. During his later years, he helped alcoholics recover and worked for a variety of charity organizations.
A NEW TEAM
Sixteen years after Peppard's death, "The A-Team" was rebooted in 2010. Director Joe Carnahan managed to unite the original characters in the action movie, but Mr. T did not reprise his role.
Instead of Mr. T, Carnahan let Mixed Martial Artist Quinton "Rampage" Jackson play Sergeant Bosco Albert Baracus. Jackson stated that he was a big fan of the retired wrestler.
During the movie premiere in Los Angeles, Jackson was disappointed that Mr. T did not attend. Although he did not grace the premiere, Carnahan said Mr. T supported Jackson for playing his character.
THE ACTORS' WHEREABOUTS
After "The A-Team" series ended in 1987, Mr. T has embarked on a voice acting career. He previously appeared on other popular TV shows, including the hit sitcom "Diff'rent Strokes."
Recently, he took to Twitter to share his thoughts about the COVID-19 vaccine booster amid the pandemic. He tweeted that he was thankful for the doctors who gave him the vaccine.
Recalling his experience, he said he felt a little sore in his arm. He also shared that even after being fully vaccinated, he will maintain a social distance and wear a face mask.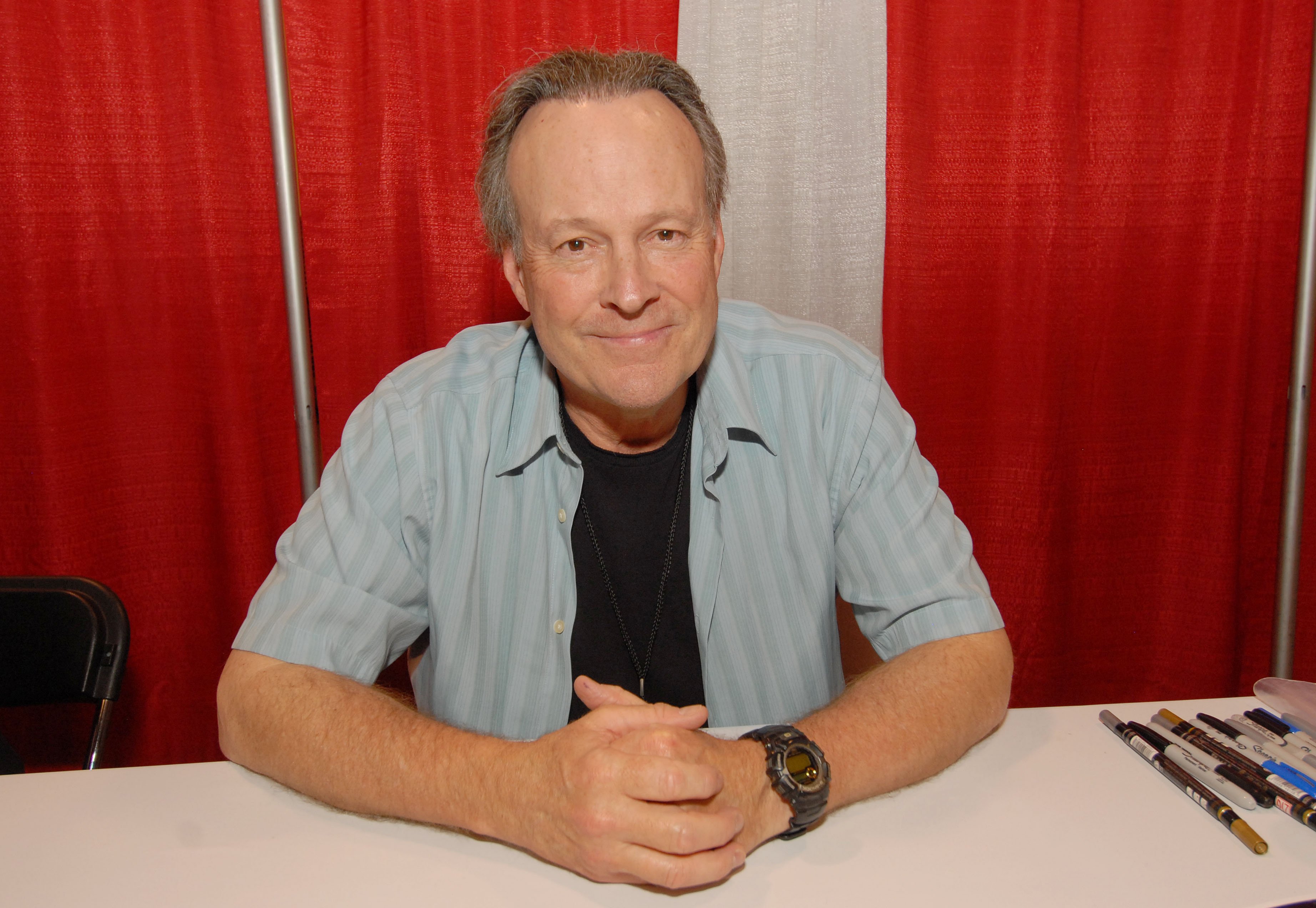 Dwight Schultz attends the first day of Motor City Comic Con 2012 at the Suburban Collection Showplace on May 18, 2012 in Novi, Michigan. | Photo: Getty Images
Like Mr. T, Schultz has packed in a wide range of roles for voice work. He appeared as a scientist in the popular children's show "Ben 10" as well as in "Chowder" and "CatDog."
Benedict went on to star on theater shows and the TV series "Battlestar Galactica." He returned to filming movies such as "Shadow Force," "Alaska," and "Space Ninjas."
Please fill in your e-mail so we can share with you our top stories!