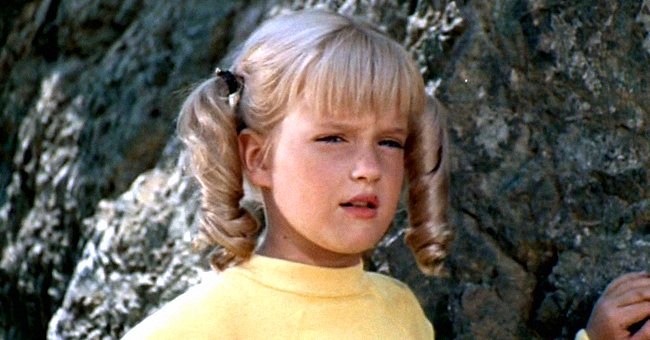 Getty Images
Susan Olsen Who 'Hated' Her Own Show 'The Brady Bunch' Is Now 60 & Caring for Son with Autism

Audiences of "The Brady Bunch" fell in love with Susan Olsen's character, Cindy Brady, on the show. However, at one point, Olsen did not like being a part of the sitcom.
Susan Olsen gained fame in the '70s while playing Cindy Brady on "The Brady Bunch." She did not continue acting and instead became an activist, worked on visual arts, and focused on raising her son.
After the original "Brady Bunch" series finished, Olsen leaned her acting skills and public persona for other Brady spinoffs. These include "The Brady Bunch Variety Hour," "Child of the '70s," "The Brady Kids," and "The Bradys."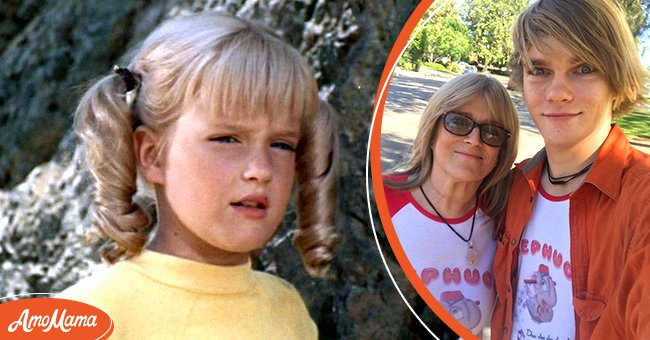 Susan Olsen pictured at Cindy Brady in the show "The Brady Bunch" [Left]. Olsen and her son, Mike, in a photo on Instagram in 2018 [Right]. | Photo: Getty Images & Instagram/thesusanolsen
The cast's most recent Brady-inspired show was "A Very Brady Renovation." This spinoff saw the Brady siblings, with help from experts, renovate the old Brady home's interior to match the studio set.
Despite being a part of one of America's most loved TV families, Olsen once admitted that there was a time where she did not enjoy playing the role of Cindy:
"...when I was younger I was very rebellious and I really hated the fact that I was in such a wholesome show with American values and family values."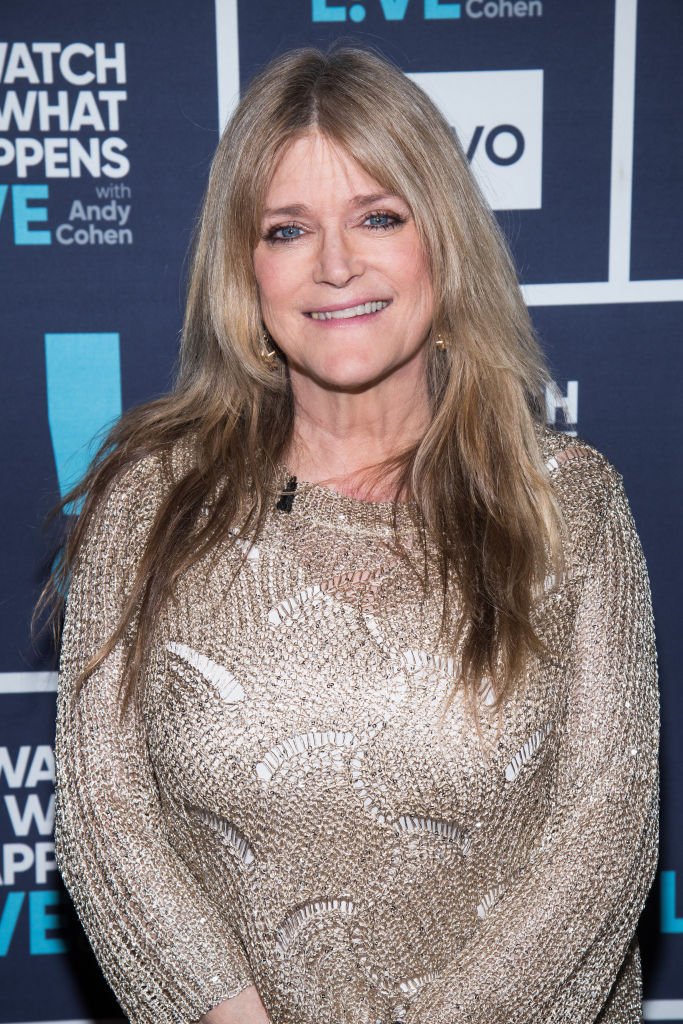 Susan Olsen pictured for an episode of "Watch What Happens Live With Andy Cohen." | Photo: Getty Images
Furthermore, Olsen admitted she is not like her character. Fans are sometimes surprised to learn she and Cindy are opposites. Olsen has more of a rebellious side and is not as wholesome as her TV persona.
Of course, that is not to say the outspoken and punk rock-loving Olsen is completely "anti-Cindy." Olsen shared although the character was not "very bright," she thought she was "fairly nice."
Additionally, Olsen is proud of the show and can appreciate that audiences saw the Bradys as something their households could aspire to and how it helped others grow.
She admitted that Cindy's role also helped her grow and find her way as a young woman. But it was the acting and not the show itself that helped her:
"I think that being an actress helped me to grow. I don't really think that the show helped me to grow so much as people that watched the show learned to grow."
Later, Olsen realized that acting was not for her. Instead, she channeled her creative energy into other outlets, including the visual arts, as she worked as a graphic designer.
Although the legacy of being a child star has some perks, like connecting with fans, Olsen has been outspoken on the troubles she has faced because of her well-known character.
On her blog "Ladders and Alcohol," Olsen wrote candidly about the impact she has felt when websites use her image as clickbait to obtain views on their articles in 2018.
She explained that the articles, which she usually saw on Facebook, would use her image of Cindy as the "before" photo and a photo of another woman, looking worse for wear, as the "after."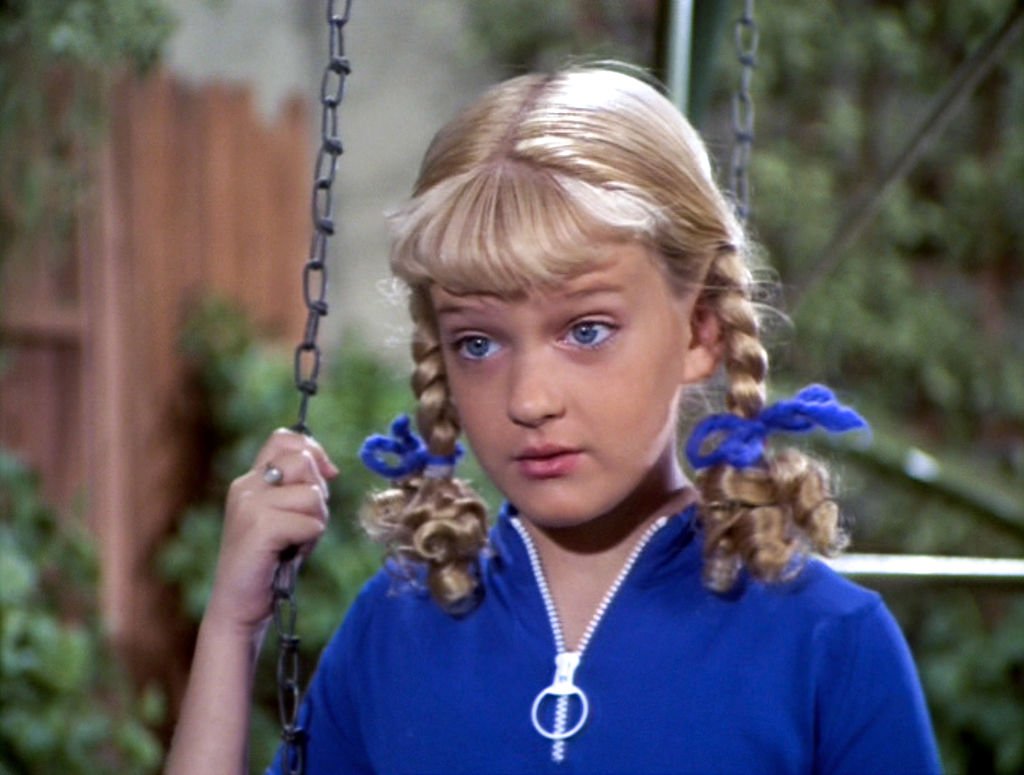 Susan Olsen pictured as Cindy Brady in "The Brady Bunch." | Photo: Getty Images
She added the title would be something similar to "Famous Child Celebs You Would Never Recognize." But once she had clicked on the article, there was no information about her. Instead, her image was a tactic to gain views.
Olsen tried to reach out to one of the companies, but nothing was resolved after a few messages. So she urged her readers to report the clickbait articles so Facebook could remove them.
Besides being honest about the effects of being a child star, Olsen has been open about what life was like on the set of the iconic sitcom. She has also opened up about what her onscreen siblings were like.
According to Olsen, most of the Brady siblings kissed or had crushes on their onscreen counterparts when the cameras weren't rolling. She added that with six kids/teenagers together, crushes are bound to happen.
However, it turns out that the youngest Brady siblings, Olsen and Mike Lookinland, who played Bobby Brady were the first to kiss each other. As she revealed:
"Mike Lookinland and I were the first ones to make out… We used to do it in the doghouse."
But making out with costars aside, the relationships between the actors were not always happy. Olsen admitted that her costars Maureen McCormick and Eve Plumb did not like each other.
Olsen stated that she acted as a moderator for Plumb and McCormick to communicate from day one. Eventually, they even stopped using her to talk to one another.
McCormick and Plumb put their differences aside when the cast reunited to film "A Very Brady Renovation." Besides the show, the cast members have reunited for personal hangouts together.
In March this year, Olsen shared a photo of members of the TV family out together, enjoying dinner. Included in the picture were McCormick, Christopher Knight, Barry Williams, and others. She captioned the photo:
"Dinner with family"
Of course, Olsen now has her own family, which includes her 25-year-old son, Mike. He just celebrated his 25th birthday in August, and Olsen shared a video of him playing his guitar to celebrate.
According to her Instagram, playing music together is something the mother and son bond over. He even gifted her a new instrument for her birthday in August.
Mike has made a few appearances on his mother's Instagram account. Including a selfie that emphasized how similar they look as they both have blond hair and blue eyes.
Unfortunately, the pair have had their fair share of hard times. Mike is on the autism spectrum, which comes with its own set of difficulties, including a tendency for violent outbursts.
Olsen has been outspoken about her experiences with Mike on her blog. She has also shared in various interviews.
In 2013 she opened up about her son and shared, "we are looking into residential care for him because he is violent." Mike was in his teens at the time, so it's hard to know how Olsen is coping now.
But if Instagram is anything to go by, the son and mother seem to spend plenty of time together. The social media posts show that they bond over their mutual love for rock and punk music.
Please fill in your e-mail so we can share with you our top stories!