Getty Images
Alicia Keys & Swizz Beatz Finally Bought $20M Dream Home of 8 Years - inside the Mega Mansion

Swizz Beatz and Alicia Keys are some of the most talented artists and cutest couples in the entertainment industry. Together, they make a formidable team.
Despite the challenges they faced in the early days of their relationship, today, they are living the dream inside their mansion, "Dreamland."
Dreamland is the name the famous singer and music producer call their Modernist mansion. The home is an architectural marvel they had wanted for eight years before it was available for sale.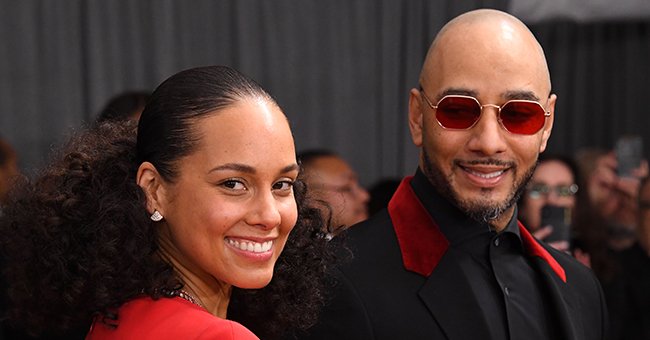 Alicia Keys and Swizz Beatz at the 61st Annual GRAMMY Awards on February 10, 2019, in Los Angeles | Photo: Getty Images
ABOUT ALICIA KEYS
Alicia Keys was born Alicia Augello Cook on January 25, 1981, in New York. Keys' father abandoned his family when she was only two, leaving her to be raised by her mother.
Keys lived in an artistic universe from when she was little. At four, she appeared in an episode of "The Cosby Show" series. She discovered her passion for the piano at six and started classical piano training by seven.
She graduated as a valedictorian at 16 while also having caught the eyes of some music executives. At her manager's suggestion, she changed her name to Keys.
At 20, she had contributed her songs to the soundtracks of the films "Shaft" and "Dr. Dolittle 2." She had also released a hit album, "Songs in A Minor."
The album, which sold 236,000 copies in its first week at retail, sold over 12 million copies internationally. The Recording Industry Association of America certified the album six times Platinum.
Her success with the album propelled Keys as an international artist. The album and singles on it received six Grammy Awards nominations, with Keys winning five.
Soon she released her second album, "The Diary of Alicia Keys," in 2003, which received four Grammy Awards. Her Grammy awards included the best R&B duo performance for "My Boo" with Usher.
At the same time, she published a collection of unreleased poems, "Tears for Water: Songbook of Poems and Lyrics," which became a bestseller in a matter of weeks.
In 2007, the main track, "No One," from her third album, "As I am," rose to the top of the charts. In 2009, she co-wrote the "Empire State of Mind" with Jay-Z, which appeared on the rapper's album "The Blueprint 3."
The song, an anthem dedicated to New York, their hometown, was an immediate success. That same year, she released her fourth studio album, "The Element of Freedom," which included duets with Drake and Beyoncé.
After a brief break, Keys returned to music in 2012 with "Girl on Fire." In 2016, Keys released her sixth album titled "Here" and her seventh album titled "Alicia" in 2020.
Keys is set to release her eighth studio album titled "Keys" on December 10, 2021. The album promises to be a double album that will feature both fully produced and broken down versions of new materials.
ABOUT SWIZZ BEATZ
Swizz Beatz, whose real name is Kasseem Daoud Dean, is a hip-hop artist born in New York on September 13, 1978. Originally from the Bronx, he moved to the southern United States following repeated violence issues at his school.
There, he discovered the Ruff Ryders Entertainment label. Through the label, he got his start as a producer as a teenager thanks to DMX and his hit "Ruff Ryders' Anthem."
These very promising beginnings allowed him to produce singles for great artists like Jay-Z and Eve. Building on his success, he created his record label Full Surface Records in 2001.
Beatz has produced many artists from his label, including Beyoncé, Whitney Houston, and Kanye West. In 2007, he released a solo album, "One Man Band Man," where he sang some songs with Chris Martin, Snoop Dogg, and R. Kelly.
KEYS AND BEATZ'S LOVE STORY
Keys met Beatz when they were teenagers in the 1990s. It wasn't love at first sight because she didn't like him. Beatz always had some fancy car and shining diamonds, and she wanted nothing to do with him.
Keys even persisted with her management to avoid collaborating with Beatz for years. Once she agreed and they got talking, she realized there was more depth to his character.
A few more years passed before the two fell in love, possibly around 2008, but Beatz was married to R & B singer Mashonda Tifrere. He shares a child, Kasseem Dean, Jr., with Tifrere.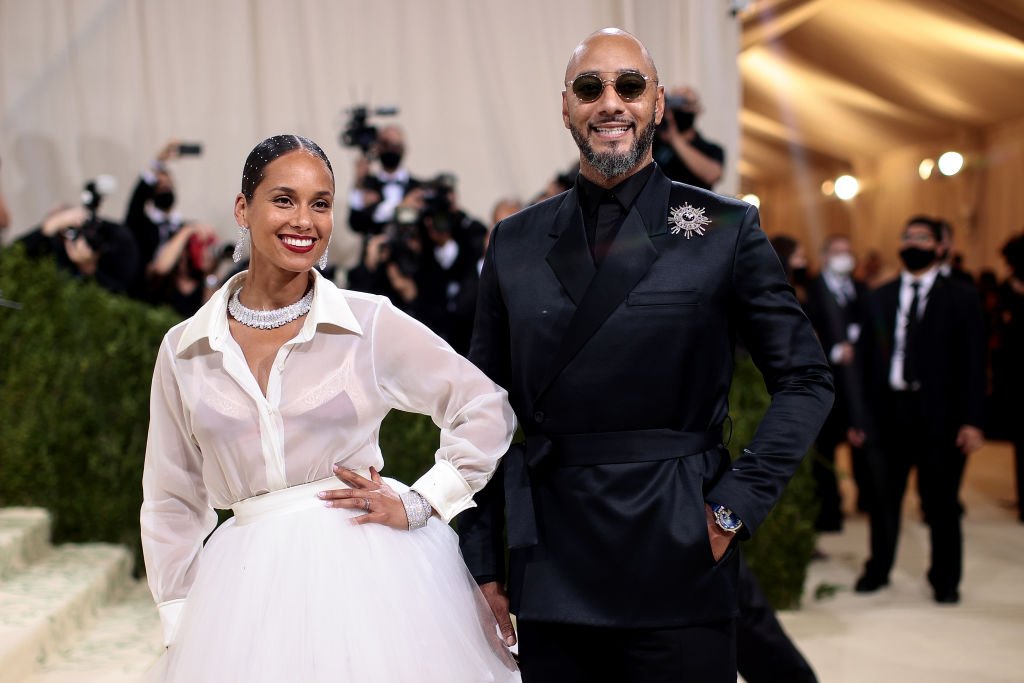 Alicia Keys and Swizz Beatz at the 2021 Met Gala "Celebrating In America: A Lexicon Of Fashion" at Metropolitan Museum of Art on September 13, 2021, in New York | Photo: Getty Images
In the early days of their relationship, Keys threw Beatz a birthday party in 2008 at the Solomon R. Guggenheim Museum. He later mentioned the soiree in the 2009 remix of "Best I Ever Had" with Drake.
The couple married in 2010 in Corsica, France, when Keys was pregnant with their first child. Deepak Chopra officiated the small ceremony, and famous friends including Queen Latifah and Bono supported the couple.
Keys gave birth to a boy named Egypt Daoud on October 14, 2010. Egypt is following his parents' career path as he became a producer at five and played the piano on stage with his mother before he turned seven.
The family grew on December 27, 2014, with their second addition, Genesis Ali. Genesis is environmentally conscious and wants to be an Earth Hero.
Today, their family is blended as Beatz and Keys are co-parents with Tifrere. They worked through their past issues to create a better space for their children.
THEIR DREAM HOME
The elegant 11,000 square foot Modernist mansion with breathtaking views of the Pacific Ocean is a dream come true for the duo. Their home was initially nicknamed "Razor House" after the nearby Razor Point Trail.
However, Beatz and Keys have given the residence the name "Dreamland," filling it with warmth, three Ferraris, an infinity pool, and a recording studio.
The house also features artwork from the couple's extensive collection, which totals more than 1,000 pieces and focuses on African-American and African artists — many of whom they know personally.
The house designed by Wallace E. Cunningham looks like a modern work of art with a very thin edge defining it. It is believed that their home inspired Tony Stark's mansion in the "Iron Man" franchise.
Beatz revealed that he had set his sights on the house before buying it. A picture of the mansion served as his phone's wallpaper for eight years before the couple bought it in 2019 for $20.8 Million.
In the December cover story for Architectural Digest, the music power couple shared exclusive access to their home.
When it came to the interior, Beatz recruited Interior Designer Kelly Behun to give soul to the house. The couple wanted a home family-friendly home despite its sharp edges and a futuristic vibe.
Please fill in your e-mail so we can share with you our top stories!