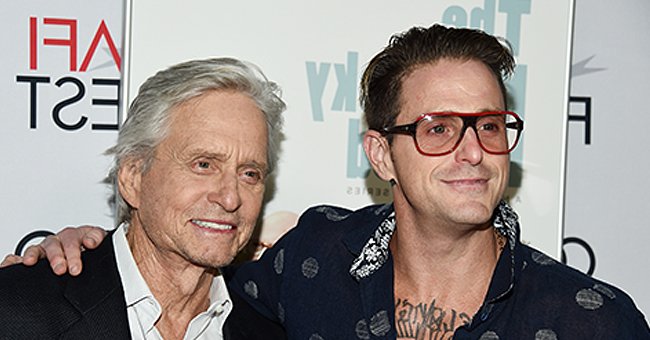 Getty Images
Kirk Douglas' Grandson's Years of 'Pain and Destruction' Included Addiction & Jail Time
Kirk Douglas's grandson, Cameron Douglas, has lived a hard life filled with drug addictions and eight years in jail. He details his experiences in his memoir, "Long Way Home."
Grandson of "Spartacus" star Kirk Douglas and son of "Wall Street" actor Michael Douglas, Cameron Douglas, released a memoir in 2019. It detailed his dark past and his family's tumultuous relationships.
"Long Way Home" is about Douglas's descent into addiction and self-destruction. He touches on his eight-year imprisonment and his strength and determination to overcome his psychological turmoil in the book.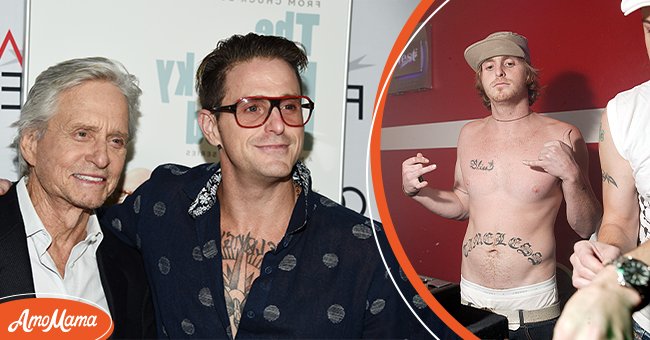 Michael Douglas and Cameron Douglas "The Kominsky Method" World Premiere Gala Screening at TCL Chinese Theatre, 2018 [Left] Cameron Douglas pictured in Hamburg. | Photo: Getty Images
He also details the rocky relationships between his father and mother, Diandra Luker, and Michael's relationship with Kirk. Douglas also reflected on his relationship with his father.
In the book, Douglas also writes of the success he experienced in renewing his family ties following his time in prison, even though their relationships seemed "irreparably frayed."
RUN-INS WITH DRUGS AND THE LAW
Douglas's relationship with drugs started in his childhood, as he explained he would run joints between his father and his famous friends. They included Jack Nicholson, Danny DeVito, Oliver Stone, and others.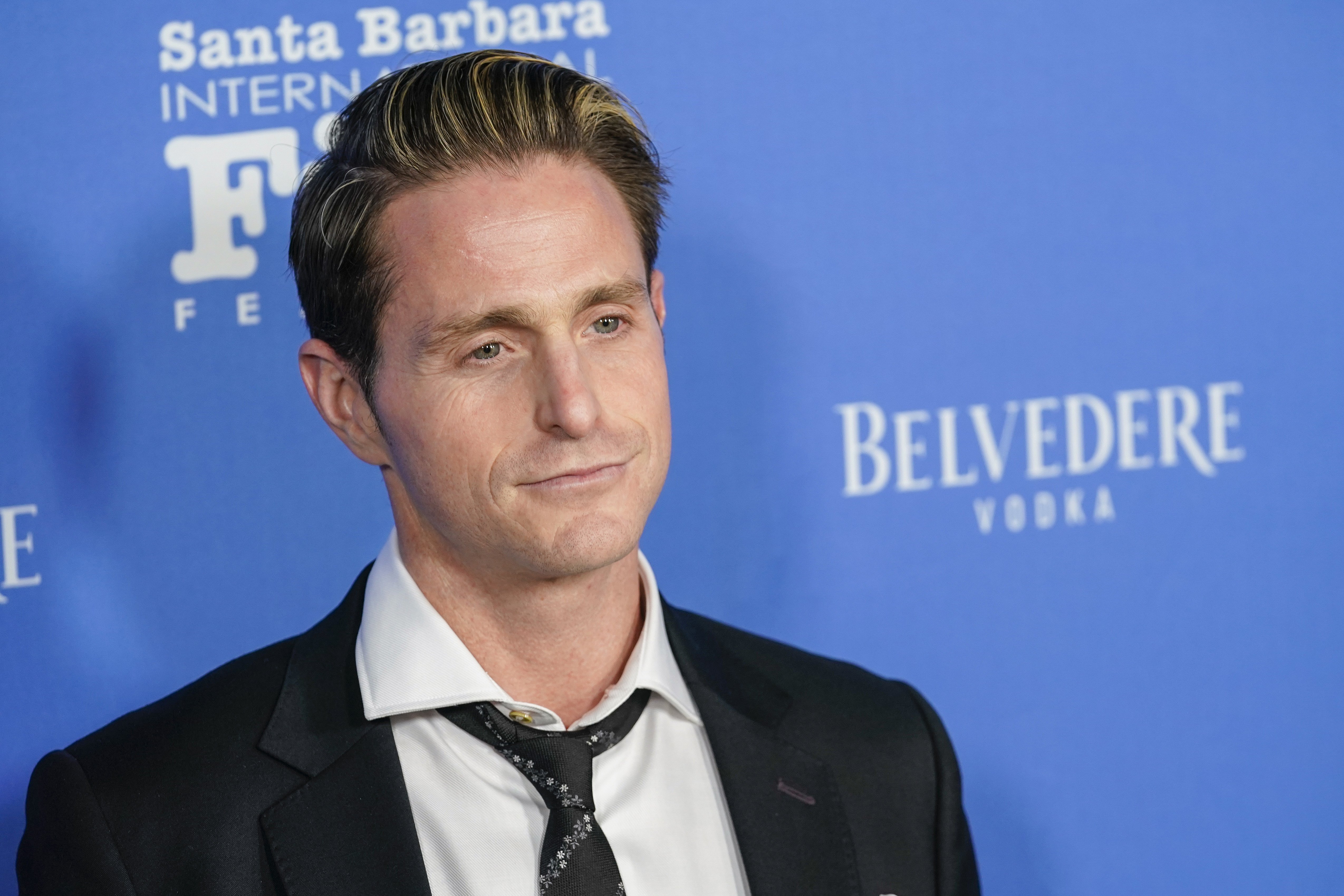 Cameron Douglas on the red carpet at the Kirk Douglas Award for Excellence in Film, 2019. | Photo: Getty Images
As he got older, he would creep around his neighborhood and watch "beautiful grown-ups doing the things that beautiful grown-ups living lives of excess do."
Eventually, Douglas followed in his father's footsteps, at least when it came to drugs. However, he would take a much rougher path that saw him arrested numerous times.
In 1999, Douglas was arrested time for drug possession in New York City for the first time. A few years later, he was arrested in Los Angeles after police found drugs in his car.
Two years later, police charged Douglas with felony possession of a controlled substance after being pulled over in Santa Barbara. Officers found a syringe of prohibited liquid in his vehicle.
In 2009, Douglas faced his most significant conviction. Police arrested him during a sting at the Gansevoort Hotel in Manhattan for possession and conspiracy to distribute drugs.
Initially, the Hollywood scion was sentenced to five years. But officials extended it by four and a half years in 2011 after items in his possession tested positive for cocaine and heroin. He got these items from other inmates.
Besides the extended sentence, Douglas faced other hardships during his time in prison. In 2012 the NY Post reported that Douglas suffered from a broken femur and finger.
A source told the outlet that he had to get a rod inserted into his leg. Douglas told the health staff that he suffered the injury during a game of handball, as the source revealed:
"He broke his femur, which is hard to snap,... He told health services staff that he hurt them playing handball. You don't break a femur playing handball."
The NY Post also reported other inmates targeted Douglas after a "crime-family captain" put a bounty on him because he testified against the people who gave him the drugs.
DOUGLAS'S FAMILY LIFE
Douglas was born into Hollywood royalty on December 13, 1978. His parents married eight weeks after they first met in 1977. At the time, Michael was 32, and Diandra was 19.
Douglas penned that his parents had a rocky relationship from the beginning and seemed to be on different pages regarding their wants and needs.
For example, Michael had thrown a lavish party for Diandra's 21st birthday. However, she was sick with tonsillitis.
Douglas said instead of canceling the event, Michael partied downstairs with the guests, mostly his friends, while Diandra lay in bed. At 5 AM, she came down and told everyone to go home.
Later Diandra decided that she did not like "show business" or the people involved in it. But Douglas pointed out, "this would be a problem since that was Dad's life."
Diandra also discovered her husband in bed with another woman. As a result, she urged him to deal with his drug and alcohol intake, so Michael checked into Sierra Tuscon, a clinic in Arizona.
However, despite the intervention, Michael continued to stray. In 1995, Diandra reached her breaking point. She hired a private investigator who discovered Michael at a hotel with another woman.
In 2000, Michael and Diandra were divorced. Michael is now married to Actress Catherine Zeta-Jones, and they have two children, Carys and Dylan.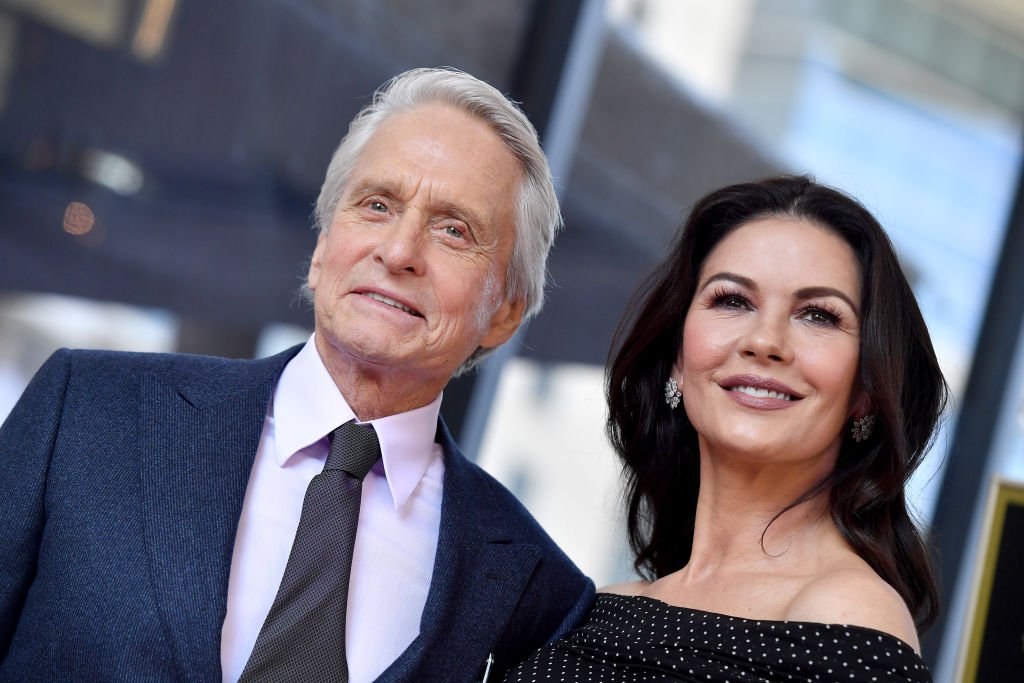 Michael Douglas and Catherine Zeta-Jones attend the ceremony honoring Michael Douglas with star on the Hollywood Walk of Fame, 2018, Hollywood, California. | Photo: Getty Images
Douglas also detailed his complicated relationship with his father, which was strained due to Michael's career. Douglas described their relationship as a series of jump cuts as he wrote:
"Our relationship was a series of jump cuts, vivid bursts when we were together punctuating longer stretches when we were apart."
The father and son bond almost reflected Michael's relationship with his father. Douglas wrote that he was aware his father and grandfather had conflicts between them.
Michael was determined to succeed despite his father's considerable shadow. At the same time, Kirk resented his son for replacing him in "One Flew Over The Cuckoo's Nest," as he had starred in its original broadway show.
FIXING RELATIONSHIPS
Douglas has overcome his past mistakes and rebuilt his relationships with his parents and grandfather despite the family's sometimes complex relationships.
Michael encouraged him to write a memoir about his experiences with prison and his drug addictions. Douglas had kept a journal and wrote poems during his time incarcerated.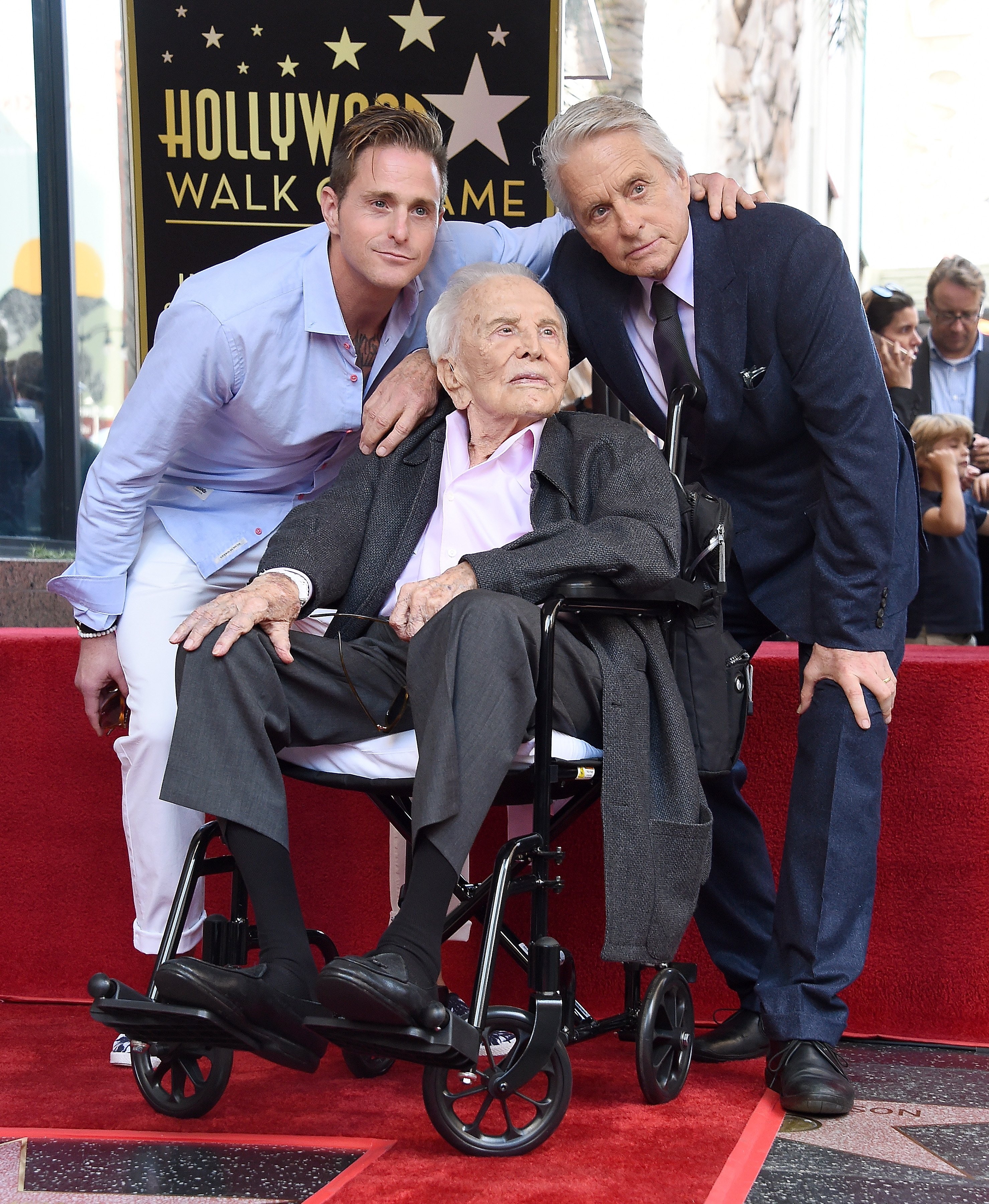 Cameron Douglas, Kirk Douglas, and Michael Douglas pose at the Michael Douglas Star On The Hollywood Walk Of Fame ceremony, 2018,Hollywood, California. | Photo: Getty Images
Douglas also credited his father's second wife for pushing Michael to "extend his paternal love." Douglas also seemed to have a close relationship with his late grandfather.
Following Kirk's passing in 2020, Douglas wrote about his relationship with his grandfather. He explained how he had enjoyed rebuilding his relationship with him in an article for The Hollywood Reporter.
Douglas, who has now turned to acting, also remarked that he loved watching the relationship between his daughter, Lua, and Kirk. He shares his two children with his wife, Viviane.
He shared that he would keep his grandfather's legacy alive in his daughter by showing her their photos together as the images capture their connection.
Douglas was most recently featured in an indie film called "The Runner." He also shared that he was a semi-finalist for Best Supporting Actor at the Lonely Wolf London International Film Festival in 2021 on Instagram.
Please fill in your e-mail so we can share with you our top stories!