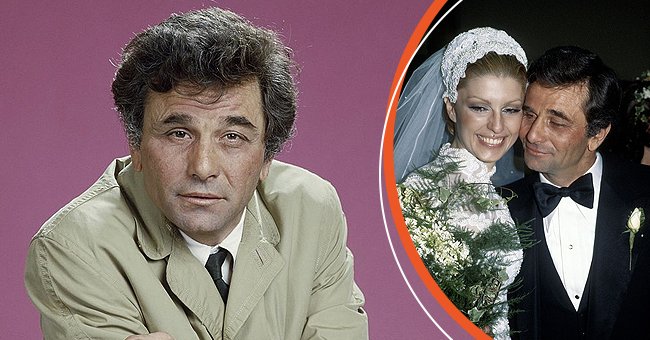 Getty Images
Peter Falk & His Wife Were the 'Fighting Falks' as He Was 'Incorrigible' during 34-Year Marriage
Peter Falk and his second wife were married for over 30 years before his death in 2011. Though this was his longest marriage, the couple's public fights earned them the name "Fighting Falks."
Peter Falk, who wanted to join the CIA, is best remembered for his role as Homicide Detective Columbo in the "Columbo" series that aired between 1971 and 2003.
Even though he became a success, the role was not one he had wanted. Additionally, his agent advising that he might face rejection for some roles due to his glass eye did not improve things.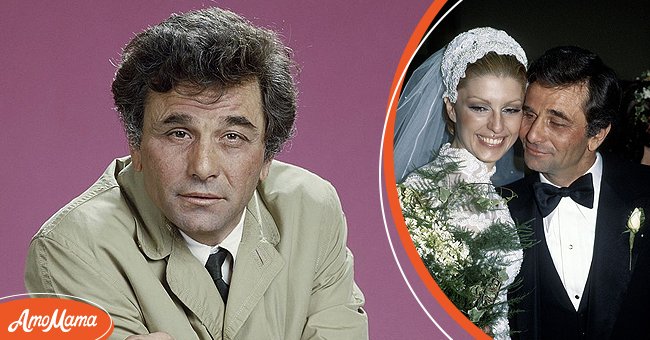 Peter Falk as Lieutenant Columbo (left), Peter Falk and Shera Danese circa 1977 in Los Angeles (right) | Photo: Getty Images
ABOUT PETER FALK
Born in New York in 1927 to a Polish father of Hungarian descent and a Russian mother, Peter Michael Falk had worked as a management analyst before starting his artistic career.
At three, Falk had his right eye surgically removed because of a rare form of cancer called retinoblastoma. The artificial eye he had to wear gave him his trademark squint.
His limitations never stopped him from living the life he wanted as he participated in team sports as a boy. At 12, he made his first stage appearance in "The Pirates of Penzance" at Camp High Point.
Peter Falk in London on April 24, 1969 | Photo: Getty Images
Falk attended Ossining High School, where he was a star athlete and president of his senior class. In 1945, he graduated and briefly attended Hamilton College in New York.
After graduation, he tried to join the armed services as World War II was drawing to an end but was rejected because of his missing eye. Instead, he joined the United States Merchant Marine, where he was a cook and mess boy.
After a year on the water, he returned to college. He attended the University of Wisconsin before transferring to The New School for Social Research, where he graduated with a bachelor's degree in literature and political science in 1951.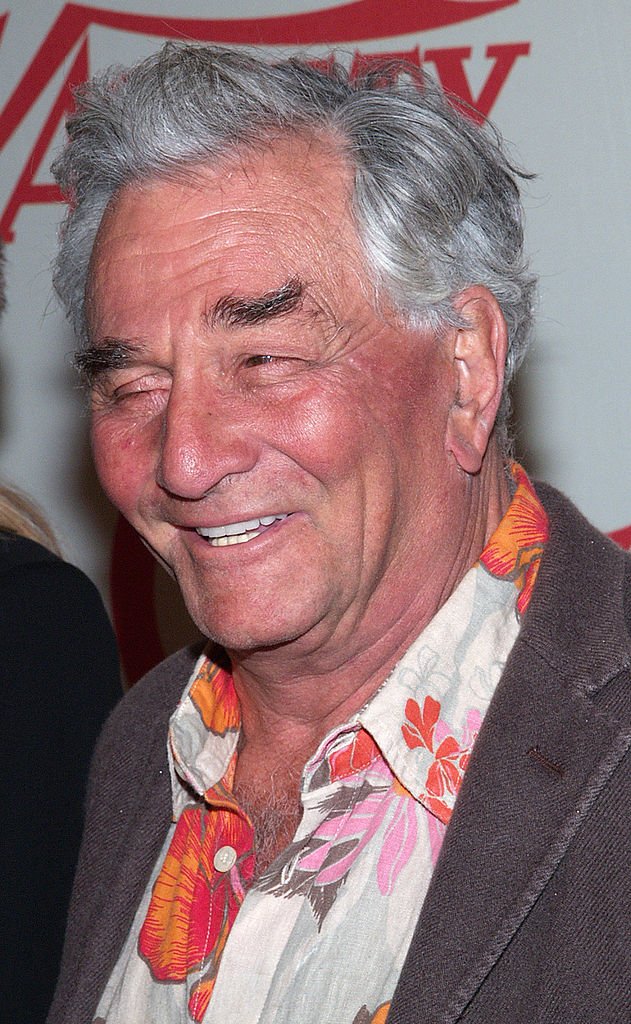 Peter Falk at the Variety Centennial Gala on December 2, 2005, in Beverly Hills | Photo: Getty Images
He then traveled to Europe, and for six months, he worked on a railroad in Yugoslavia. On his return to New York, he enrolled at Syracuse University, where he obtained a Master in Public Administration.
When his application to join the CIA was rejected, he became a management analyst and joined a community theater group called the Mark Twain Masquers.
While working as a management analyst, he took acting classes with Eva Le Gallienne at the White Barn Theatre. Even though he was usually late, Le Gallienne believed he should be a professional actor.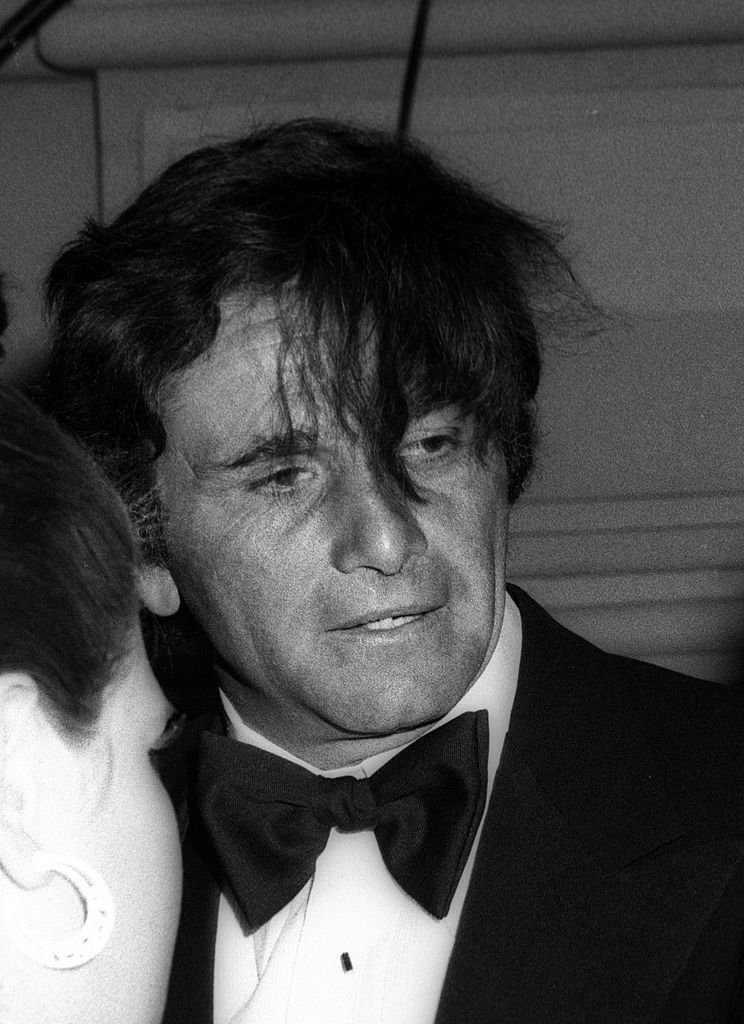 Peter Falk at the 28th Annual Tony Awards on April 21, 1974 in New York | Photo: Getty Images
This faith motivated him to quit his job, and Le Gallienne gave him a letter of recommendation to an agent at the William Morris Agency in New York.
He failed some screen tests because of his eye and was cast in small roles in other films. However, his performance in the 1960 "Murder, Inc." became a turning point in his career.
That same year, he got an Academy Award nomination for the Best Supporting Actor for his performance in "The Witness." However, the early and mid-1960s found him in supporting roles.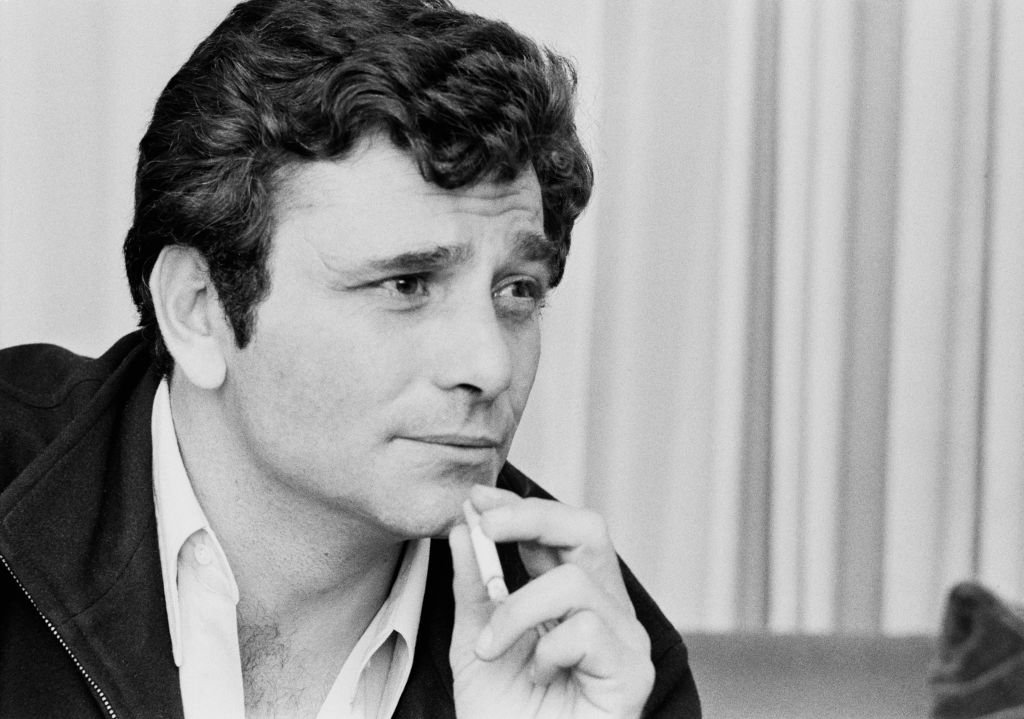 Peter Falk in the UK on October 28, 1968 | Photo: Getty Images
Despite that, Falk became the first actor nominated for an Emmy and an Oscar in the same year in 1961. In the late 1960s, he became the star of the TV series "Columbo."
His role as Detective Columbo in his iconic 1959 Peugeot 403 made him "everyone's favorite rumpled television detective." The show aired between 1971 and 2003 with ten seasons and 69 episodes.
In reality, Falk was also known to be rumpled, disheveled, and was always misplacing things. Even though he became one of the highest-paid actors in prime time, he revealed that he was never very neat.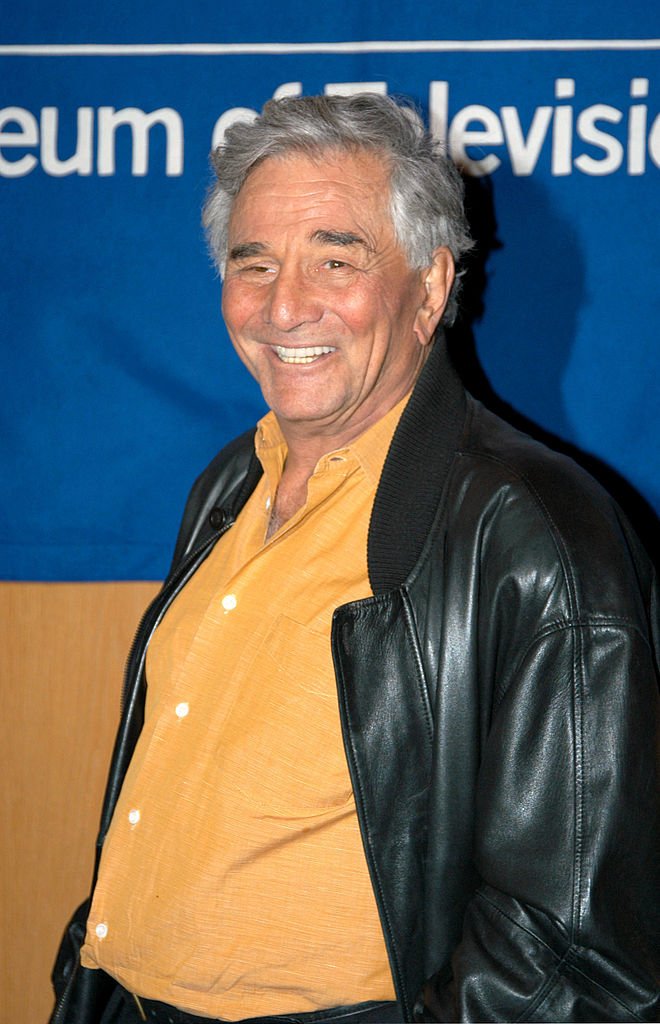 Peter Falk at the 20th Anniversary William S. Paley Television Festival Presents "Columbo" at Directors Guild of America in Hollywood | Photo: Getty Images
FALK'S RELATIONSHIP WITH HIS SECOND WIFE
Falk was married to his first wife, Pianist Alyce Mayo, between 1970 and 1976. The couple adopted two children, Catherine and Jackie, before their divorce.
On December 7, 1977, Falk married his second wife, Shera Danese. Danese was an actress and the 1970 Miss Pennsylvania World winner. She met Falk on the set of "Mikey and Nicky" while Falk was still married to his first wife.
The early days of their marriage came with major marital storms leading them to file for divorce twice. Falk was called a negligent husband and an absentee father, who drank and smoked too much.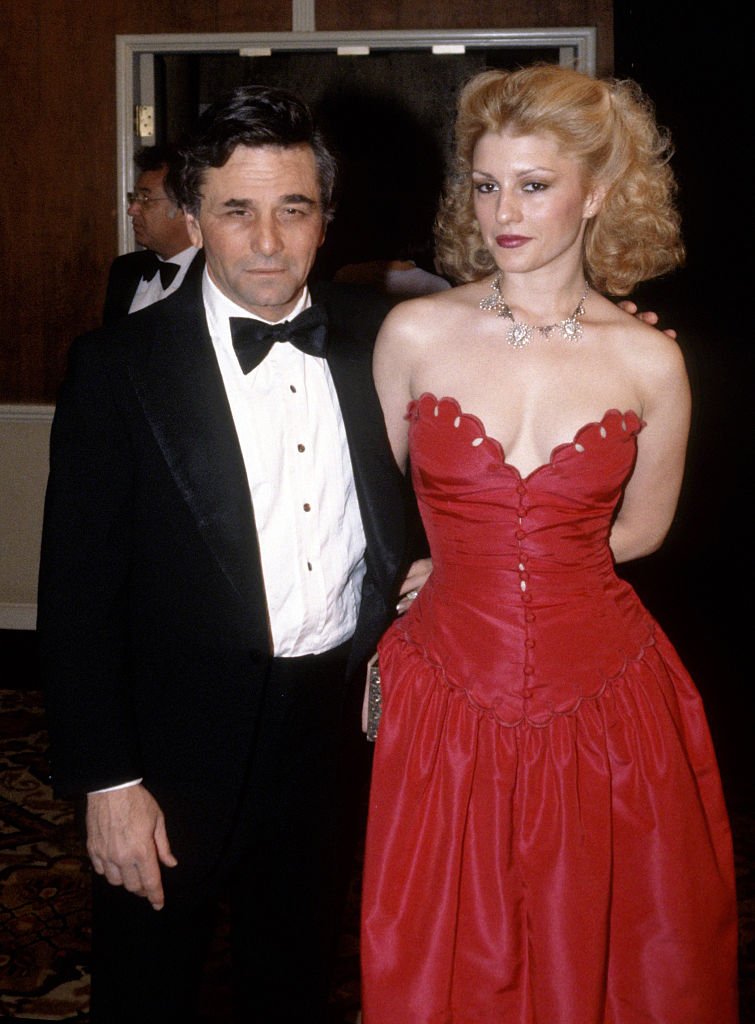 Peter Falk and Shera Danese circa 1981 in Los Angeles | Photo: Getty Images
Also, in both his marriages, he had constantly cheated on his wives. His infidelity caused constant public rows between him and Danese, although they always reconciled.
Their public fights earned them the name "Fighting Falks." However, their marriage lasted for over three decades because they came to accept each other's bad habits and made concessions.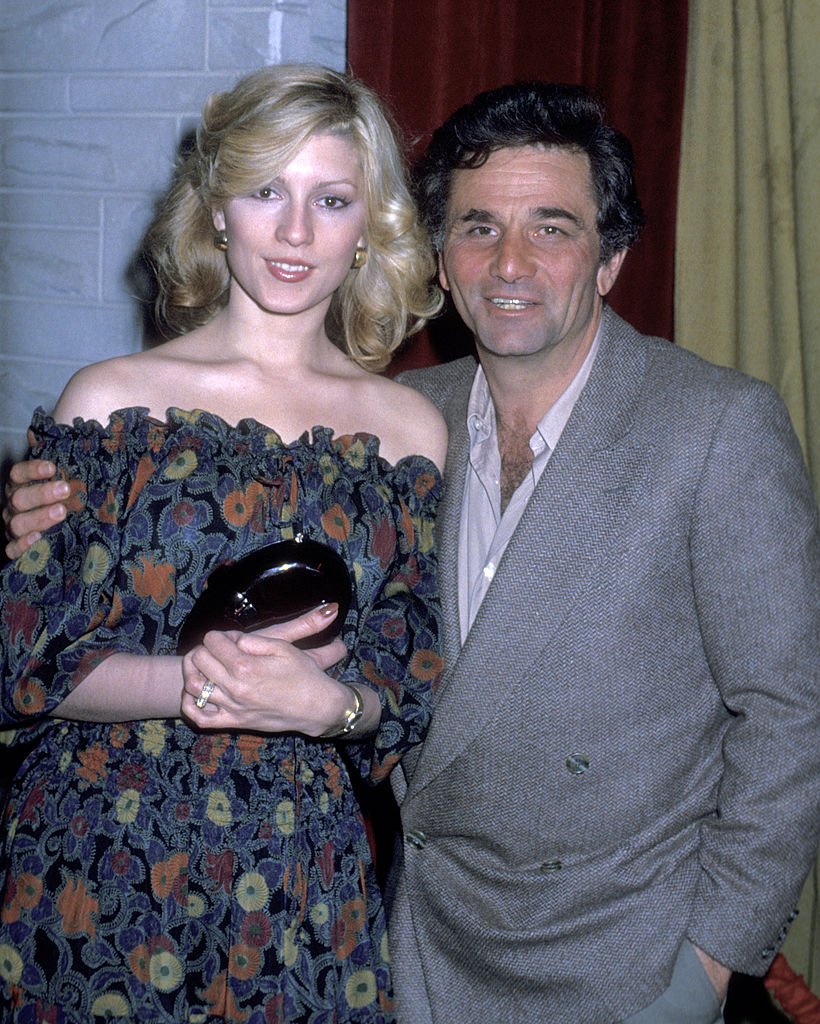 Peter Falk and Shera Danese at the "Paradise Alley" Film Wrap-Up Party on February 11, 1978, at Universal Studios | Photo: Getty Images
FALK'S PERSONALITY AND LAST DAYS
Even though Falk never wanted the commitment acting in a series required, he took the role of Columbo because he was financially nervous.
It was said that with success, Falk became obsessively controlling over every role and made life a living hell for directors. He argued over every line and camera angle and ended up delaying filming, sending budgets soaring.
In 2006, Falk's memory began to fade, and in 2008, the four-time Emmy Award-winning actor was diagnosed with Alzheimer's disease. Being unhappy also caused his condition to worsen.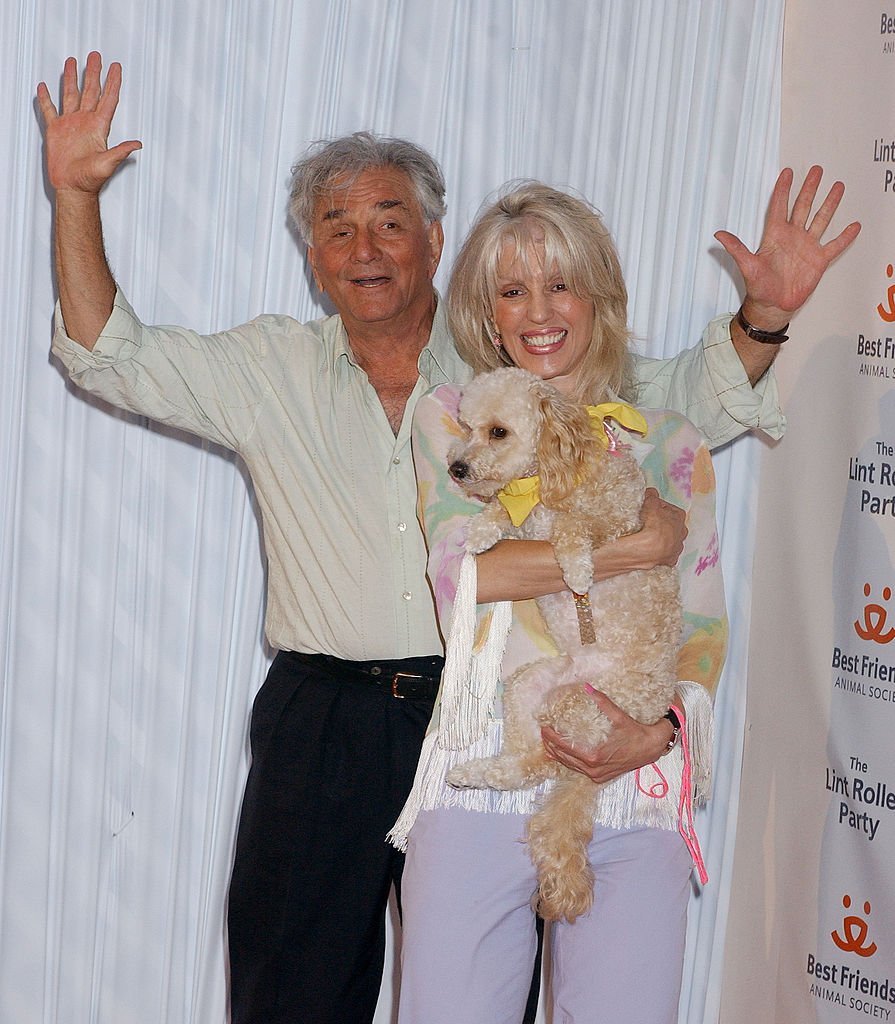 Peter Falk and Shera Danese at the 2004 Annual Lint Roller Party at Hollywood Athletic Club in Hollywood | Photo: Getty Images
However, his health further declined when he had dental and hip surgery. The effect of the anesthesia took a toll on his Alzheimer's. The decline in his health made Danese and his first adopted daughter Catherine fight over control of his care and fortune.
Even though Catherine claimed that Danese denied her access to Falk and accused her of elder abuse, a judge ruled in favor of Danese.
The judge awarded Danese with conservatorship over Falk and limited Catherine's visits to 30 minutes twice weekly. Falk died at 83 on June 23, 2011.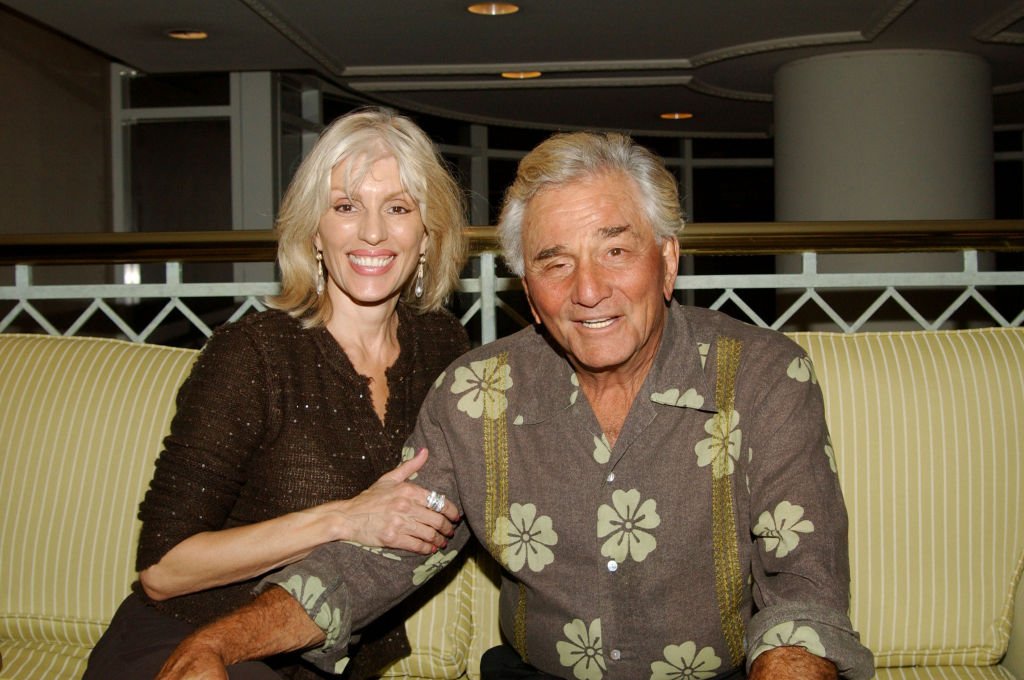 Peter Falk and Shera Danese at the 11th Annual Amanda Foundation Comedy Night and Silent Auction in Santa Monica | Photo: Getty Images
His death was caused by pneumonia, with complications from Alzheimer's disease. His children learned of his death through the media and were banned from attending his funeral.
Falk left a bulk of his estate to Danese while leaving an estimated six-figure inheritance to Catherine and Jackie. Falk, being estranged from Catherine before his death, added a clause to his will.
The clause would see Catherine losing her inheritance if she contested the will. Falk was laid to rest at Westwood Village Memorial Park Cemetry.
Please fill in your e-mail so we can share with you our top stories!