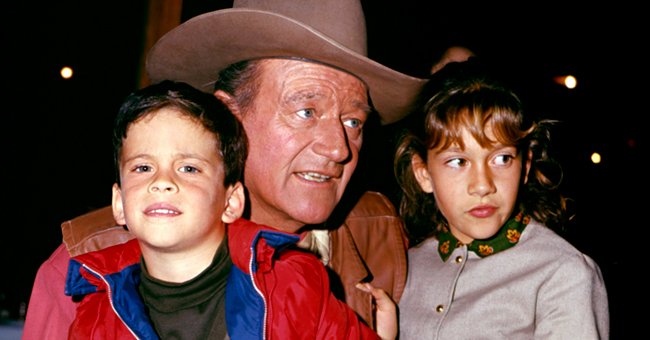 Getty images
Despite Having 7 Kids, John Wayne Was Buried in Private & His Grave Went Unmarked for 20 Years
With a Hollywood career spanning over half a century, John Wayne became an icon of the Wild West. But upon his death, his grave would remain unmarked for decades, and it always raised eyebrows.
John Wayne was a Hollywood star known best for his western-themed films. But most importantly, his fans loved him because he would take his time to relentlessly answer every single fan mail, a rare trait for Hollywood stars.
"The Lady of the Night" actor had a successful acting career with over 100 movies and an Academy Award to his name. Away from the silver screens, Wayne was a family man, and his brood included seven children.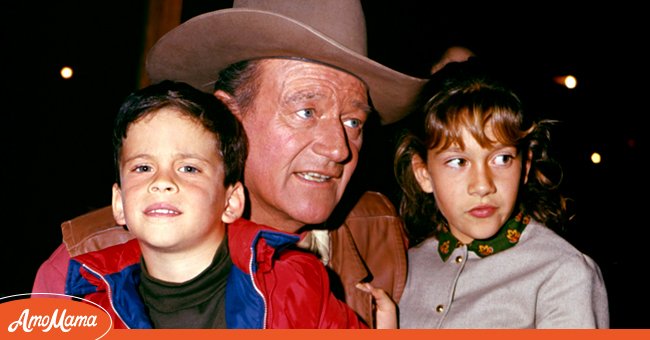 American actor John Wayne (1907 - 1979) with two of his children, son John Ethan and daughter Aissa Wayne, as they are photographed in an unspecified restaurant, 1967. Wayne is in costume (as Cole Thornton) for his role in 'El Dorado' | Source: Getty Images
Married to his first wife, Josephine Alicia Saenz, in 1933, the couple had four children, Melinda Wayne, Michael Wayne, Patrick Wayne, and Mary Antonia "Ton" Wayne.
The marriage ended in 1945, and he had three more children, Aissa Wayne, Marissa Wayne, and John Ethan Wayne, with his third wife, Pilar Palette.
He was a doting father to his children, and for the years that have passed after his death, they have strived to keep his memories and legacy alive.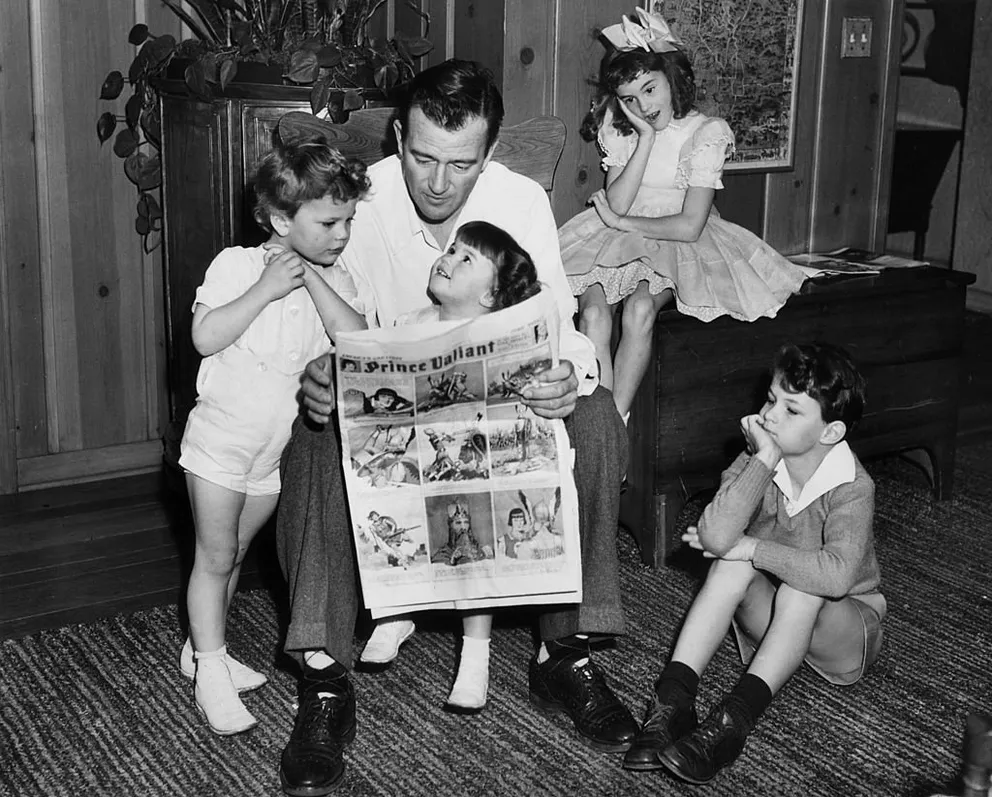 John Wayne reading a "Prince Valiant" comic with his four children Patrick, Melinda, Toni, and Michael in Hollywood, California in 1942. | Source: Getty Images
THE DUKE PASSES ON
Wayne met his untimely death from stomach cancer after a successful career as a no-nonsense American hero in more than 200 Western films. He had enrolled in a cancer vaccine study to help with the illness.
Unfortunately, on June 11, 1979, the acclaimed actor succumbed to the disease while at the UCLA Medical Center. He was buried at the Pacific View Memorial Park Cemetery at Newport Beach, on an ocean-view hillside, a spot that remained a secret for decades.
For years, his grave's location remained a mystery to many as guards locked fans out of his funeral service. His farewell ceremony remained a private affair, and his grave was left unmarked for two decades.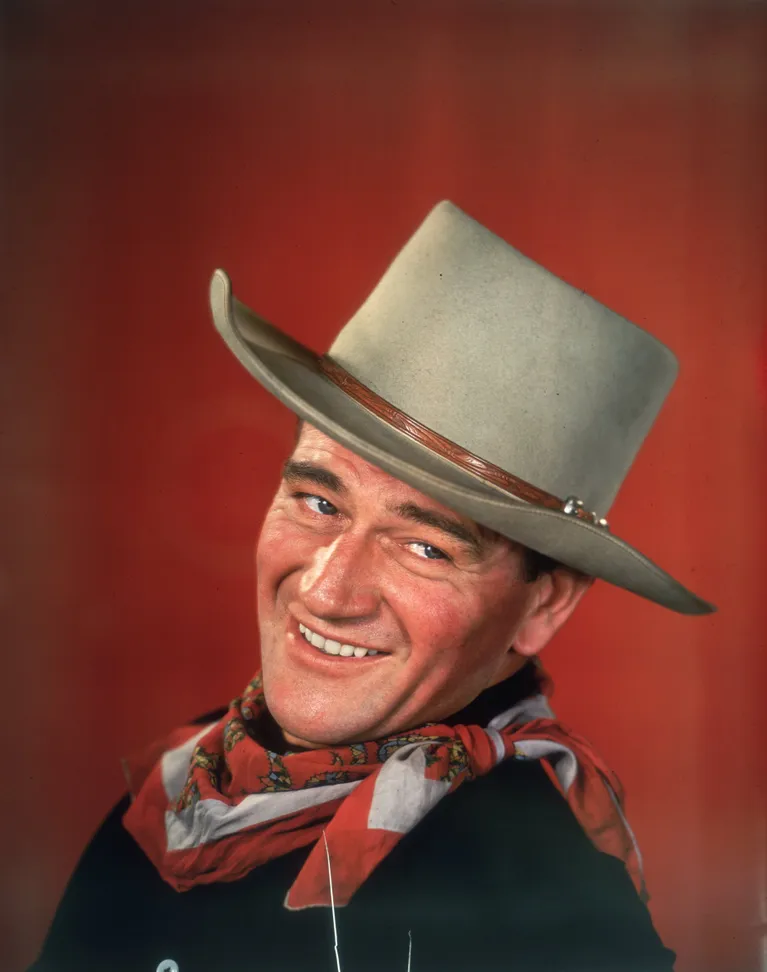 A studio headshot portrait of John Wayne dressed in Western garb, with his head turned to the side in circa 1955. | Source: Getty Images
Out of respect for the family, the cemetery never disclosed the location of his grave. Still, those conversant with the ways of the internet can easily follow a step-by-step guide to the exact spot where the "Duke" was laid to rest.
Jim Tipton, who operates a website dedicated to finding the graves of famous people, says that over seven thousand people visited his website attempting to find Wayne's final resting place over six weeks. He says:
"It's not some ghoulish, morbid thing. It's more about remembering the person as they lived. You go there because you respected the person and their life."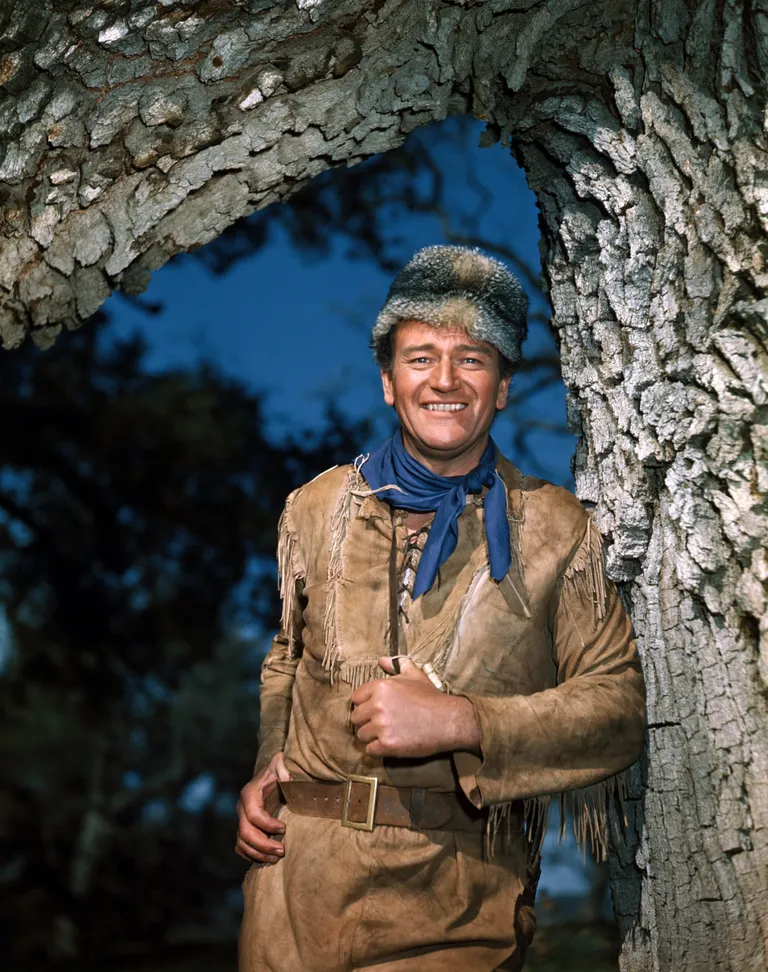 American actor John Wayne on the set of The Fighting Kentuckian. | Source: Getty Images
REMEMBERING THEIR DAD
Wayne is remembered for more than just the tremendous impact he made on people's lives through his films. His children hold his memories dear to their hearts and honor him for the wonderful father that he was.
Ethan remembers an affectionate dad who would always pick him up, kiss him on the head, and tell him that he loved him.
His other children recall how kind and loving their father was, each with a story of how he impacted their lives with even the smallest actions. These included playing golf with them and taking them with him to the set of his movies.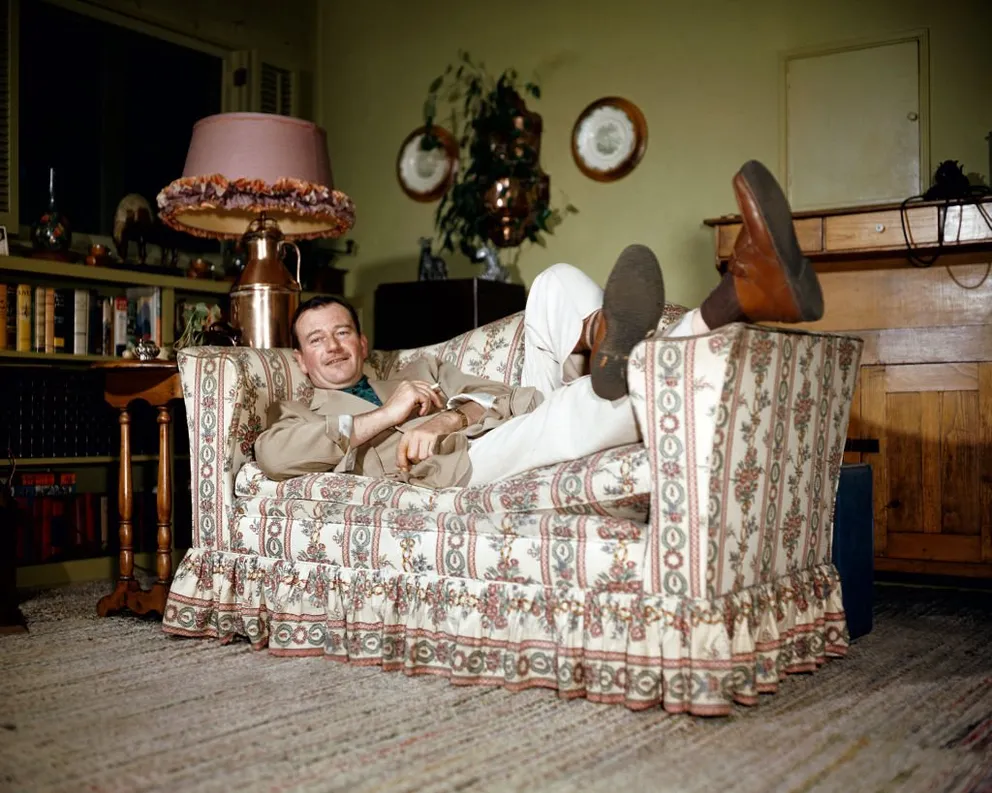 Portrait of American actor John Wayne (1907 - 1979), a cigarette in one hand, as he relaxes, feet up on the arm of a couch, 1950s. | Source: Getty Images
PROTECTING HIS LEGACY
His presence as a dad is just one of the many reasons his kids came to his defense when he came under fire for saying that he believed in "white supremacy" during an interview with Playboy in 1971.
Although his comments on the subject caused controversy among many circles, his children defended him. They explained that he was, more than anything, a people person and anything but a racist.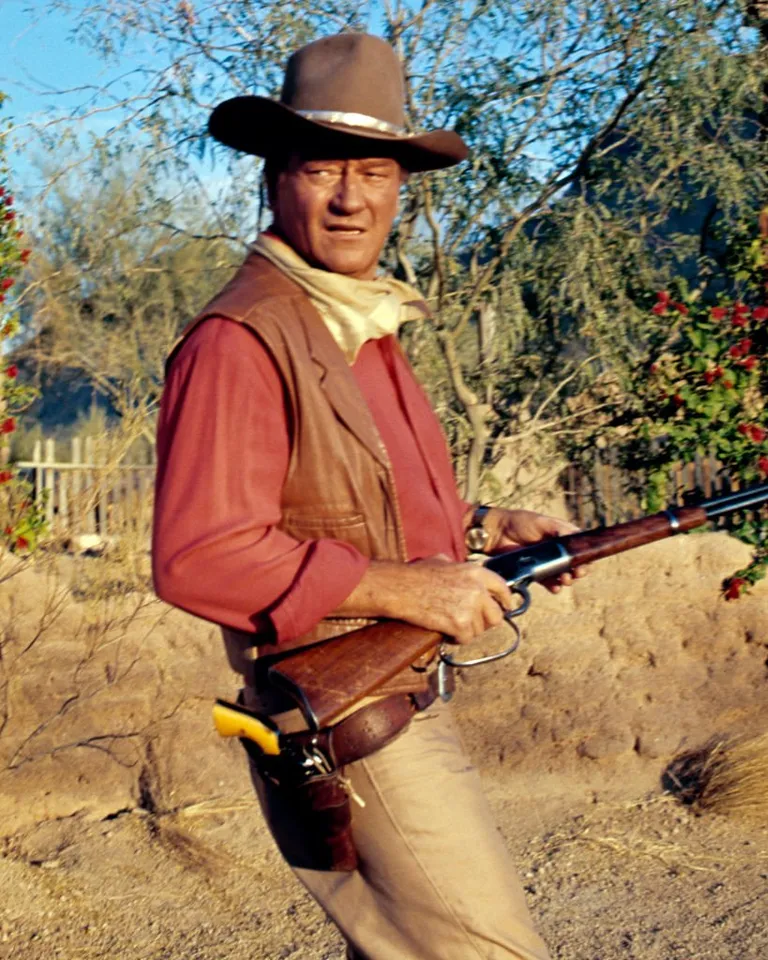 American actor John Wayne (1907 - 1979) (as Cole Thornton) in a scene from 'El Dorado' (directed by Howard Hawks), 1967. | Source: Getty Images
Ethan disclosed that Wayne judged everyone individually and believed in everyone having an equal opportunity. He recalled how Wayne had hired and worked alongside people of all sexual orientations, creeds, and races to put his point to perspective.
A SIMPLE HEADSTONE FOR A NOT-SO-SIMPLE MAN
Today, the Duke's resting place is marked with a bronze plaque that displays Wayne riding a horse, with a U.S flag dancing in the wind. On the plaque is a quote from his infamous Playboy interview.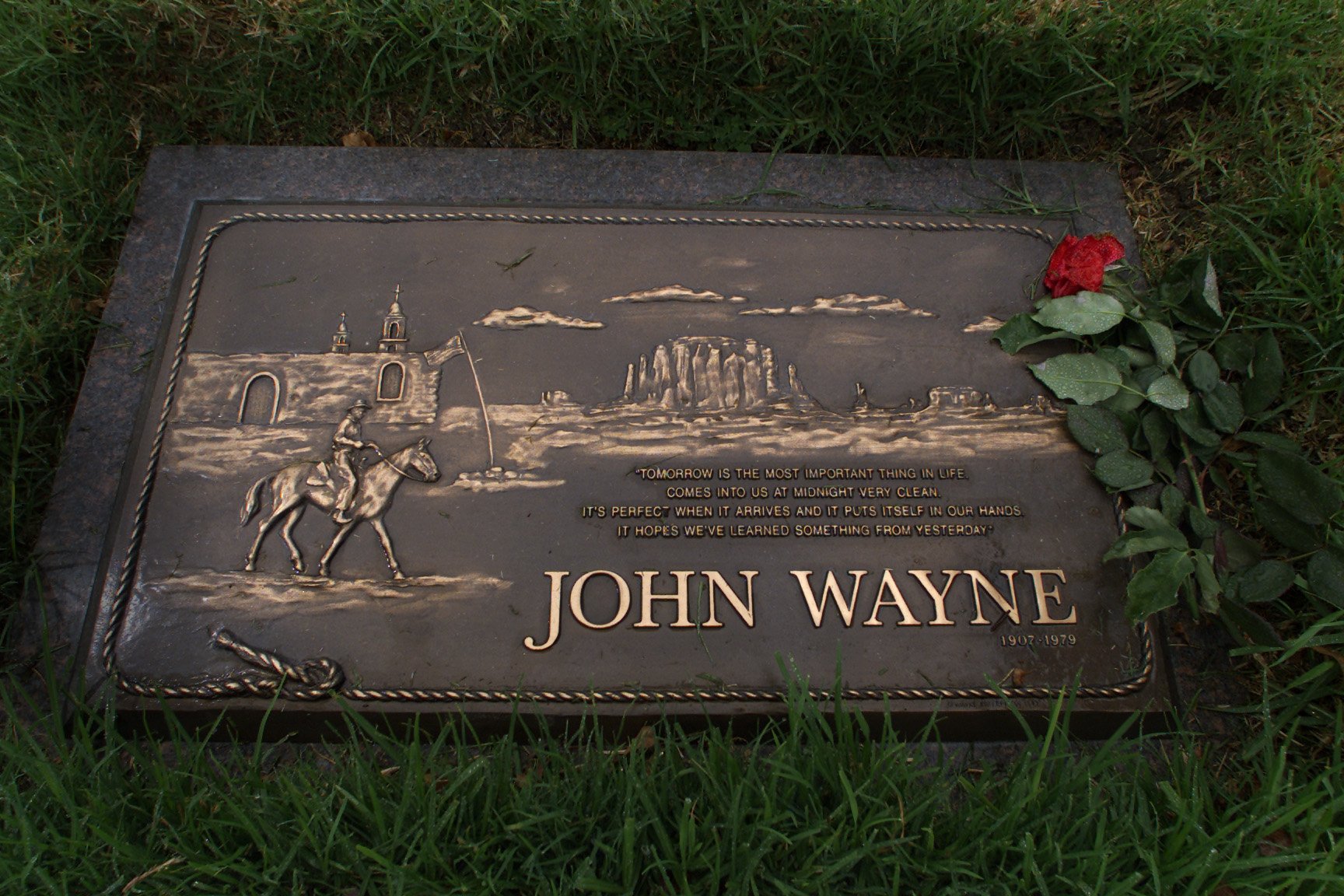 One of the most famous gravesites in Orange County is that of John Wayne, found with a fresh rose on the headstone at Pacific View Memorial Park in Newport Beach. | Source: Getty Images
His son Ethan says they did not want to make a shrine because they wanted him to rest in peace. He also explained that they decided out of respect for other people who have their loved ones buried there, as no one would wish for their loved ones' graves trampled on.
He also admits that he has found flowers on Wayne's grave numerous times, indicating that even so long after his passing, his fans still remember him and honor his memories.
Please fill in your e-mail so we can share with you our top stories!