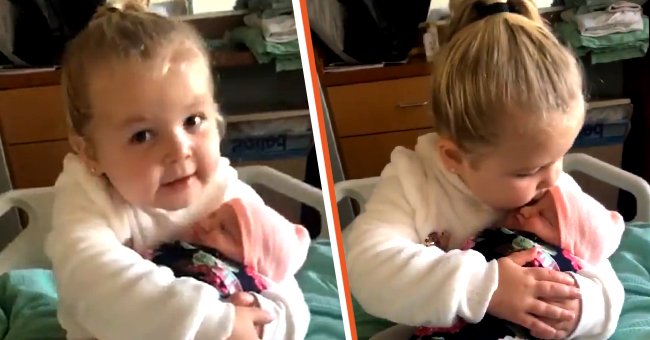 twitter.com/heatherquigley4
3-Year-Old Meets Newborn Sister and Whispers Vow of Protection to Her in an Adorable Video
When a toddler met her baby sister for the first time, all she wanted to do was smother the little one with affectionate hugs and tender kisses. That's what she did precisely, and the kids' mother was quick to capture the sweet moments.
Siblings are known to have a bond that cannot be put into words. Particularly for older siblings, welcoming a new baby sister or brother either brings out their caring side or makes them question whether their parents would still love them the same.
Regardless, an adorable new addition to the family is the perfect time to share heartfelt moments and celebrate. A mother from Wynnewood, Pennsylvania, did just that.
NEW ADDITION TO THE FAMILY
In November 2019, Heather Conley welcomed her baby daughter, Cora. Everyone in the family had been anxiously waiting for the baby to arrive, including her big brother.
However, nobody was as happy as baby Cora's 3-year-old sister, Molly, whose excitement was on another level.
While it's natural for older siblings to despise the new baby, such as crying, experiencing mood swings, or simply wishing for the baby to be sent back to the hospital, Molly had the complete opposite reaction.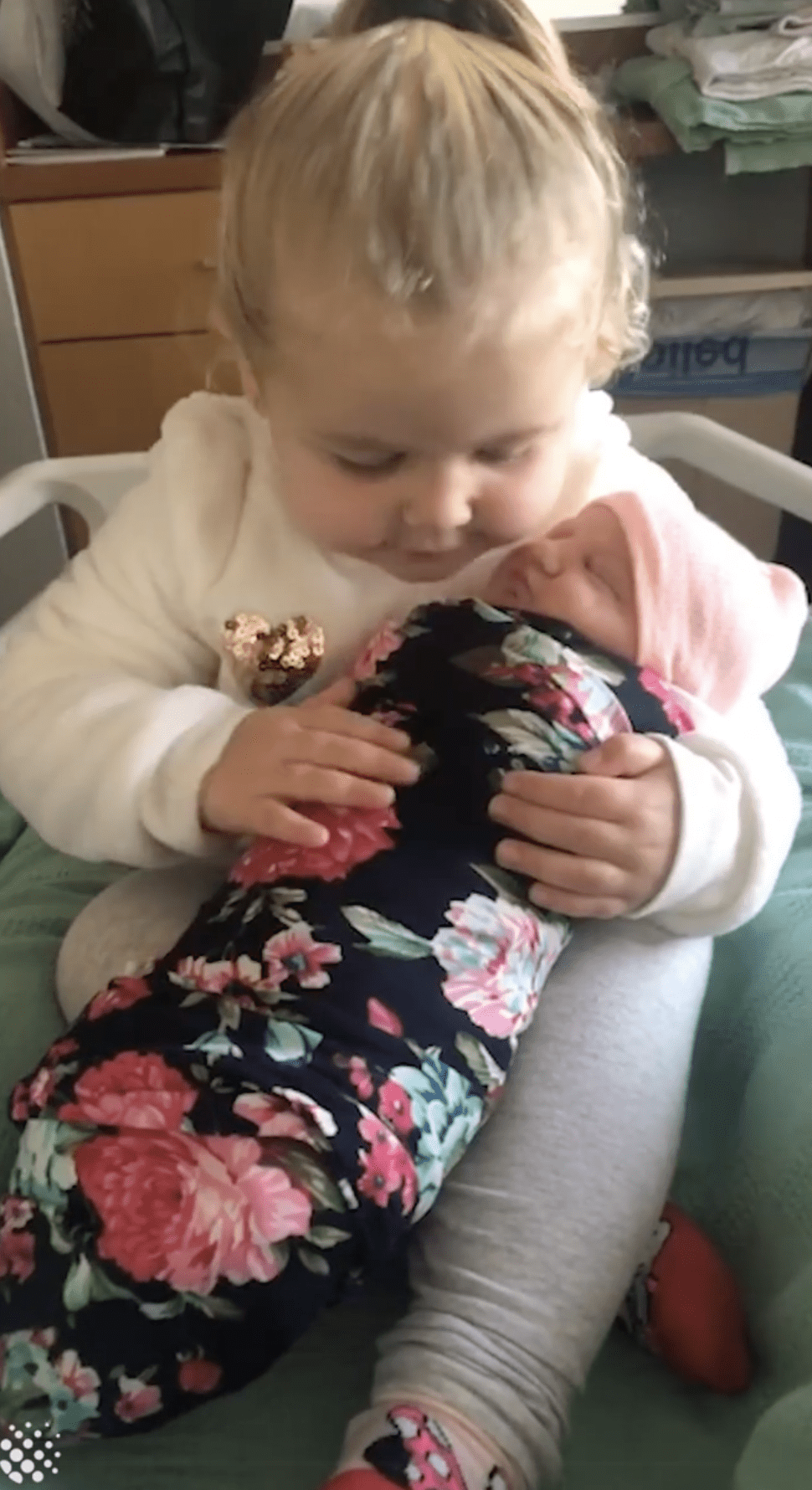 Molly rubbing her hands up and down baby Cora's swaddled body. | Photo: Facebook.com/Newsflare
The toddler was over the moon after hearing the news that she had been promoted to the position of "elder sister." This is the reason that when she got the chance to hold her baby sister for the first time, she couldn't stop gushing.
Molly was completely awestruck by her angel sister and called her "cute" before resuming to rub her hands down her swaddled body.
Molly's mother captured the heartwarming moments Molly sat down and held baby Cora in her arms, sharing them on Twitter. It was evident that she wasn't planning on letting go of the adorable baby anytime soon.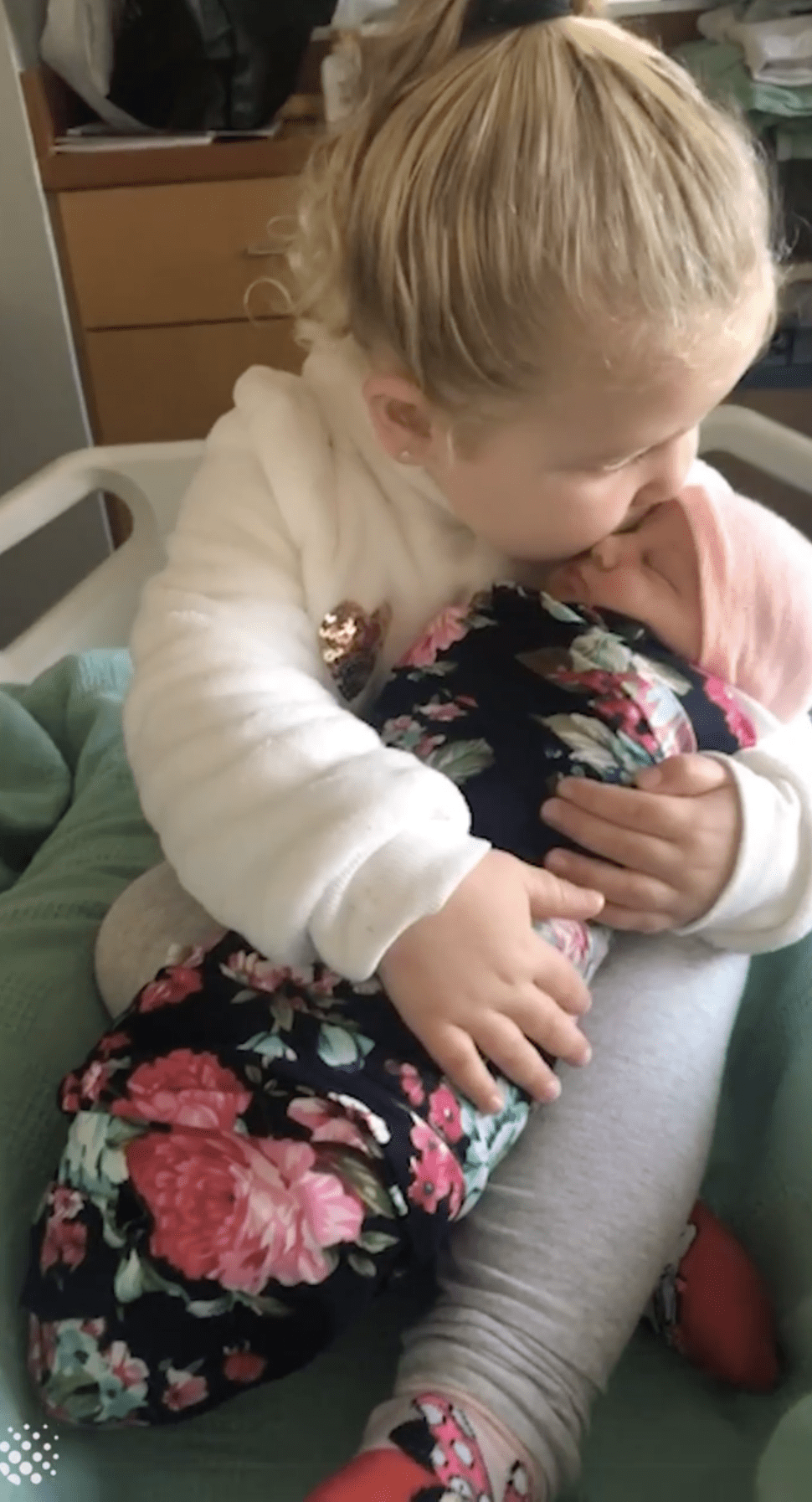 Molly kissing her baby sister Cora. | Photo: www.facebook.com/Newsflare
Cora was wrapped in a gorgeous navy blue blanket adorned with a floral pattern and wore a peachy pink cap on her tiny head. Molly sat on her mother's hospital bed, cherishing her time with the baby. The caption of the viral video read:
"Molly meeting her little sister for the first time. Molly and Cora's video is up to 12.4K views on Facebook everyone loves it is it's just so innocent. Shocked I caught this on camera (sic)."
The short video clip shared on November 11, 2019, showed Molly bonding with her baby sister, who was gently laid down on her lap. She smothered baby Cora with gentle hugs, planted sweet kisses on her forehead, and tenderly caressed her face.
The most precious moment was when the toddler lovingly gazed at her baby sister before wrapping her arms around her, again and again, to make the most of their time together. Molly even whispered the sweetest vow of protection to her baby sister:
"You just came out of mommy's belly. I won't drop you … I won't let you go anymore."
Seeing how excited her 3-year-old girl was, Conley reminded her to "be gentle" with the baby. Molly was completely awestruck by her angel sister and called her "cute" before resuming to rub her hands down her swaddled body.
The heartwarming video clip has received 40.8K views on Twitter to date, with several netizens leaving likes and comments. One user commented: "Save this and force them to watch when they fight over barbies, boys, and black eyeliner." Another added:
"Congratulations on your 2 babies, Molly is exceptional with her love her her new sister (sic)."
Other social media platforms like Facebook have also shared the heart-melting clip. We can't stop watching this adorable exchange between Molly and Cora, and we hope the two girls will cherish this sweet memory in the years to come.
Please fill in your e-mail so we can share with you our top stories!