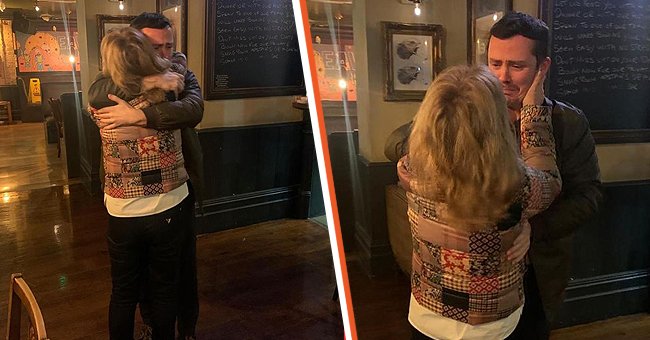 instagram.com/ciaran___joyce
Mom Surprises Her Son after Being Separated for Two Years in a Joyful Reunion Video
After spending two years apart due to the coronavirus pandemic, a woman surprised her son with her presence, fulfilling an emotional reunion that had been a long time coming.
The COVID-restrictions imposed in several countries to curb the spread of the virus since the pandemic hit the world has undoubtedly torn millions of families apart worldwide.
With some of these restrictions being relaxed in recent times, many families have earned the chance to reunite with their loved ones after months of separation. One such lucky family is Hayley Gibbs and her son Ciaran Joyce.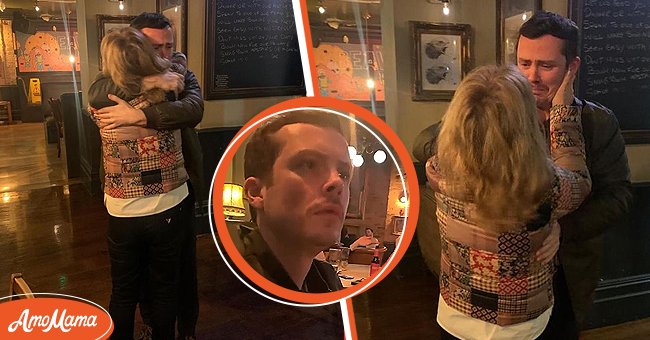 A picture of Ciaran Joyce hugging his mother, Hayley Gibbs in tears | Photo: instagram.com/ciaran___joyce
PAINFUL MONTHS APART
Gibbs moved to Australia from the UK in 2019, just before the onset of the coronavirus pandemic, leaving her son behind.
Not long after her relocation, travel restrictions were imposed across the globe, forcing the 56-year-old to remain in Australia indefinitely, unable to enjoy her son's presence.
Barred from visiting each other, Gibbs and Joyce were forced to limit their communications to phone calls, texts, and video calls. They kept that up for about two years before the bans were lifted, albeit partially, making it possible for long-separated loved ones to reconnect.
A SURPRISE REUNION
Australia soon joined hundreds of countries, relaxing the COVID travel restrictions. Joyce's girlfriend, Lucy, figured the development would be the perfect time for mother and son to reunite.
Hence, she planned the grand surprise, secretly arranging for Gibbs to take a flight back to the United Kingdom. Once she achieved that, she made her boyfriend join her on a date at a pub before slipping off midway to give room for mother and son.
The big moment was captured on camera and shared on social media. The video showed Joyce, who rocked a distinct mustache in honor of Movember, seated alone in a pub, seemingly awaiting Lucy's return.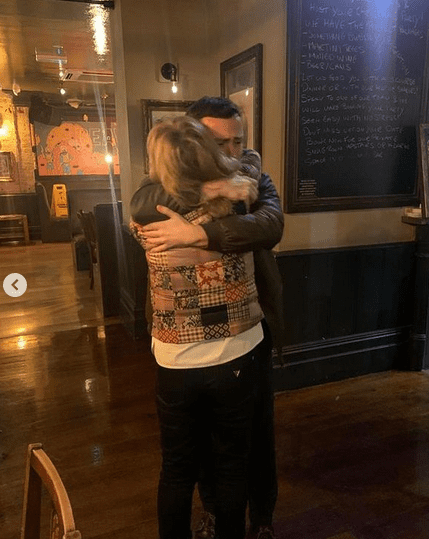 Another picture of Ciaran Joyce hugging his mother, Hayley Gibbs | Photo: instagram.com/ciaran___joyce
However, his eyes suddenly fell on his mom as she entered the restaurant and made her way towards him. The surprised man flung himself from his seat and covered the distance to his mom in a few strides, throwing himself into her waiting arms.
The pair looked emotional as they remained glued to each other, reliving every moment lost during their two years apart.
FINDING COMFORT
Ciaran shared the video on Instagram, explaining how he and his mom separated in 2019 and have remained apart ever since due to the pandemic. The separation took more from the family than could be surmised in a single video. He wrote:
"We also lost my Nan (her mom) in April. She was unable to come home to say her goodbyes due to the strict Australian Border Control."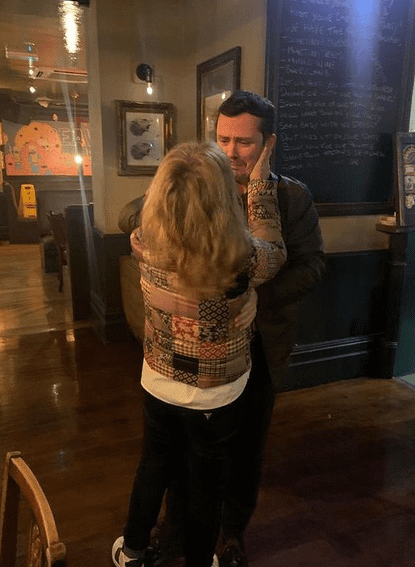 A picture of Ciaran Joyce hugging his mother, Hayley Gibbs | Photo: instagram.com/ciaran___joyce
The 34-year-old went on to explain how excited he was to finally get to hug his mom for the first time in two years, thanks to the combined efforts of Gibbs and Lucy.
A LONG TIME COMING
In a follow-up interview, the Cardiff native explained he never foresaw Gibbs' visit, as he was only in the restaurant expecting to meet up with Lucy and her mom.
Unknown to him, his mom and girlfriend spent the whole week planning the big moment. Explaining how he felt upon seeing his mom, Joyce said:
"My mind went blank. It felt like me and my mom were the only two people on earth at that moment. The pandemic has caused so many people to be stranded from loved ones for so long."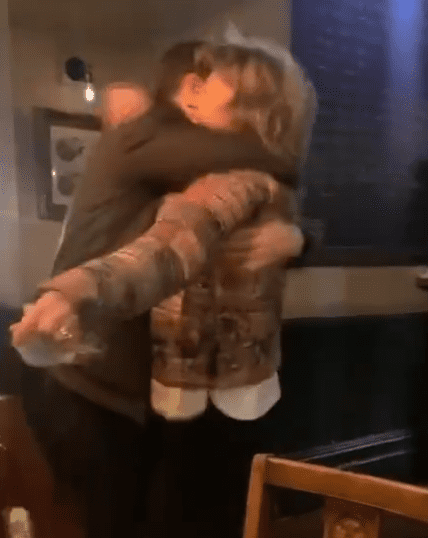 A picture of Ciaran Joyce hugging his mother, Hayley Gibbs | Photo: instagram.com/ciaran___joyce
Since sharing the post, many have taken to the comment section to share their pandemic stories, including heartbreaking deaths, separations, and emotional reunions.
The Movember activist shared an update, explaining how glad he was that many people could interact with the video and find comfort in it. He hoped many more would be reunited successfully with their families after a long separation and snag their happy ending.
Please fill in your e-mail so we can share with you our top stories!