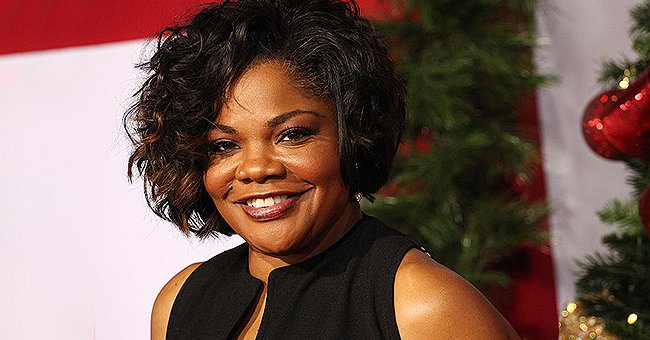 Getty Images
What a Qualified Nutritionist Thinks About Mo'Nique's Weight-Loss Diet Tidbits
Mo'Nique has never stopped making fans proud of her passion and zeal for a mindful and happy life. Since she started her journey in fighting fat, the queen of comedy hasn't missed even a day of her everyday workouts and cooking low-calorie meals on her Instagram. Now, the celeb's nutritional guide is a favorite source for many people trying to lose weight.
To evaluate the recipes that Mo'Nique shares on her blog, we decided to contact a qualified nutritionist. Ievgeniia Dobrynina, the Unimeal specialist/writer, has more than eight years of expertise as a certified nutritionist and a master's degree in Sports Dietetics.
Ievgeniia is an active member of the Association of Physicians and Psychologists "Eating Disorders: Therapy and Prevention" and a certified specialist in Nutrition psychology and Eating disorders. So we asked her a few questions about Mo'Nique's mouth-watering dishes. Keep reading to find out her view on the star's meal plan.
MO'NIQUE'S WEIGHT-LOSS JOURNEY
The 53-year-old star of "The Parkers" (1999), "Precious" (2009), and many other shows exist in the minds of a lot of people as a top-notch actress and stand-up comedian. But beyond her acting career, Mo'Nique has also paved her own way with her "weight-loss journey."
About ten years ago, the actress took the first steps in the fight against excess weight. Since then, she's gotten rid of more than 80 pounds and created a kind of virtual diary on Instagram and Twitter, where she regularly has been noting her milestones.
Her followers admire the celeb's down-to-earth and come-clean life rules that she demonstrates on her social media. Mo'Nique posts pictures taken in nature where she exercises without fear of anyone's judgment over her weight. As an example, in her appeal to overweight fighters, she expressed:
"UNAPOLOGETIC. Hey my beautiful babies. DON'T BE SORRY FOR FIGHTING FOR A BETTER U!!!!"
Since Mo'Nique published her book "Skinny Women are Evil: Notes of a Big Girl in a Small-minded World," she's never shied away from being candid about her lifestyle. The actress continues her way to weight loss without the lies and high expectations imposed on women. These principles also apply to the actress's nutrition choices.
DIET BY AUNTIE MO
Once every week or two, Mo'Nique captures delicious and healthy dishes she serves for herself and her family. The blogger does not highlight any particular diet, but her recipes perfectly replace any cookbook. We decided to find out how the qualified nutritionist would feel about Mo'Nique's meal plan to see if it could pass the final "taste" verdict.
CHOCOLATE VEGAN PIE
Let's start with the chocolate vegan pie recipe Auntie Mo recommended we try. She listed all the ingredients (coconut milk, vegan chocolate), including the crust: ground almonds, cacao, maple syrup, and coconut oil.
This version of the pie looks quite tasty and healthy. However, some ingredients, like maple syrup and cocoa, can confuse those unfamiliar with vegan cuisine.
Expert's comment: "This recipe is a great choice for a weight loss diet. Sugar-free cocoa powder is a very healthy product, as well as a moderate amount of maple syrup.
Sugar-free cocoa powder is quite light by weight. Adding 10 grams onto a piece of cake, you will get a very bright chocolate taste and only +30 kcal. So you should not be afraid of this.
Maple syrup is indeed a healthy alternative to sugar. And if we are talking about losing weight, then it is even more preferable than honey since it is not only less nutritious but also has a lower glycemic index (55-65) compared to honey (80) and sugar (100).
In addition, maple syrup is not an allergen (again, unlike honey) and also contains many antioxidants, vitamins (including B vitamins), and minerals (manganese, zinc, calcium, potassium, iron, magnesium). At the same time, it is not recommended to abuse maple syrup, like any other sweetener. Alternatives to maple syrup are agave or Jerusalem artichoke syrup."
FRIED OYSTER MUSHROOMS
Not long ago, the actress posted another yummy recipe on her Instagram page, commenting on it with a very appetizing description:
"Hey my sweetnesses. My beautiful babies. I am wrong for this Monday morning post. But babbbbbbby these FRIED OYSTER MUSHROOMS was everything. My baby David, well y'all saw it. Sisters/brothers play in the kitchen. Come up with your own recipes. There are mess ups, JUST DO OVERS... I LOVE YALL MY BABIES."
As usual, Mo'Nique gives her followers helpful tidbits on eating tasteful but not too calorie-dense foods, like fried mushrooms instead of fried chicken.
Expert's comment: "Most likely, this dish tastes like chicken just because of the large amount of batter. And it is precisely because of the batter that such a dish cannot be classified as useful at all. Even in the video, you can see how fried the mushrooms are and how much batter and vegetable oil it contains. Carbohydrates and fats in this combination are one of the worst in terms of proper nutrition. I can't classify this recipe as one that contains healthy fats."
WALNUT MEAT
She is the master of homemade meals for her family. Many people adore the cozy and homely atmosphere she shares with them in her videos. That's what the audience felt when Mo'Nique treated her husband to freshly cooked walnut meat.
Expert's comment: "Of course, the calorie and nutritional content of walnut meat are different from meat. If we compare it with poultry and lean parts of beef, then walnut meat is more high-calorie (due to fat from nuts), but with pork steak, the calorie content can be about the same. But it should be understood that it is important to compare not the calorie content but the nutrient composition (proteins, fats, carbohydrates).
This or any other plant-based version of the meat will have less protein than normal meat. Plus, it certainly won't have all of the essential amino acids found in real meat. At the same time, for vegetarians and vegans, this is a perfect option for a dish (it's tasty, satisfying, and healthy)."
RASTA NOOO PASTA
One more finger-licking and healthy meal that Mo'Nique demonstrated to her fans was Rasta Nooo Pasta. You can check out the recipe on Mo'Nique's Instagram page.
This time, most of the questions were raised due to having spaghetti squash and Jamaican Jerk Sauce among the ingredients. Jamaican Jerk Sauce includes peanut oil.
Expert's comment: "I totally recommend this dish for a healthy weight loss diet. All the vitamins contained in pumpkin are naturally present in this paste - vitamins A, C, B, B2, E, PP, T, carotene (5 times more than in carrots), protein, fiber, minerals. In addition to pumpkin, pasta substitutes are most often prepared from zucchini or from a mix of vegetables (zucchini, carrots, eggplant, bell peppers). Also, adherents of a healthy diet can pay attention to recipes for mashed potatoes or pseudo rice from cauliflower.
Peanut oil is a wonderful product that practically does not reveal the levels of trans fats in its composition but contains plenty of essential fatty acids like Omega-3 and Omega-6. Among other things, peanut oil is a source of vitamin E, magnesium, potassium, and vitamin B6. Therefore, you should not be afraid of this oil at all, especially as the ingredient of the sauce."
MO'NIQUE'S ENERGY BOOST
Mo'Nique charges people with her contagious energy, so words of gratitude continue to sound in the comments:
"I'll tell you what, I could be having a bad day and when you come on and say "hey my sweet babies," it brightens my day. Thank you for your inspiration and yummy treat tutorials!!!"
As a response to this, Mo'Nique just goes on sharing photos and words of motivation. She continues to show off her body in skin-tight tracksuits without any hesitation, spreading love only:
Her "hey my sweet babies" and "I love us 4real" fires up people around the world every day. She really helps those who are self-doubting and fighting with obstacles to feel accepted and confident.
Please fill in your e-mail so we can share with you our top stories!
The information in this article is not intended or implied to be a substitute for professional medical advice, diagnosis or treatment. All content, including text, and images contained on news.AmoMama.com, or available through news.AmoMama.com is for general information purposes only. news.AmoMama.com does not take responsibility for any action taken as a result of reading this article. Before undertaking any course of treatment please consult with your healthcare provider.