youtube.com/NJ.com
Brothers Reunite Tearfully 79 Years after One Was Given Up for Adoption as a Baby
A pair of siblings were separated when they were babies and never imagined their paths would cross again. Almost eight decades later, they were reunited, and neither could hold back the tears.
Last year two brothers in Bloomsbury, New Jersey, shared the story of how they found each other after a lifetime apart. Bill Cordes and Robert Wilson had been separated since their childhood, but Cordes still remembered their history.
The elder brother recalled the fateful day people pulled up to their house and took away his four-month-old brother. Cordes was confused and asked his mother what was happening. She reassured him and said the baby would be in good care.
HIS BROTHER WAS TAKEN AWAY
Cordes wanted to run inside and hide his brother in a cupboard, but it was too late. His mother had signed the papers, and Wilson was taken into foster care. He knew he would never forget his sibling and hoped to see him in the future.
The men's lives took very different turns during the 79 years they spent apart. Both of them got married, moved around the country, fought in wars, and began their own families.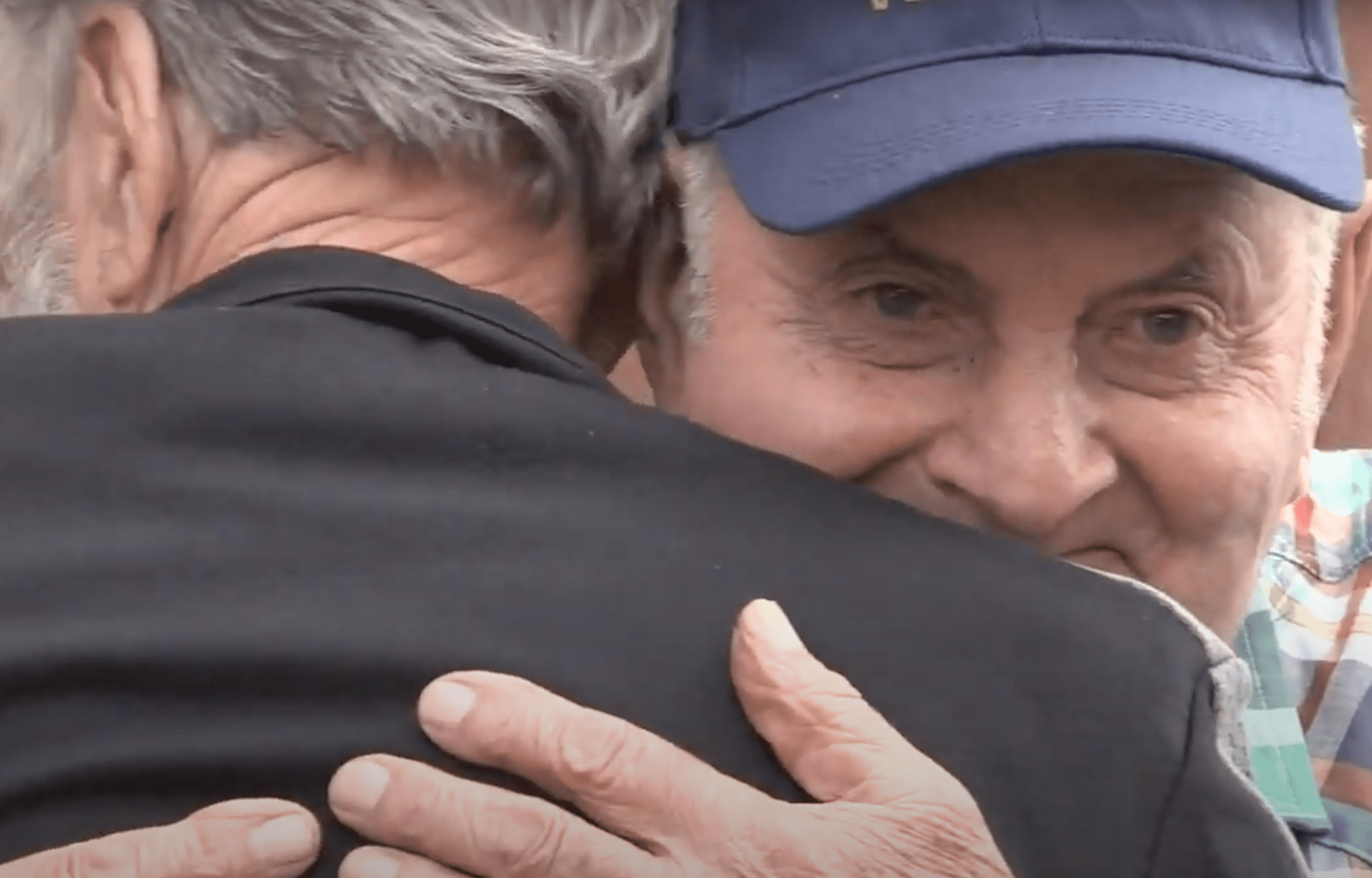 Brothers are emotional as they hug after being apart for 79 years | Photo: Youtube/69News WFMZ-TV
GRANDDAUGHTER STARTED LOOKING
Cordes' granddaughter, Dana, had been looking for her uncle for 20 years. While she didn't have much to work with, she had enough to uncover vital information that would lead her to the family she desperately wanted to find.
After doing an ancestry and DNA test, she located Wilson in Arizona and contacted him. However, she never got a reply from him. It was only when Dana reached out to Wilson's son that she got the response she had been waiting for.
AN EMOTIONAL MOMENT
The emotional moment they saw each other for the first time since they were kids was special. They met on Cordes' farm and immediately started sharing stories. Wilson stated: "I want to hear every word this man has to say."
The pair hugged a lot, and Dana expressed: "I'm so happy for him to have this opportunity. It just goes to show. It's never too late." Wilson added: "My wife doesn't know it yet, but I think I might move here."
THE ONLINE REACTION
Cordes wouldn't mind if his brother moved closer and shared that it was "unreal" to see his sibling after a lifetime of searching. The pair's wholesome reunion also garnered an online reaction from netizens who were happy for them.
One user wrote: "I hope the brothers get to spend as much time as they can with one another." Another added: "I can't even imagine being away from family for 79 years!" While they may never get back the years apart, they are determined to make up for the lost time.
Please fill in your e-mail so we can share with you our top stories!