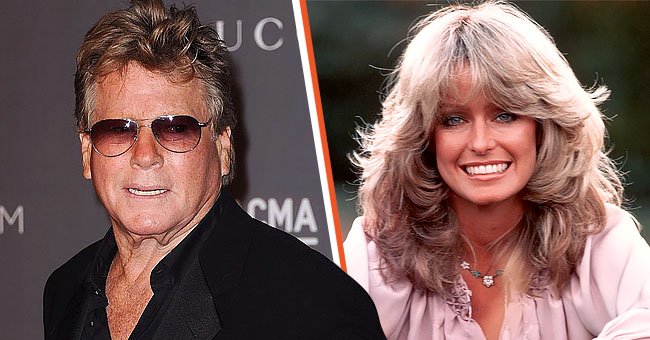 Getty Images
Inside Edition: Farrah Fawcett's Lover Said Ryan O'Neal Did Not Allow Him to Say Goodbye to Her
Farrah Fawcett sadly died too young, and according to her longtime secret lover Gregory Lott, actor Ryan O'Neal prevented him from saying his final goodbye.
Born in February 1947, Farrah Fawcett was nothing short of a Hollywood icon in the 1970s and 1980s, especially after appearing on "Charlie's Angels." Although she was married to Lee Majors for nearly ten years, two of the most influential men in her life were Ryan O'Neal and Gregory Lott.
Unfortunately, Fawcett battled anal cancer for a few years before dying in June 2009. O'Neal and Lott didn't get along, and the former supposedly barred the latter from visiting Fawcett when she was still alive and didn't even let him attend her funeral.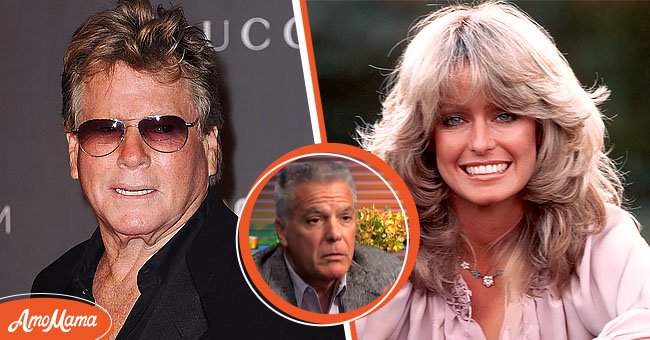 Ryan O'Neal on October 27, 2012 in Los Angeles, California [left]. Portrait of Farrah Fawcett in the 1970s [right]. Gregory Lott in an interview with Fox 34 in 2009 [center] | Photo: Getty Images - YouTube/DrHitmanPR
RYAN O'NEAL'S PROPOSAL TO FAWCETT
Fawcett and O'Neal's relationship was one of a kind. They started dating in 1980, had a son named Redmond in 1985, and lived together for a few years. He kept asking her to marry him during that time, but she kept turning him down.
When the actress was pregnant, Barbara Walters interviewed her and asked why she never accepted her partner's marriage proposals. Fawcett revealed he was "too bossy."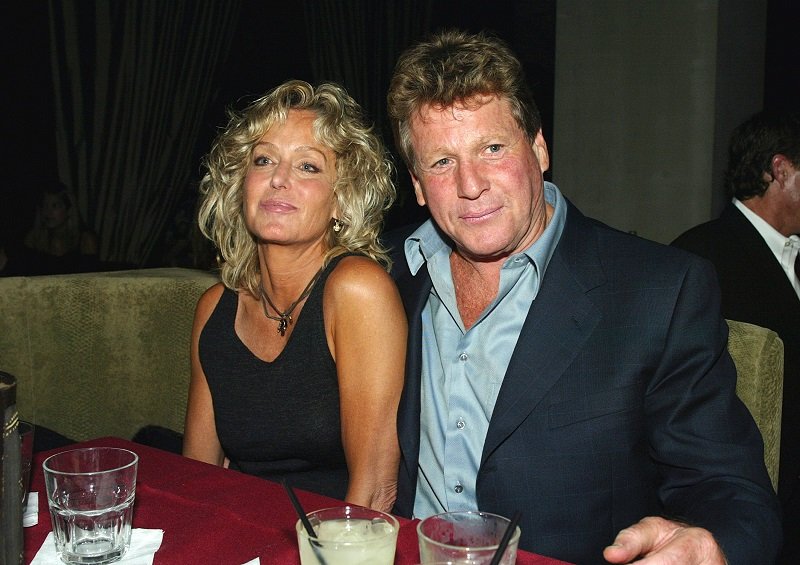 Farrah Fawcett and Ryan O'Neal on April 10, 2003 in Los Angeles, California | Photo: Getty Images
O'Neal and Fawcett parted ways in 1997, but destiny had prepared something so challenging for O'Neal that it made Fawcett come back to him: he was diagnosed with leukemia in 2001.
She helped him as much as she could, and he is now in remission. Unfortunately, that was not the most arduous trial in their relationship. In 2006, the actress was diagnosed with anal cancer.
Just like Fawcett did with him, O'Neal helped her. They started living together again, and he used to go to Germany with her (where she got more aggressive treatments) and even served as her spokesperson.
In June 2009, O'Neal made headlines by revealing that he popped the question, and Fawcett finally agreed. Sadly, she was in frail health and "fighting for her life" at the time.
Still, O'Neal promised they would exchange vows as soon as she could. He also joked that they could nod Fawcett's head to say "I do," and he would dress "like a gigolo" for the ceremony. About a week after O'Neal's revelation, Fawcett passed away.
"I consider [O'Neal] a vulture presiding over a carcass."
RYAN O'NEAL'S SON REVELATIONS
The talented actress left a large portion of her estate to her son, Redmond. Although O'Neal was supposedly the love of her life, he ended up empty-handed. Even Fawcett's ex-partner Gregory Lawrence Lott obtained $100,000. More on Lott later.
Shortly before Fawcett died, O'Neal and his oldest son, Griffin, argued about her will. The fight was so heated that O'Neal tried to shoot Griffin at Fawcett's 60th birthday party.
Eventually, Griffin alleged that his father's proclamations of love for the ailing Fawcett were false as his goal was to be part of the will. Griffin added:
"It was so disgustingly transparent as soon as he found out she was terminal. I consider him a vulture presiding over a carcass. Ryan thought he was going to get everything."
FARRAH FAWCETT'S "SECRET LOVER"
Coming back to Lott, he was allegedly Fawcett's secret lover for over a decade. In 2013, he confessed that she was the love of his life, and Fawcett reportedly felt the same way about him.
In an interview with Inside Edition, Lott unveiled a stack of love letters he and Fawcett sent each other for 11 years. The actress wrote that she thought about Lott daily on a Christmas card. Another note had a huge "I love you!" written in caps.
Lott, who described the late actress as the sweetest and kindest person he ever knew, met Fawcett at the University of Texas in the 1960s. However, they became secret lovers in 1998 and only parted ways when she died.
WHY LOTT COULDN'T SAY GOODBYE TO FARRAH
As expected, Lott and O'Neal's relationship was far from perfect as they both considered themselves Fawcett's soulmates and were romantically involved with the actress for years.
Fawcett and O'Neal's son, Redmond, has been facing some legal and drug issues for years.
Lott once explained that O'Neal didn't let him say his final goodbye to Fawcett and even barred him from the funeral. That wasn't the first time both men argued, though.
In 2009, Lott confronted O'Neal because he wouldn't let him see Fawcett before she died. He was so angry that he wanted to "swing at" O'Neal and even challenged him to a fight, but "he's a coward."
FARRAH FAWCETT'S PORTRAIT IS WORTH MILLIONS
After Fawcett died, O'Neal kept making headlines at her expense. The actress left a $30-million portrait painted by Andy Warhol to the University of Texas in her will.
O'Neal, who inherited nothing, claimed the painting belonged to him. Things escalated so much that O'Neal and the University of Texas had to go to the courtroom to reach an agreement, and Lott testified against O'Neal.
In court, O'Neal choked back tears telling everyone about his romance with Fawcett and why he needed to keep the portrait. He pointed out that it had sentimental value and would never sell it.
The legal battle ended in 2013, and O'Neal kept the painting. Even though he assured everybody he would never sell the piece of art, he put it up for sale in 2019. He initially hoped to get $20 million but eventually reduced the price to $18 million.
It is unclear if O'Neal ever secured the sale, but he supposedly wanted the painting to be owned by a real art collector instead of passing it on to his four children. Speaking of children, Fawcett and O'Neal's son, Redmond, has been facing some legal and drug issues for years.
He spent some time behind bars in 2009 and was then arrested for a week-long crime spree in Venice Beach and Venice Palms neighborhoods in 2018.
Although Fawcett left a $4.5 million trust for him, he could only have access to the interest from the account (approximately $300,000 per year before taxes). Rest in peace, legend.
Please fill in your e-mail so we can share with you our top stories!