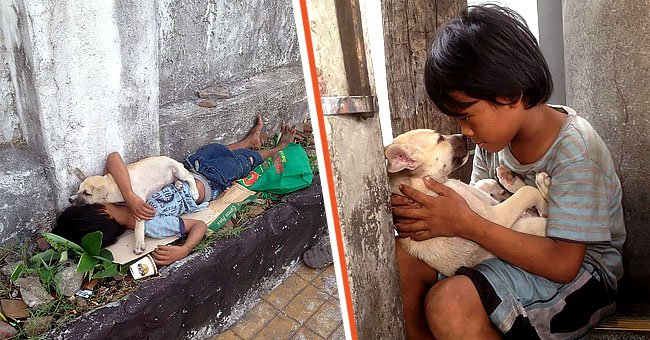 facebook.com/gen.pilar
Homeless Boy Adopts Dog and Their Friendship Is Captured by a Passerby in Moving Photos
The streets can be a lonely place, especially for a little boy whose stomach is twisting with hunger as he begs anyone for money so he can eat. Luckily, he is not alone. A furry companion never leaves his side.
In 2015 the story of an 11-year old Manila boy who begged on the streets with his adorable dog attracted a lot of attention online.
Rommel Quiminales' parents both left him to roam the streets of Metro Manila in the Philippines, where he begged for money, followed by his best friend and cute dog, Badj.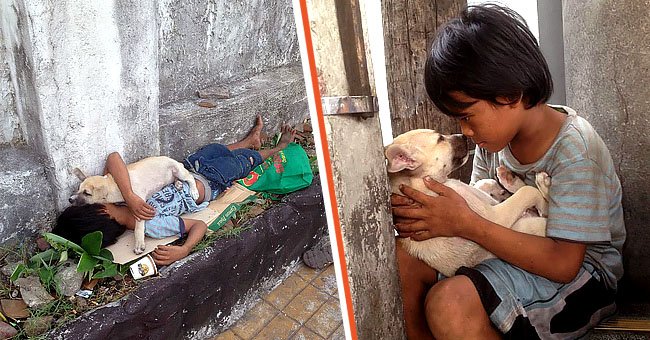 Rommel Quiminales and his dog Badj. │Source: facebook.com/gen.pilar
MISSING OUT ON A CHILDHOOD
Although needing to eat himself, he put Badj's hunger before his own, making sure his loyal pet was full before he got his chance.
Beyond survival and providing him with comfort as he slept outside the 7-Eleven store, Badj acted as a reprieve, giving the young boy a taste of what being a child should feel and look like. Rommel claimed that they like to play hide and seek together.
NO MONEY NEEDED
One woman came across these two companions on the streets and was touched by the incident, taking pictures and posting them on Facebook. Along with the snapshots, she wrote:
"A dog doesn't care if you are rich or poor. All he knows is that he loves you very much. Please share."
The photos went viral, with the overall post accumulating a whopping 37,000 reactions so far and just over 11,000 shares.
DETERMINED AND AMBITIOUS
After posting these pictures on social media, Maria Kabs also shared an adorable video of Rommel cradling the little fluff ball as it slept. The poster explained:
"Rommel expressed his intentions to get back to school for he only finished grade 2.[sic]"
Unbeknownst to this young, strong, and compassionate young boy, people were listening, and opportunities to further his education weren't so far away.
GOOD SAMARITANS
By his own accord and beyond necessities, Rommel managed to save some money for school supplies.
The school in the local area also opened its gates to him so he could finish third grade. This was on the condition that he brought notebooks and remained clean and tidy.
A PROMISING FUTURE
This young boy did have younger siblings who stayed with his mother, but he implied that she didn't want him around. Either way, his educational aspirations are also tied to helping his siblings. As the young boy expressed:
"I'm happy because I'm going back to school. I'll be able to help my siblings out if I finish my studies. [I wish] that we have our own house one day ."
Let's hope that at the pivotal moment when Rommel hangs that degree certificate on his wall, the once homeless boy remembers his good old friend who helped him get through a highly challenging part of his journey: Badj.
Please fill in your e-mail so we can share with you our top stories!