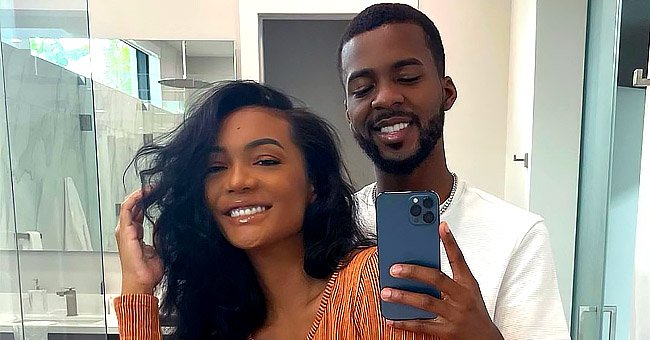 Instagram/Jaylan Banks | Instagram/Falynn Pina
'RHOA' Falynn Pina Shows off Her Fit Postpartum Body 5 Days after Welcoming 'Perfect and Healthy' Baby with Fiance Jaylan Banks
While many mothers struggle with regaining their fit bodies after birth, Falynn Pina is having an easy time. The "Real Housewives of Atlanta" star posted a photo looking glam in her new postpartum body.
In the Instagram photo, the reality TV actress, Falynn Pina, was dressed in a black t-shirt and tights with a flat tummy, only five days after she welcomed home her new baby.
In the caption accompanying the photo, the star was grateful for the smooth delivery. Pina also disclosed that her doctor had given her the green light, which meant she could start going to the gym.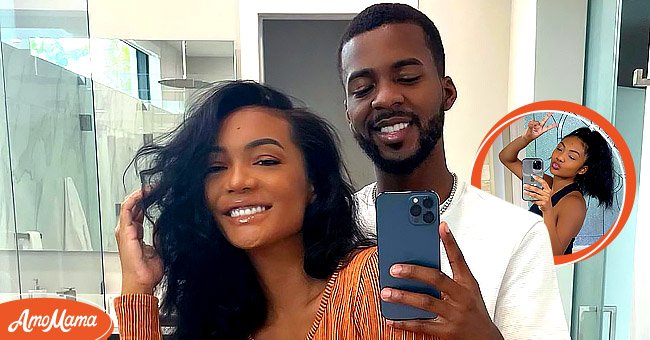 Falynn Pina and her fiancé, Jaylan Banks. | Photo: Instagram/ Jaylan Banks Inset: Pina showing off her postpartum body | Source: Instagram/Falynn Pina
The star welcomed baby Emma Sang Pina into the world with her fiancé Jaylan Banks. Emma is Pina's fourth child, but Banks first.
The birth announcement comes only months after the couple announced they were expecting their first child together in August during a sit-down on Pina's YouTube channel.
A few days ago, she posted a photo of little Emma's hand holding on to her fiancé's finger. The little girl weighed 6 pounds 6 ounces. Accompanying the photo was a simple caption:
"Emma Sang Pina. She's absolutely perfect and healthy. 11.26.21."
STARTING OVER
After dealing with a complicated love life for a while, Pina is looking to build a happy life with her new fiancé. Before she began dating Banks, Pina was married to Simon Guobadia for two years before their divorce earlier in the year.
The two shared a blended family of eight children. Five of the kids; Ximena, Benjamin, Christian, Nicole, and Quentin, were Simon's from previous relationships.
Three were Pina's, also from a previous marriage. In the two years of marriage, the two did not have any kids of their own. Their relationship took a nose-dive after Simon spotted Pina and Banks having drinks.
He claimed that his wife was cheating on him, but the reality TV star denied the claims, saying that Banks was only a friend. In April 2021, Pina and Simon shocked everyone when they announced their split.
In an unbelievable turn of events, Simon began dating Pina's friend and RHOA alum, Porsha Williams, shortly after they split. They got engaged a month later, even before the divorce was finalized.
The news of their engagement, as would be expected, came as a shock to Pina. She spoke to DailyMail, saying all she wanted at that point was to get her divorce over and done with so she could heal.
Williams cleared the air on her Instagram, saying that she had nothing to do with the divorce. She also disclosed that she and Pina were not friends. She, however, said she was happy for Pina and Banks.
Please fill in your e-mail so we can share with you our top stories!