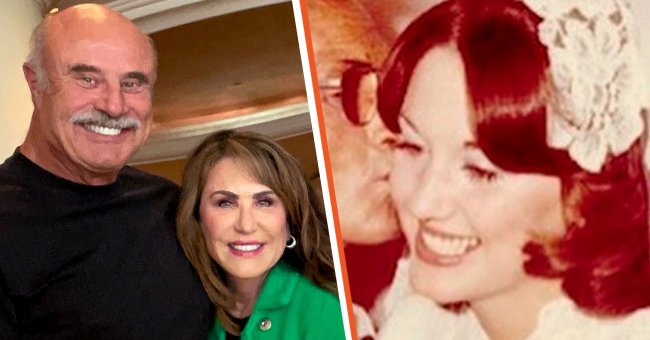 Instagram/drphil
Dr Phil Is Happy with Wife of 45 Years Who Said She Can Not Be 'Married in a Home with Conflict'
Dr. Phil and his wife Robin McGraw have been married for four decades and counting. While it's not the relationship doctor's first union, it's built to last a lifetime.
Robin McGraw knew what she did not want in marriage and made sure to communicate it to her celebrity spouse, Phil McGraw, popularly known as Dr. Phil. More than forty years later, the couple's union remains strong.
Dr. Phil and Robin have navigated their love life since the 70s, and they continue to thrive with each passing day. Here's a look through their love life from the get-go.
WHEN DR. PHIL AND ROBIN FELL IN LOVE
The couple's story started with a mutual "love at first sight" feeling. Speaking with Closer Weekly in 2018, Phil and Robin gushed over each other and their memorable first date.
Robin shared that she knew right from the first evening of their meeting that the celebrity psychologist was "The One." She and Dr. Phil hit it off right from the start and have not looked back since then.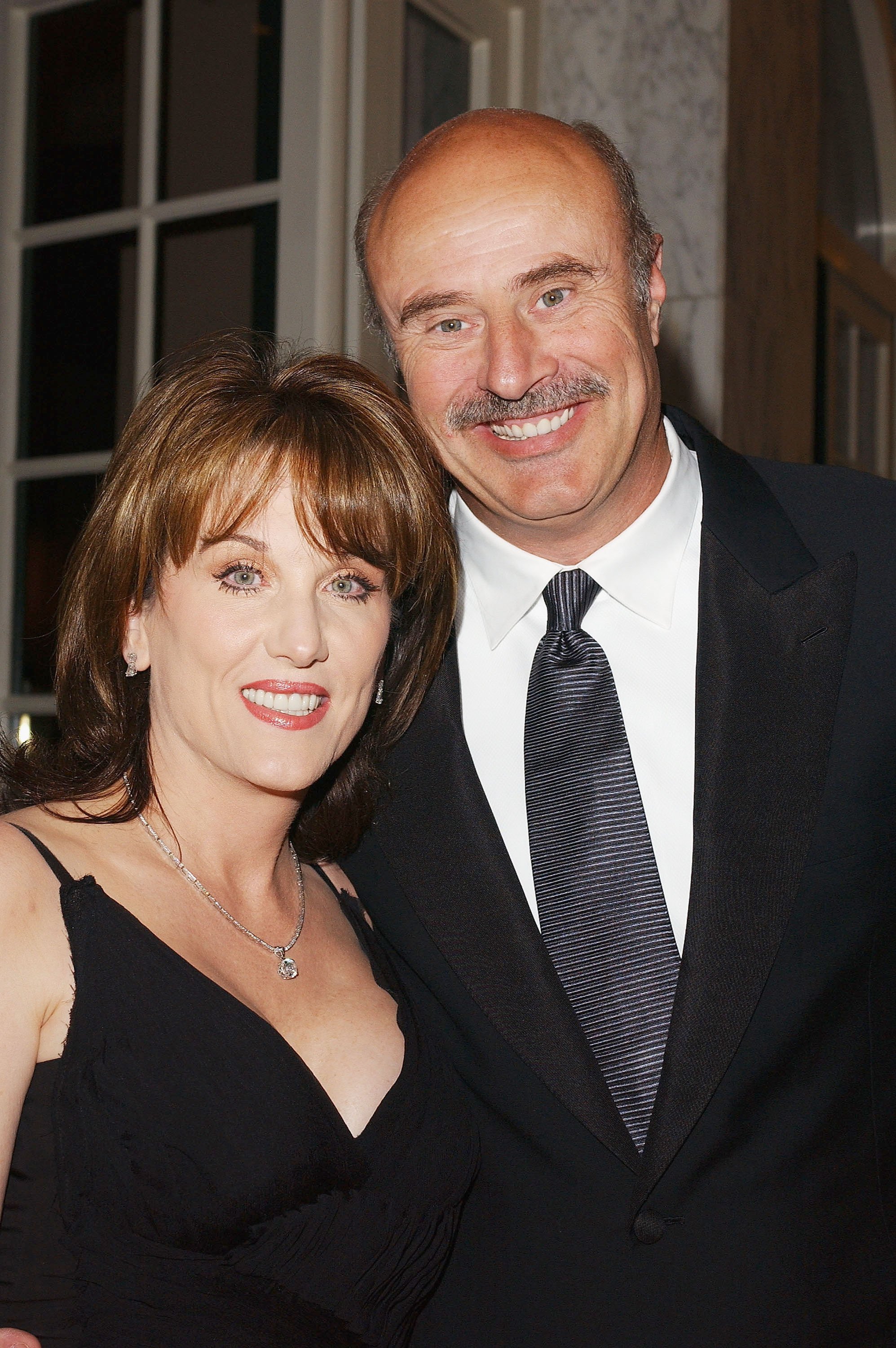 Dr. Phil McGraw and his wife Robin arrive at the Junior League of Los Angeles Carnivale Gala on March 12, 2004. | Photo: Getty Images.
After Dr. Phil legalized his separation from his first wife, Debbie Higgins, the couple became acquainted. He and Higgins had been married for three years, from 1970 to 1973.
The TV star found love again in Robin's arms, and by 1976, they walked down the aisle. The couple's marriage has only gotten stronger over the decades since.
While it may seem like the strongest feelings get lax with time, the McGraws have never felt like that. Dr. Phil shared with the publication in 2016 that he and his wife enjoy being together.
They have had ups and downs, but these two realized over time that keeping their love and family as their utmost priority was important. Robin shared that they often communicated their needs to each other, and hers was that she could not be married "in shoe with conflict."
WHO IS ROBIN MCGRAW?
Besides being the wife of the famed Dr. Phil, Robin is an accomplished writer who has authored several New York Times bestselling books. Robin is also heavily involved in charity.
Robin is the founder of "When Georgia Smiled: The Robin McGraw and Dr. Phil Foundation." The 68-year-old is into advocacy and has appeared on her spouse's self-named show, "Dr. Phil," several times, advocating for women globally.
Robin gives back to society by occupying herself as a national spokesperson for Court Appointed Special Advocate For Children (CASA). Her job is to represent children who have experienced abuse or neglect.
ROBIN KEEPS IT REAL
Robin keeps it honest about some areas of her personal life and proved this last year following rumors about her plastic surgery.
Eagle-eyed fans were quite curious about the youthful hue that Robin carried about despite being way into her sixties. The "What's Age Got To Do With It? author did not hesitate to lay the rumors to rest.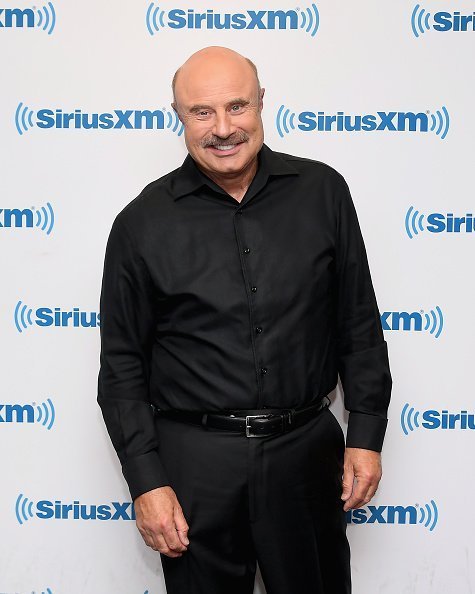 Dr. Phil McGraw at SiriusXM Studios on April 24, 2019. | Photo: Getty Images
Robin spilled the tea on an episode of her podcast, "I've Got A Secret! With Robin McGraw." The star admitted to going under the knife some years ago, and the procedure was more than a facelift.
Robin detailed that she got eyebrow transplants, which significantly lifted her facial appearance. The "Christmas In My Home And Heart" writer talked about how she felt her natural brows were lackluster.
The public figure noted that she was insecure about her brows and would often wear bangs to cover them. However, after researching beauty surgeries, Robin opted for brow transplants.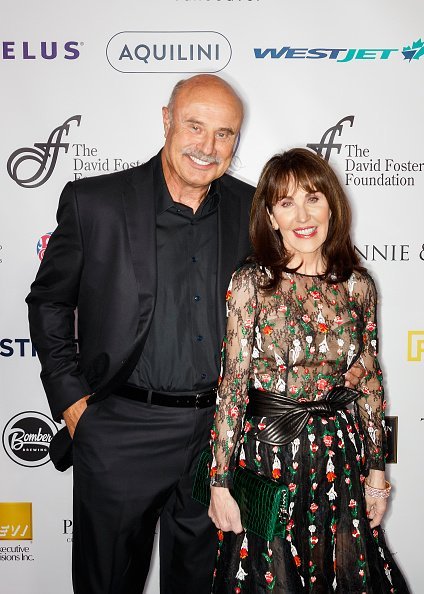 Dr. Phil McGraw and Robin McGraw at Rogers Arena on October 21, 2017 | Photo: Getty Images
The star invited her doctor, Dr. Marc Dauer, to shed more light on how the transplant worked. She also thanked him for restoring her confidence about how her brows looked.
THE SECRET TO ROBIN AND DR PHIL'S LASTING UNION
Robin has loads of experiences with her 45-year marriage, and she happily shares nuggets on her podcast. Once speaking about why she chose the witty title of her show, the media personality stated that it was all about positivity.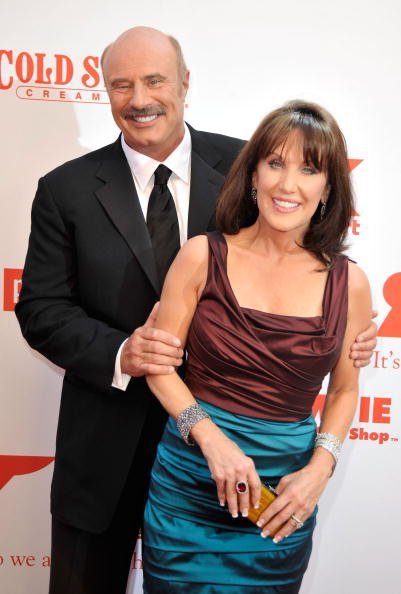 Dr. Phil McGraw and Robin McGraw at The Orpheum Theatre on August 30, 2009 | Photo: Getty Images
Secrets could be damaging and helpful, but it was the latter in her case. She recalled discussing the title "I've Got A Secret; with her husband when the podcast began. Robin shared:
"When I told Phillip I had thought of the name of the podcast I said 'You have to look at me when I tell you' because I put my hands up to my face and went, 'I've got a secret (but) in a really positive way'"
And so it became that the best-selling writer started sharing relationships and life tidbits with fans. One thing she has revealed as the secret to her thriving union is "having fun." Robin thinks it is vital to have fun in one's union, which has kept them going.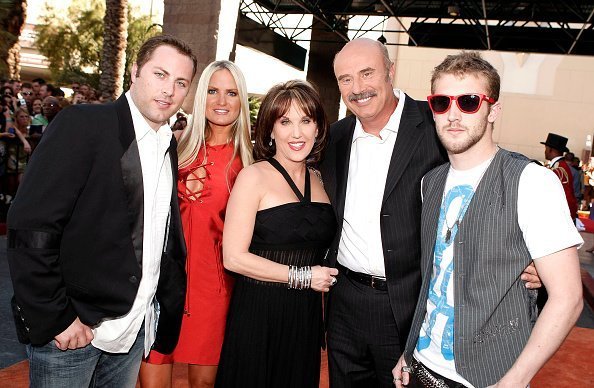 Jay McGraw, Erica Dahm, Robin McGraw, Dr. Phil, and Jordan McGraw at the MGM Grand Garden Arena on May 18, 2008 | Photo: Getty Images
The couple is parents to two grown children, Jay and Jordan McGraw. A few years into their marriage, Dr. Phil and Robin welcomed her first child, Jay. Jordan was born in 1986, making him seven years younger.
Jay studied psychology but currently works as a writer and producer. He and his father co-founded Stage 29, a production company that he solely heads. Stage 29 is in charge of productions for several shows, including "Dr. Phil and Bull."
The company, which the father-son duo founded in 2005, is located in Los Angeles. Jay is married to Erica Dahm, and they have two children, Avery and London Philip McGraw.
Jordan is a musician, and as of April 2021, he released his latest song. He is married to a TV personality and E! News star Morgan Stewart. The duo has one child together.
The couple's son, Row Renggli McGraw, was born earlier this year in February, making Dr. Phil and Robin grandparents to three adorable kids. It is safe to say that the little ones often join in the family fun because their grandmother has shared that she also extends the fun in her marriage to the family as a whole.
Please fill in your e-mail so we can share with you our top stories!
This story was sent in by our subscriber. All names have been changed to protect their identity and ensure their privacy. If you would like to share your story with us, please send them to info@amomama.com