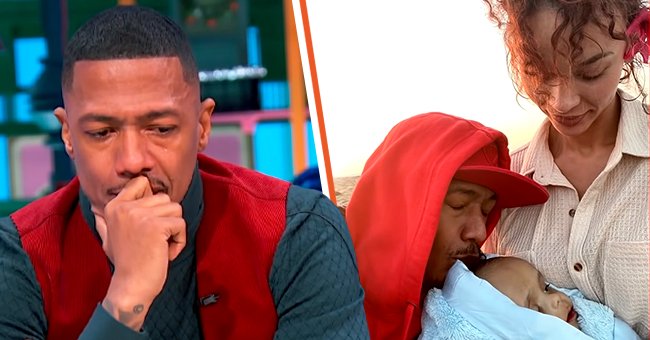 YouTube/Nick Cannon
Nick Cannon Gets Support from Fans after His Youngest & 7th Child Dies at 5 Month
Nick Cannon is grieving the passing on of his youngest son, 5-month-old Zen. Fans have come forward to show their support for the comedian during these challenging times.
Nick Cannon, 41, carries many titles. He is a comedian, an actor, a rapper, and a television presenter. He is also the host and producer of "The Masked Singer," "Wild N' Out," and his national radio show.
But away from his career, he is a father of seven kids, shared between four women. Over the weekend, the "Drumline" actor suffered an unimaginable loss when his youngest child lost the battle to brain cancer and a subsequent tumor.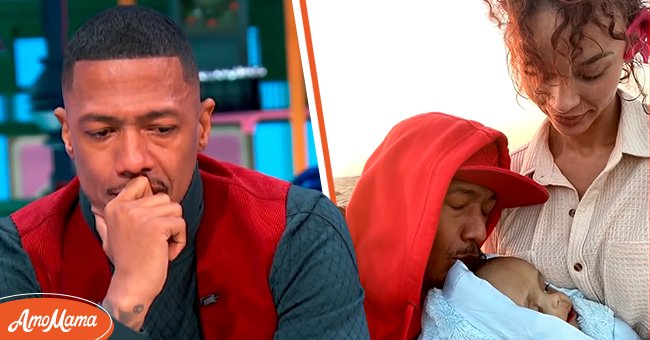 Left: Actor Nick Cannon Right: Cannon with Alyssa Scott and their baby, Zen | Photo: YouTube/Nick Cannon
Opening up about it for the first time on the "The Nick Cannon Show," Cannon took his audience through his journey since Zen was born in June.
During the first two months of Zen's life, his parents had noticed that their child had interesting breathing, and Cannon says he often thought it was sinuses.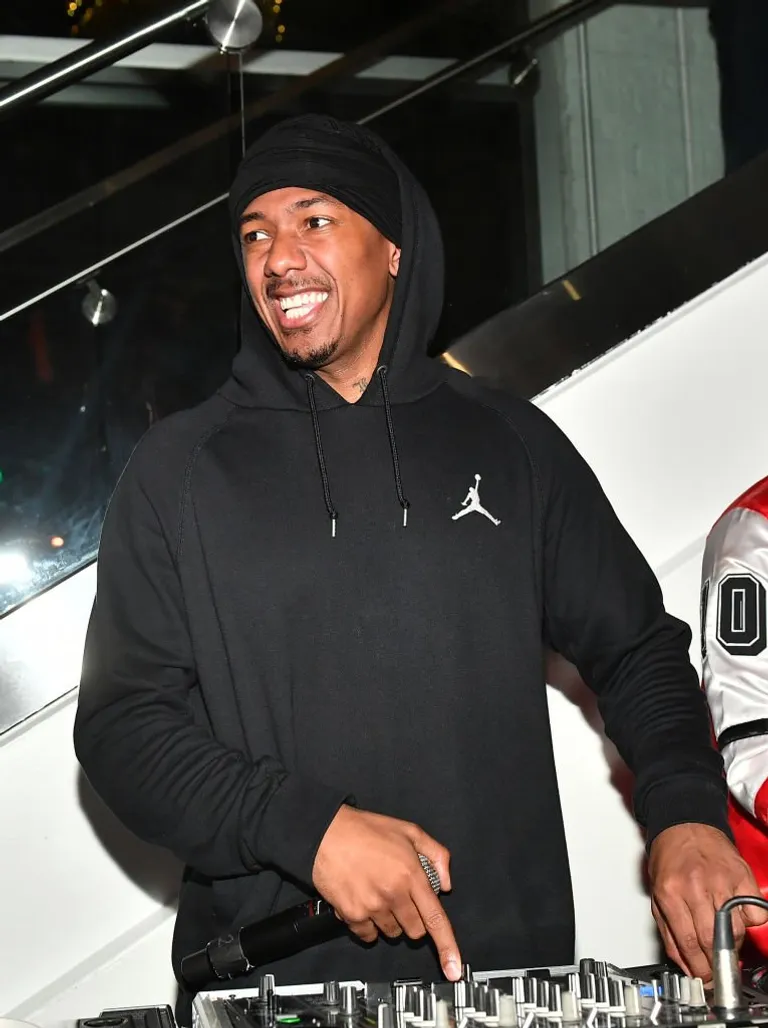 Nick Cannon pictured at the Sugar Factory American Brasserie Atlanta Grand Opening in Atlanta, Georgia on September 28, 2019 | Photo: Getty Images
Thinking they'd be going in for a routine check-up, Cannon and Zen's mother, Alyssa Scott, soon discovered they were dealing with a more severe condition. The doctors disclosed that Zen had a malignant tumor in his head.
The little boy underwent surgery and seemed to be recovering fine, but things took a different turn during Thanksgiving. The tumor began growing faster.
Choking up, Cannon says he knew time was running out, and he had a strong desire to spend the weekend with his son, so he took his son to the beach, and together, they enjoyed the ocean water.
After their trip to the beach in California, Cannon held his son for the last time. He was on his way back to New York when he received a call to head back. Zen had passed on.

A fan reacts to the news of Zen's passing |Source: YouTube/Nick Cannon
Amid the raw emotions and the pain from his loss, Cannon shared his story with the audience, remembering to praise Zen's mother for being strong through the most challenging period any parent can go through.
"The Misfits" actor says his baby's mother is the strongest woman he knows. She remained calm during that tough period, never getting angry or starting arguments. Cannon says she is and will remain the best mom there is.

A fan comments on Cannon's video after he announced the devastating news | Source: YouTube/Nick Cannon
Following Cannon's announcement, fans took to the comment sections to pay tribute to Zen and show support for Nick and Alyssa as they battle the loss of their little boy.
Cannon boasts of a large brood of seven kids. His first two are 10-year-old twins Monroe and Moroccan, who he shares with his ex-wife, Mariah Carey. He also shares four-year-old Golden and one-year-old Powerful Queen with model Brittany Bell.

A fan sends their condolences to Nick for his loss | Source: YouTube/Nick Cannon
In June, Cannon welcomed twins Zillion Heir and Zion Mixolydian with influencer and model Abby De La Rosa. Later that month, he had his seventh baby, Zen, with Scott.
Please fill in your e-mail so we can share with you our top stories!