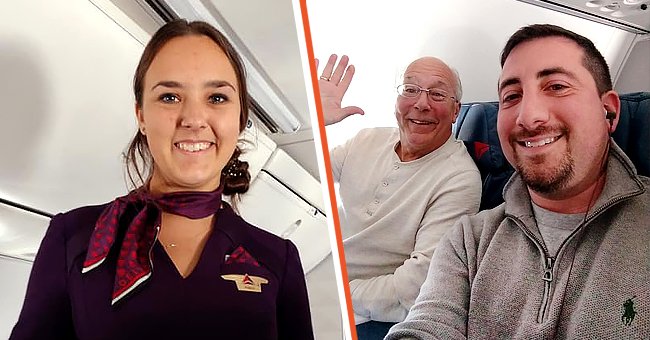 facebook.com/mlevy1987
Dad Finds Out Attendant Daughter Will Work on Christmas, Books 6 Flights So She Won't Be Alone
A father showed how much love he has for his flight attendant daughter after booking six plane tickets to ensure she did not spend Christmas alone. Find out more.
The Holiday season is all about showing love and spending time with friends and loved ones. A father from Ohio went through great lengths to ensure that he spent Christmas with his beloved daughter.
Pierce Vaughn, a flight attendant for Delta Airlines, had to work on several flights throughout Christmas Eve and Christmas Day, so her father Hal Vaughn bought six plane tickets to spend the Holiday with his daughter in the sky.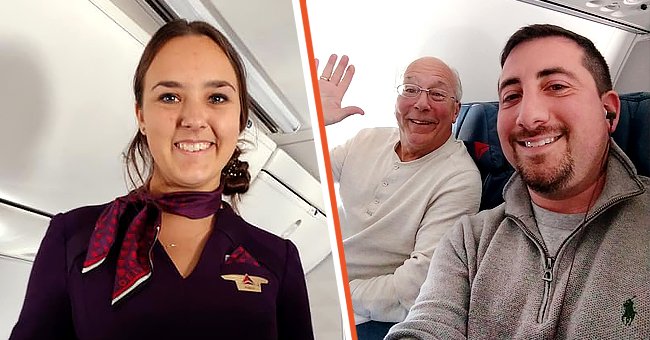 Dad who got on his daughter's flight so she isn't alone on Christmas. | Photo: facebook.com/mlevy1987
Pierce and her father's story went viral after a passenger sitting next to Hal on one of the flights took a picture and shared it on Facebook.
After the encounter was posted, there were many reactions as netizens were pleased with the father's thoughtful gesture. The passenger, Mike Levy, was stunned by the multiple interests in his post, and he spoke about his feelings to Scary Mommy.
The man told the outlet that he was happy to share the fantastic story. In addition, he never expected that the upload would become viral.
Alongside the photos shared on his Facebook page, Levy said he was privileged to sit next to Hal on his flight home. Pierce was their flight attendant who had to work over Christmas.
The man added that the thoughtful father decided to spend the Holiday with his daughter by flying on each flight until the Holiday was over. Finally, he tagged Hal as a fantastic father.
Levy's viral post did not only capture the attention of the public, but it also moved Pierce. The young lady shared the photos on her Facebook page, alongside a lovely write-up, serenading everyone who worked with her with kind words.
Pierce earnestly thanked her team on her flights. She noted that her father's first trip using his benefits was a success thanks to the patient and excellent agents around the country and her crew.
She said Hal made it on every flight and secured a Christmas miracle — a first-class RSW-DTW. The flight attendant gave a special shout-out to Mike Levy for being a great first-class passenger and helping them understand how vital Hal's gesture was.
Even though many parents do many things for their children, Hal's act is one that stood out. It serves as an encouragement and challenge to everyone to make sacrifices for loved ones and spend as much time as possible with them.
Please fill in your e-mail so we can share with you our top stories!