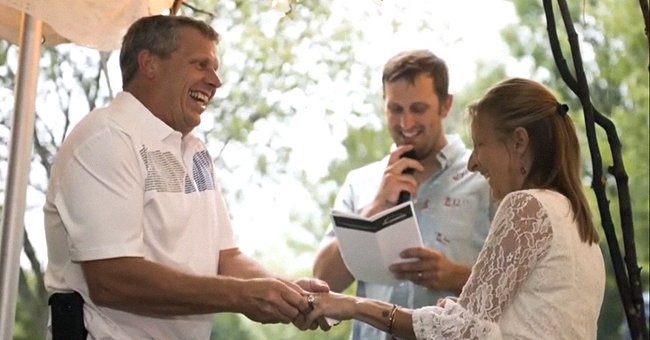 youtube.com/WCCO - CBS Minnesota
Son Given Up for Adoption Finds Birth Parents and Leads Them Down the Aisle 36 Years Later
At 36 years old, an adopted man decided to make a phone call to the woman who gave birth to him - neither could prepare themselves for the journey that one conversation was about to take them on.
Michele Newman was only 16 years old when she gave birth to her biological son, who was eventually named Martin Schmidt, during a serious snowstorm.
This kept the new mom from leaving the hospital for a few days, giving her time to spend with her newborn. Sadly, still being in Junior High, and with her and her boyfriend, Dave Lindgren, split, she gave him up for adoption.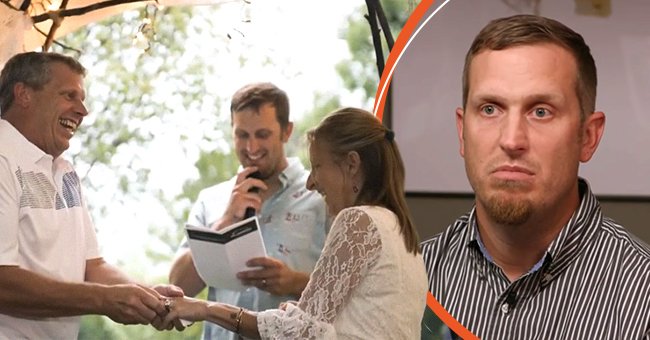 Martin Schmidt officiating his biological parents, Michele Newman and Dave Lindgren's wedding, as they stand in front of him holding hands [left]; Martin Schmidt [right]. │Source: youtube.com/WCCO - CBS Minnesota
A LATENT DECISION
His adoptive parents William and Cynthia Schmidt, provided him with papers to help him find his biological mother and father when he was 18 years old.
Nevertheless, it was only when he was 36 years old with children and a spouse that he contacted his biological mom.
You May Also Like: Parents Adopt Older Girl Born with No Hands, Feet or Mouth and Give Her a New Life
RECONNECTING WITH THE PAST
When he managed to get hold of her, she worked at a nonprofit organization for domestic violence against men in Hilo, Hawaii. Reminiscing about the first time the two long-lost family members spoke, via a call, Newman recalled:
"It was immediate waterworks. I called my mom. Then I went back to work and told my boss 'I've got to go home for the rest of the day.'"
After their call, Newman decided to reach out to her high school sweetheart Lindgren. He lived in Wisconsin and had been divorced three times with numerous children and step-children.
AS IF IT WERE YESTERDAY
They were on the phone for hours, and around four weeks later, agreed that Lindgren would take a trip to Hawai. Talking about seeing her after all these years, Lindgren recollected:
"When I got off the plane in Hawaii and walked down that airport stairs… I could just see that – I felt it."
Romance was in the air as they spent their time together swimming with manta rays and eating sushi. Eventually, they began dating, Newman chose to move to Wisconsin, and they decided to get married.
THE ONE THAT MADE IT HAPPEN
In August 2018, in front of around 100 guests under a white tent, the two said their "I do's" as their biological son, original matchmaker, officiated the ceremony. At the beginning of the wedding, Schmidt expressed:
"For those of you who haven't met me, I'm Martin Schmidt. I'm their son, and related or not, this is the group of people we call family."
Speaking about what the entire journey has taught him, Lindgren, now reunited with his biological son and soulmate, said: "Miracles do happen."
Please fill in your e-mail so we can share with you our top stories!