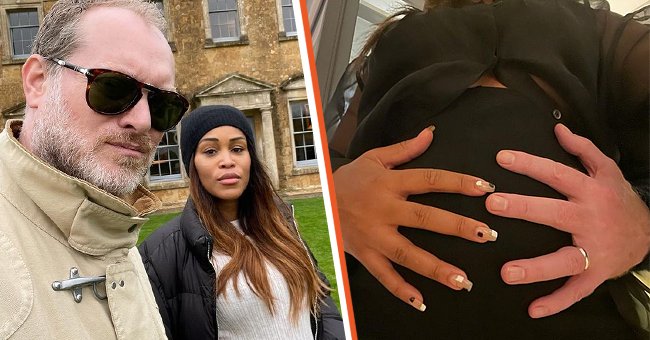 instagram.com/therealeve| instagram.com/mrgumball3000
Maximillion Cooper Shared New Snap with 1st Time Pregnant Wife Eve — The Father-Of-4 Hinted at Her Due Date
Rapper Eve and her British entrepreneur husband, Maxmillion Cooper, are set to welcome their first child together next year and have shared their excitement for the baby's impending arrival.
Maximillion Cooper and rapper Eve are expecting their first baby together. They have shared a few updates of their pregnancy journey online and during interviews, including having two baby names picked out, which their future child told them.
The couple announced they were expecting in October. Eve shared a photo of herself in a black ensemble holding her growing baby bump on Instagram and wrote alongside the snap:
"Can you believe it @mrgumball3000 we finally get to tell everyone!!!!! ❤️ You all know how long we'v been waiting for this blessing!!!"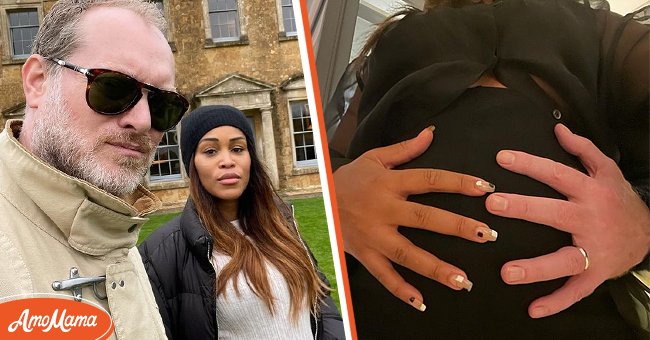 Eve and Maximillion Cooper snap a selfie while enjoying the English Countryside [Left] A close up of Eve's growing baby bump [Right] | Photo: Instagram/therealeve & Instagram/mrgumball3000
The news came a new year Eve revealed on an episode of "The Talk" that she underwent surgery to remove
fibroids
to improve her chances of becoming pregnant.
The rapper explained that she and Cooper had been trying to get pregnant for a while. She also opened up about being told she was too old to be pregnant because she was into her 40s.
Despite the judgment, her surgery worked as the couple is preparing to welcome a baby. Copper recently shared a selfie of the couple, in which Eve showed off her baby bump in a cozy cream sweater.
Eve glowed in the photo next to her husband, who wore a beige jacket and sunglasses. Alongside the photo, Cooper hinted at the due date as he captioned the selfie, "Only 8 weeks to go…"
Fans might be eager to find out the baby's name when they are born as Eve revealed on "Live With Kelly and Ryan" she and Cooper already have two names picked out, which they felt the baby had told them.
However, she did not reveal the names while on the show. So fans will have to wait and see what Eve and Cooper, who created the motor rally event, Gumball 300, will name their child.
The pair met at one of Cooper's Gumball 300 rallies in 2010 after Eve attended one of the races sponsored by Puma. They hit it off, and a few years later, they were married in June 2014.
Cooper and Eve's baby will not be the first child in their family, as Eve is a stepmother to his four children, Jagger, Lotus, Mini, and Cash. She once shared she is lucky to have her bonus children, but it took time to adjust to becoming a parent.
Please fill in your e-mail so we can share with you our top stories!