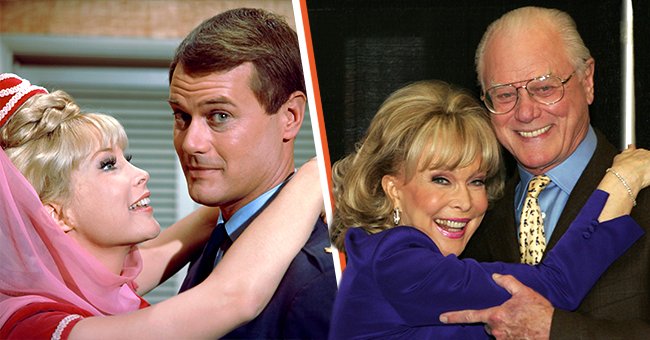 Getty Images
Closer Weekly: Barbara Eden Believed She & Larry Hagman Were 'Meant to Be Together'
Veteran actress Barbara Eden revealed that she and actor Larry Hagman had a special bond, and they belonged together despite their relationship being platonic.
Barbara Eden and Larry Hagman co-starred on the classic TV show "I Dream of Jeannie," which ran from 1965 to 1970, and they starred in several other Hollywood hits.
The actors never pursued a romantic relationship, but Eden believes they were "meant to be together." In an interview with Closer Weekly in August, she talked about the extraordinary bond with her beloved late co-star.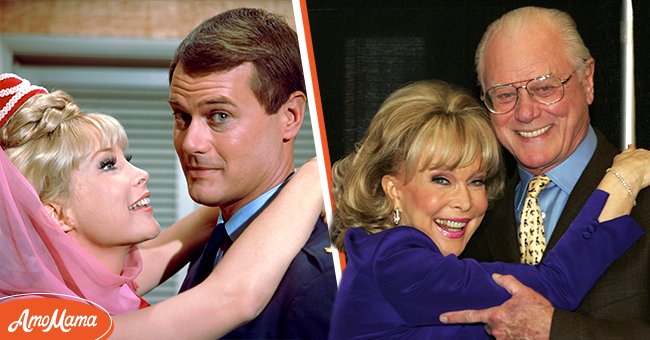 Pictured: (L) Barbara Eden as Jeannie, Larry Hagman as Anthony 'Tony' Nelson on the sitcom "I Dream of Jeannie." (R) Actors Larry Hagman and Barbara Eden attend the "I Dream of Jeannie" DVD Launch at Barnes & Noble Bookstore on March 15, 2006 in New York City | Photo: Getty Images
THE UNDENIABLE BOND
According to the singer, she and Hagman had an instant connection, adding they were both a perfect match on and off-screen:
"We just…we clicked. We had the same rhythm. We've got the same truth out of whatever we were doing. I loved him a lot."
She said Hagman was a talented performer and noted that it takes time to form a bond with other actors, but that with the director, it was different, "he was there constantly," Eden quipped."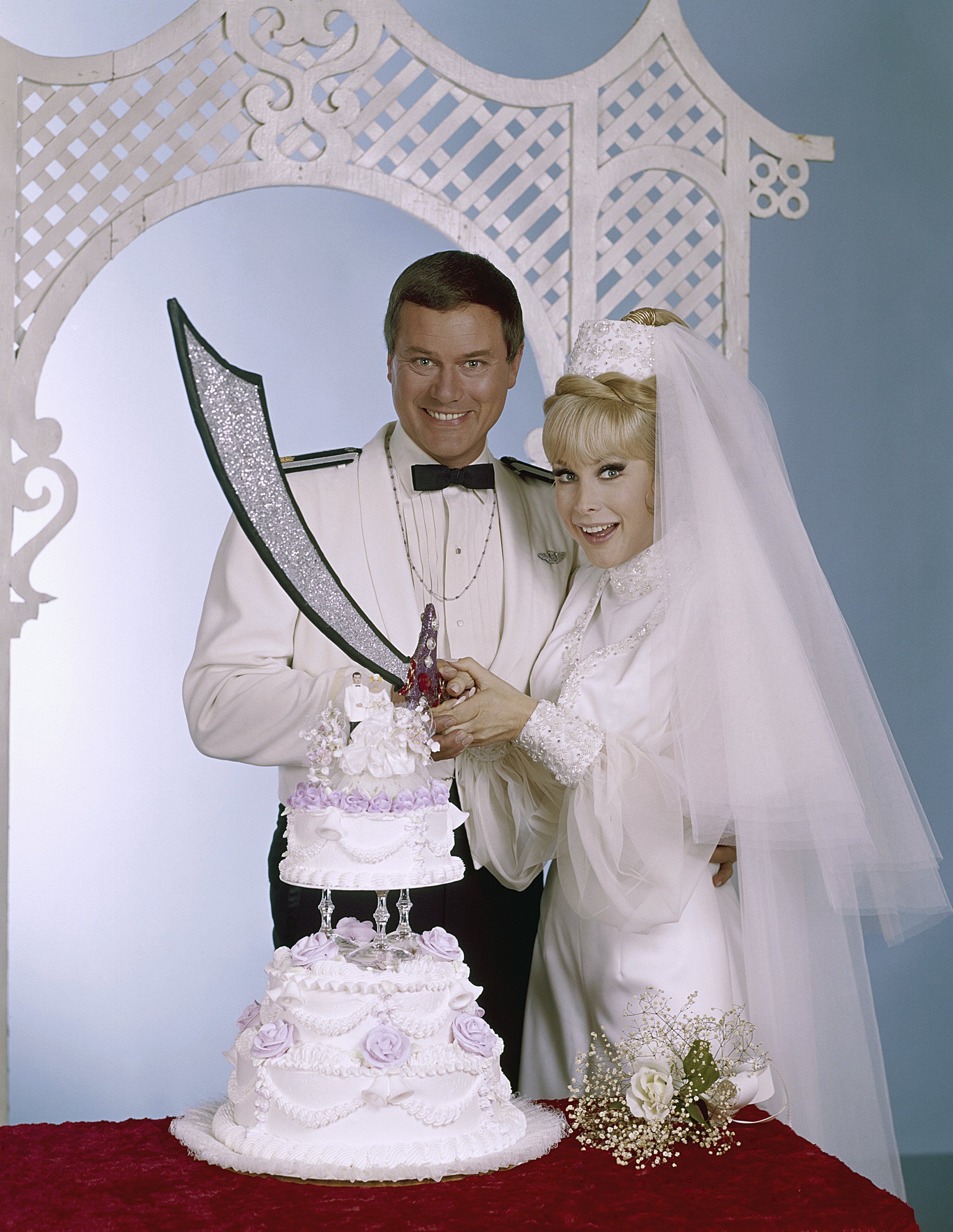 Pictured: TV stars Larry Hagman as Anthony 'Tony' Nelson and Barbara Eden as Jeannie during Season 5 of "I Dream of Jeannie" | Photo: Getty Images
The Arizona native recalled some incredible memories they had when they first met before they starred on "I Dream of Jeannie," when she scared Hagman while filming a scene:
"Of course, I threw myself into it…you know how Jeanie was. I threw my arms around his neck. We did the scene. He just seemed to be fine there."
Eden continued: "But later he told me, 'You scared the bejesus out of me.' I said, 'Well, I was playing the part.' It was funny."
HAGMAN'S COMPASSION TOWARDS EDEN
She told the publication in August 2019 that she has "millions of memories" of him while praising his acting skills as her on-screen partner:
"His talent. I worked with him in a couple of movies and on 'Dallas' too. He was just talented. I loved it. He made it easy to work with him."
The producer even comforted her on set once after the old movie director who gave them what she described as "ludicrous orders" made her cry.
Eden shared that during a short break of filming, she ran off set and hid away from everyone, where she silently sobbed. The cast tried to find her, but only Hagman knew her hiding place.
The "Always and Forever "star divulged Hagman put his arms around her and gently said, "Don't cry, Barbara. That's my act!" Eden added she was touched by his kindness and was surprised by how honest he was about his on-set emotional breakdowns.
The 90-year-old said sometimes she felt like she was "walking on hot coals." Eden added Hagman was a great actor and a warm and kind human being.
A TROUBLED SOUL
But Hagman himself had his demons and was addicted to alcohol. Even though he was troubled, Eden said she never saw that side of him, sharing most people had but not her.
His troubled side almost cost him his role as Tony Nelson on the sitcom because there were talks of replacing him with Darrin Gavin. Luckily, Eden came to his defense.
She told Fox News in August that the show's creator Sidney Sheldon approached her and said to her that Hagman was trouble. However, people already knew that he was, but he remained a professional on set.
Eden shared that she told Sheldon that Hagman could not get along with other people, and that was it, stating it would have been a wrong decision to switch him in the middle of the show.
REAL-LIFE PREGNANCY ON SET
During Season 1 of the series, Eden was also pregnant, and one time, she arrived at work only to find a red bathing suit in her dressing room. The show's director was Gene Nelson and a friend of hers.
She told the wardrobe girl that she could not wear it, and the girl informed Nelson, who then came back telling Eden that he knew her well enough that she was not temperamental.
He questioned why she would not wear the suit, and that is when Eden told him that she was pregnant, but he already knew according to her. Still, he tried to persuade her to wear it, and Eden refused, telling him it would not be a good look.
He persisted by asking her to try it on for him, which she did, and he came to her dressing room door. "I said, 'Ta-da!' And he went, 'Oh, oh yeah. OK.' He walked away, and that was it. I mean, come on."
FRIENDSHIP AFTER THE SHOW
Eden and Hagman reunited in the 1978 series "Dallas" after the show ended. When asked if she communicated with him over the years in an interview with Maria Menounos in 2013, Eden said:
"I did. I worked with him when I did 'Love Letters.' We appeared at the autograph shows together in Australia and he was great."
HAGMAN'S DEATH
The notorious TV villain tragically died in November 2012 at age 81 from cancer. He was surrounded by family and friends who had just celebrated the Thanksgiving holiday with him.
Hagman was best known for his robust character of JR Ewing in the drama series "Dallas," which earned him worldwide recognition and was a role that he still portrayed even in his eighties.
Eden was one of the stars who paid her respects following his passing. In an interview with Oprah Winfrey's special, "Where Are They Now?" she opened up about how difficult it was to mourn him:
"Larry's passing was difficult for me. First of all, I couldn't believe that it happened because he had overcome so many things, and I tended to feel like he'd always be there. I mourned."
STARS SHE HAS WORKED WITH
Aside from the legendary actor, Eden also had a good working relationship with fellow star Paul Newman. She starred alongside him in the 1960's movie "From The Terrace."
When asked what her initial impression of Newman was, Eden said he was handsome and genuine. She revealed he did not have an ego like other stars.
Eden also worked alongside iconic singer Elvis Presley on the film "Flaming Star" that same year and described him as a wonderful man who was pleasant to work with. She added, "Again, no huge ego sticking out. He was grounded, which I loved."
Please fill in your e-mail so we can share with you our top stories!
The information in this article is not intended or implied to be a substitute for professional medical advice, diagnosis or treatment. All content, including text, and images contained on news.AmoMama.com, or available through news.AmoMama.com is for general information purposes only. news.AmoMama.com does not take responsibility for any action taken as a result of reading this article. Before undertaking any course of treatment please consult with your healthcare provider.