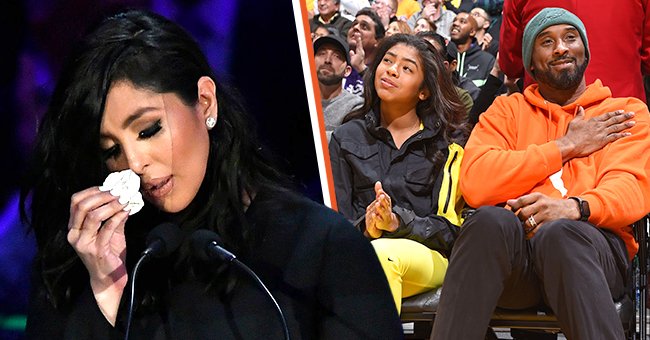 Getty Images
TMZ: Kobe Bryant's Widow Vanessa Still Tormented by Photos of Him at the Crash Site
The world lost an icon when former pro basketball player Kobe Bryant and his daughter Gianna died in the helicopter crash of January 26, 2020.
As the world mourns them, Kobe Bryant's widow, Vanessa, has to deal with her loss coupled with the fear and anxiety of people leaking photos of her husband and daughter's body from the crash.
Even though she had begged the Sheriff not to allow any pictures to be taken on the day of the crash, Vanessa had seen photos that had tormented her.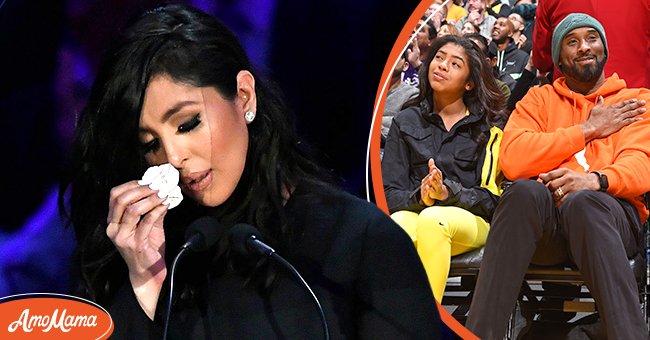 Vanessa Bryant at The Celebration of Life for Kobe & Gianna Bryant on February 24, 2020, in Los Angeles (left), Kobe Bryant and Gianna Bryant at the game between the Los Angeles Lakers and the Dallas Mavericks on December 29, 2019 (right) | Photo: Getty Images
KOBE BRYANT'S EARLY LIFE AND CAREER
Born on August 23, 1978, Kobe Bean Bryant was born into a family of basketballers. His father is former NBA player Joe Bryant, and his maternal nephew is NBA player John "Chubby" Cox.
Kobe became passionate about basketball and began practicing it at three. When he was only six, he moved with his family to Italy, moving to the cities where his father played.
Kobe grew up with basketball in Italy, where he learned the European fundamentals of the game. He returned to the United States at 13 and enrolled at Lower Marion High School, winning the national title.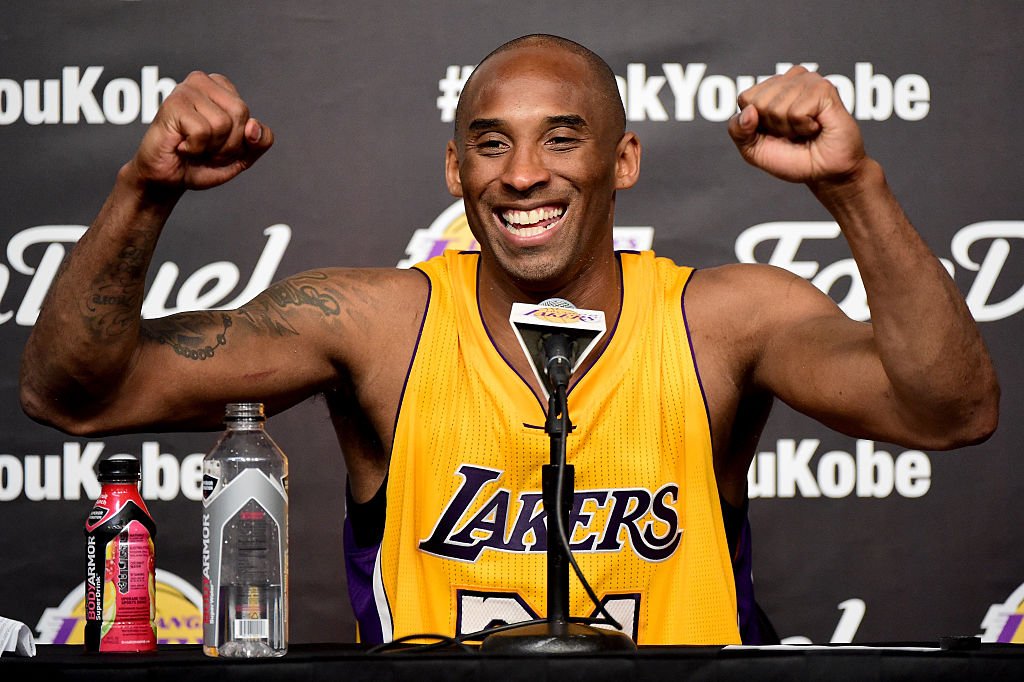 Kobe Bryant during the post-game news conference on April 13, 2016, in Los Angeles | Photo: Getty Images
In 1996, at 17, he made himself eligible for the NBA Draft without passing college, rejecting the enticements of famous universities such as Kentucky and Duke. He was the sixth player in NBA history to do so.
Kobe was selected with the 13th overall choice by the Charlotte Hornets, who exchanged him at the Los Angeles Lakers for Vlade Divac. On November 13, 1996, he made his NBA debut against the Minnesota Timberwolves.
At 18, Kobe was the youngest dunk champion and became the youngest player ever to enter the All-Rookie Second Team. At 23, Kobe became the youngest player to win three championships.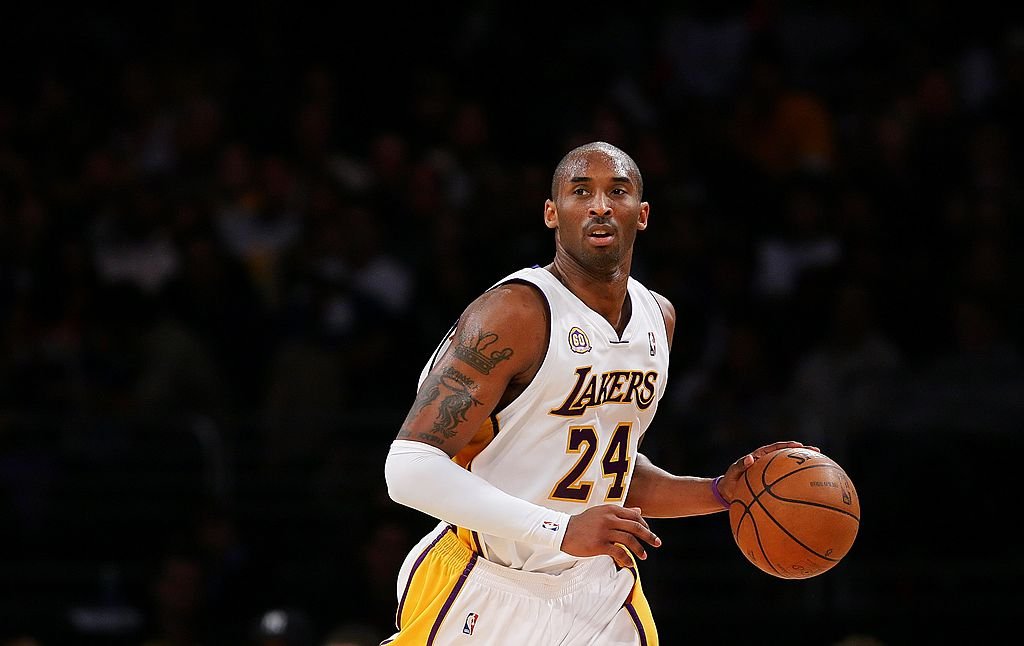 Kobe Bryant drives the ball upcourt during the game against the Cleveland Cavaliers on January 27, 2008, in Los Angeles | Photo: Getty Images
In 2008, he was named Most Valuable Player, and by 2013, he was forced to close early in the season and feared for his career because of a severe injury to the Achilles tendon.
He announced his retirement with a letter "Dear Basketball" at the end of the 2016 season. Kobe played his last NBA game on April 13, 2016, against the Utah Jazz.
His letter became an animated film in 2017 and won him an Academy Award for Best Animated Short Film in 2018. His win made him the first African-American to win in that category.
Kobe Bryant at Game Six of the Western Conference Finals against the Phoenix Suns on May 29, 2010, in Phoenix | Photo: Getty Images
"Dear Basketball" also won the Annie Award for Best Animated Short Subject and a Sports Emmy Award. In December 2017, the Lakers retired both number 8 and number 24, the numbers Kobe had worn.
In his personal life, Kobe married at an early age. At 21, he met 17-year-old Vanessa; they started dating and were engaged six months later in May 2000.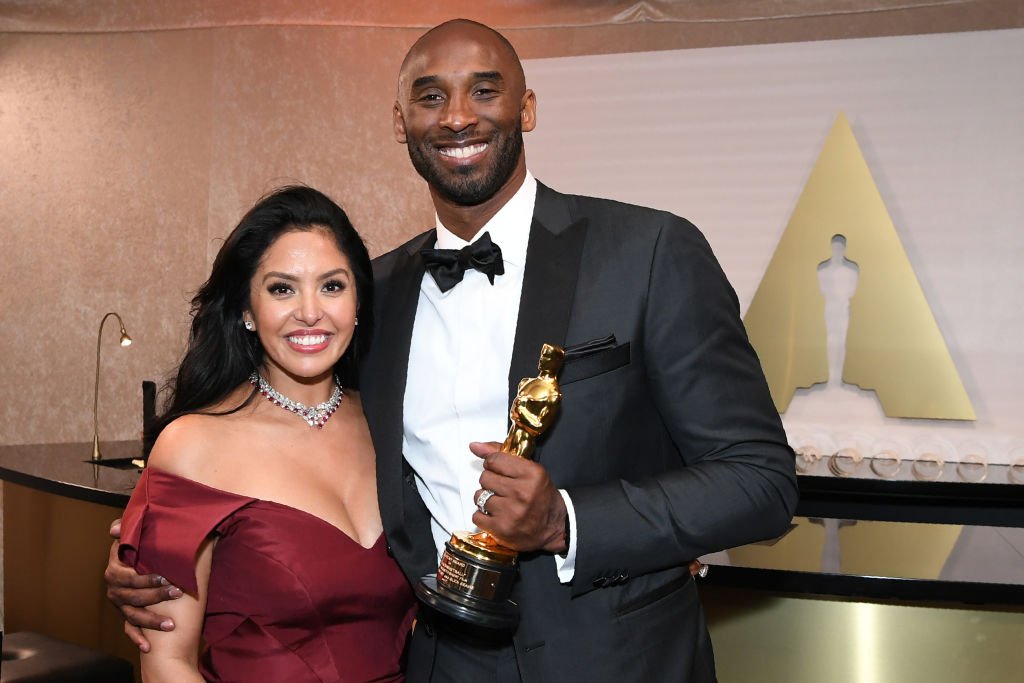 Kobe Bryant and Vanessa Bryant at the 90th Annual Academy Awards Governors Ball on March 4, 2018, in Hollywood | Photo: Getty Images
They married on April 18, 2001, and in January 2003, they welcomed their first daughter Natalia Diamante. Their second daughter, Gianna Maria-Onore, also known as "Gigi," was born in May 2006.
In December 2016, the Bryants welcomed their third daughter, Bianka Bella, and in June 2019, they welcomed a fourth daughter, Capri Kobe.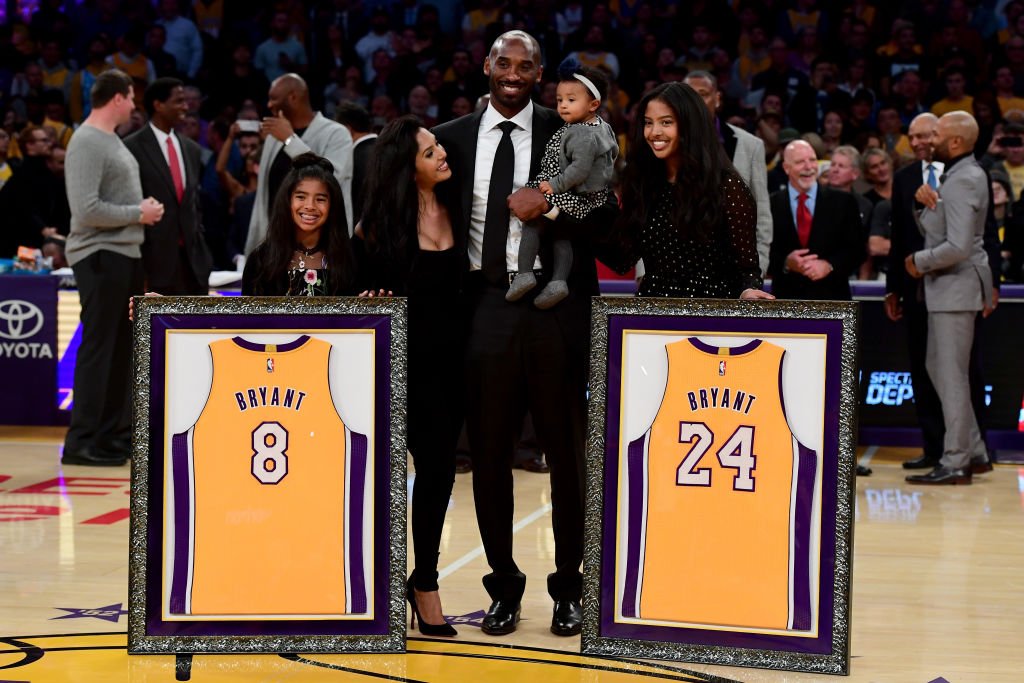 Gianna Bryant, Vanessa Bryant, Kobe Bryant, Bianka Bryant, and Natalia Bryant pose at halftime after both his #8 and #24 Los Angeles Lakers jerseys are retired on December 18, 2017 | Photo: Getty Images
AN ICON GONE TOO SOON
On January 26, 2020, Kobe, 41, and his daughter Gianna, 13, and John and Keri Altobelli and their daughter, Alyssa; Sarah Chester and her daughter, Payton; and Christina Mauser, an assistant coach, flew aboard Kobe's private helicopter.
The helicopter took off at about 9:08 a.m. from John Wayne Airport in Orange County, California. The pilot flew at a low altitude, and the helicopter was heading into increasingly mountainous terrain, coupled with poor visibility.
The pilot decided to go higher to 4,000 feet but didn't get past 1,600 feet above the ground before descending rapidly, crashing into the hills near Calabasas at about 9:45 a.m. All passengers on the flight were killed.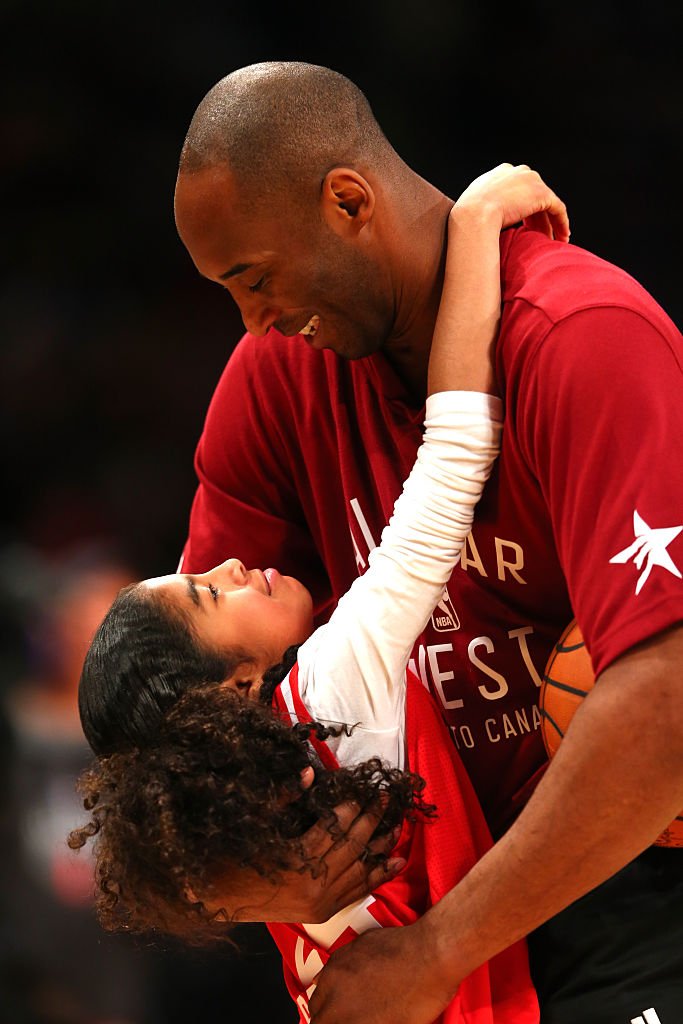 Kobe Bryant and Gianna Bryant during the NBA All-Star Game 2016 on February 14, 2016, in Toronto | Photo: Getty Images
VANESSA BRYANT ALWAYS HONORED KOBE AND GIANNA
Fans worldwide will never forget Kobe's death, especially his family. On his post-humous 43rd birthday, Vanessa took to her social media to share an emotional tribute. She said:
"Happy birthday, Papi. Te Amo por siempre. Amor Eterno."
When Kobe was posthumously inducted into the Naismith Memorial Basketball Hall of Fame in 2020, Vanessa also gave an emotional speech as a tribute to both her late husband and daughter.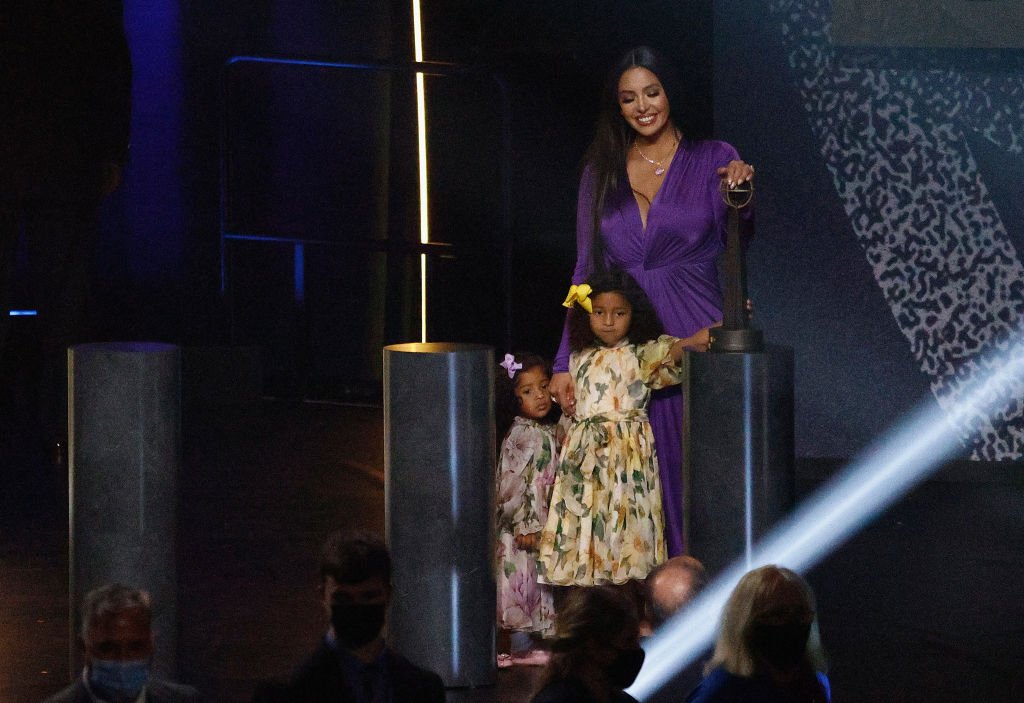 Vanessa Bryant, Capri Bryant, and Bianka Bryant at the 2021 Basketball Hall of Fame Enshrinement Ceremony on May 15, 2021, in Uncasville | Photo: Getty Images
She revealed how she never praised her husband in public because he got enough of that and needed someone to bring him back to reality.
She wished he was there to receive the award himself and wished Gigi could witness the moment. Vanessa praised Kobe for being a great athlete and an amazing family man.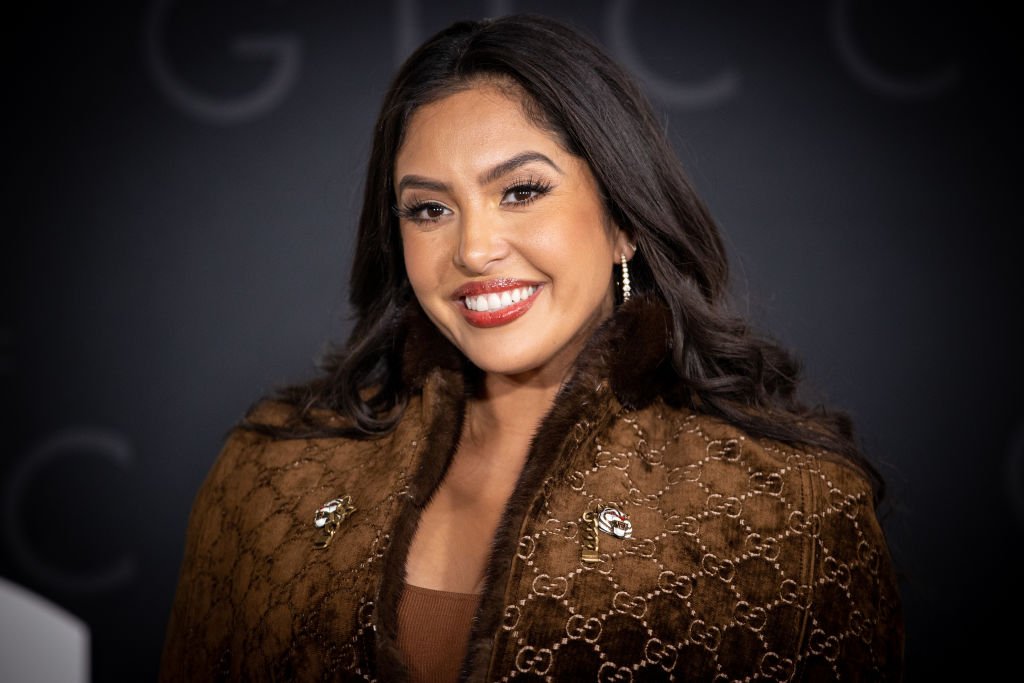 Vanessa Bryant at the Los Angeles premiere of MGM's 'House of Gucci' at Academy Museum of Motion Pictures on November 18, 2021 | Photo: Getty Images
DEALING WITH GRIEF
For Vanessa, the grief of losing her husband and daughter remains real and brings her to her knees. On some days, she's more robust than others. Even though the pain is unimaginable, she has to push forward.
She has had to push through the grief for her daughters, knowing she has to make each day better for all of them. Vanessa also tries to focus on the light in the darkness.
Vanessa knows that the love of her husband and daughter is unconditional, and they inspire her to try harder and motivate her in different ways. Additionally, her girls give her strength and help her smile through the pain.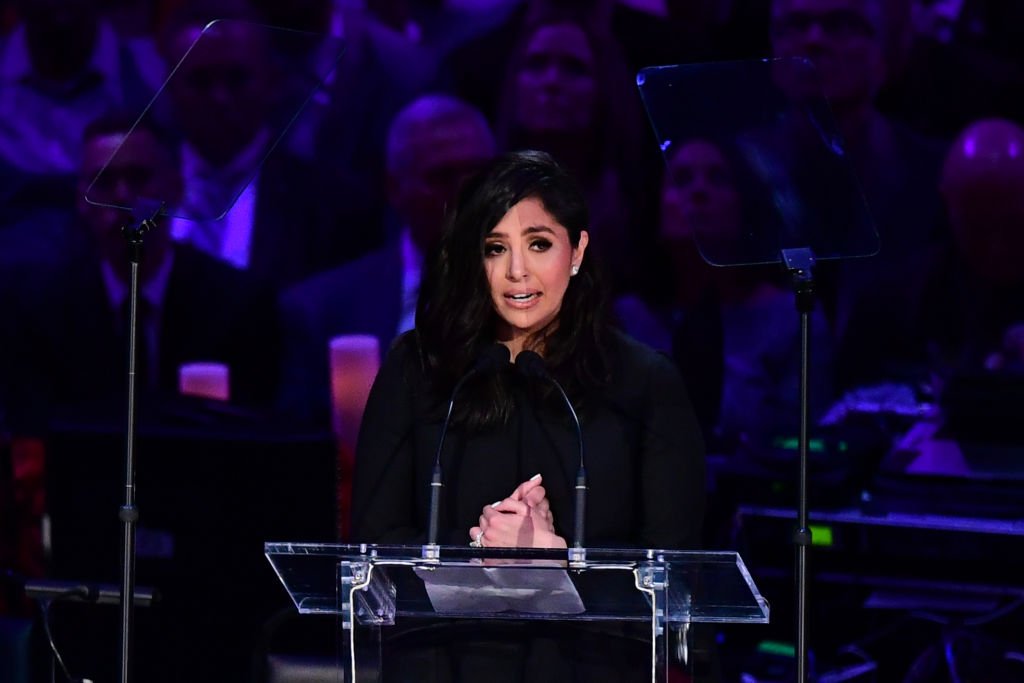 Vanessa Bryant at the "Celebration of Life for Kobe and Gianna Bryant" service in Downtown Los Angeles on February 24, 2020 | Photo: Getty Images
VANESSA CONTINUES TO LIVE IN FEAR
Long after their death, Vanessa says she continually lives in fear and anxiety over photos taken of the remains of Gianna and Kobe at the scene of the crash.
In a lawsuit, Vanessa revealed that she had asked Sheriff Alex Villanueva to secure the site and not allow anyone to take pictures after she learned that there were no survivors.
However, a month after the crash, Vanessa learned that firefighters and the Sheriff's deputies shared photos of Gianna and Kobe's remains.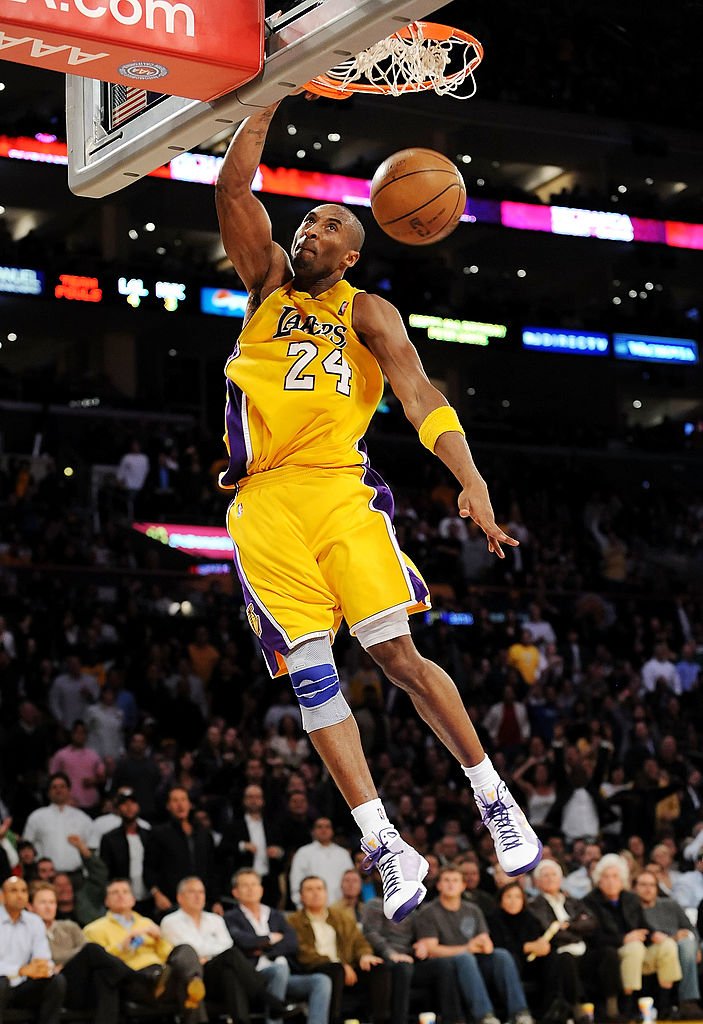 Kobe Bryant slam dunks during the game against the New York Knicks at Staples Center on December 16, 2008 in Los Angeles | Photo: Getty Images
The situation she was trying to avoid unfolded, and it infuriated her. After viewing one photo, she revealed that she had been tormented with thoughts of who took it and said:
"It infuriates me that the people I trusted to protect the dignity of my husband and daughter abused their positions to obtain souvenirs of their deaths."
Vanessa is angry and constantly lives in fear of the photos going viral. The two firefighters who took the pictures were sent "intention to discharge" letters.
KOBE LEFT THREE DAUGHTERS BEHIND
In June 2021, Kobe's eldest daughter, Natalia, graduated from high school and was ready to head to the University of Southern California.
Earlier in the year, Natalia, who had been interested in fashion since a very young age, was thrilled and honored to have signed a modeling contract with IMG Models.
Kobe and Vanessa's third daughter Bianka turned five on December 6, 2021, while his last daughter, Capri, had turned two on June 20, 2021.
Please fill in your e-mail so we can share with you our top stories!