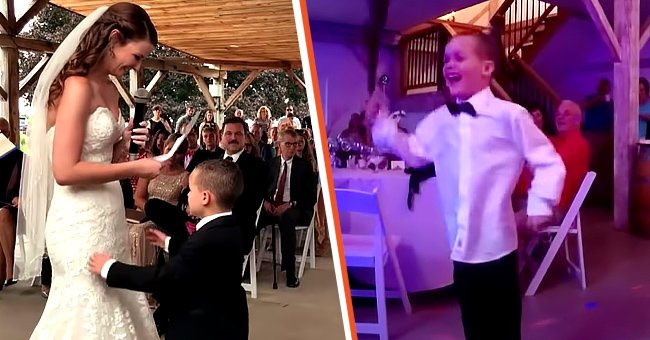 youtube.com/InsideEdition
4-Year-Old Boy Cries When New Stepmother Reads Her Vows during the Wedding Ceremony
In a touching video that made the rounds on social media, a 4-year-old boy could not withstand the sincerity and purity of the vows read to him by his lovely stepmother.
The relationships between children and their stepmothers are not always the strongest, but seeing a bonded stepmom with her stepson is a sight worth seeing a million times.
One of the videos making waves on the internet captured the sweet relationship between a woman and her stepson. The little boy could not stand to bear the display of affection from his stepmom as she read him a vow she wrote for him.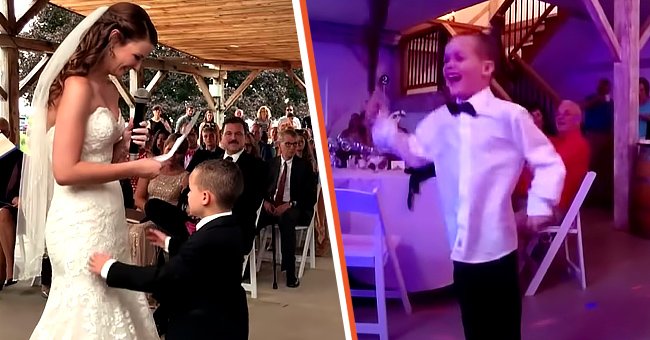 Emily Leehan, in her wedding gown with her stepson, Gage | Photo: Youtube.com/InsideEdition
Emily Leehan, a senior airman in the Air Force, and US Marine Corps Sergeant Joshua Newville tied the knot last weekend at Quincy Cellars in New York in the presence of their loved ones, and the event was memorable in many ways.
Asides from the obvious love between the couple, guests could see that the love and bond had spread to Newville's 4-year-old son, Gage, who stood beside his father on the big day.
Leehand did not only read a vow to her groom, but she also recited a special vow she wrote for his little one, and his reaction showed how captivated he was by the sincerity of her words.
Leehan could be heard reading to Gage, "I want you to be safe, and to try your hardest and to be a good person," when he became emotional and broke down in tears, sharing a warm hug.
Although the little man was overcome by emotions, Leehan continued to read her pledge and vow to the delight of the audience who cheered on the new family.
The new bride admitted that she and her stepson might not always be on the same page, but she hoped that when he becomes a grown man, he would understand her methods and realize she only wants what's best for him and loves him.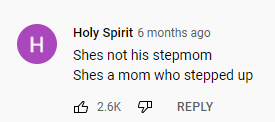 A netizen's comment on the heartwarming Youtube video | Photo: YouTube/insideedition
In her final lines, Leehan read that Gage had helped her become the woman she is today. She added her pride and joy in being in his life even though she did not bring him to this world. Instead, she sees him as a gift to her.
After reading her vow, Leehan bent low to give the sobbing 4-year-old a warm hug and a kiss. The toddler stood by his father as he read his vow to his new wife and at the end of the event, the new stepson and stepmother were pictured holding hands.
The moment has become widely shared on social media since it was first posted in 2017 and has gained the attention and comments of thousands. Gage's father, Newville, said he was equally overcome by emotions when Leehan read her vows, but he did his best to control his emotions and help his sobbing son.

A netizen's comment on the heartwarming Youtube video | Photo: YouTube/insideedition
According to reports, the wedded couple postponed their honeymoon to return to Joint Base McGuire-Dix-Lakehurst in New Jersey since they were still on active service at the time of the wedding.
Please fill in your e-mail so we can share with you our top stories!