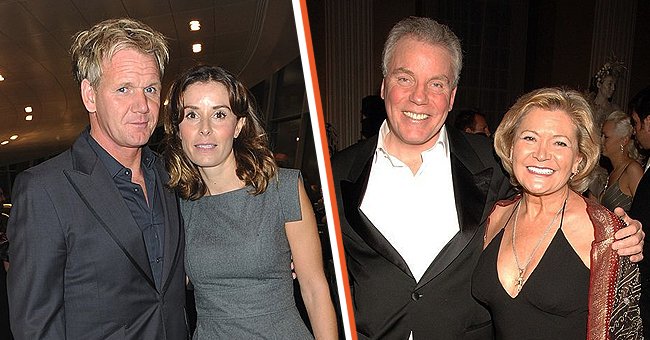 Getty Images
Gordon Ramsay's Wife's Mom Told Her to 'Dispose' of Him after Dad-In-Law Called Him a 'Monster'
Gordon Ramsay's mother-in-law told his wife to get rid of him. It happened after the celebrity chef's father-in-law publicly called him a "monster." Here is a look at how their intense family feud began.
Gordon Ramsay is a British chef famous for his mastery of the kitchen. Aside from being a chef, he is also a restaurateur, television personality, and writer. He is the founder of Gordon Ramsay Restaurants.
Gordon is well-acknowledged globally, and his incredible works over the years have awarded his restaurant about 16 Michelin stars. The 55-year-old restaurateur is one of the most influential chefs in the UK.
Away from work, Gordon is the doting dad of five children. He has been married to Cayetana Elizabeth Hutcheson since 1996, and the couple has been living in absolute bliss until a family scandal threatened to tear their beautiful home apart.
BEFORE THE FAMILY FEUD
Gordon's fans know him for his shouty, scary attitude on screen, but this chef could easily be mistaken for someone else when he shows up with his wife. With Tana, Gordon is a sweet loving husband.
The couple has been married for over 25 years. They first met when Tana was only 18 years old, and her beauty immediately caught Gordon's eye.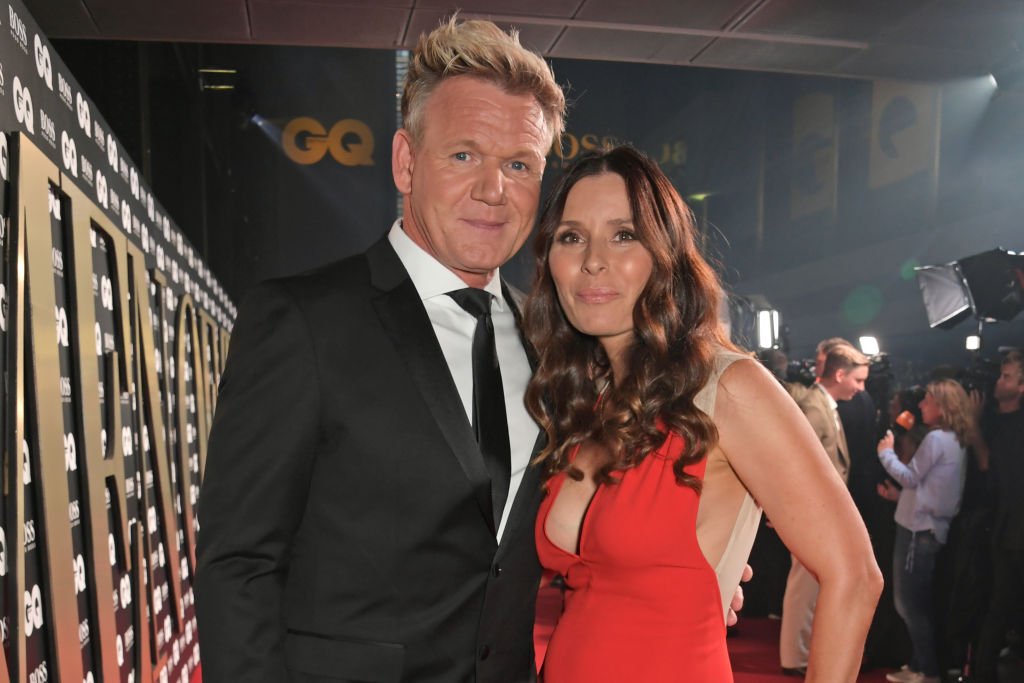 Gordon Ramsay and Tana Ramsay attend the the GQ Men Of The Year Awards 2019 in association with HUGO BOSS at the Tate Modern on September 3, 2019. | Photo: Getty Images
Although it was love at first sight, Gordon couldn't immediately get the woman he wanted as Tana was dating another British chef at the time.
Gordon, who was still working in a London kitchen, patiently waited for Tana to become single again before he asked her out. When the opportunity finally presented itself, Gordon wasted no time in claiming the woman of his dreams.
However, their time together wasn't always smooth. In fact, during the early years of their relationship, the lovebirds didn't spend much time together as the celebrity chef was usually away working for many hours.
GORDON AND TANA'S MARRIAGE
Since walking down the aisle in 1996, Tana and Gordon's love and marriage have notably been stronger. They are proud parents to five kids, Megan, their twins Jack and Holly, Matilda, and Oscar.
Tana and Gordon sure love a big family. In 2016, the 55-year-old chef announced that he and his bride were expecting baby number five but sadly, it was later revealed that Tana had suffered a miscarriage. Following the news, Gordon came out about how devastating the miscarriage was for his family.
The situation inspired the couple to set up "The Gordon and Tana Ramsay Foundation." The foundation works with hospitals to raise funds for children suffering from health issues that need a prolonged hospital stay.
Despite battling several difficulties Tana and Gordon have managed to maintain a beautiful marriage, and the former once shared the secret to their long-lasting love during an interview. The chef's wife revealed that teamwork had been their family's pillar for years.
However, even after living a perfect married life for years, Gordon, 55, and Tana faced a serious family scandal that almost tore their marriage apart. The chef and Tana's parents had a big misunderstanding that led to several public battles.
GORDON AND THE HUTCHESON'S FEUD
Tana's father, Chris Hutcheson, worked as Gordon's business partner for 12 years; the older man was also the "Kitchen Nightmares" star's mentor, amongst other things. But, they had a massive fallout when Gordon dismissed him as chief executive of Gordon Ramsay Holdings.
The sacking ended what was widely acknowledged as one of the strongest partnerships in the restaurant industry. It also launched the beginning of several scandalous public outbursts.
Reports showed Gordon also fired his brother-in-law and nephew from his business empire. However, Chris's wife, Greta Hutcheson, didn't find the restaurateur's decision pleasing at all, and she tried to sue him.
His mother-in-law tried defending her husband at an employment bar where she claimed Gordon's dismissal was unfair. She also claimed that there had been a breach of working time regulations, failure to pay redundancy monies, and breach of contract.
Recent reports revealed that Gordon's father-in-law has been battling bankruptcy.
The feud between Gordon and his wife's family took a hairier twist when Greta cut ties with her daughter due to the chef's decision. It was revealed that Tana's mother sent her a mail that read:
"Tana, you are not welcome anywhere near our door. I cannot believe that you have done this to your father. Until you dispose of that man, you are not welcome back."
But Gordon later addressed Greta's mail on his 44th birthday with an open letter, where he pleaded with his mother-in-law to not cut all links with her daughter and grandchildren because of the misunderstanding they had.
He started the public plea by noting that the decision to sack his father-in-law was one of the most complex decisions he had taken. He also clarified that Tana was in tears when she read her mother's mail. He wrote to Greta:
"I know how hard this must be for you, Greta, and I'm not expecting a birthday card today, but your punishment of your daughter and our four children, for all the wrong reasons, it's so sad..."
The chef was done taking his mother-in-law's dramatic attitude after she tried to get Tana to "get rid of Gordon." In an interview, the celebrity chef revealed that Greta's attempt to separate him and his wife was what tripped him "over the edge."
After Tana's father was dismissed from Gordon's restaurant, the chef became increasingly concerned that his wife's parents were trying to get her to leave him, and the open letter he sent was an attempt to stop their actions.
He revealed that his in-laws couldn't get to him, so they tried putting pressure on their daughter in an attempt to break their marriage.
He said they had hoped she would leave him and take the kid along because he had sacked her father. However, Gordon made it clear there was no way they could separate his family.
CHRIS'S REACTION AFTER THE SACK
Tana's mother wasn't the only one who fired back at Gordon after sacking his father-in-law. Amidst several outbursts from the families, Chris launched back at the celebrity chef with intense claims that he knew "where the bodies are buried." Tana's father also accused the chef of turning his wife against her father.
Following his accusations, a source close to the British chef and his wife revealed that the couple was very disappointed by Chris's actions. However, the source noted that Tana and her husband wouldn't publicly address the issues as it was a family affair.
WHAT REALY HAPPENED
Chris and the TV cook started Gordon Ramsay Holdings together in 1998, and they turned it into a multi-million-pound global empire. Gordon and his father-in-law maintained the excellent image of the restaurant for years until it was reported that the company was mired in £17 million debts.
Gordon's lawyers sacked Chris while the chef was away, and after his dismissal, he claimed his son-in-law was entangled in his celebrity lifestyle and could be a "monster" sometimes during an interview.
He further implied that Gordon was on drugs and said his mood swings "are huge." He claimed Gordon had millions of pounds worth of debts in the United States and believed "it will all go away."
However, aside from the scandal of being sacked by his son-in-law, Chris is quite famous for living a triple life with three women. Tana's mother is his first wife, and they have four children together.
But, his marriage to Greta didn't stop him from being an unfaithful husband. Reports showed that the older Hutcheson spent extravagant amounts on his mistresses, Frances Collins and Sara.
A source made it known that Greta had been in the office with this woman on several occasions but never knew she was her husband's mistress. It appeared that his immediate family was unaware of his actions.
CHRIS, IN RECENT YEARS
Recent reports revealed that Gordon's father-in-law has been battling bankruptcy for years after giving his wife his share of the proceeds of the family home sale. Chris transferred £328,000 to his wife five months before applying for his bankruptcy in February 2018.
Please fill in your e-mail so we can share with you our top stories!