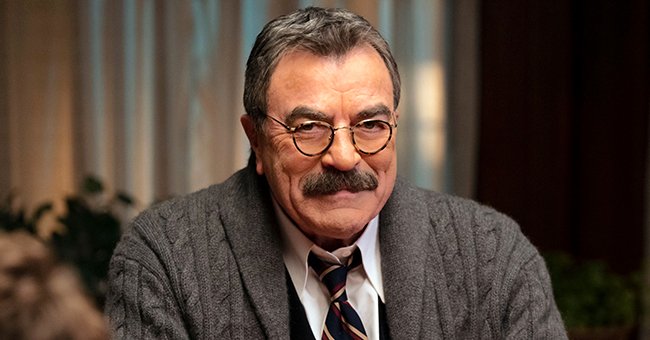 Getty Images
Tom Selleck Chose to Build His Own Family in Private as He Took a Break from Acting
Actor Tom Selleck is iconic for starring in the T.V. series "Magnum, P.I." in the 1980s. Even with the fame and fortune, he has achieved, he lives a simple life on a ranch with his family. Here's an update about his peaceful life.
Tom Selleck has captured the world's attention with his incredible acting skills in Hollywood. The renowned actor is also known for his charming features, including a trademark mustache and thick eyebrows.
Considering his acting skills and dashing looks, it is no wonder that Selleck remains at the top of his game. He has been charming fans since he burst onto the scene in 1980.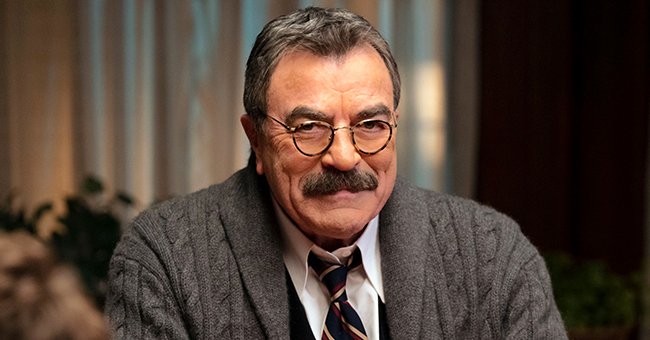 Tom Selleck playing Police Commissioner Frank Reagan in the 2010 TV series "Blue Bloods." | Photo: Getty Images
Selleck's breakthrough as an actor came from playing Hawaii-based detective Thomas Magnum in the 1980 T.V. series. He appeared in six failed T.V. pilots before landing the iconic character.
The series paved the way for him to gain fame on T.V. He appeared in several T.V. roles, such as Dr. Richard Burke on the 1994 hit sitcom "Friends" and A.J. Cooper on the 2003 drama series "Las Vegas."
Besides T.V., he is also renowned in numerous movies, including the "Lassiter" in 1984, "Three Men and a Baby" in 1987, "Quigley Down Under" in 1990, and "Mr. Baseball" in 1992.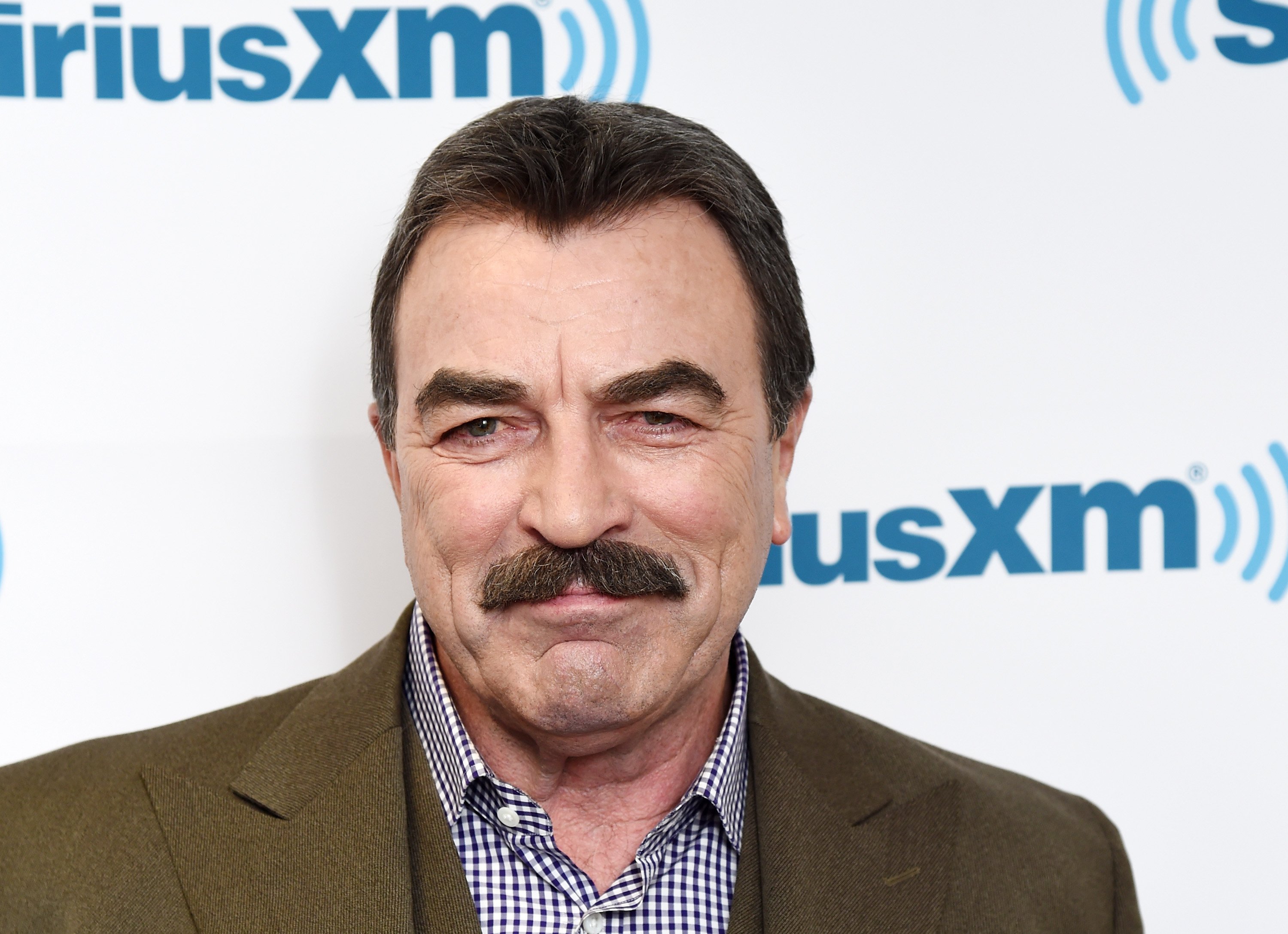 Tom Selleck visits the SiriusXM Studios on October 15, 2015 in New York City. | Photo: Getty Images
After his successful streak in movies, Selleck returned on T.V. He dazzled fans in the 2010 drama series, "Blue Bloods," portraying New York Police Commissioner Frank Reagan.
His fictional character role is not just the head of police; his role is also the head of the multi-generational family of cops. Similarly, he is also a devoted family man in real life.
Selleck, a notoriously private person, has never sought fame or celebrity despite becoming a household name. All he ever wanted was to be surrounded by his loved ones.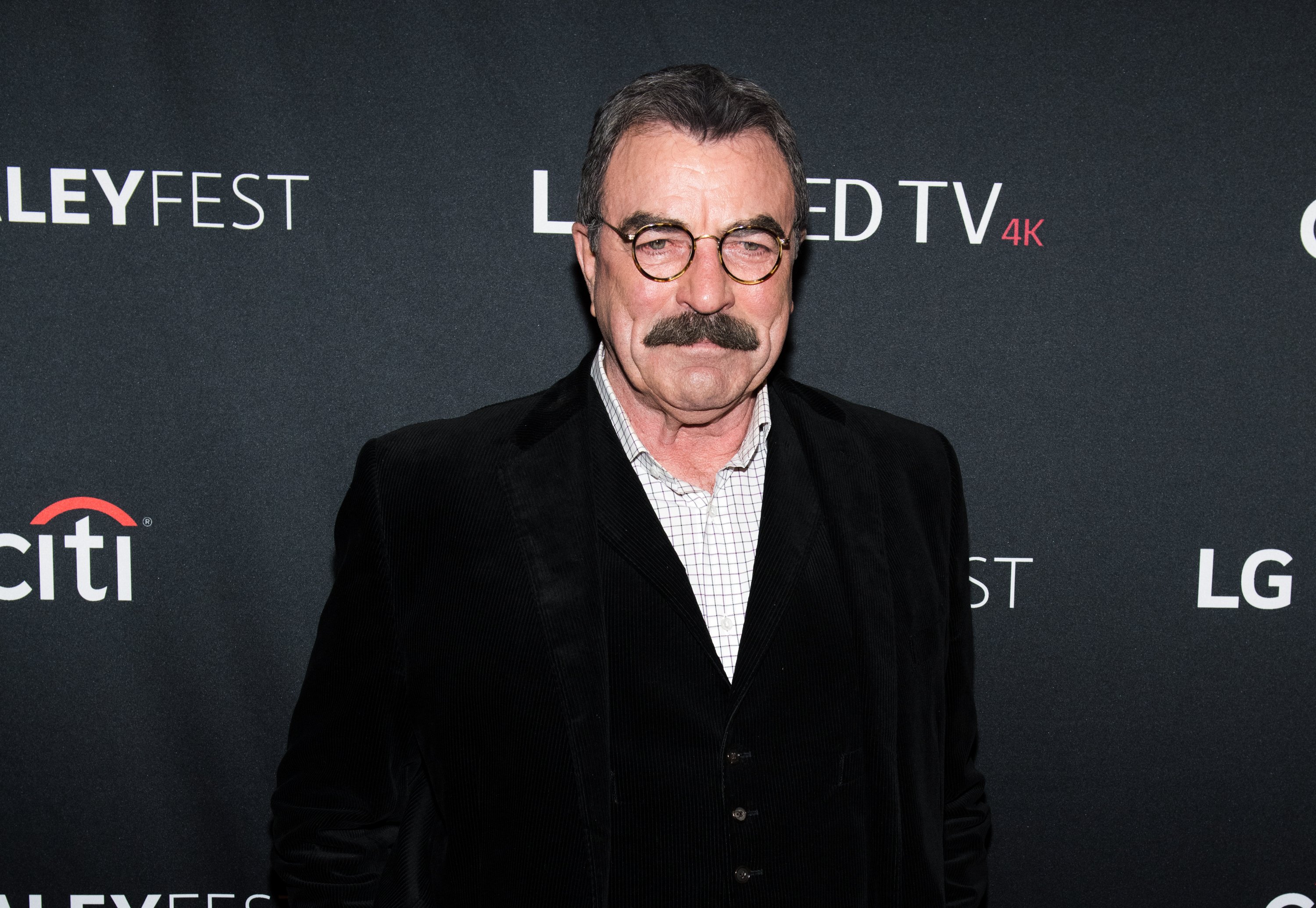 Tom Selleck attends the "Blue Bloods" screening during PaleyFest NY 2017 on October 16, 2017 in New York City. | Photo: Getty Images
TOM SELLECK'S QUIET LIFE AT THE RANCH
Selleck took time away from acting when he was at the height of his fame. He retreated to his family's ranch in Ventura, California, where he did most of the work. He proudly said of his quiet ranch life:
"I do grunt work, and I make the rounds. I like watching things grow. It's a retreat."
The ranch used to be an avocado farm until a drought decimated it, and now, it is home to over 1,500 native plants. Despite not making a profit from his ranch, he still saw it as a blessing.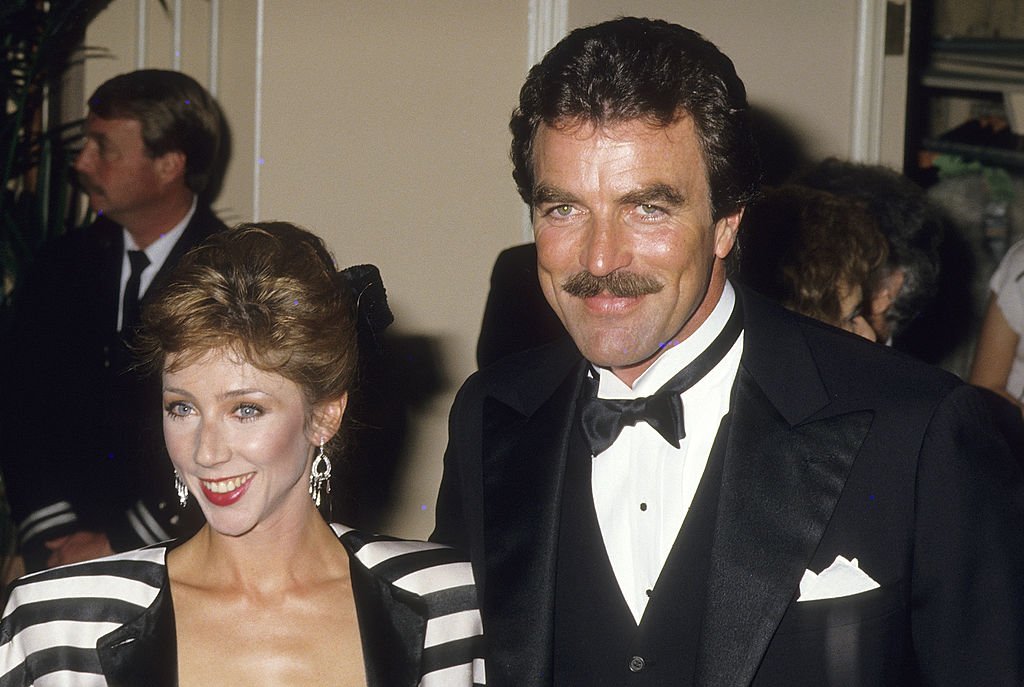 Tom Selleck and Jillie Mack at the 44th Annual Golden Globe Awards on January 31, 1987 in Beverly Hills, California. | Photo: Getty Images
A HAPPY MARRIAGE
Selleck said the Ventura ranch and his family keep him sane. The veteran actor has been happily married to his wife, English actress Jillie Mack for over 34 years.
The couple married in 1987 in secret, which left many of their colleagues shocked since he had not publicly announced it. Selleck worked frantically to keep the ceremony under wraps.
Bob, his brother, a real estate executive, handled all wedding arrangements, including using the random names "Tom Jenkins" and "Suzie Mark" to conceal the couple's identities.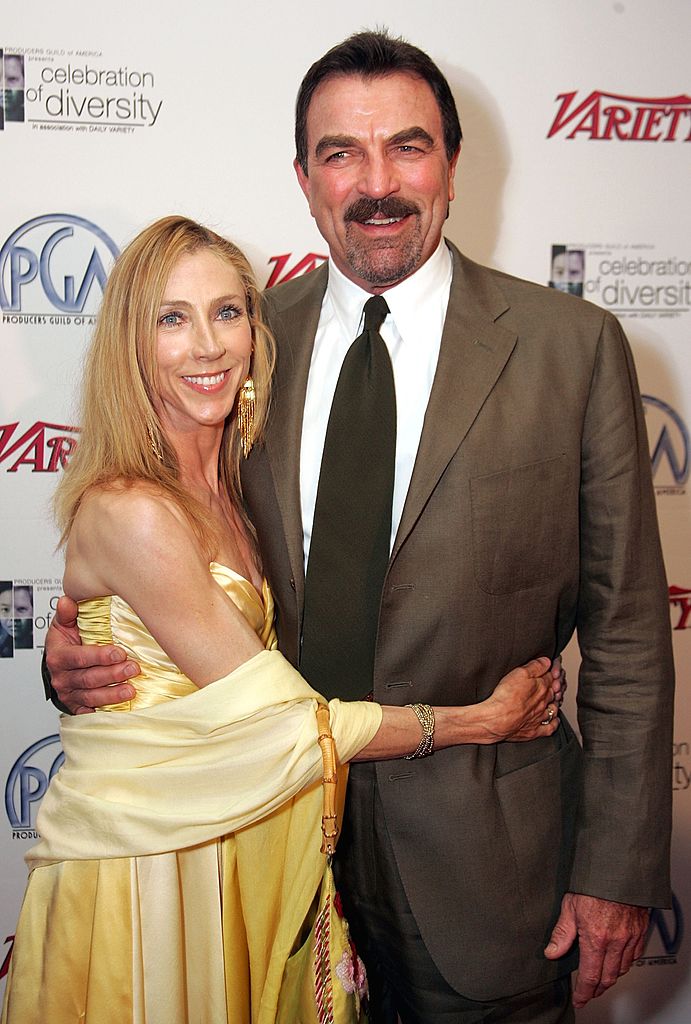 Jillie Mack and Tom Selleck attend the Producers Guild of America Presents 2006 Celebration of Diversity in Beverly Hills, California on May 9, 2006 . | Photo: Getty Images
Like how he protected the privacy of his wedding with Mack, Selleck also went through a quiet divorce from his former wife, Jacqueline Ray. They divorced in 1982 after 11 years of marriage.
According to the "Crossfire" actor, his relationship with Mack has been satisfying.
Although they parted ways, the "In & Out" actor and Ray share a son, Kevin, born in 1966. Selleck became a father again after he and Mack welcomed daughter Hannah Margaret in 1988.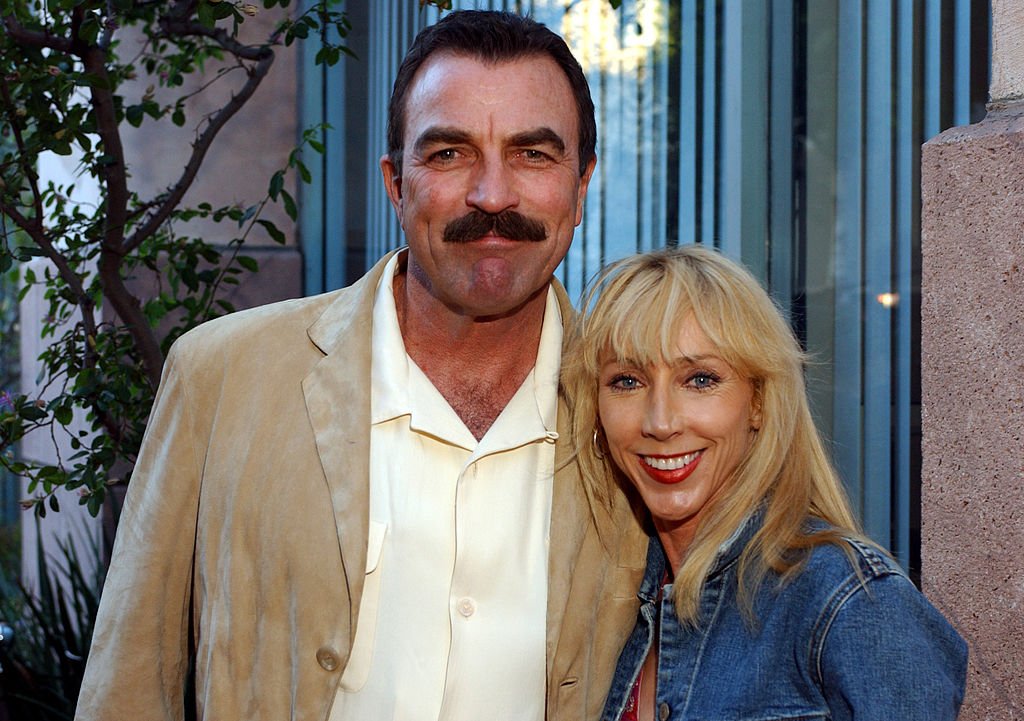 Tom Selleck and Jillie Mack attend the 8th Anniversary of the Grand Havana Room and the Premiere of James Orr's Documentaries in July 2003 in Beverly Hills, California. | Photo: Getty Images
CHOOSING FAMILY OVER FAME
Family is everything to Selleck, and he prioritizes them over his illustrious career. Although he rose to Hollywood success, the humble actor considered fame a suffocating experience.
The T.V. veteran revealed that he quit acting for "Magnum, P.I." despite his fame during that time. He took a break from working to spend more time with his family.
Also, Selleck shared that fame was not for him. He said he desired a "three-dimensional life" to balance his commitment as a father to his children and husband to Mack.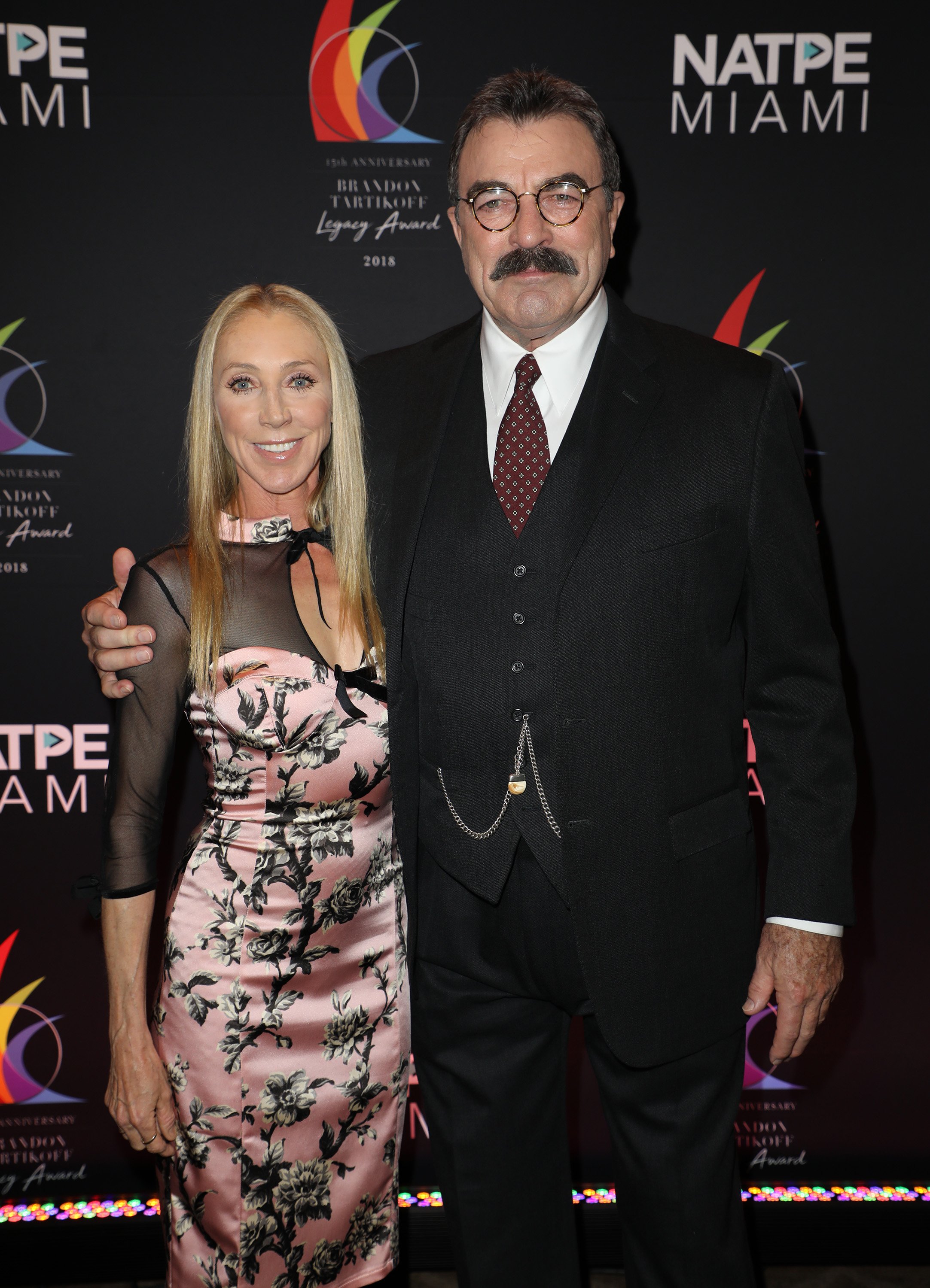 Jillie Mack and Tom Selleck attend the Brandon Tartikoff Legacy Awards at NATPE 2018 on January 17, 2018 in Miami Beach, Florida. | Photo: Getty Images
LIVING A SATISFYING LIFE
After over three decades of marriage with his 63-year-old wife, Selleck believes he has changed. According to the "Crossfire" actor, his relationship with Mack has been satisfying. He said of Mack:
"I think love has gotten deeper. Simpler. I have a wonderful wife."
Besides having a wonderful wife, Selleck is also proud of his two children. Kevin and Hannah have grown into successful individuals who are now living independently.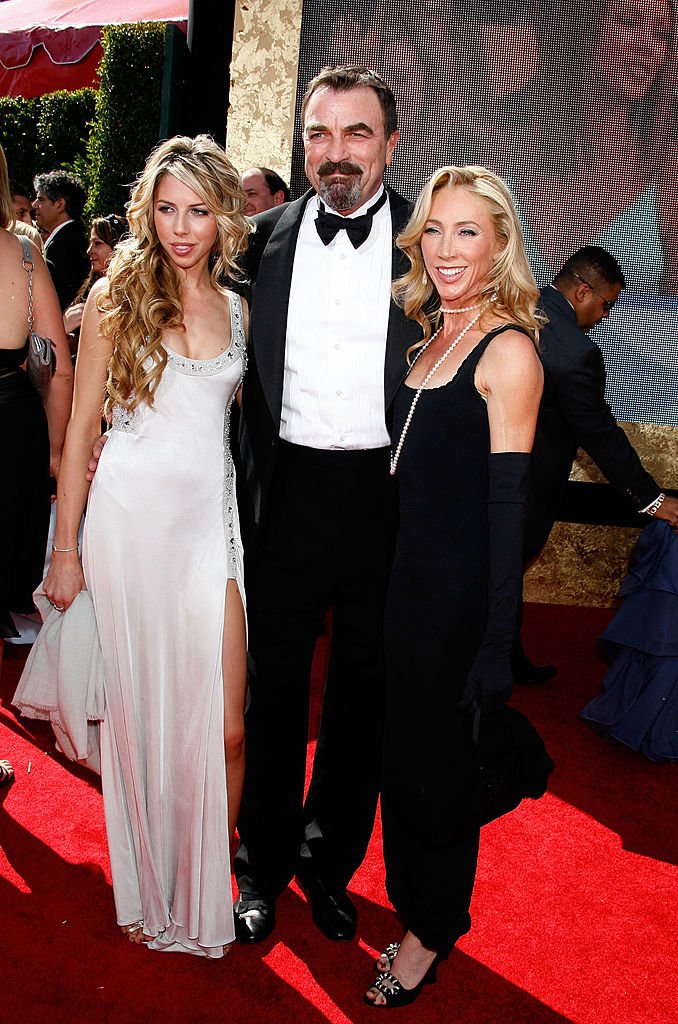 Tom Selleck with wife Jillie Mack (right) and daughter Hannah (left) arrive at the 59th Annual Primetime Emmy Awards on September 16, 2007 in Los Angeles, California. | Photo: Getty Images
Kevin, 55, followed in his dad's famous footsteps in acting. He appeared in "Magnum, P.I." series and in the 1997 movie "Scream 2," where he helped write its official soundtrack.
Besides acting, Kevin played as a drummer in the rock band Tonic but left the group in 1996. He is also a family man, sharing six children with his wife, Annabel.
Despite not becoming a Hollywood star like her father, Hannah is an acclaimed equestrian jumping athlete. The 31-year-old beauty also works as a model besides riding horses.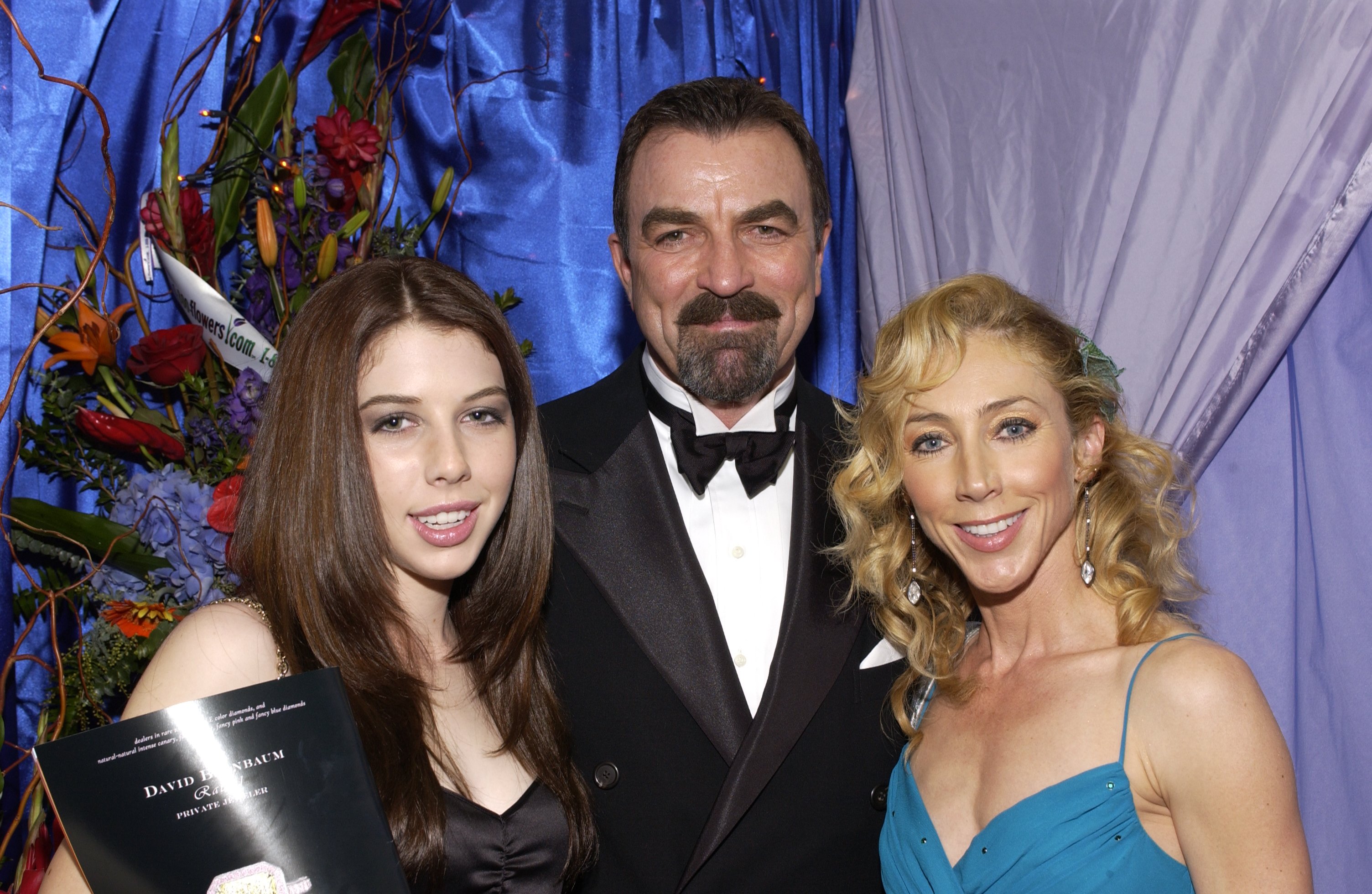 Tom Selleck with daughter Hannah (left) and wife Jillie Mack (right) at the People's Choice Awards on January 9, 2005 in Pasadena, California. | Photo: Getty Images
A MESSAGE TO HIS YOUNGER SELF
Selleck recently reflected on his long career in the entertainment industry. The respected actor shared a profound message to his 25-year-old self.
The "Monte Walsh" actor said he advised his 25-year-old self to have awareness and savor the moments even if it included small wins and failures. He also wished that he could have taken an academic path seriously.
Even though he had outstanding marks in high school, he admitted he had difficulty managing his studies while in college at the University of South California.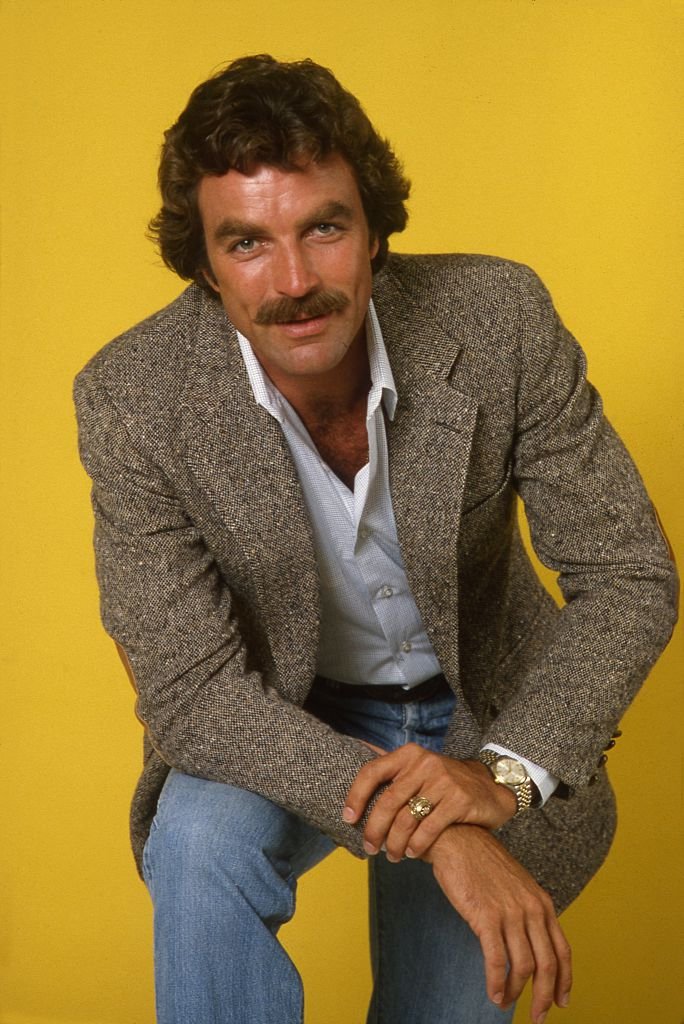 Tom Selleck poses for a picture in 1980 in Los Angeles, California. | Photo: Getty Images
Selleck added that he tried his best to study in college and even joined the university's basketball team. However, he stopped school after the 20th Century Fox offered him an opportunity to start a career on T.V.
He took the risk, which changed his life in the long run. Having reached the age of 76, Selleck admitted he freaked out about how long he had been working in the business.
Although the brilliant actor cut his academic life short, he seemed to have no regrets entering the show business. Selleck shared that he feels blessed that he continues to thrive in the industry today.
Please fill in your e-mail so we can share with you our top stories!