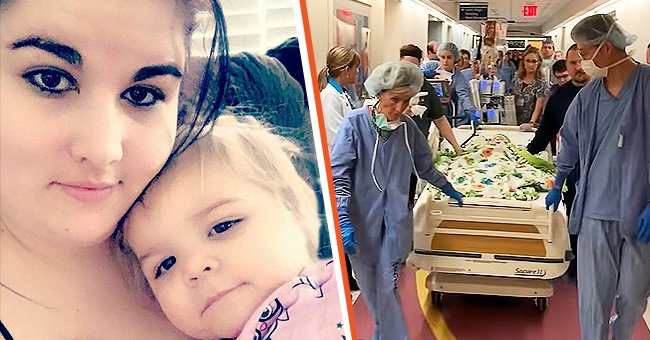 youtube.com/Coralynn Angels facebook.com/meagan.sobolik.9
Mom Shares Video of Weeping Nurses Singing 'Amazing Grace' to 1-Year-Old before Organ Donation
A touching video shared on social media captured the final moments of a brain-dead one-year-old child who received an emotional salute from hospital staff before donating her organs.
A one-year-old child received a hero's salute from hospital staff in what appeared to be her final moments. The toddler was declared brain dead, and her parents made the painful choice of donating her organs.
Meagan Sobolik wanted to capture the final moments of her sweet 1-year-old daughter Coralynn, who the family was set to bid farewell to, so she made a video that has now been shared thousands of times on social media.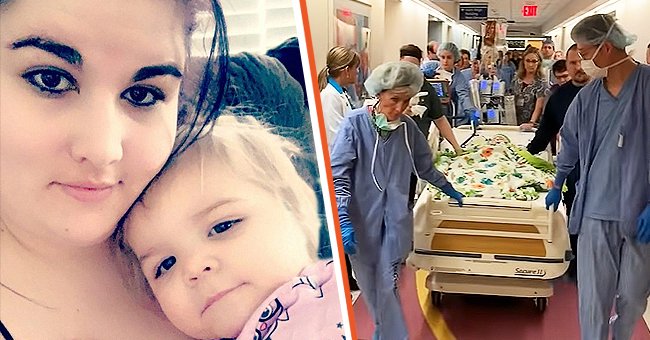 Meagan Sobolik with her beautiful daughter [left] Coralynn's funeral procession [right] | Photo: youtube.com/Coralynn Angels facebook.com/meagan.sobolik.9
The toddler was said to have no chance of survival after contracting a virus, but her parents wanted to stress the importance of life as a gift by making sure her organs helped other kids live.
In the emotional video shared on YouTube, the medical staff at Mayo Clinic Hospital in Rochester, including doctors and nurses, all lined the hospital hallways and sang "Amazing Grace" as the toddler was pushed toward the surgical unit with her parents by her side.
Speaking to People about the moment, the child's mother said, "The staff at Mayo was more than any family could ask for. I was speechless, and it was truly wonderful to see and feel so much love and support for our little girl."
Hospital hall lined up with staff who sang to Coralynn | Photo: YouTube/Coralynn Angels
HOW IT HAPPENED
Coralynn battled parainfluenza complications for five days, but the virus seemed to have gotten the best of her, and her heartbroken parents had no choice but to part ways with her and cherish the moments spent and the joy she brought to their lives.
According to a GoFundMe page created by Coralynn's aunt Melissa Brevig, her parents first brought her to the hospital at Cresco after it was observed that she had difficulty breathing.
According to Brevig, doctors opted to move Cora to Mayo Clinic Hospital in Rochester because of her condition. Still, they had to sedate and intubate her to do so properly.
Cora's heart stopped during the procedure, requiring medical personnel to administer CPR on the baby for about 25 minutes while Meagan, Paul, and Cora's grandmother looked on. She was later moved to Mayo Clinic Hospital after she was completely stabilized.
According to the initial update from doctors, Cora's heart and echocardiogram were performing well. However, things swiftly deteriorated when physicians performed a CAT scan on Cora and discovered she had brain damage.
Even though they were all hopeful that the little girl would wake up and have a different life than before, things began to deteriorate, and Cora's brain began to enlarge.
THE TOUGH NEWS
Meagan and Paul were then told that their daughter was brain dead, a moment that no parent should have to go through. The couple confessed that the news immediately crushed their hopes.
The video is the last thing Meagan and Paul have left of their daughter, but each time they read the reaction from social media users, they feel satisfied and assured that her legacy lives on.
Please fill in your e-mail so we can share with you our top stories!