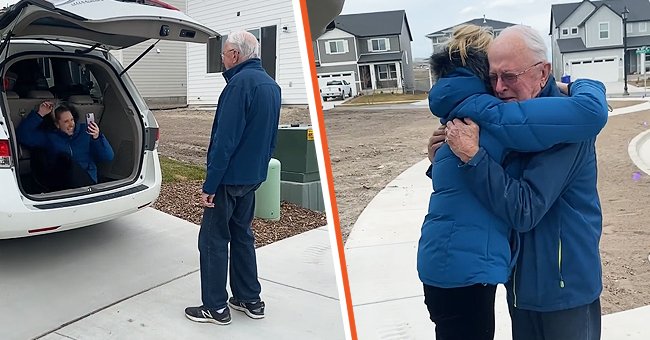 An emotional father hugging his daughter | Photo: instagram.com/meg_mclachlan
Father Moved to Tears after Getting Surprise Visit from a Daughter He Hasn't Seen in Years
The Christmas season is here, and families are getting the biggest surprise of the year, with some families getting to see loved ones who have been distant due to several global restrictions.
The COVID-19 pandemic was so unexpected that it not only put a halt to human lives it also brought a wall between families. Several people have been unable to share moments with their families due to the travel restrictions in different parts of the world.
With the vaccine and development in medicine, life is gradually returning to normalcy, albeit with protective measures in place, people are beginning to reconnect with their loved ones.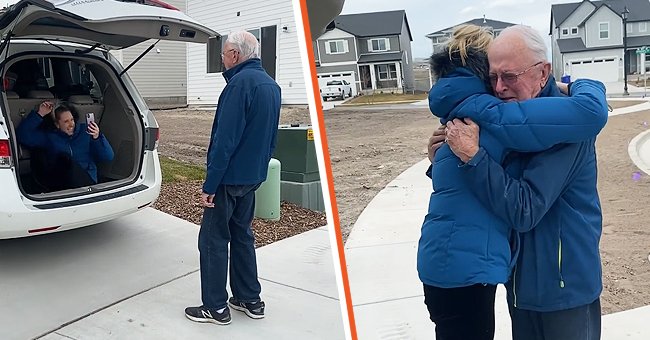 The moment a daughter surprised her father | Photo: instagram.com/meg_mclachlan
For one father about to celebrate his 80th birthday, he got the biggest surprise of his life after getting a visit from his daughter, who he last saw in 2019. The visit was arguably the best Christmas gift he could have asked for.
According to a post from an Instagram user, her sister had lived in Switzerland for over 12 years. However, due to distance, she has been unable to visit the family as often as she would like, so she planned a surprise visit.
The user wrote, "My family is extremely close and my sister @gelatotravel has lived in Switzerland for over 12 years so we don't get to see her as often as we would like. On Monday she decided she wanted to be here with us all, booked her flight, and here she is! Truly a magical Christmas!"
The surprise was shared in a clip that showed the unsuspecting father open the boot of his car only to find his daughter, who he hadn't seen in two years, tucked inside.
The surprised dad broke into tears as he shared a sweet hug with his daughter. The moment was quite emotional that several users left comments on the post stressing the importance of family.
ANOTHER CHRISTMAS SURPRISE
A mom celebrating her 89th birthday got the best present ever after she was visited by her son, whom she had not seen for two years. The best part of the surprise was that he was disguised as a waiter!
Toby disguised as a waiter in the restaurant; his aged mom was having dinner with his sister for her birthday. Toby read the list on the menu to his mother, who had no clue he was the one standing next to her.
Shortly after he left the table, he rang his sister's phone, and she handed the phone over to their mother, who was then shocked to see Toby walk up to her looking recognizable.

A netizen's comment on the Instagram video | Photo : Instagram.com/meg_mclachlan
The moment was captured on camera and quickly became heavily loved on social media as many users commented on the sweet bond between families that only gets better.
HI MOM, IT'S MICHAEL!
Another cute story is that of Michael who surprised his 100-year-old mother. After retiring from work, Michael moved to Spain, which made it difficult for him to spend time with his family, and as a result, he had not seen his mother for several years.
During her 100th birthday, Michael planned a grand surprise for his lovely mother. He made the trip from Spain to join the family at the dinner organized to mark the milestone birthday.

A netizen's comment on the Instagram video | Photo : Instagram.com/meg_mclachlan
As Michael joined the family, his mother looked confused for a while before yelling, "It's Michael!" before falling into his arms crying. The 77-year-old was equally thrilled to see his mother and they had an emotional moment.
Please fill in your e-mail so we can share with you our top stories!