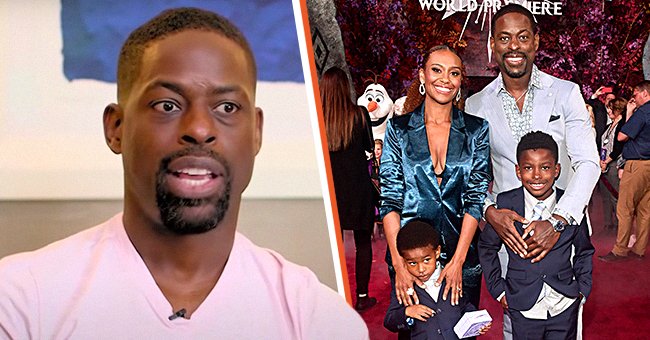 youtube.com/OWN | Getty Images
Sterling K Brown's Wife Once Left Him Because Her Mother Thought the Actor Was a 'Horrible Person'
"This Is Us" star Sterling K. Brown once admitted that if Ryan Michelle Bathe's grandmother had not passed away before they reconnected, they probably would have never married.
Actors Sterling K. Brown and Ryan Michelle Bathe have been happily married since 2007. During their marriage, they have also welcomed two children, Andrew and Amaré.
Brown is most known for his role as Randall Pearson on the TV drama "This Is Us." He also had excellent performances in "The People Vs. O.J. Simpson" and "Army Wives," among other movies and TV shows.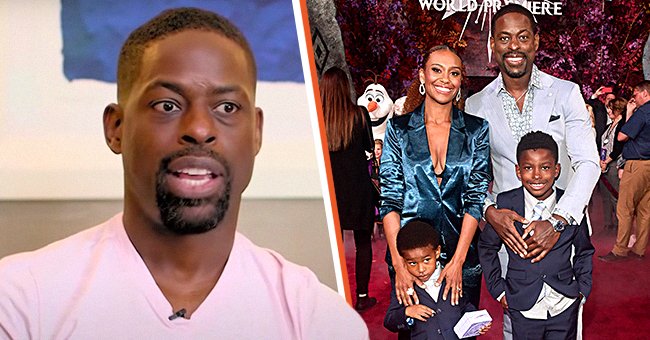 Actor Sterling Brown pictured during an interview for the Oprah Winfrey Network [Left] Sterling, Ryan Michelle Bathe and their two sons, Andrew and Amare, at Disney's World Premiere of "Frozen 2" at the Dolby theatre in 2019 [Right] | Photo: YouTube/OWN & Getty Images
Likewise, Bathe is an equally talented actress. She featured in "Army Wives" and "This Is Us" as Yvette, a family friend of the Pearson's who shows Rebecca (Mandy Moore) how to raise a black child.
Not only does the couple have successful professional careers, but they also have a thriving marriage and celebrated their 14th wedding anniversary this year. However, the road to their marriage was not a smooth one.
Brown once admitted that their love story would make a great movie as "people wouldn't believe it." He explained that the pair went through ups and downs before they finally got together and were "solid" in 2004.
One of those "ups" was when the couple started dating and enjoyed ten days of "magic" together. However, a "down" quickly followed as Brown did not hear back from Bathe, and he was sure their relationship was over.
During an interview for "Black Love" on the "Oprah Winfrey Network," the "First Wives Club "actress revealed that the reason she stopped speaking to him was "crazy" and involved her grandmother and mother.
Bathe explained her family believes that they have "The Sight" or "visions," and her mother and grandmother had a vision that Brown was a "horrible person," who Bathe needed to be "deathly afraid of" and he was "evil."
Therefore, being the young woman she was, Bathe heeded her family members' warnings and stopped talking to Brown. She shared in the same interview that through therapy, she could change her perspective on their relationship.
However, it was not until Bathe's grandmother passed away that Brown and Bathe rekindled their relationship. Brown admitted (with Bathe in agreement) that if Bathe's grandmother had been alive when they reconnected, they would have never married.
Fortunately, Bathe and Brown forged their relationship and have been supporters of each other as they both have grown in the entertainment industry and raised a beautiful family together.
Please fill in your e-mail so we can share with you our top stories!