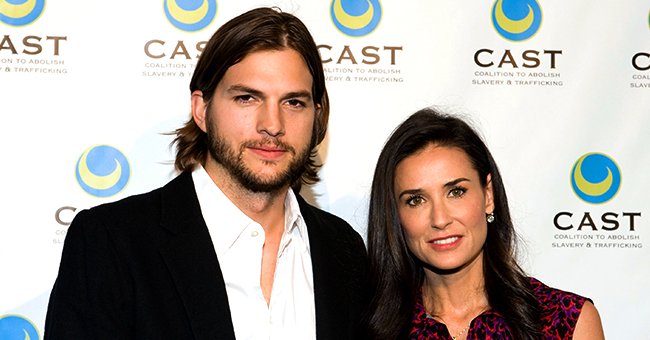 Getty Images
Ashton Kutcher Proposed Demi Moore after Finding Out She Was Pregnant - The Child Was Never Born
Demi Moore and Ashton Kutcher had a strong connection as lovers despite their age gap. Their feelings for each other intensified when they discovered Moore was pregnant, but that happiness was short-lived.
Hollywood's celebrated actress, Demi Moore, did a tell-all about her marriage to actor Ashton Kutcher in her 2019 memoir "Inside Out."
Moore and Kutcher started dating in 2003 after meeting at a mutual friend's dinner in New York City. Kutcher hosted "Saturday Night Live," and Moore was promoting her comeback film "Charlie's Angeles: Full Throttle."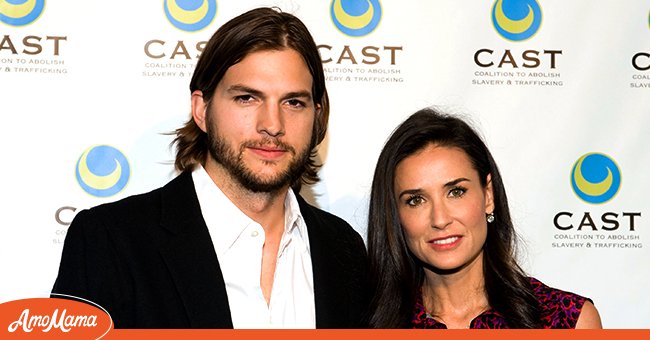 Actor Ashton Kutcher and actress Demi Moore arrive at the Coalition to Abolish Slavery & Trafficking's 13th Annual Gala at the Skirball Cultural Center on May 12, 2011 in Los Angeles, California | Photo: Getty Images
THE DEEP CONNECTION UPON MEETING
Although he was fifteen years her junior, the "G.I. Jane" star said they could not feel the age difference and instead were in sync:
"He was 25. I was 40. But I'm telling you, we couldn't feel it. We were in sync from our very first conversation."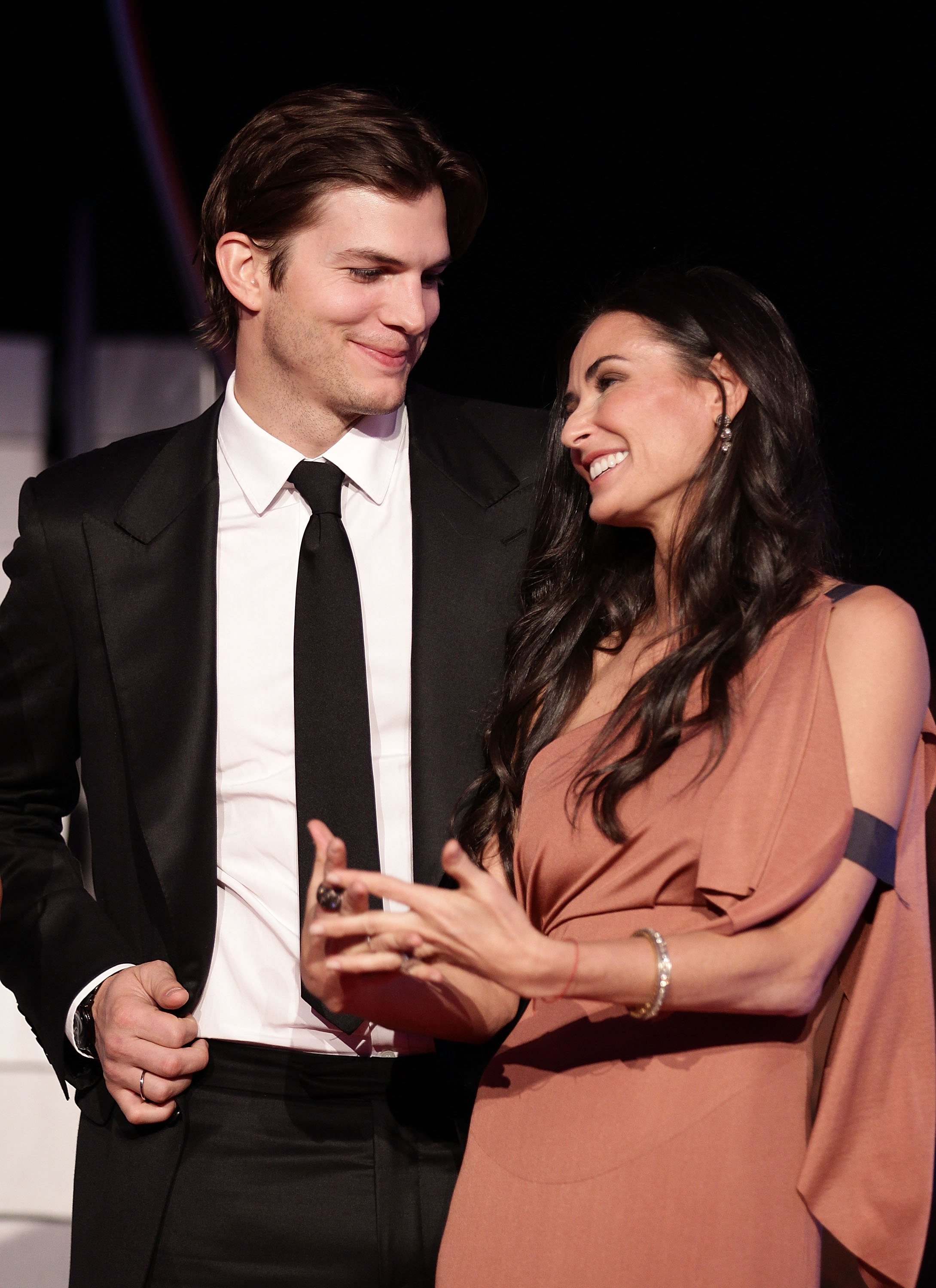 Demi Moore and Ashton Kutcher attend the red carpet for the PlusCity Charity Gala at PlusCity on October 29, 2010 in Pasching near Linz, Austria | Photo: Getty Images
After hitting it off instantly, the pair headed back to Moore's place, where they reportedly talked all night until they fell asleep together.
According to her, it almost felt like a do-over when she met Ashton. Moore explained she felt like she could go back in time and experience what it was like to be young again with him.
THEIR SEX LIFE
The star also revealed intimate details of her sex life with the former model and shared she felt completely safe with him, which made their connection even deeper:
"I felt completely safe with Ashton, which made it possible to connect sexually in a way I'd never experienced before."
GETTING ENGAGED WHILE PREGNANT
On how their relationship became public, the 59-year-old revealed the producer later confessed that if he had fully grasped what it would be like, he would have never gotten involved with her.
Be that as it may, Kutcher asked Moore to marry him six weeks after they learned that she was pregnant, and she revealed the proposal made her feel overwhelmed:
"He asked me to go down to the beach to watch the sunset, and then he got down on one knee and presented me with a beautiful vintage Cartier ring."
Taken aback by the gesture, Moore told him that she would have to think about it. "I didn't want him to feel he had to marry me just because I was pregnant. But I loved him," she explained.
The "Striptease" star added she knew the feeling was mutual for Kutcher and knew that the baby would have brought them even closer. By the end of the night, she told him 'yes.'
TYING THE KNOT
The lovebirds wed in a Kabbalah ceremony on September 24, 2005, at their home in Beverly Hills with one hundred guests in attendance.
Among those present was Moore's former husband, action movie star Bruce Willis, and their three daughters, Rumer, Tallulah, and Scout.
MOORE ON SUFFERING A MISCARRIAGE
Almost six months into the pregnancy, the newlyweds went to the doctor for a routine ultrasound check, and that is when they found out that she had a miscarriage:
"There was no heartbeat. I registered the deadly silence and saw the look on my doctor's face."
Moore described how gutted she was while explaining that she thought suffering a miscarriage was a medical misfortune at first, but it shattered her world because it was close to home.
As to how Kutcher handled the tragedy, she revealed he tried his best to connect with her in their shared grief and be there for her, but the 43-year-old could not feel what she felt.
Notably, because he was younger than she was, he still had a chance to become a dad, but for her, Moore said her chances of falling pregnant again were slim.
FINDING AN EGG DONOR
Still, the two did not give up on trying again, and Kutcher was fine with pursuing other means necessary like surrogacy or the use of an egg donor.
But the process was more difficult for Moore because she wanted to carry the baby herself and share the entire experience with her husband.
Even so, because she desperately wanted to have a baby with him, Moore had no other choice but to start searching for agency lists to find the right fit. After finally finding someone, Kutcher crushed her spirit, telling her:
I don't think I can do this, and I don't know if this is working."
When she asked him why he allowed her to go through the trouble of finding a donor while he already knew that he was not up for it, Kutcher said this to his wife: "I never thought that you'd go through with it."
A NEAR-DEATH EXPERIENCE
Late that night, Moore almost drowned on her 45th birthday. She and her Kutcher ended up in the hot tub, and she started passing out, slipping under the water.
The New Mexico native shared that she would have drowned if not for other people present. Kutcher carried her to the bed and was furious about the incident.
EXPLORING KUTCHER'S FANTASY
Moore wanted their marriage to work and was willing to do whatever it took to keep it going. So when Kutcher expressed his fantasy of bringing in a third party into their bed, she went along with it.
The star wrote that she wanted to show him how cool and fun she could be. Moore revealed they opened their relationship to two people who had no bad intentions and later became friends of hers.
The "Indecent Proposal" star acknowledged that inviting them into their lives was a mistake because marriage is sacred for two people. She expressed being ashamed of it.
CRACKS WITHIN THE MARRIAGE
Six years into their marriage, Kutcher and Moore parted ways amid reports that he had cheated with a younger woman. He slept with a 21-year-old at the couple's home.
Moore recalled the night they met as they were at a bowling alley with her daughter Rumer and when Kutcher went to switch their shoes, the young lady gave him her number on a napkin.
According to Moore, that is what he told her at the time, and when they got home, he showed it to her. She expressed how disgusted she was about their interaction.
The fact that they had brought in a third party into their relationship, Kutcher said, blurred the lines and, to some extent, justified what he had done. While Moore believed he was remorseful, she noted Kutcher only deflected to avoid blame.
Even though he presented contrition, his actions proved otherwise, leading Moore to believe he wanted out of their marriage. Kutcher was found to be unfaithful to Moore for the second time, and she found out about it via Google Alert.
A 22-year-old named Sara Leal confessed to sleeping with him. Moore revealed to "Good Morning America" that he admitted it right away when she confronted him about it.
THE DIFFICULT CHOICE OF DIVORCE
Moore considered the "Two and a Half Men" star as the love of her life, but after he proved not to care enough to fight for their union, she decided to file for divorce in November 2011.
She released a statement to the Associated Press: "It is with great sadness and a heavy heart that I have decided to end my six-year marriage to Ashton."
Moore stated that as a woman and a mother, there are values and vows that she held dear and that it was in that spirit that she decided to move on with her life. Their divorce was finalized in 2013.
THOUGHTS ABOUT EACH OTHER
After her biography got published, she shared that her relationship with Kutcher was merely friendly but that the two of them do not hang out together.
Meanwhile, the Iowa native tweeted at the time of the divorce announcement that he would forever cherish his time with Moore. Kutcher admitted that being married is challenging and added that, unfortunately, sometimes marriages do fail.
Please fill in your e-mail so we can share with you our top stories!
The information in this article is not intended or implied to be a substitute for professional medical advice, diagnosis or treatment. All content, including text, and images contained on news.AmoMama.com, or available through news.AmoMama.com is for general information purposes only. news.AmoMama.com does not take responsibility for any action taken as a result of reading this article. Before undertaking any course of treatment please consult with your healthcare provider.