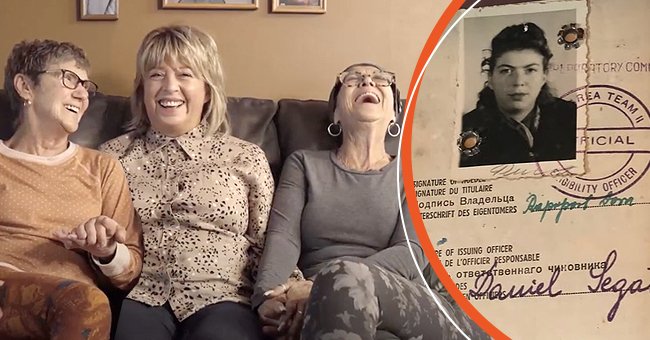 youtube.com/WKYC Channel 3 | twitter.com/ihmec
Girl Is Taken from Her Mother's Arms during Holocaust, 75 Years Later Their Families Find Each Other
A mother and daughter separated during the holocaust were never able to reunite. However, after both passed away, a DNA test reunited family members — the mother's younger daughter, Dena Morris, and her niece, Clare Reay.
When Morris' mother, Dora, and her little daughter Eva were separated, the latter was between one and two years old. Nazis captured the mother and daughter in Poland during World War II.
They were taken to Auschwitz, where Eva was taken from her mother's arms, and then they were separated. In 1945, Dora was liberated and moved to Austria, where she would meet her husband and fellow Holocaust survivor.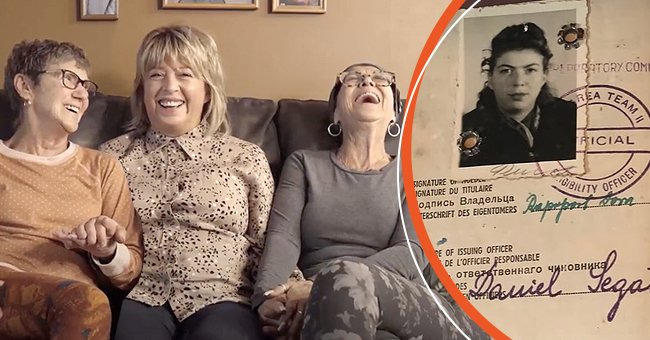 Eva's daughter Clare Reay flanked by aunts Jean Gearhart [L] and Dena Morris [R] in a reunion photo; Inset: Photo of a young Dora | Photo: youtube.com/WKYC Channel 3 twitter.com/ihmec
Although the woman was pregnant with her second child, Morris, she fell in love with the survivor, and the duo eventually got married. In 1951, Dora moved to the US with her husband, second daughter Morris, and third child, Jean Gearhart, who was three.
The family of four settled in Canton, Ohio. While Dora lived with her two younger daughters, Eva was adopted by a Belgian couple and raised in the United Kingdom.
As they would live separate lives across the world, the worried mother would spend the rest of her life looking for Eva. Morris and Gearhart revealed that their mother was obsessed with finding Eva, and they tried to help for decades.
Dora made frequent trips back to Germany, scouring orphanages, looking for any sign of her lost daughter. Sadly in 1996, the woman passed away from cancer without fulfilling her dream of finding Eva.
However, Dora's two daughters promised they would keep trying. While they tried, Eva also made attempts to look for her family. But she was unsuccessful as she passed away from pancreatic cancer in 2014.
DNA tests submitted to the MyHeritage database confirmed there was a match; not with Eva, but with her daughter Clare Reay. More than anything, Morris and Gearhart were joyful to find their niece in England.
Upon discovering her aunts, Reay said it was after Morris explained the circumstances surrounding Dora and Eva's separation that she realized they were family.
In June 2020, TODAY reunited Reay and Morris over Zoom. It was a surreal moment as the duo were more than thrilled to see each other for the first time. Overcome by emotion, the niece mentioned that Morris had a striking resemblance to her mother.
Although that moment seemed unbelievable, Reay said it was fantastic. Despite seeing each other over a video chat, the pair longed to see each other's faces in person. However, due to the coronavirus pandemic, travel restrictions were placed and made a physical reunion at the time impossible.

A netizen's comment on the viral video | Photo: Youtue/theheritage
November 13, Reay paid her aunts a surprise visit. On that snowy Saturday, she traveled with her husband from England to Ohio and arrived at Gearhart's front door. After knocking, Gearhart and Morris opened the door, and received the greatest shock of their lives.
With tears in their eyes, the three women embraced one another. Reay said she was happy the surprise worked, and she tagged the reunion as one of the highlights of her life.
Dora and Eva may be late, but Morris revealed that if her mother were alive, she would have been amazed and overwhelmed. Instead, Morris hopes that the pair are in heaven and are aware that the family has been reunited.
Please fill in your e-mail so we can share with you our top stories!