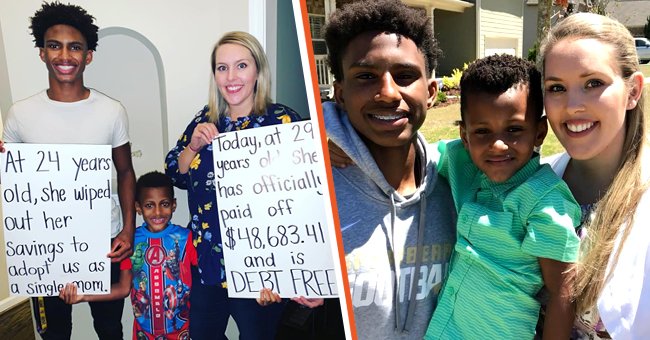 Chelsea Haley with her kids, Jerome and Jace | Source: Facebook.com/chelsea.haley.39
Teacher Adopts Problem Child and His Brother, Spends All Her Savings to Become Their Mother
Three of the most difficult things in life include being a teacher, being a parent, and grappling with financial issues - all tasks one educator tackled with a herculean spirit.
In her mid-20's a young teacher going by Chelsea Haley from Georgia decided to welcome two young boys into her home as her legal children. The journey there was not easy.
In 2015, Haley met a 17-year-old student Jerome Robinson in her fourth-grade class. She soon realized that this teenager was not easy to deal with, getting suspended often and struggling with academics. In fact, she nearly quit due to his behavior.
A LOVING LEAP
However, after spending time with him, the teacher learned about his toxic home life. Haley's heart was touched. She eventually adopted Robinson and his little brother, 6-year-old Jace. Haley expressed:
"Being their mom is the greatest blessing of my life. I get to wake up in the morning and love two little guys."
While the reward was more than worth it, the challenges the now 30-year-old had to face to give her sons a better life were insurmountable.
A PARENT'S DEDICATION
Her difficulties came mainly in financial issues, the first one being the high cost of adopting children, with attorney fees being the primary concern.
For this, the teacher spent every single dime she had left and then began living off of credit and deferring her hefty student loan of almost $50,000 to look after the young boys.
Finally, ready to pay off her debt, she took on multiple side gigs. Haley also sold her home and moved back into her parent's house to save money. This was all while being there for her two kids.
DOLLAR IS WHAT I DON'T NEED
Eventually, at 29 years old, five years after she wiped out all her cash on adoption fees, Haley managed to erase all the tens of thousands of dollars of her debt. The mom said:
"It doesn't feel real yet. It's so amazing. I even logged into my student loans and it said, 'Cleared. Zero balance.'"
The teacher, mother, and financial guru wants to maximize her monetary freedom. Haley intends to purchase a new home and assist Jerome with college fees when he graduates.
THE WISDOM GAINED
The educator advises anyone struggling with money problems not to ignore them but to tackle the issue head-on and come up with a plan.
After all, no problem has ever been solved by turning the other way but rather by looking it straight in the eye and tackling it with courage and wit.
These are two valuable virtues we are sure Jerome and Jace have probably already inherited from their spirited mother.
You May Also Like: White Couple Gives Birth to Black Triplets after Adopting Discarded Embryos
Please fill in your e-mail so we can share with you our top stories!