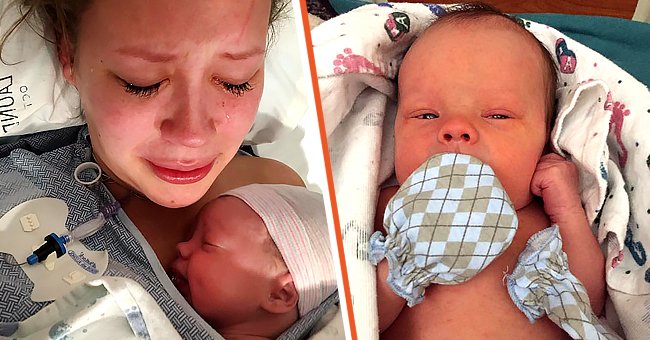 Facebook.com/hmongie
Woman Placing Son for Adoption after Her Partner's Death Records a Loving Video Message for Him
One mom shared a tragically heartbreaking video online, grieving over her husband and having to say goodbye to her baby while elated after just giving birth.
Hannah Mongie met the love of her life Kaden in high school, going on many adventures together and laughing until their stomachs were aching.
It was only months into their relationship, when she was 18 years old, that she started getting this strange feeling that she was pregnant. It turns out that her gut instinct was right.
A HARROWING DECISION
She and Kaden discussed what they should do going forward. According to Mongie, adoption was originally his idea as they were simply not in the stage of life where it would be healthy to look after a baby. The biological mom stated:
"Neither of us had a real job or very much schooling, and he told me that I should start thinking about what would be the best option, not for us, but for our child."
Although the idea was hard to swallow at first, Mongie eventually agreed that it was the best step to take for their newborn. However, after one tragic event, the possible mom-to-be began second-guessing this decision.
A SHATTERED HEART
One morning she received news that her partner had passed away while she was sleeping, leaving her in disbelief. She expressed:
"I did not get out of bed or open the blinds for the next two months. The word 'adoption' was no longer in my vocabulary."
The grieving girlfriend could not fathom giving her tiny newborn up for adoption as he was the only part of Kaden she had left.
THE DAY ARRIVES
Eventually, however, she realized that it was the best for the baby. In early 2016 she gave birth to the adorable Tagg.
The young biological mom got a small amount of time with her baby until he was officially adopted. She made the most tear-jerking video for her biological son during this period.
YOUR DADDY LOVED YOU
The clip focuses on the tiny newborn as she opens up about Kaden. Mongie said that he was so ecstatic to hear his little boys heart beating, continuing to say:
"And then, two days after he heard your heartbeat, his heart stopped."
Her voice trembled as she continued to talk through her tears, making sure to soak up the last hour that she had her baby as her own.
LETTING GO FOR LOVE
The heartbroken mom also spoke about finding her newborn's parents, stating that she had high standards but eventually met the perfect couple; Brad and Emily Marsh. She expressed:
"Before I send you off to Brad and Emily...I just want you to know that I really really love you so much. More than I've ever loved any other human."
Mongie told the baby boy that his adoptive mom already loved him too. On top of that, although she hadn't seen him yet, Emily would undoubtedly fall in love with him the moment she lays eyes on the newborn.
STILL AROUND
Brad and Emily, along with Mongie, have chosen to engage in an open adoption with Mongie able to see Tagg once a month. The biological and adoptive mother have forged a strong friendship, with Mongie saying:
"We visit anywhere between once a month, to multiple times per week...I tell her about the boys that I am dating, and we just talk about everything in life."
Mongie states that she views Brad and Emily as much more than companions but rather family. A story of joy, depression, tragedy, and beauty, this true tale reflects the glorious mess that is life.
You May Also Like: 'He Has No Clue That I'm about to Ask Him': Teen Surprises Former Coach with Emotional Adoption Ask
Please fill in your e-mail so we can share with you our top stories!
The information in this article is not intended or implied to be a substitute for professional medical advice, diagnosis or treatment. All content, including text, and images contained on news.AmoMama.com, or available through news.AmoMama.com is for general information purposes only. news.AmoMama.com does not take responsibility for any action taken as a result of reading this article. Before undertaking any course of treatment please consult with your healthcare provider.