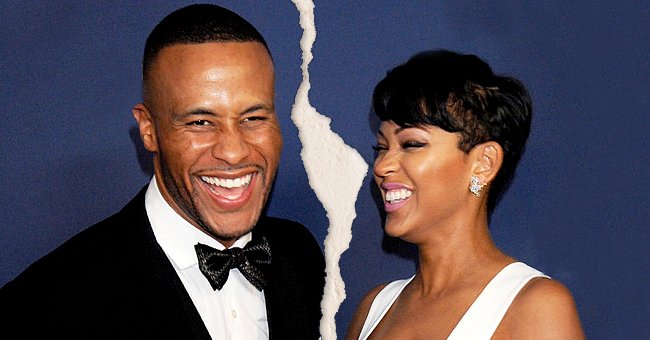 rawpixel.com/Chanikarn Thongsupa | youtube.com/OWN | Getty Images
Meagan Good Divorces DeVon Franklin Years after Hearing Voice of God Saying He Is Her Future Husband
Meagan Good and Devon Franklin have recently dropped a bombshell revealing that they are heading for a divorce. The couple celebrated their ninth wedding anniversary six months ago, and Good once called Franklin the love of her life.
People exclusively confirmed Meagan Good and Devon Franklin's breakup after nine years of marriage. The duo released a joint statement announcing their split:
"After much prayer and consideration, we have decided to go into our futures separately but forever connected. We celebrate almost a decade of marriage together and an eternal love."
(L) Actress Meagan Good and husband DeVon Franklin arrive at the 2014 InStyle and Warner Bros. 71st Annual Golden Globe Awards post-party at The Beverly Hilton Hotel on January 12, 2014 in Beverly Hills, California. (R) A screengrab of Meagan Good during an interview with Oprah Winfrey | Photo: Getty Images and YouTube/@OWNTV
A MUTUAL DECISION
"There's no one at fault. We believe this is the next best chapter in the evolution of our love," they continued. Good, 40, and Franklin, 43, said they are grateful for the life-changing years they spent together as husband and wife.
The future exes thanked the Lord for the testimony being created inside them both and for blessing their lives with each other.
GOD SAID HE IS THE ONE
In an interview with Oprah Winfrey in August 2018, Good recalled a period she reconnected with Franklin while filming the 2011 movie "Jumping the Broom," and remembered thinking:
"Wow, that's the kind of guy I wish I could marry. He's so amazing."
The feeling was mutual for the best-selling author as he was in awe of her and mentioned how talented she was. On the other hand, Franklin also figured that Good might be out of his league, and that is how the actress felt, too, because of how amazing he was.
She asked God what she should do and shared: "He told me that Devon was my husband." Months down the line, Good began manifesting her marriage to Franklin towards friends and family, and it came to be.
A MARRIAGE MANIFESTED
The pair eventually got married in June 2012 after dating for 13 months. They have since become known for their honesty about their courtship, putting God in their relationship.
The duo once revealed they waited until tying the knot before having sex, a subject they wrote about in their book titled "The Wait."
In January 2014, the spouses revealed their marriage secrets. Good divulged that they were best friends, cared for one another, advised each other, and both were not afraid of being vulnerable together.
She and Franklin celebrated their wedding anniversary in June, and to commemorate their milestone together, they took to their socials and paid tribute to each other.
ANNIVERSARY TRIBUTES
The motivational speaker posted a snap of him carrying his wife at the beach while both were all smiles and quoted a song by the R&B group Tony! Toni! Tone! He captioned his post: "I love you, my love. Happy Anniversary."
Meanwhile, Good shared a 3-minute-long montage of the couple from their time together and wrote: "To the love of my life, my husband my purpose partner. Happy Anniversary!"
Please fill in your e-mail so we can share with you our top stories!