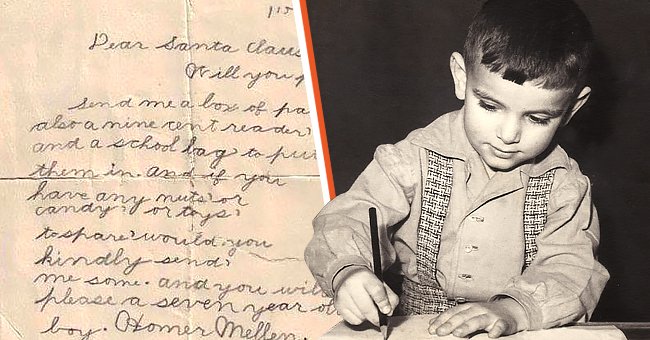 Shutterstock facebook.com/FOX5NY
Little Boy's Letter Written to Santa 106 Years Ago Proves Today's Children Have Changed a Lot
A Christmas wishlist written in 1915 went viral after a family discovered it in their box of mementos. The crumpled piece of paper revealed a youngster's humble requests.
In the Canadian Province of Nova Scotia, a family found a note written in cursive that they wanted to share with the world. The simple letter was aged and written decades earlier.
Believed to have been penned by London, Ontario native Homer Mellen, the letter carried an uncommon sentiment. The boy's 1915 requests were a stark contrast to the wishes kids made in the modern world.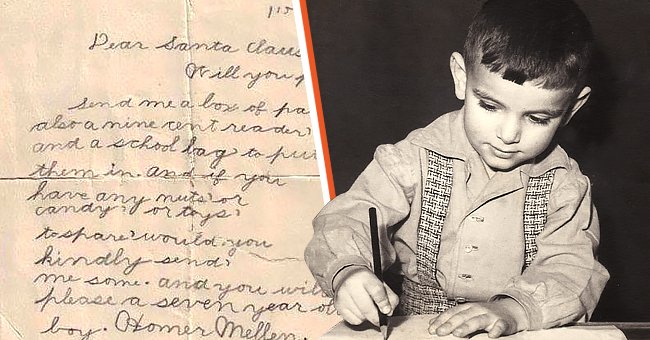 Letter written to Santa in 1915 [left] Little boy writes a letter [right] | Photo: Shutterstock & facebook.com/FOX5NY
THE HUMBLE LETTER
Mellen asked Santa for a few simple items, including a box of paints, a nine-cent reader, and a school bag to put them in. He humbly added a wish for any toys and candy if Santa had some "to spare." The sweet note quickly gained online reactions.
Compared to the types of presents children expected more recently, such as iPods, expensive dolls, and money, Mellen's letter revealed how much children have changed.
IT WAS PASSED DOWN
Mellen's granddaughter, Laurie Bloomfield, decided to share the note to transport people back to a simpler time. She said:
"It is so important because of the sweet sentiment it offers. His words are so humble and so polite."
The special note was discovered in a keepsake box. It also contained photos, family documents, and various other treasured mementos. The letter was crumpled and almost overlooked. The box was passed down to each generation.

Netizens respond to old letter written to Santa in 1915 and long for simpler times | Photo: Facebook/ABCNews
THE TRUE MEANING OF CHRISTMAS
Bloomfield was the first member of the family who wanted to share the letter written to Santa. She expressed: "My grandfather was a humble man who was determined to make the best of himself." The massive reaction was unexpected but welcomed.
Bloomfield shared that the letter showcased the "true meaning of Christmas," and she hoped to convey that to today's children.

Netizens respond to old letter written to Santa in 1915 and long for simpler times | Photo: Facebook/ABCNews
THE ONLINE REACTION
Netizens had a lot to say about the letter. One user said: "I wish it was possible to go back in time." Another added: Our family didn't have a lot of material things, but we grew up knowing the real meaning of Christmas."
In the comment section, people also condemned the "greed" and "consumerism" that has taken over. Other parents shared that their kids still knew the meaning of Christmas.

Netizens react to old letter written to Santa in 1915 | Photo: Facebook/ABCNews
DEFENDING THEIR KIDS
One user defended their child and said: "My 12-year-old daughter gave me her list ... It is all about how you raise and teach your kids. She appreciates everything she gets and knows I worked hard to get it."
Despite the varying opinions, most commenters agreed that the true meaning of the festive season has changed. Many users longed for times gone by, and the letter's sentiment reminded them of simpler days.
Please fill in your e-mail so we can share with you our top stories!